live.staticflickr.com
To soften the blow that the coronavirus has dealt the entertainment industry – parts of it, anyway – Netflix has put up a $100 million emergency fund meant to relieve the financial pressures facing the many workers without a job for the foreseeable future. $85 million will go to workers on Netflix productions, and the remaining $15 million will head to third-party groups.
Several other organizations are also supporting the effort to put cash in the pockets of sidelined workers. SAG-AFTRA, an actors union, and the Producers Guild of America, have each set up their own relief funds to receive donations. IATSE, a union representing about 150,000 behind-the-scenes entertainment workers, has committed $2.5 million.
But will it be enough?

LA County has over 120,000 workers in the film industry, and about 258,000 in the broader entertainment sector, according to the 2020 Otis College Report on the Creative Economy. For nearly every job in the still broader creative sector (about 400,000), there is yet another job that either supports or is induced by it. Depending how you slice the data, the collective output of these jobs can amount to north of a quarter of LA County's GDP. Not all such jobs have been upended by the coronavirus. But across the county, and with no end in sight, crew members, performers, caterers and more are struggling.
"When the coronavirus hit, our industry fell off a cliff ," said Bob Beitcher, President and CEO of the Motion Picture & Television Fund (MPTF), one of the external groups selected by Netflix to receive $1 million. "With the exception of writers — some writers' rooms are still operating virtually — I'd say every other job category is out of work right now."
Keith McNutt is western region director of the Actors Fund, also chosen by Netflix to receive $1 million. He said Hollywood is a "huge community of people who are basically living middle-class lives, earning around the median income of L.A. County: set designers, hairdressers, construction workers, performers, writers. To give a sense of the scale we are dealing with right now, typically we help 5,000 people a year across our programs."
The Actors Fund serves members across the entertainment community, providing such social services as emergency financial relief, counseling and affordable housing.
"As of the start of this week," continued McNutt, "we're up to over 5,000 calls, just since the Thursday when this started."
That'd be March 12th, meaning a year's worth of calls for help in less than two weeks.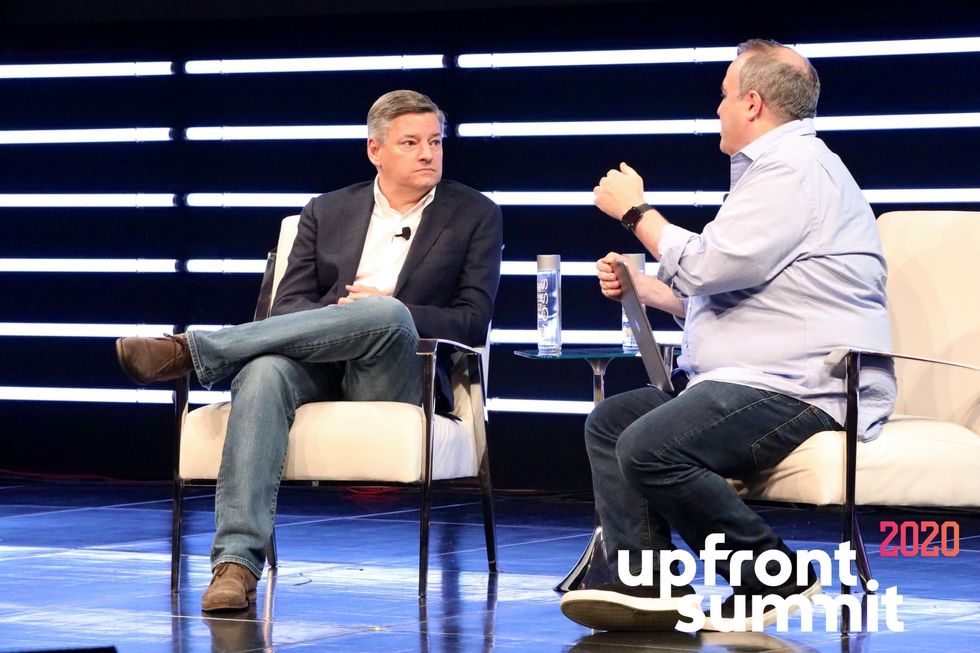 Chief Content OfficerTed Sarandos at this year's Upfront Summit in Los Angeles. Photp courtesy Aircam/ Upfront Summit
Enter Netflix
Neither McNutt nor Beitcher had much advance notice of the incoming succor. Both first heard directly from Netflix the day before the public announcement. "Based on my brief conversations with them," said Beitcher, "this was something on their minds from the moment production started shutting down."
Ted Sarandos, Chief Content Officer at Netflix, told CNN on Sunday that when that happened, "the first thing we did was make sure that everybody on those crews knew that they were being paid for the next two weeks."
"I think," surmised Beitcher, "they needed to decide to do something that was more sustainable for the industry workforce, and a greater reflection of the compassion that they were feeling for them, and the gratitude that they had for the work they've done."
Netflix, notoriously tight-lipped, has not responded to dot.LA's request for comment.
"With that amount of money," said McNutt, "I would guess this had to come straight from (Sarandos) and the CEO (Reed Hastings). I can't imagine anyone else would be making that decision."
"As usual, it's go big or go home— and they went very big with this," added Beitcher.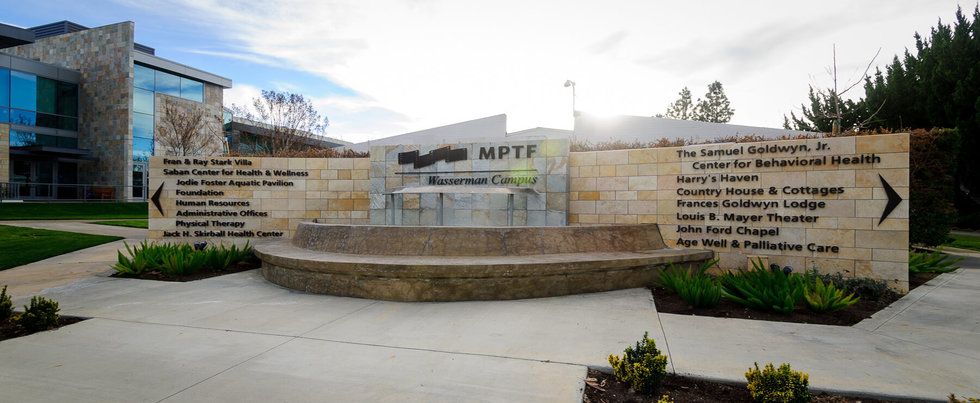 Created in 1921, the Motion Picture Relief Fund (MPTF) acts as a safety net of health and social services for actors. mptf.com
What Comes Next?
"The first step for all (these relief funds) is to establish eligibility criteria," said Beitcher. "Once we settle on that, we can get to work and start cutting checks. It can't happen soon enough."
He plans to coordinate with the Actors Fund and other charitable efforts to keep eligibility standardized to the extent practical, and to avoid double-paying people before everyone who needs help gets it.
Both leaders expressed confidence that their organizations' significant experience will help them to manage the surge of requests.
But as the time lengthens from when workers were first told they would be compensated for their suspended projects, those funding commitments will dry up, and the volume of people seeking help will likely grow.
"I hope, and I expressed to the Netflix folks, that their generosity and leadership will motivate others in a similar position to step up," said Beitcher. "There's a possibility some of the studios will follow suit."
Individual donors have also been calling both MPTF and the Actors Fund asking how they can help.
"We're preparing for this to last for months," said McNutt. "I hope not at this level, but we're going to keep going as far as we can go and for as long as donors can continue to provide the funding."
No doubt Netflix's largesse will help. But it'll only go so far.
"It's an amazing amount of money," said Beitcher. "But it's a staggering amount of people."