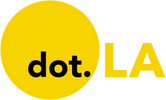 Get in the KNOW  
  on LA Startups & Tech  
X
Courtesy of Rivian
Rivian Recalls Basically Every Vehicle It Has Ever Made
David Shultz
David Shultz reports on clean technology and electric vehicles, among other industries, for dot.LA. His writing has appeared in The Atlantic, Outside, Nautilus and many other publications.
01:26 PM | October 10, 2022
On Friday evening, Rivian Automotive announced a recall on nearly every single vehicle it has produced so far.
According to documentation filed with the Nation Transportation and Highway Safety Administration, "The fastener connecting the front upper control arm and steering knuckle may have been improperly tightened … A loose steering knuckle fastener could separate, causing a loss of vehicle control and increasing the risk of a crash."
The recall affects 12,212 total vehicles spanning the R1S, R1T and delivery van platforms. In layman's terms, the car's suspension system has a loose bolt that can make the ride harsher or even result in a loss of steering control for the driver.
---
While undoubtedly bad news for the EV hopeful, the company has stated that there have been no reported injuries due to the defect. The fix for the problem–essentially just tightening the bolt–also appears to be simple and relatively cheap for Rivian to execute.

For context, recalls are relatively commonplace in the automotive industry. Though it's also worth mentioning that EV startups have been particularly susceptible to them due to the sheer quantity of new technology and engineering in each car. To that end, Toyota also recently had to pause production on its new EV, the bz4x, over safety concerns related to the wheels coming loose. The Chevy Bolt has also faced its share of recall issues.
Nonetheless, this is Rivian's third recall since May of this year. The company has previously had issues with airbags and seat belt anchors that required maintenance. Whether these three issues represent a concerning pattern or just normal growing pains for a company that only delivered its first vehicle 13 months ago remains to be seen, but the latest recall has taken its toll on the company's stock, which is down nearly 8.5% by early afternoon Monday.
David Shultz
David Shultz reports on clean technology and electric vehicles, among other industries, for dot.LA. His writing has appeared in The Atlantic, Outside, Nautilus and many other publications.
05:00 AM | November 01, 2022
Located roughly a hundred miles east of San Diego, the Salton Sea is California's largest landlocked body of water, for now.
Measuring 5 miles across and 35 miles long in its current form, the lake was created by diverting water from the Colorado River into the region for agricultural purposes. Once a vacation destination renowned for its wildlife and wetlands, a series of environmental mishaps and mismanagement have left the lake toxically salty, shrinking and often malodorous. Conditions have gotten so bad that Palm Springs Life Magazine called the region's transformation "the biggest environmental disaster in California history" in March of 2020.
But against this unlikely backdrop, new life—or at least new industry—is scrambling to set up shop in the region. The Salton Sea, it turns out, is rich with lithium, an element that has taken center stage in the world's transition to clean energy and its ever-growing demand for batteries. From smartphones to electric vehicles, there's a pretty good chance that the last battery you used had lithium ions inside. Prices for the metal reached an all time high in September, and futures are up more than 400% since the start of 2021. With Biden's new economic policy outlined in the Inflation Reduction Act, there are strong financial incentives to move battery production back to North America.
If that's going to happen the Salton Sea could very well become the lithium capital of North America, or to paraphrase Governor Gavin Newsom, the region could become the "Saudi Arabia of lithium," and the players are already starting to assemble.
Currently, there are three companies attempting to set up plants in the Salton Sea for direct lithium extraction: EnergySource Minerals, Controlled Thermal Resources and BHE Renewables, a branch of Berkshire Hathaway. All three companies have similar business strategies from a high level, all of which involve geothermal power plants. These plants, which are common in many parts of the world, draw hot, salty water from deep in the ground to create steam which drives a turbine to produce electricity. What makes the Salton Sea so special is that its geothermal brines just happen to contain lithium.
In a 2017 study, researchers from the U.S. DOE Office of Energy Efficiency and Renewable Energy analyzed more than 2,000 samples of geothermal fluid from U.S. sources and found that only 1% had significant lithium concentration. This rare confluence of geothermal activity and lithium presence provides an opportunity for companies to generate electricity and mine lithium simultaneously.
Beyond their marriage of geothermal energy and lithium extraction, the three companies begin to diverge.
According to former dot.LA engagement editor Luis Gomez — whose newsletter Lithium Valle, is essential reading on this topic — EnergySource seems to be out in front early.
"They claim to have the technology that's patented, they claim to have done the research, they claim to have the funding, and they claim they're ready to go and start production," says Gomez. "They are kind of considered the canary in the coal mine."
According to a report from the United States Department of Energy, EnergySource plans to eventually scale production up to over 20,000 metric tons of lithium hydroxide per year using its proprietary Integrated Lithium Adsorption Desorption technology.
Construction on the plant was slated to start earlier this year, but has been delayed. EnergySource has said publicly that lithium production might begin in the second quarter of 2024, but it's unclear whether this date will also be pushed back. The company has a long history of operating in the region, having run the John L. Featherstone geothermal plant since 2012. The new venture into lithium would leverage that same plant, but without more details about how their proprietary technology works, there's not much to do but wait and see.
One potential problem facing all three lithium extraction companies is that the Salton Sea geothermal brines are not the same as the brines in evaporation ponds similar to those in Argentina, Chile and Bolivia, where more than half of the world's lithium is produced. Specifically, the deep geothermal brines in the Salton Sea contain more silica and transition elements, which may complicate the chemistry of purifying the lithium. Still, many researchers are extremely bullish on the prospect of tapping into these reserves. Alex Grant, The Principal at Jade Cove, a research organization focusing on direct lithium extraction technologies, says that much of the skepticism surrounding the technology can be attributed to competing financial interests that are trying to squash the nascent tech's potential in favor of an established method.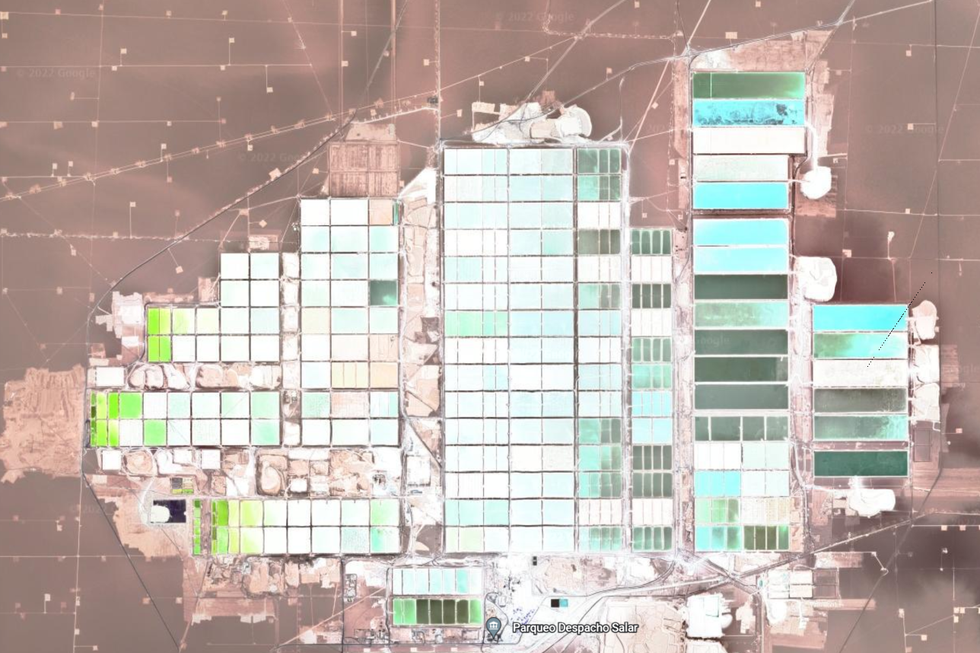 Lithium Mines in the Atacama Salt Flats, Chile from an altitude of 15km via Google Earth. The facility is about 10km wide.
Google Earth
For its part, BHE Renewables, operating as CalEnergy, runs a fleet of 10 geothermal plants in the Imperial Valley. The company had previously announced its intent to set up a direct lithium extraction demonstration plant sometime before the end of 2022 to assess the viability of lithium extraction. If that pilot program goes well, the company could build a commercial-scale facility as early as 2026 with a projected annual capacity of 90,000 metric tons of lithium.
Obviously, having the backing of Berkshire Hathaway comes with advantages and capital. Add into the equation another $15 million in DoE grant money obtained last winter, and BHE appears to be well positioned as a major player in the long term.
Finally, there's Controlled Thermal Resources. As the only company not already operating a geothermal business in the region, CTR is something of an outsider and dark horse. By 2024, the company hopes to build both a geothermal energy plant and a direct lithium extraction plant to operate in parallel, projecting a capacity to extract 300,000 metric tons of lithium carbonate equivalent annually by 2030. As dot.LA previously reported, Controlled Thermal Resources has partnered with Statevolt, a company that intends to build a $4 billion gigafactory nearby that will run on power from CTR's geothermal plant and make batteries from the lithium it extracts. It's a beautiful closed-loop business model. But again, all of this relies on the direct lithium extraction technology, and details are scant.

According to Gomez, despite the typically cut-throat nature of the energy industry, the relationship between the three upstarts in the Salton Sea is often surprisingly cooperative at the moment.
"They want the others to succeed because it kind of gives them the confidence that their technology is also eventually going to succeed," he says. "It gives confidence to investors."
Which is all to say, there may well be space for all three companies if the technology is as solid as they claim. If that's the case, the Salton Sea and its surrounding region may have yet another miraculous transformation up its sleeve.
David Shultz
David Shultz reports on clean technology and electric vehicles, among other industries, for dot.LA. His writing has appeared in The Atlantic, Outside, Nautilus and many other publications.
Samson Amore
According to a Forbes report last April, both the viewership and dollars behind women's sports at a collegiate and professional level are growing.
In 2022, the first 32 games of the NCAA tournament had record attendance levels, breaking records set back in 2004, and largely driven by the new and rapidly growing women's NCAA tournament. WNBA openers this year saw a 21% spike in attendance, with some teams including the LA Sparks reporting triple-digit ticket sales growth, about 121% over 2022's total. In 2023, the average size of an LA Sparks crowd swelled to 10,396 people, up from 4,701 people.
Women make up half the population, but "also 50% of the folks that are walking into the stadium at Dodger Stadium, or your NFL fans are just about 50% women," noted Erin Storck, a panelist and senior analyst at Los Angeles-based Elysian Park Ventures.
Storck added that in heterosexual households, women generally manage most of the family's money, giving them huge purchasing power, a potential advantage for female-run leagues. "There's an untapped revenue opportunity," she noted.
In the soccer world, Los Angeles-based women's soccer team Angel City FC has put in the work to become a household name, not just in LA County but across the nation. At an LA Tech Week panel hosted by Athlete Strategies about investing in sports, Angel City head of strategy and chief of staff Kari Fleischauer said that years before launching the women's National Women's Soccer League team, Angel City FC was pounding the pavement letting people know about the excitement ladies soccer can bring. She noted community is key, and that fostering a sense of engagement and safety at the team's home venue, BMO stadium (formerly Banc of California Stadium), is one reason fans keep coming back.
Adding free metro rides to BMO stadium and private rooms for nursing fans to breastfeed or fans on the spectrum to avoid sensory overload, were just some of the ways ACFC tried to include its community in the concept of its stadium, Fleischauer said. She noted, though, that roughly 46% of Angel City fans are "straight white dudes hanging out with their bros."
"Particularly [on] the woman's side, I'd like to think we do a better job of making sure that there's spaces for everyone," Fleischauer told the audience. "One thing we realize is accessibility is a huge thing."
Samson Amore
Samson Amore is a reporter for dot.LA. He holds a degree in journalism from Emerson College. Send tips or pitches to samsonamore@dot.la and find him on Twitter @Samsonamore.
https://twitter.com/samsonamore
samsonamore@dot.la