Openpath Announces $36 Million Raise to Make Keycards Obsolete in the COVID Era
Sam Blake
Sam primarily covers entertainment and media for dot.LA. Previously he was Marjorie Deane Fellow at The Economist, where he wrote for the business and finance sections of the print edition. He has also worked at the XPRIZE Foundation, U.S. Government Accountability Office, KCRW, and MLB Advanced Media (now Disney Streaming Services). He holds an MBA from UCLA Anderson, an MPP from UCLA Luskin and a BA in History from University of Michigan. Email him at samblake@dot.LA and find him on Twitter @hisamblake
08:39 AM | July 16, 2020
Openpath, the L.A-based tech company trying to make keycards a thing of the past, announced Thursday that it has raised $36 million in its second institutional funding round. The deal, led by Greycroft, was finalized earlier this year. It takes the total funding Openpath has raised to $63 million, company co-founder and president James Segil told dot.LA.
---
Segil and his long-time business partner Alex Kazerani are a serial entrepreneur duo that set their sights on keycards about four years ago.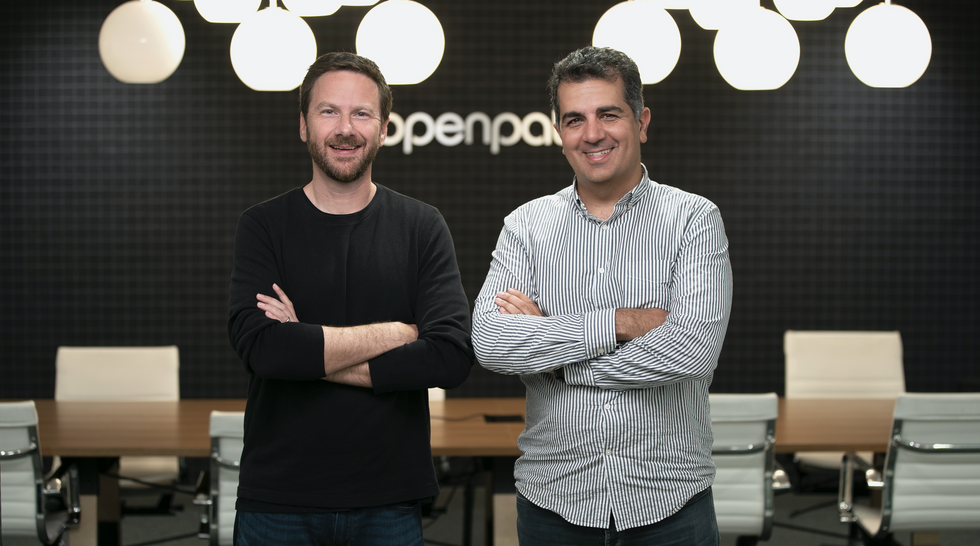 James Segil (L) and Alex Kazerani are a serial entrepreneur duo that has formed several L.A. startups
"Everything about these things sucks," Segil says, looking at a photo of the familiar, mostly white rectangles that scan many an employee into office buildings and elevators. The flaws he points to include the administrative work around printing, issuing and revoking keycards; the physical waste they create; and perhaps worst of all, that they're not very secure. Segil notes that keycards mostly rely on decades-old RFID technology rather than more modern encryption methods, and can be copied for a few bucks at the neighborhood Ralph's supermarket.

Openpath allows for touchless entry that leverages the supercomputers in most of our pockets and purses
Kazerani and Segil are betting that the supercomputer in most of our pockets or bags could be a much better option. They patented a "triple unlock" technology, wherein a door-sensor can establish a "handshake" with a mobile phone's cell, wi-fi or bluetooth signal. The receiver activates with a user's hand-wave, picks up one of the signals, discards the other two, and assesses whether the phone it's coming from belongs to somebody with the credentials needed to enter.
Segil says using all three signals helps the Openpath system to work 99.9% of the time.
And in the post-COVID world, Openpath's touchless entry system has become all the more useful. From work, retail, schools and churches, to gyms, hospitals, and doctors' offices, reducing the need to touch common surfaces will be a key element of readying spaces for people to return, Segil says. He adds that interest has grown during the pandemic.
The system can also enforce safety protocols — for instance, by suspending someone's entry credentials if they fail a health attestation, or controlling occupancy by limiting the number of people that can enter a room.

In addition to doors, Segil notes, Openpath's technology can also work for parking lots, elevators, turnstiles, and lobby check-ins.

Openpath charges an upfront fee for hardware and installation, then a recurring subscription fee for the cloud-enabled software. Pricing depends on the number of doors and number of users.
And, Segil notes, if your phone dies or you forget it at home, you can still always knock.
Sam Blake
Sam primarily covers entertainment and media for dot.LA. Previously he was Marjorie Deane Fellow at The Economist, where he wrote for the business and finance sections of the print edition. He has also worked at the XPRIZE Foundation, U.S. Government Accountability Office, KCRW, and MLB Advanced Media (now Disney Streaming Services). He holds an MBA from UCLA Anderson, an MPP from UCLA Luskin and a BA in History from University of Michigan. Email him at samblake@dot.LA and find him on Twitter @hisamblake
https://twitter.com/hisamblake
samblake@dot.la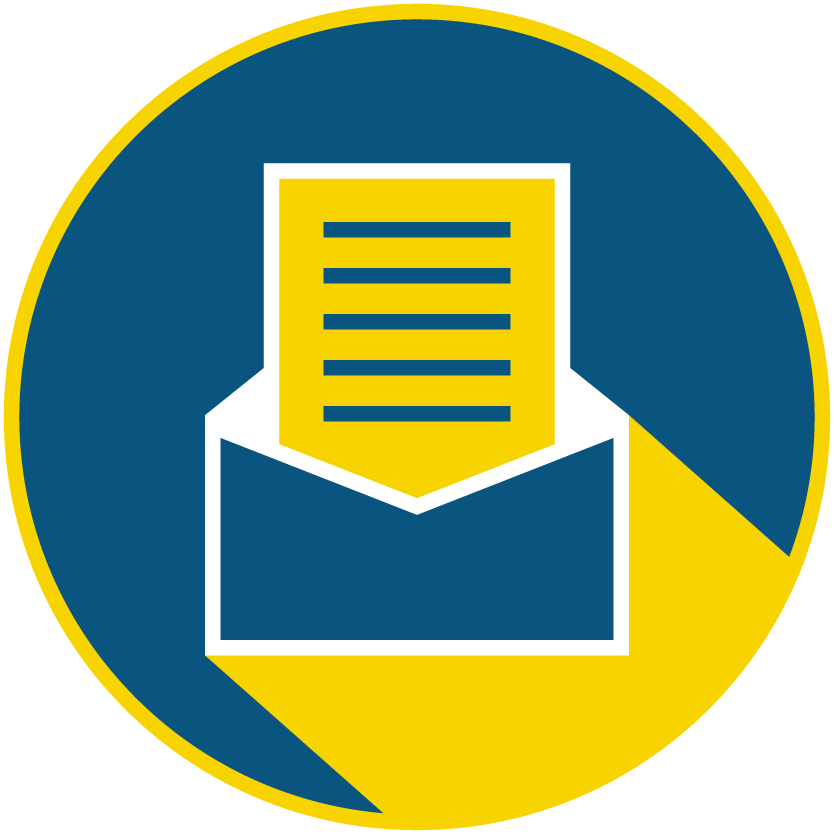 Subscribe to our newsletter to catch every headline.
03:39 PM | September 27, 2021
It started out as a way to relax after work.
On the episode of Behind Her Empire, JIGGY founder and CEO Kaylin Marcotte talks about how she turned her fascination with jigsaw puzzles into a thriving business.
Marcotte worked at the digital media company theSkimm, managing their brand ambassador program and grassroots marketing divisions, among other areas. The workload was overwhelming, she said. She looked for something meditative to relax her after work and stumbled onto jigsaw puzzles. Completing one helped reduce stress.

But the designs weren't great. Instead, she started experimenting with making puzzles of female artists' work, creating JIGGY in 2019.
"Given that they were real pieces of art, we decided to include puzzle glue so you could keep it when you were done and frame it or display it as an art print," said Marcotte.
Marcotte landed an appearance on ABC'S "Shark Tank," where she raised $500,000 from billionaire Mark Cuban. She grew the startup to $1.6 million in sales within its first nine months, making a point to pay her artists -- who get a share of the revenue of their puzzles -- on time.
"We work with our artists. It's baked into the business model that we do percentage of sales," she said.
Click the playhead above to hear the rest of the episode, in which Marcotte offers some lessons she learned building her company and how she navigated the pandemic.
dot.LA Audience Engagement Intern Joshua Letona contributed to this post.
From Your Site Articles
Related Articles Around the Web
Yasmin Nouri
Yasmin is the host of the "Behind Her Empire" podcast, focused on highlighting self-made women leaders and entrepreneurs and how they tackle their career, money, family and life.
Each episode covers their unique hero's journey and what it really takes to build an empire with key lessons learned along the way. The goal of the series is to empower you to see what's possible & inspire you to create financial freedom in your own life.
06:00 AM | January 11, 2022
When Darien Williams and Melanie Wolff opened Brella, their Montessori-inspired childcare center, in Playa Vista in 2019, they were inspired by the likes of WeWork and SoulCycle, which had multiple locations and easy-to-use apps for scheduling meetings and workout sessions. The pair found that parents juggling hectic day jobs with their children's preschool schedules were drawn to a tech-enabled, more flexible way to schedule childcare for their kids.
"The current system can be really punitive to [parents] because it forces them to pay for and schedule childcare that they don't always need, or to schedule childcare that doesn't actually support the workdays that they need to have," Wolff told dot.LA.
Months later, the coronavirus pandemic forced Brella to shut down. But rather than shuttering their company for good, the co-founders saw that the pandemic's new work-from-home paradigm only exacerbated the need for flexible childcare options. Brella reopened in June 2020, and today serves roughly 400 families whose kids, aged 3 months to 6 years, attend the Playa Vista facility for an average of four-to-five hours a day and twice per week.
On Tuesday, Brella announced a $5 million seed funding round that will allow the startup to open more facilities—it plans to expand to Hollywood and Pasadena by the end of this year—and improve its technology. The funding was led by Newport Beach-based Toba Capital and Brentwood-based Halogen Ventures, and takes Brella's total amount raised to date to $8 million.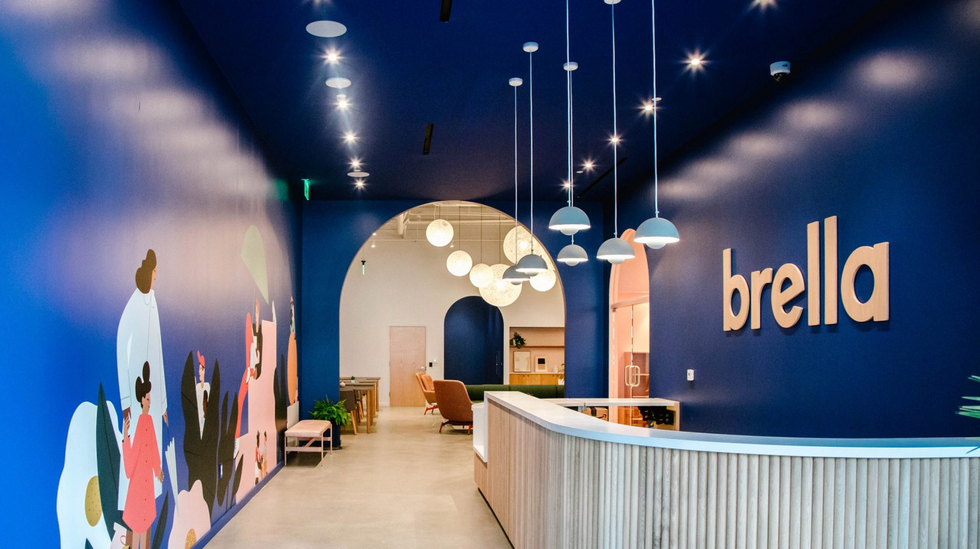 Brella's Playa Vista-based childcare center lobby.
"What we found is that even pre-pandemic, and now especially post-pandemic, families' work lives are really dynamic; they're not always working this 9-to-5, Monday-through-Friday kind of role," Wolff said. "Sometimes their childcare needs can vary day-to-day, week-to-week, and even month-to-month."
Brella is part of a growing industry of childcare startups leveraging technology to help families find childcare solutions. Its ranks include San Francisco-based Wonderschool, which helps families start their own preschools or daycares, and New York-based Otter, which allows parents to crowdsource babysitting resources from other parents.
Through Brella's app, parents can create a profile, upload necessary forms and documentation, and book times to drop their children off at the childcare center for a minimum of three hours. Brella offers different pricing packages depending on how far in advance parents want to schedule childcare and how often they need it.
As a licensed preschool, the curriculum that Brella teaches its pupils is inspired by progressive child development philosophies like Montessori, RIE and Reggio Emelia. The curriculum is adapted to how much time each child spends at the school; Brella's educators create "projects and learning opportunities that can engage a child that might be here for the very first time, or is coming three days a week this week and five days a week next week," Williams said.
From Your Site Articles
Related Articles Around the Web
Keerthi Vedantam
Keerthi Vedantam is a bioscience reporter at dot.LA. She cut her teeth covering everything from cloud computing to 5G in San Francisco and Seattle. Before she covered tech, Keerthi reported on tribal lands and congressional policy in Washington, D.C. Connect with her on Twitter, Clubhouse (@keerthivedantam) or Signal at 408-470-0776.