How a Vaccine That Stifled a Worldwide Pandemic Could Tackle Cancer
Keerthi Vedantam
Keerthi Vedantam is a bioscience reporter at dot.LA. She cut her teeth covering everything from cloud computing to 5G in San Francisco and Seattle. Before she covered tech, Keerthi reported on tribal lands and congressional policy in Washington, D.C. Connect with her on Twitter, Clubhouse (@keerthivedantam) or Signal at 408-470-0776.
06:00 AM | December 13, 2021
The pandemic's grip on the globe could have been much worse had it not been for the speedy appearance and adoption of vaccines on the market.

Many of those vaccines owe their existence to a group of scientists in France who, in 1993, concocted a cocktail of mRNA and lipids to see if it could help mice overcome influenza. It was the first study that showed mRNA vaccines could be used to combat viruses, and what followed was a slew of newly-founded pharma companies banking on the promise of mRNA, which is responsible for protein production, to treat cancer. While many of those have yet to make it to market, COVID may propel them into the hands of cancer patients worldwide.
---
Two well-known vaccines in the U.S. are mRNA-based and the companies that produced them, Moderna and BioNTech, have long been tinkering with mRNA for oncology purposes before they cracked the code on a COVID-19 vaccine that would inoculate millions of Americans and stifle the spread of COVID-19.
"Essentially you had this huge clinical trial of using mRNA," said Dr. Eunjoo Pacifici, a professor at the USC School of Pharmacy. "So we're pretty confident about the safety of this technology right now."
That has opened the door for a slew of uses for mRNA, a type of RNA in the body that is responsible for protein production.
Moderna is conducting active clinical trials on mRNA and cancers. BioNTech is also looking into mRNA treatments for those with melanoma and colorectal cancer. CureVac, which focuses solely on RNA applications, is working on a variety of cancer therapeutics including skin cancer. And companies in Southern California, like Los Angeles-based Avidity Biosciences, have been using RNA for muscular dystrophy and atrophy treatments. Replicate Bioscience in San Diego is in the infancy stages of harnessing RNA for breast cancer, lung cancer and tumors.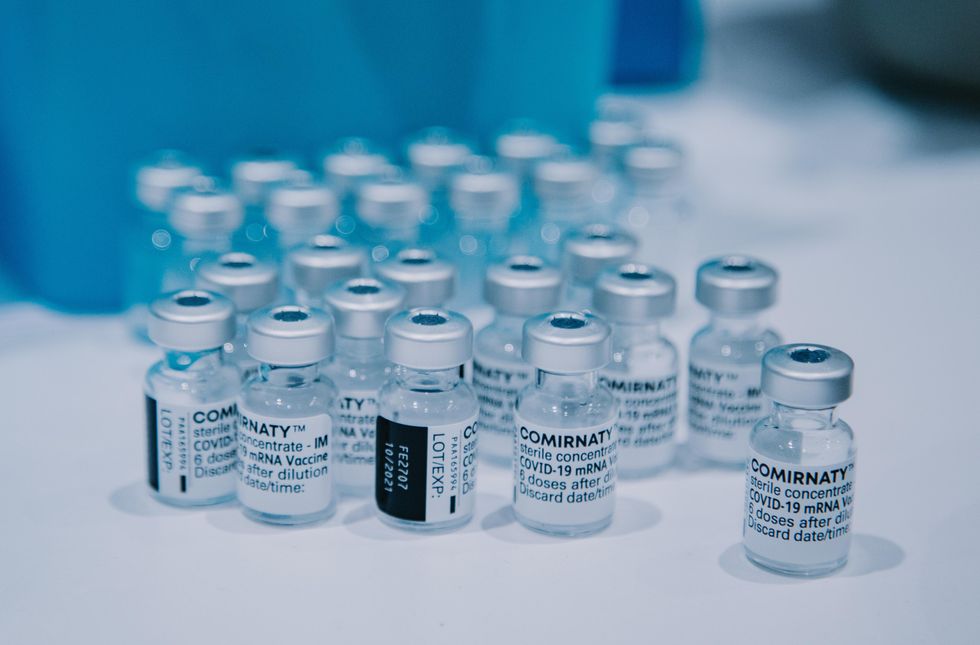 Photo by Mat Napo on Unsplash
What changed in the scientific world was money, according to Dr. Shaun Yang, an assistant medical director at the Clinical Microbiology Laboratory at UCLA. With the pandemic, suddenly an explosion of funding globally had every pharma company and research university racing to find a way to stop COVID-19 from whipping across the world, mutating rapidly and devastating countries.
"To be honest, it was almost like a gamble. These companies could choose the safer and more conservative approach and just focus on the older vaccine [protocol]. They have a less chance of failing," Yang said. "And instead, they chose to go for the more advanced technology that we didn't really have a lot of experience with."
Most vaccines work by taking a weakened version of the virus, or a portion of the virus, and introducing it to the body so the immune system knows how to fight it. Most vaccines use DNA, but RNA, which uses genetic codes encoded in DNA to carry out functions in cells, opened the door for creating high-potency treatments at scale.
The mRNA vaccine works using the Sars-Cov-2 spike protein (essentially the "skin" of the virus, but not the virus itself), which spurs the body's cells to copy that "skin" and create more spike proteins for the immune system to fight.
For a long time, mRNA vaccines were considered too volatile, fragile and expensive for infectious diseases because mRNA couldn't survive in the body long enough for the immune system to properly utilize it. Though scientific breakthroughs over time have addressed these issues, traditional vaccines already worked and there was little funding to explore mRNA vaccines.
"Instead of taking a long time to rev up the immune system, the immune system is already ready to go," Pacifi said. "It's almost like having a machine gun already loaded with the ammunition, instead of having an empty machine gun that you've got to go out and buy the ammunition."
With the widespread proven efficacy of the mRNA vaccine, Yang said, research into other uses for the vaccines may spur faster advancement than previously thought of for other infectious diseases like HIV, or as a cancer treatment. Like the mRNA COVID-19 vaccines, mRNA-based cancer therapeutics would simply need to introduce a "shell" of a cancer created from proteins into the body, which will then learn how to fight it.
But challenges still lie ahead. mRNA for therapeutic purposes will require scientists to send the mRNA to the proper location once it enters the body. If it doesn't enter the cell, it can simply disintegrate in the bloodstream.
It has been difficult to replicate this theory with previous vaccines which require a dead or weakened virus to be injected into the body. Cancer cells morph quickly and vary so wildly between patients there isn't a one-size-fits-all approach. But an mRNA therapeutic could take a sample of the patient's cancer, find the unique mutation, and create an mRNA treatment that is inoculated into the patient. The patient's body then produces those "shells", allowing the immune system to attack them.
"We can quickly respond to the changing mutations of not only this organism, but future organisms," Pacifi said.
mRNA vaccines have opened the door for the possibility of the ultimate cancer treatment: highly personalized, scalable, off-the-shelf and relatively noninvasive treatments that could save millions of lives.
"It's very exciting," Yang said. "This is one of the silver linings out of this pandemic. A lot of new technologies have the opportunity to shine."
Keerthi Vedantam
Keerthi Vedantam is a bioscience reporter at dot.LA. She cut her teeth covering everything from cloud computing to 5G in San Francisco and Seattle. Before she covered tech, Keerthi reported on tribal lands and congressional policy in Washington, D.C. Connect with her on Twitter, Clubhouse (@keerthivedantam) or Signal at 408-470-0776.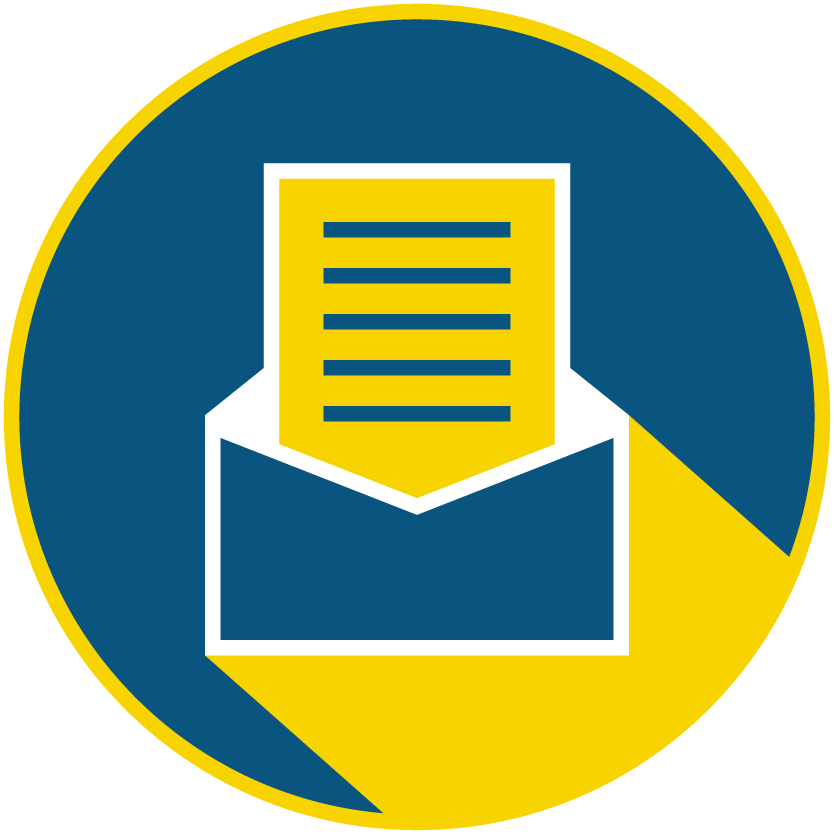 Subscribe to our newsletter to catch every headline.
06:00 AM | January 11, 2022
When Darien Williams and Melanie Wolff opened Brella, their Montessori-inspired childcare center, in Playa Vista in 2019, they were inspired by the likes of WeWork and SoulCycle, which had multiple locations and easy-to-use apps for scheduling meetings and workout sessions. The pair found that parents juggling hectic day jobs with their children's preschool schedules were drawn to a tech-enabled, more flexible way to schedule childcare for their kids.
"The current system can be really punitive to [parents] because it forces them to pay for and schedule childcare that they don't always need, or to schedule childcare that doesn't actually support the workdays that they need to have," Wolff told dot.LA.
Months later, the coronavirus pandemic forced Brella to shut down. But rather than shuttering their company for good, the co-founders saw that the pandemic's new work-from-home paradigm only exacerbated the need for flexible childcare options. Brella reopened in June 2020, and today serves roughly 400 families whose kids, aged 3 months to 6 years, attend the Playa Vista facility for an average of four-to-five hours a day and twice per week.
On Tuesday, Brella announced a $5 million seed funding round that will allow the startup to open more facilities—it plans to expand to Hollywood and Pasadena by the end of this year—and improve its technology. The funding was led by Newport Beach-based Toba Capital and Brentwood-based Halogen Ventures, and takes Brella's total amount raised to date to $8 million.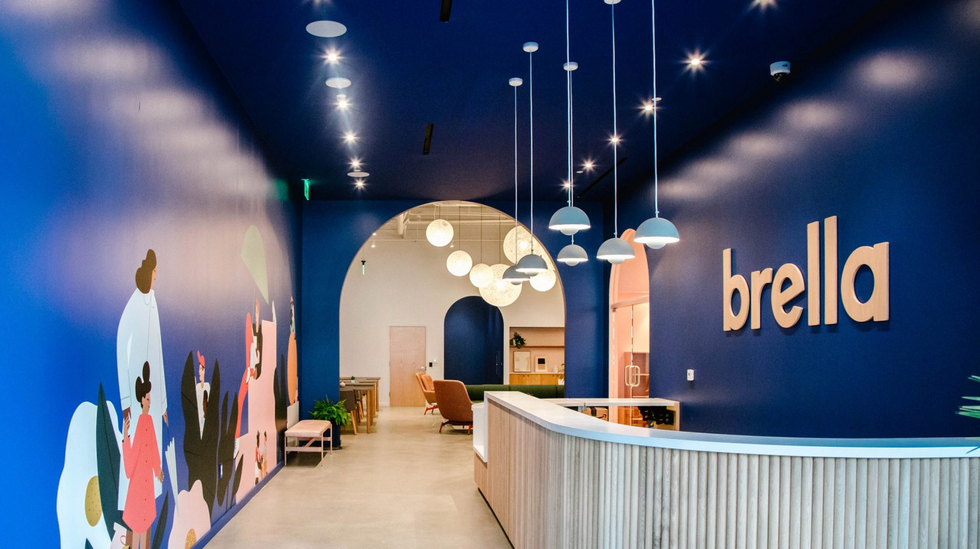 Brella's Playa Vista-based childcare center lobby.
"What we found is that even pre-pandemic, and now especially post-pandemic, families' work lives are really dynamic; they're not always working this 9-to-5, Monday-through-Friday kind of role," Wolff said. "Sometimes their childcare needs can vary day-to-day, week-to-week, and even month-to-month."
Brella is part of a growing industry of childcare startups leveraging technology to help families find childcare solutions. Its ranks include San Francisco-based Wonderschool, which helps families start their own preschools or daycares, and New York-based Otter, which allows parents to crowdsource babysitting resources from other parents.
Through Brella's app, parents can create a profile, upload necessary forms and documentation, and book times to drop their children off at the childcare center for a minimum of three hours. Brella offers different pricing packages depending on how far in advance parents want to schedule childcare and how often they need it.
As a licensed preschool, the curriculum that Brella teaches its pupils is inspired by progressive child development philosophies like Montessori, RIE and Reggio Emelia. The curriculum is adapted to how much time each child spends at the school; Brella's educators create "projects and learning opportunities that can engage a child that might be here for the very first time, or is coming three days a week this week and five days a week next week," Williams said.
From Your Site Articles
Related Articles Around the Web
Keerthi Vedantam
Keerthi Vedantam is a bioscience reporter at dot.LA. She cut her teeth covering everything from cloud computing to 5G in San Francisco and Seattle. Before she covered tech, Keerthi reported on tribal lands and congressional policy in Washington, D.C. Connect with her on Twitter, Clubhouse (@keerthivedantam) or Signal at 408-470-0776.
07:28 AM | January 04, 2021
Despite — or in many cases because of — the raging pandemic, 2020 was a great year for many tech startups. It turned out to be an ideal time to be in the video game business, developing a streaming ecommerce platform for Gen Z, or helping restaurants with their online ordering.
But which companies in Southern California had the best year? That is highly subjective of course. But in an attempt to highlight who's hot, we asked dozens of the region's top VCs to weigh in.
We wanted to know what companies they wish they would have invested in if they could go back and do it all over again.
Startups were ranked by how many votes each received. In the case of a tie, companies were listed in order of capital raised. The list illustrates how rapidly things move in startup land. One of the hottest startups had not even started when 2020 began. A number doubled or even 16x'd their valuation in the span of a few short months.
To divvy things up, we delineated between companies that have raised Series A funding or later and younger pre-seed or seed startups.
Not surprisingly, many of the hottest companies have been big beneficiaries of the stay-at-home economy.
PopShop Live, a red-hot QVC for Gen Z headquartered out of a WeWork on San Vicente Boulevard, got the most votes. Interestingly, the streaming ecommerce platform barely made it onto the Series A list because it raised its Series A only last month. Top Sand Hill Road firms Andreessen Horowitz and Lightspeed Venture Partners reportedly competed ferociously for who would lead the round but lost out to Benchmark, which was an early investor in eBay and Uber. The round valued PopShop Live at $100 million, way up from the $6 million valuation it raised at only five months prior.
Scopely, now one of the most valuable tech companies in Los Angeles, was also a top vote getter.
The Culver City mobile gaming unicorn raised $340 million in Series E funding in October at a $3.3 billion valuation, which nearly doubled the company's $1.7 billion post-money valuation from March. It is no coincidence that that was the same month stay-at-home orders began as Scopely has benefited from bored consumers staying on their couch and playing ScrabbleGo or Marvel Strike Force.
The company's success is especially welcome news to seed investors Greycroft, The Chernin Group and TenOneTen ventures, who got in at a $40 million post valuation in 2012. Upfront Ventures, BAM Ventures and M13 joined the 2018 Series C at a $710 post-money valuation.
Softbank-backed Ordermark, which flew more under the radar, also topped the list. The company's online ordering platform became a necessity for restaurants forced to close their dining rooms during the pandemic and raised $120 million in Series C funding in October.
On the seed side, two very different startups stood out. There was Pipe, which enables companies with recurring revenues to tap into their deferred cash flows with an instant cash advance, and Clash App, Inc., a TikTok alternative launched by a former employee of the social network in August.
We will have the list of Southern California's top seed startups out tomorrow.
Lead art by Candice Navi.
Ben Bergman
Ben Bergman is the newsroom's senior finance reporter. Previously he was a senior business reporter and host at KPCC, a senior producer at Gimlet Media, a producer at NPR's Morning Edition, and produced two investigative documentaries for KCET. He has been a frequent on-air contributor to business coverage on NPR and Marketplace and has written for The New York Times and Columbia Journalism Review. Ben was a 2017-2018 Knight-Bagehot Fellow in Economic and Business Journalism at Columbia Business School. In his free time, he enjoys skiing, playing poker, and cheering on The Seattle Seahawks.
https://twitter.com/thebenbergman
ben@dot.la