The pandemic's grip on the globe could have been much worse had it not been for the speedy appearance and adoption of vaccines on the market.

Many of those vaccines owe their existence to a group of scientists in France who, in 1993, concocted a cocktail of mRNA and lipids to see if it could help mice overcome influenza. It was the first study that showed mRNA vaccines could be used to combat viruses, and what followed was a slew of newly-founded pharma companies banking on the promise of mRNA, which is responsible for protein production, to treat cancer. While many of those have yet to make it to market, COVID may propel them into the hands of cancer patients worldwide.
Two well-known vaccines in the U.S. are mRNA-based and the companies that produced them, Moderna and BioNTech, have long been tinkering with mRNA for oncology purposes before they cracked the code on a COVID-19 vaccine that would inoculate millions of Americans and stifle the spread of COVID-19.
"Essentially you had this huge clinical trial of using mRNA," said Dr. Eunjoo Pacifici, a professor at the USC School of Pharmacy. "So we're pretty confident about the safety of this technology right now."
That has opened the door for a slew of uses for mRNA, a type of RNA in the body that is responsible for protein production.
Moderna is conducting active clinical trials on mRNA and cancers. BioNTech is also looking into mRNA treatments for those with melanoma and colorectal cancer. CureVac, which focuses solely on RNA applications, is working on a variety of cancer therapeutics including skin cancer. And companies in Southern California, like Los Angeles-based Avidity Biosciences, have been using RNA for muscular dystrophy and atrophy treatments. Replicate Bioscience in San Diego is in the infancy stages of harnessing RNA for breast cancer, lung cancer and tumors.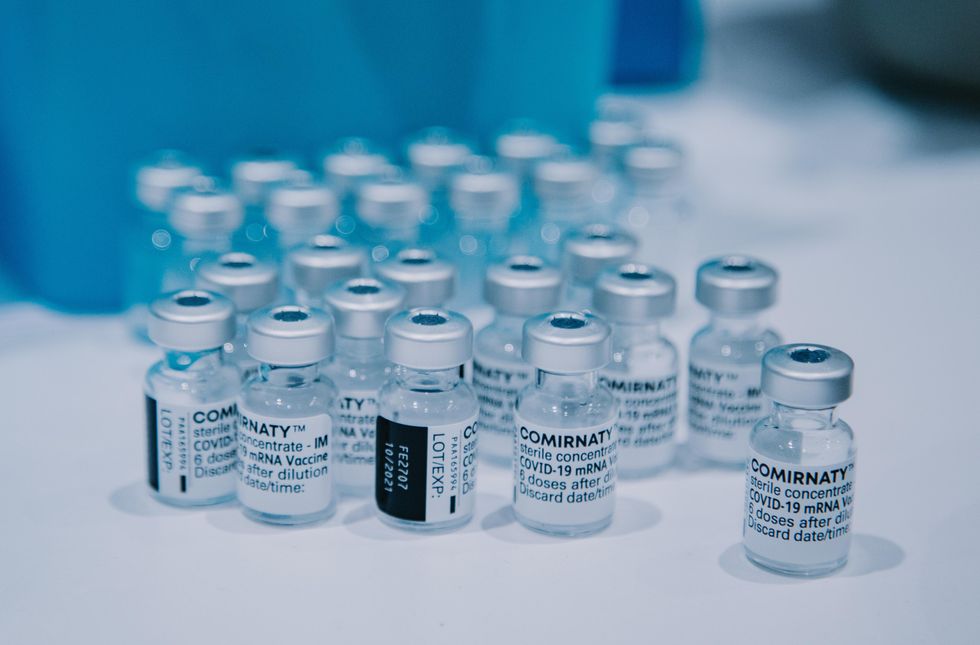 Photo by Mat Napo on Unsplash
What changed in the scientific world was money, according to Dr. Shaun Yang, an assistant medical director at the Clinical Microbiology Laboratory at UCLA. With the pandemic, suddenly an explosion of funding globally had every pharma company and research university racing to find a way to stop COVID-19 from whipping across the world, mutating rapidly and devastating countries.
"To be honest, it was almost like a gamble. These companies could choose the safer and more conservative approach and just focus on the older vaccine [protocol]. They have a less chance of failing," Yang said. "And instead, they chose to go for the more advanced technology that we didn't really have a lot of experience with."
Most vaccines work by taking a weakened version of the virus, or a portion of the virus, and introducing it to the body so the immune system knows how to fight it. Most vaccines use DNA, but RNA, which uses genetic codes encoded in DNA to carry out functions in cells, opened the door for creating high-potency treatments at scale.
The mRNA vaccine works using the Sars-Cov-2 spike protein (essentially the "skin" of the virus, but not the virus itself), which spurs the body's cells to copy that "skin" and create more spike proteins for the immune system to fight.
For a long time, mRNA vaccines were considered too volatile, fragile and expensive for infectious diseases because mRNA couldn't survive in the body long enough for the immune system to properly utilize it. Though scientific breakthroughs over time have addressed these issues, traditional vaccines already worked and there was little funding to explore mRNA vaccines.
"Instead of taking a long time to rev up the immune system, the immune system is already ready to go," Pacifi said. "It's almost like having a machine gun already loaded with the ammunition, instead of having an empty machine gun that you've got to go out and buy the ammunition."
With the widespread proven efficacy of the mRNA vaccine, Yang said, research into other uses for the vaccines may spur faster advancement than previously thought of for other infectious diseases like HIV, or as a cancer treatment. Like the mRNA COVID-19 vaccines, mRNA-based cancer therapeutics would simply need to introduce a "shell" of a cancer created from proteins into the body, which will then learn how to fight it.
But challenges still lie ahead. mRNA for therapeutic purposes will require scientists to send the mRNA to the proper location once it enters the body. If it doesn't enter the cell, it can simply disintegrate in the bloodstream.
It has been difficult to replicate this theory with previous vaccines which require a dead or weakened virus to be injected into the body. Cancer cells morph quickly and vary so wildly between patients there isn't a one-size-fits-all approach. But an mRNA therapeutic could take a sample of the patient's cancer, find the unique mutation, and create an mRNA treatment that is inoculated into the patient. The patient's body then produces those "shells", allowing the immune system to attack them.
"We can quickly respond to the changing mutations of not only this organism, but future organisms," Pacifi said.
mRNA vaccines have opened the door for the possibility of the ultimate cancer treatment: highly personalized, scalable, off-the-shelf and relatively noninvasive treatments that could save millions of lives.
"It's very exciting," Yang said. "This is one of the silver linings out of this pandemic. A lot of new technologies have the opportunity to shine."