'This is All About Increasing Social Distancing': L.A. County Ordered to Stay at Home
Sam Blake
Sam primarily covers entertainment and media for dot.LA. Previously he was Marjorie Deane Fellow at The Economist, where he wrote for the business and finance sections of the print edition. He has also worked at the XPRIZE Foundation, U.S. Government Accountability Office, KCRW, and MLB Advanced Media (now Disney Streaming Services). He holds an MBA from UCLA Anderson, an MPP from UCLA Luskin and a BA in History from University of Michigan. Email him at samblake@dot.LA and find him on Twitter @hisamblake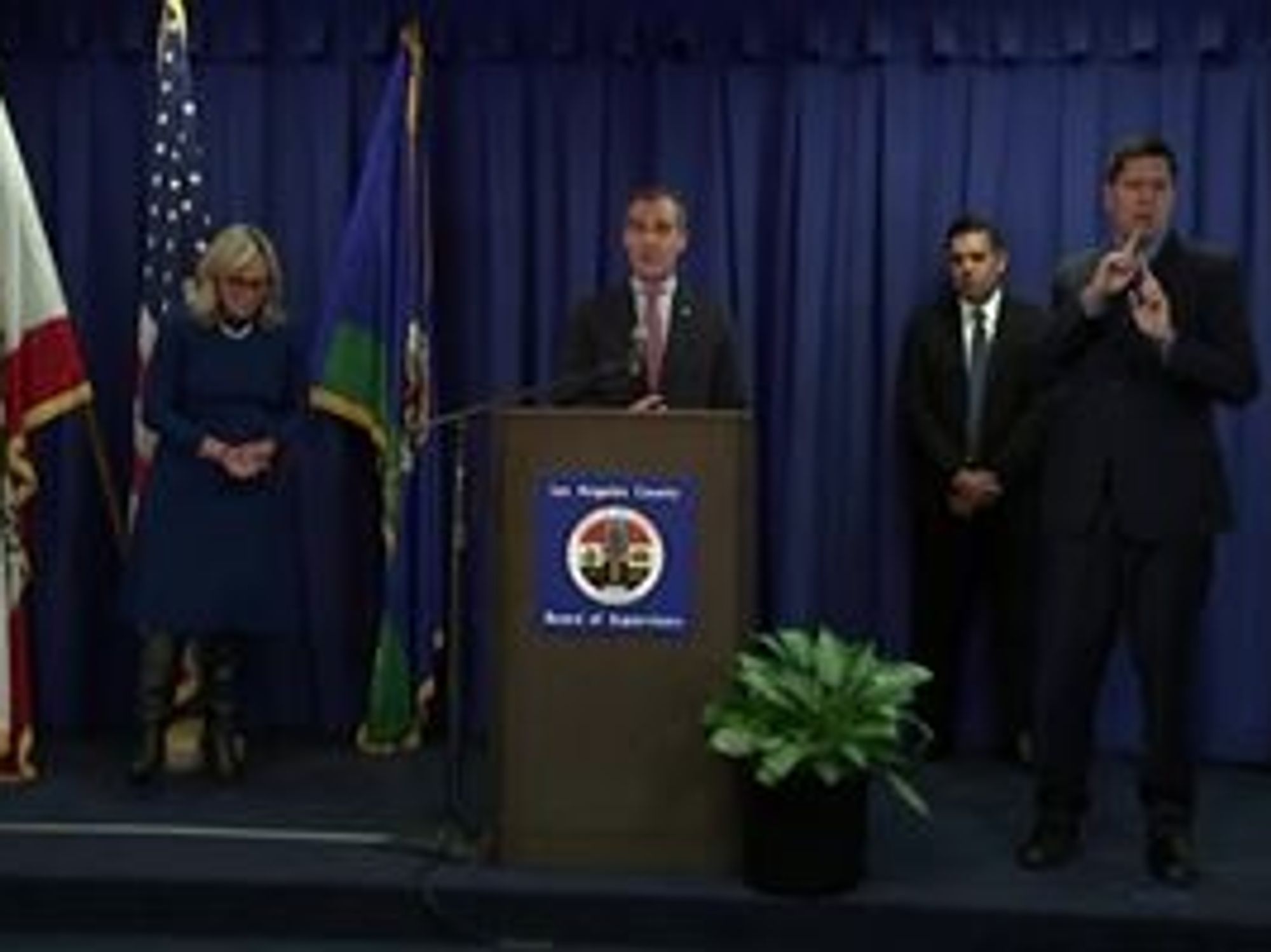 Los Angeles has enacted what city and county leaders are calling the "next steps" in the fight against the novel coronavirus. At a press conference on Thursday late afternoon, Supervisor Kathryn Barger detailed the Safer at Home Emergency Order, which will apply across Los Angeles County. Her remarks were followed by a series of statements from other public officials.
"This is all about increasing social distancing," said Los Angeles Mayor Eric Garcetti.
---
People are being asked to refrain from gathering in enclosed spaces in groups of more than ten. Non-essential businesses will be closed. Non-essential workers should not go to work.
"We all know it will be temporary," said Supervisor Barger, but no specific end date was given.
"The data is crystal clear," said Garcetti. Based on testing, he explained, Los Angeles' infection trajectory resembles Italy's before the problem there escalated exponentially; overcrowded hospitals have been widely reported.
"We're trying to intervene earlier and we're trying to be one of those countries where the curve flattens," said Garcetti, referring to the effort to slow the rate of infection and avoid overwhelming the health system.
He praised the efforts of community members so far, citing the rare abundance of green that he has been seeing on Google traffic maps.
"But I don't want to sugarcoat it. Today is a day that will be seared into the story and the streets of this city. It will be a moment when everything changed."

Multiple officials stressed that citizens should not worry about shortages of food, water or other essential items, and that people can still go outside, and order food delivery and take-out.
Young people were asked to take the order seriously. Long Beach Mayor Robert Garcia noted that, "Young people can absolutely carry the virus to other populations and are vulnerable themselves."

As to enforcement, Garcetti said officials will proceed with a 'light touch'. "Nobody is locked down," said the mayor. "This is not shelter in place like a school shooting. This is stay at home, because you are safer there."
The first question during the Q&A that followed the statements asked for clarification.
"The goal is for people to comply with this," answered Supervisor Barger. "We're not going to have law enforcement out there arresting people, but we will have law enforcement in terms of business compliance."
The measure goes into effect at 11:59pm Thursday, and 11:59pm on Friday for businesses.

On Wednesday, California Governor Gavin Newsom wrote a letter to President Donald Trump requesting the deployment of a naval ship off the California coast to help "decompress our current health care delivery system in Los Angeles".
"We project that roughly 56 percent of our population–25.5 million people–will be infected with the virus over an eight-week period," he wrote.
Shortly after the Los Angeles press conference, Governor Newsom issued a similar, statewide order directing residents "to stay home or at their place of residence except as needed to maintain continuity of operations of the federal critical infrastructure sectors."
The statewide order noted, however, that the Governor "may designate additional sectors as critical in order to protect the health and well-being of all Californians."

Officials have noted that updated information is available at lacounty.gov/covid19,coronavirus.lacity.org and covid19.ca.gov.

Sam Blake
Sam primarily covers entertainment and media for dot.LA. Previously he was Marjorie Deane Fellow at The Economist, where he wrote for the business and finance sections of the print edition. He has also worked at the XPRIZE Foundation, U.S. Government Accountability Office, KCRW, and MLB Advanced Media (now Disney Streaming Services). He holds an MBA from UCLA Anderson, an MPP from UCLA Luskin and a BA in History from University of Michigan. Email him at samblake@dot.LA and find him on Twitter @hisamblake
https://twitter.com/hisamblake
samblake@dot.la