Fanhouse Wants To Change the Way We Think About Community Ownership
Kristin Snyder
Kristin Snyder is dot.LA's 2022/23 Editorial Fellow. She previously interned with Tiger Oak Media and led the arts section for UCLA's Daily Bruin.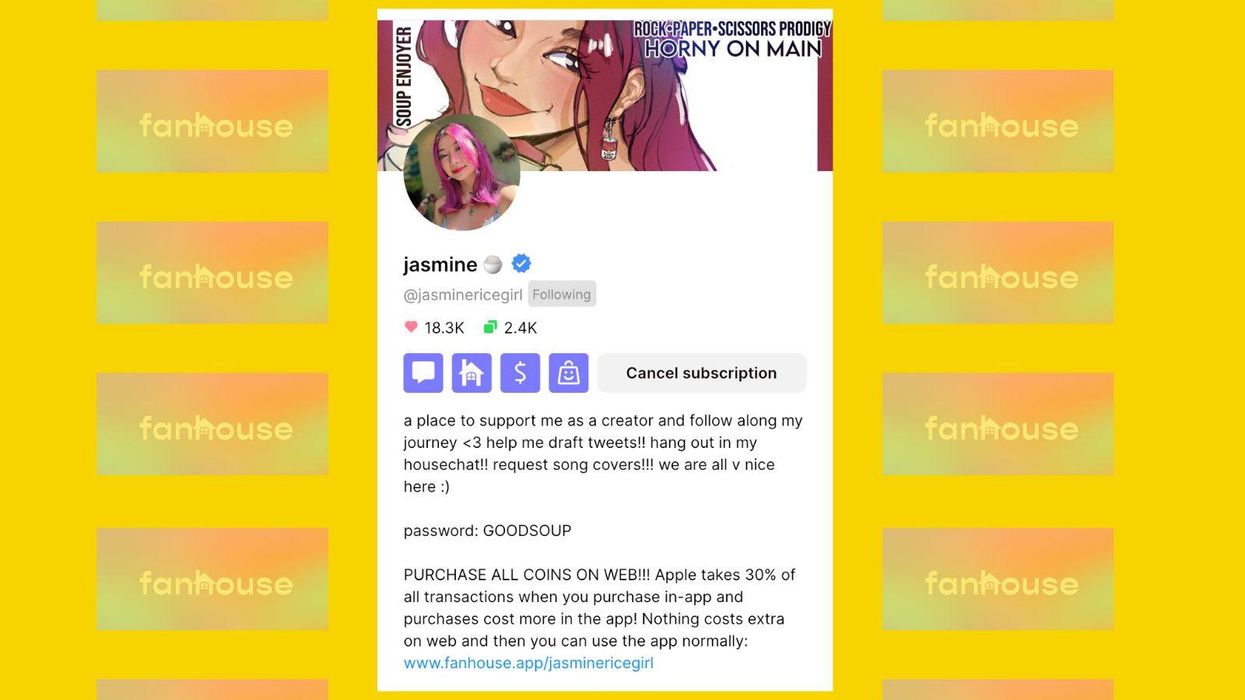 Andria Moore/Fanhouse
Last week after the mass exodus of Twitter employees, content creator Rosie Nguyen shared a link to her Instagram account. She wasn't alone. In the hysteria that followed Elon Musk's ultimatum to commit to a new "hardcore" Twitter or leave the company with severance pay, manycreators did the same.

But Nguyen had another link to share as well: her Fanhouse account. The subscription platform is a way for creators to offer their fans content in exchange for a monthly fee.
---
"It is a very, very scary thought as a creator that everything I built up in these last four years could just disappear in one day because someone that runs a platform just decides that's what they want to do," Nguyen says.
Which is why Nguyen created Fanhouse in the first place. In fact, the events last week played out similar to one of Nguyen's frequent nightmares: "Those 200,000 people are gone, and I'll never know who they are or be able to connect with them again," she says.
Even before launching her company, however, Nguyen had come to realize that monetization on Twitter is more difficult than on platforms like Instagram and TikTok. She says the only way she initially made money off her Twitter account was from her followers Venmoing her tips. Which is why she, along with Fanhouse co-founders Khoi Le and Amy Shen, wanted to find a way to cultivate more of a community behind those one-time tips.
Today, Fanhouse offers group chats, polls, exclusive posts and Spotify account connections on top of the option to offer content for free. The company takes 10% of each exchange, and to date, Fanhouse has paid out over $30 million to creators.
All of which was spurred by Nguyen's philosophy that a creator only needs 1,000 truly dedicated fans who will like content, purchase merch or buy subscription services.
"For me, the 200,000 is a cool number," Nguyen says. "But, actually, the 500 people on my Fanhouse is the more valuable number because that's literally where my income is coming from."
In the aftermath of the Twitter frenzy, Nguyen has opened up her formerly paywalled Fanhouse account full of exclusive posts for anyone who wants to join. Per her Fanhouse account, Nguyen still intends to make $2,000 a month through fan donations—if not, she will either revive the paywall or focus on creating more sponsored content.
Other creators though are still using Fanhouse to monetize their content. With over one million YouTube subscribers, content creator and Fanhouse user Jimmy Zhang says that finding the core group of fans who were willing to invest in his content was key to sustaining his career. Zhang found Fanhouse through Nguyen and says he was drawn to the platform's creative elements.
"I don't think anything's free—even on YouTube, you have to watch ads, and time is essentially money," Zhang says. "Either way, you're giving something up. With a platform like Fanhouse, you pay just a little bit extra and maybe you get to watch the videos ad-free."
Zhang offers live lectures, Q&As and exclusive posts on his Fanhouse page. And one way of luring fans to the platform is via his YouTube videos: Zhang will end on cliffhangers and promises that the finale is exclusively available on Fanhouse.
Nguyen recognizes that encouraging users to not only migrate to a new platform but also pay for content is no easy ask. But for her, the people who do so are the ones that can make content creation a more viable and stable career path.
"I think what we really want to solve with Fanhouse is this concept of community ownership," Nguyen says. "And that creators should be the ones that own their community."
Kristin Snyder
Kristin Snyder is dot.LA's 2022/23 Editorial Fellow. She previously interned with Tiger Oak Media and led the arts section for UCLA's Daily Bruin.
https://twitter.com/ksnyder_db