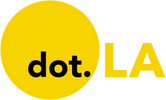 Get in the KNOW
on LA Startups & Tech
X
Francesca Billington
Francesca Billington is a freelance reporter. Prior to that, she was a general assignment reporter for dot.LA and has also reported for KCRW, the Santa Monica Daily Press and local publications in New Jersey. She graduated from Princeton in 2019 with a degree in anthropology.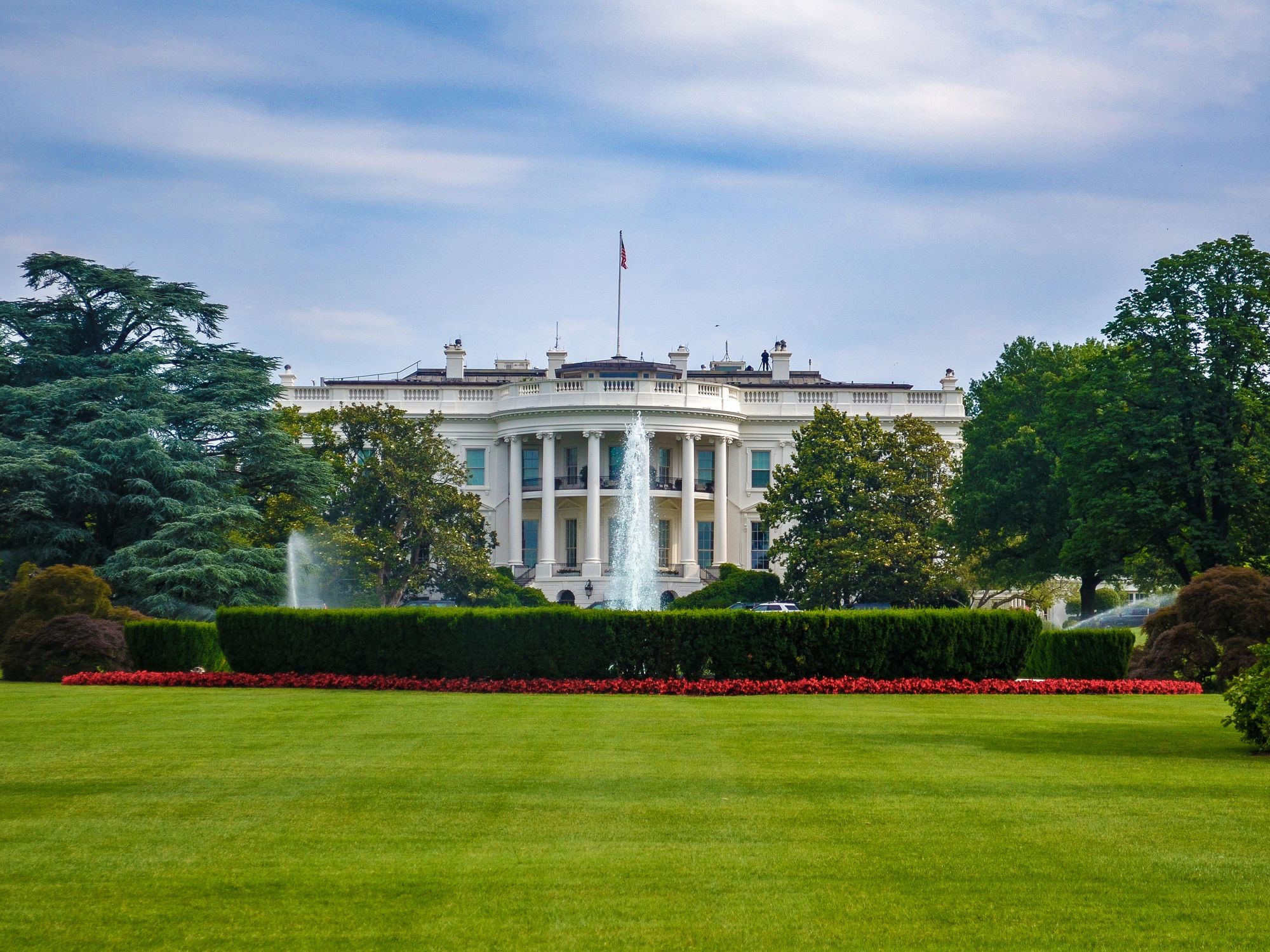 President Biden on Friday signed an executive order with sweeping implications for big tech and its pattern of snapping up small competitors.
---
The order, aimed at fostering competition in the economy, targets powerful tech platforms by encouraging new rules on data collection and policy to monitor acquisitions.
Among the most sweeping for tech companies is a policy to keep a closer eye on business mergers, "especially by dominant internet platforms." That order would focus on small competitors, serial mergers and the way free products impact competition.
The White House order is wide-ranging and includes 72 initiatives by over a dozen federal agencies that would place new restrictions affecting industries from broadband to prescription drugs.
With the aim of curbing the collection of sensitive and personal data, President Biden called on the Federal Trade Commission (FTC) to create surveillance and data accumulation protocols. The order also pushes for new rules from the FTC that would bar "unfair methods of competition on internet marketplaces."
Other big proposals include a ban or limit on non-compete agreements, a practice by many private businesses to draw a line around where employees can work down the line.
"Workers should be free to take a better job if someone offers it," Biden said during a press briefing Friday afternoon. "There were clauses in McDonald's contracts, you can't leave Burger King and work for McDonald's. Is there a trade secret of what's inside that patty?"
From Your Site Articles
Related Articles Around the Web
Francesca Billington
Francesca Billington is a freelance reporter. Prior to that, she was a general assignment reporter for dot.LA and has also reported for KCRW, the Santa Monica Daily Press and local publications in New Jersey. She graduated from Princeton in 2019 with a degree in anthropology.
https://twitter.com/frosebillington
francesca@dot.la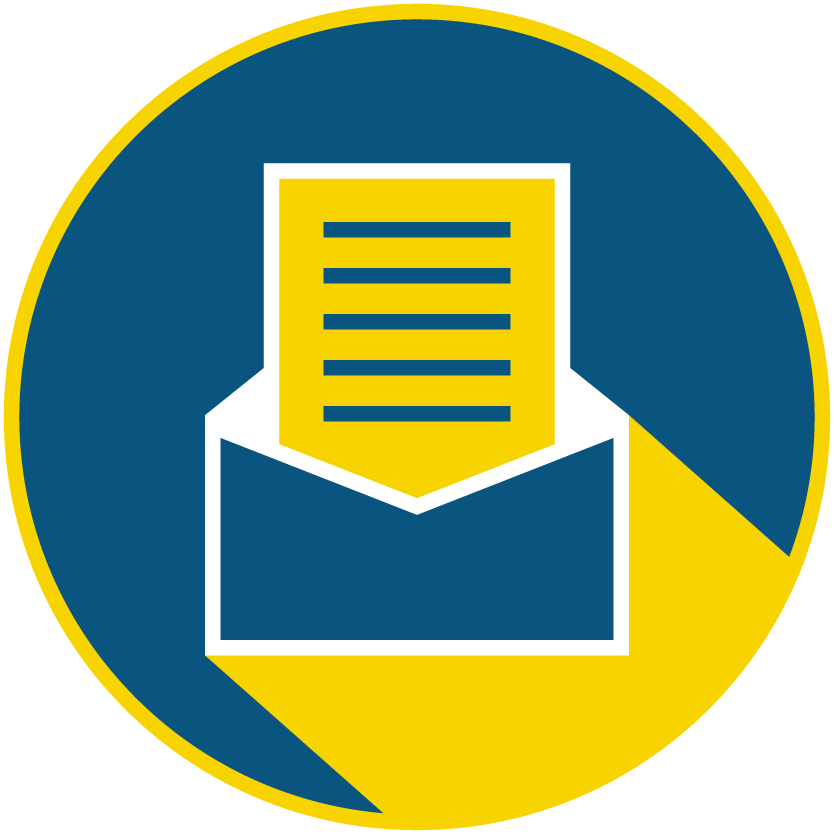 Subscribe to our newsletter to catch every headline.
David Shultz
David Shultz is a freelance writer who lives in Santa Barbara, California. His writing has appeared in The Atlantic, Outside and Nautilus, among other publications.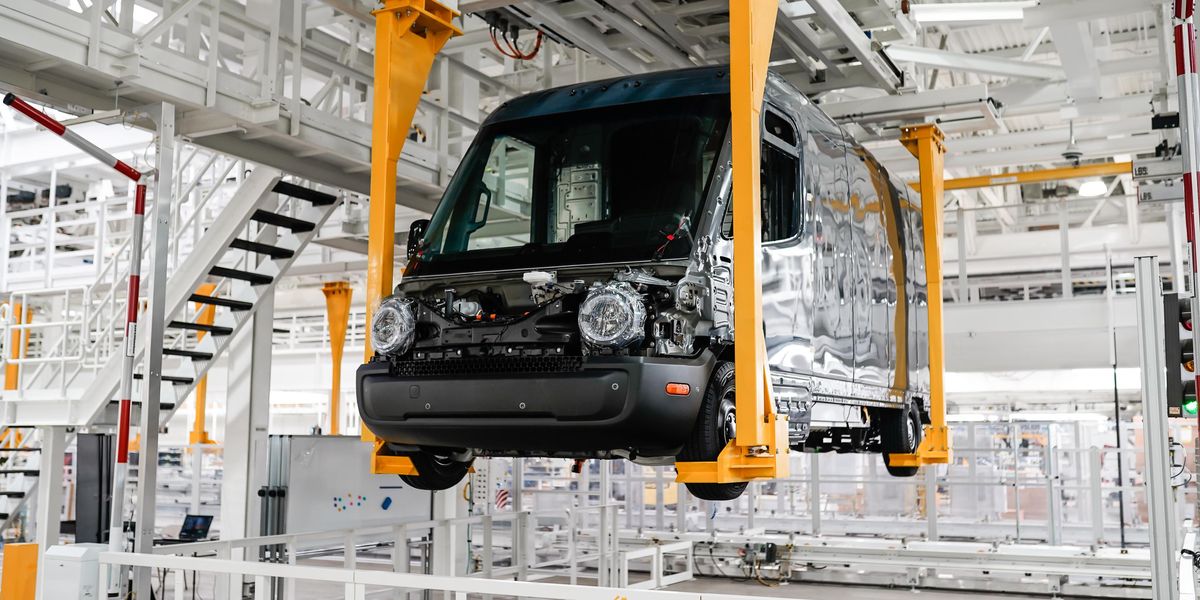 Courtesy of Rivian.
Rivian's stock lost 7% yesterday on the back of news that the company could face delays in fulfilling Amazon's order for a fleet of electric delivery vans due to legal issues with a supplier. The electric vehicle maker is suing Commercial Vehicle Group (CVG) over a pricing dispute related to the seats that the supplier promised, according to the Wall Street Journal.
The legal issue could mean that Amazon may not receive their electric vans on time. The dispute hinges on whether or not Commercial Vehicle Group is allowed to raise the prices of its seats after Rivian made engineering and design changes to the original version. Rivian says the price hike from CVG violates the supply contract. CVG denies the claim.

Regardless, the dispute could hamper Rivian's ability to deliver electric vans to Amazon on time. The ecommerce/streaming/cloud computing/AI megacorporation controls an 18% stake in Rivian as one of the company's largest early investors. Amazon has previously said it hopes to buy 100,000 delivery vehicles from Rivian by 2030.
The stock plunge marked another wild turn for the EV manufacturer. Last week, Rivian shares dropped 21% on Monday after Ford, another early investor, announced its intent to sell 8 million shares. The next few days saw even further declines as virtually the entire market saw massive losses, but then Rivian rallied partially on the back of their earnings report on Wednesday, gaining 28% back by Friday. Then came yesterday's 7% slide. Today the stock is up another 10%.
Hold on tight, who knows where we're going next.
David Shultz
David Shultz is a freelance writer who lives in Santa Barbara, California. His writing has appeared in The Atlantic, Outside and Nautilus, among other publications.
Kristin Snyder
Kristin Snyder is an editorial intern for dot.la. She previously interned with Tiger Oak Media and led the arts section for UCLA's Daily Bruin.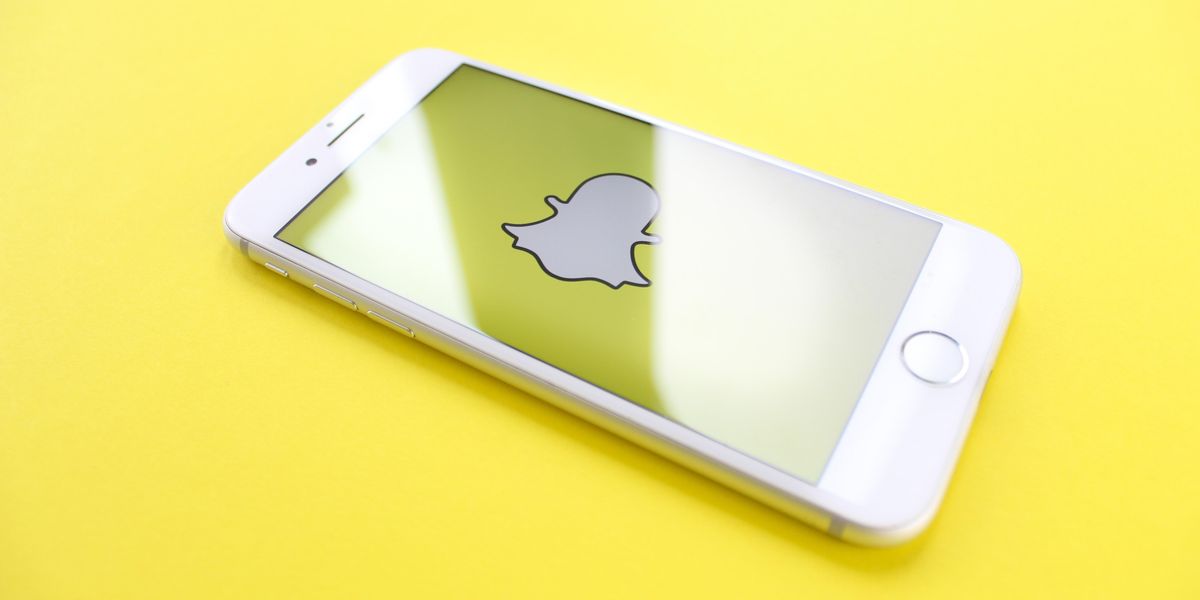 Some Snap Kit platform developers have skirted guidelines meant to make the app safer for children.
A new report from TechCrunch released Tuesday found that some third-party apps that connect to users' Snap accounts have not been updated according to new guidelines announced in March. The restrictions, which target anonymous messaging and friend-finding apps, are meant to increase child safety. However, the investigation found a number of apps either ignore the new regulations or falsely claim to be integrated with Snapchat.
The Santa Monica-based social media company announced the changes after facing two separate lawsuits related to teen suicide allegedly caused by the app. Over 1,500 developers integrate Snap features like the camera and Bitmojis. Snap originally claimed the update would not affect many apps.
Developers had 30 days to revise their software, but the investigation found that some apps, such as the anonymous Q&A app Sendit, were granted an extension. Others blatantly avoided the changes—the anonymous messaging app HMU, which is now meant for adult users, is still available to users "9+" in the App Store. Certain apps that have been banned from Snap, like Intext, still advertise Snapchat integration.
"First and foremost, we put the privacy and safety of our community first and expect the products built by our developer community to adhere to that standard in addition to bringing fun and positive experiences to people," Director of Platform Partnerships Alston Cheek told TechCrunch.
The news is a blow to Snap's recent efforts to cast itself as a responsible social media platform The company recently announced Colleen DeCourcy would take over as the company's new chief creative officer and CEO Evan Spiegel to recently made a a generous personal donation to graduates of Otis College of Art and Design. The social media company currently faces a lawsuit from a teenager who claims it has not done enough to protect minors from sexual exploitation. In April, 44 attorney generals sent a letter to Snap and TikTok urging the companies to strengthen parental controls.
Lawmakers are considering new policies that would hold social media companies accountable for the content on their platforms. One such bill would require social media companies to share data with independent researchers.
Snapchat recently rolled out augmented reality shopping features and influencer-led original content to grow its younger base of users.
Snap Inc., Snapchat's parent company, is an investor in dot.LA.
Kristin Snyder
Kristin Snyder is an editorial intern for dot.la. She previously interned with Tiger Oak Media and led the arts section for UCLA's Daily Bruin.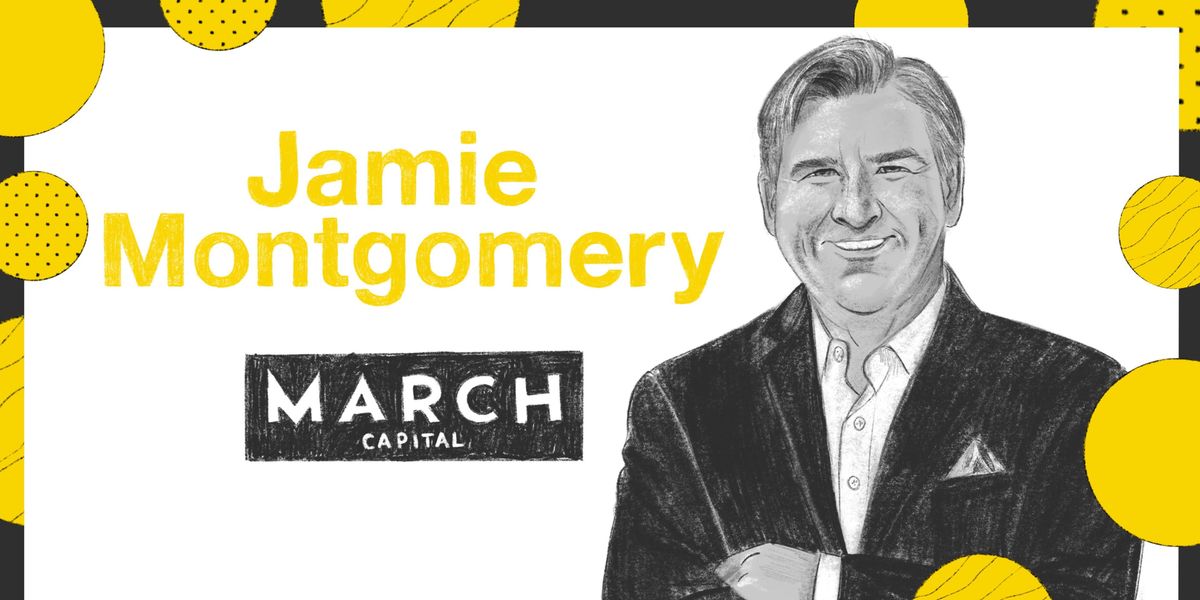 March Capital's Jamie Montgomery. Illustration by Dilara Mundy.
When we list the attributes most associated with successful founders, investors, billionaires, and industry leaders, we often think of things like determination, grit, fortitude and even obsessiveness. The winners are the most relentless, the ones who work the hardest, know the most, start the earliest in the morning on four hours of sleep and won't accept no for an answer.
While discussing the venture capital world, and his upcoming technology conference in Santa Monica, The Montgomery Summit 2022, March Capital co-founder and Managing Partner Jamie Montgomery doesn't necessarily contradict this formula for success, but adds a new attribute to the mix that's sometimes left out: curiosity.
Montgomery's a believer that there's no one right way to go about things, and no surefire process for success. Sometimes, the best company emerges from not just the best data and team but the most creative approach. "If something isn't clear, invert," Montgomery explained. "Then invert again. Soon the subject becomes clear."
The best investors and leaders have an innate inquisitiveness about the world around them, and seek out opportunities not just based on market trends but genuine observations about problems in desperate need of solutions.
"You sort of have to be a very heuristical thinker," Montgomery said. "Sometimes I find some people I talk to are very smart and interesting, and I think, "That person's very thoughtful. They're going to be a good investor.' Sometimes you meet people and you think 'Well, they come across smart, but they're always preparing what they're going to say in response to what you have to say, they're not really listening.' Being a good investor, you've got to be a good listener. You've got to figure out, what's the signal and what's the noise? Filter out the noise and say 'What's real?'"
Thoughtfulness, attentiveness and curiosity are typically the sort of attributes that we think of as innate, as opposed to skills you can improve via on-the-job training. Montgomery noted, "I always ask entrepreneurs why rather than what. You get a more interesting answer." Reading and research and investigation can help, but innate curiosity remains an essential ingredient in business success.
"I think, to be an investor, not just a VC but an overall investor, one benefits from an incredible amount of reading and knowledge," Montgomery explained. "You have to have a voracious appetite, so it's really a high-level curiosity. Some people have it, some don't."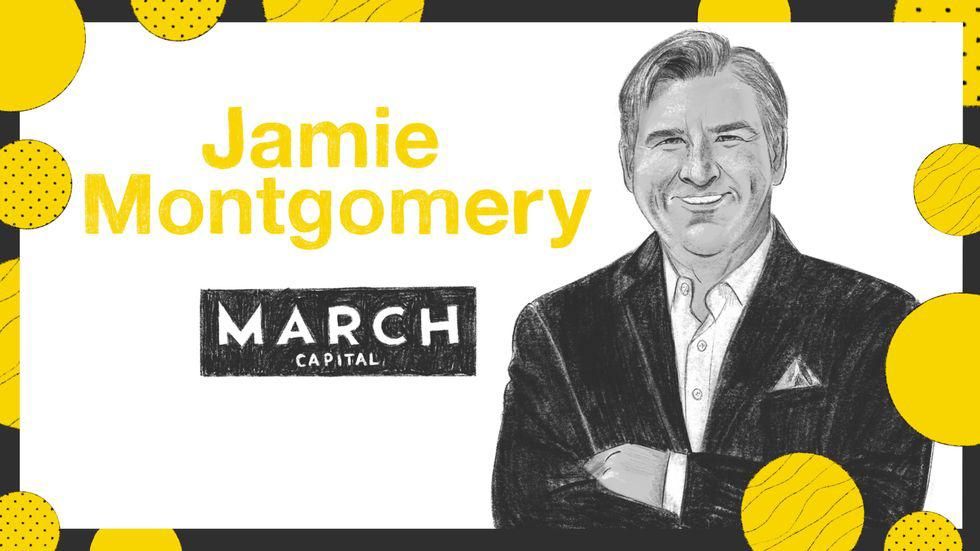 March Capital Founder Jamie Montgomery. Illustration by Dilara Mundy
One subject that's on Montgomery's mind these days is quantum computing, and its potential impact on cybersecurity, a major area of focus for March. His process starts by asking core questions about the next 5-10 years and what they'll look like, before even considering potential solutions.

"If you're investing, you have to look at something that's inevitable," Montgomery explained. "Is it gonna happen or not. If it's inevitable, then the question is, is it imminent? And is it investible? Start with inevitable. Eventually you're going to have quantum computing, and that's gonna create an existential threat to cybersecurity. Is that imminent?... What is the post-quantum cyber world like, with all this information that's been siphoned out of America by China… what do they have and how do we prepare for a post-quantum cybersecurity? It's almost existential."
This holistic question-based approach also drives Montgomery as he plans and organizes the annual Montgomery Summit, the largest such event of the L.A. tech calendar year (Montgomery refers to it as the "Rose Bowl of Conferences.")
He expects around 1,200 people to attend this year – the event's big return post-pandemic – for panels and sessions that don't just cover areas in which March Capital specializes, but a vast and diverse variety of subjects and topics, designed to intrigue and inspire curious minds.
Over 175 speakers in total have signed on for the 19th annual Montgomery Summit, to be held on May 24 and 25, from the worlds of technology, economics, geopolitics, public policy, the sciences and beyond. Montgomery gets animated as he tells me about the voluminous range of topics being covered, from the Federal Reserve's response to inflation to the war in Ukraine to the stories behind companies like Bill.com and CrowdStrike. One session will feature Chapman University Presidential Fellow Jack Horner, one of the world's leading paleontologists and a key inspiration for the "Jurassic Park" character Dr. Alan Grant.
"It's the interaction, the entrepreneurs with the investors and the executives," Montgomery told me. "It's fantastic, it's enjoyable, it's fun, and it's candid. There are no big egos. The speakers will actually come and talk to you, they don't come in the back door and leave through the back door. You actually can go to any one of seven sessions, and it's going to be interesting, and they're all short. 25-45 minutes each."
The shorter 25-45 minute sessions help to stave off boredom and mean that attendees can sample a wider range of subjects and sessions than they might at other conferences. It helps keep things moving and makes them fun, a theme Montgomery returned to a few times in our discussion.
"There's a lot of conferences that are very professionally run or research-driven or they're very commercial. People come here and they're gonna have a blast, right?"
The Montgomery Summit runs May 24th-25th at Santa Monica's Fairmont Miramar Hotel & Bungalows. Find out more information on their website.
From Your Site Articles
Related Articles Around the Web