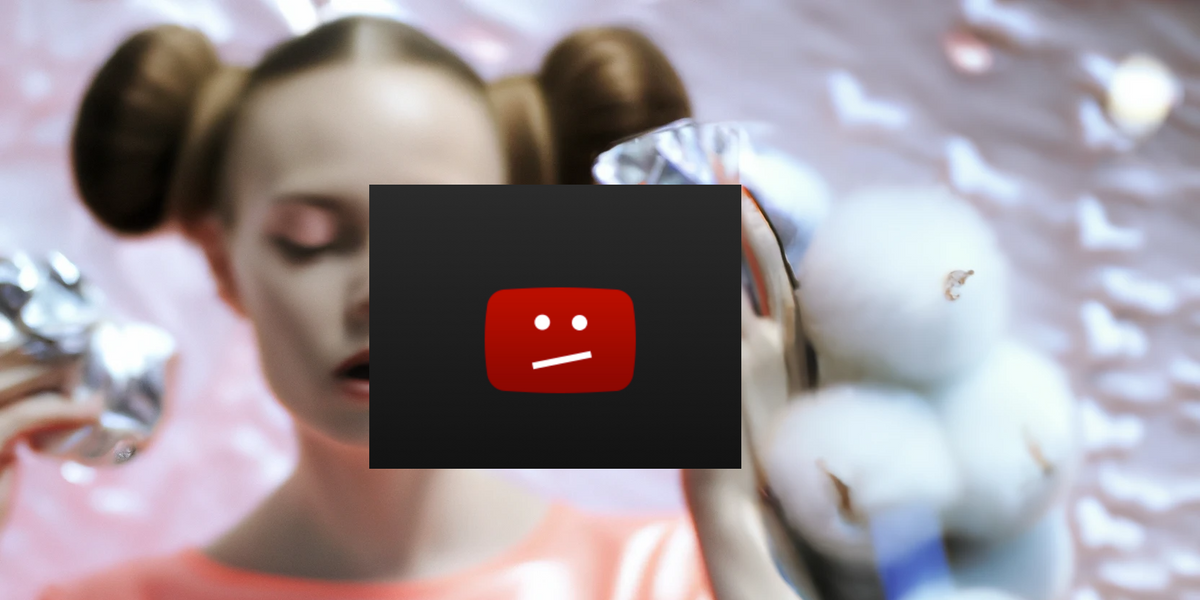 YouTube Content Warning over ASMR Video (Dall-E)
This is the web version of dot.LA's daily newsletter. Sign up to get the latest news on Southern California's tech, startup and venture capital scene.
Though in some ways, it feels like it's been with us forever, the term "ASMR," a shortened version of "autonomous sensory meridian response," only dates back to the year 2010. The very first discussion board thread about the phenomenon, which did not yet have a name, is believed to come from 2007, though earlier references to similar sensations exist in scientific writing and literature. (A passage from Virginia Woolf's 1925 novel "Mrs. Dalloway" may contain an early reference to the phenomenon in a description of the physical impact of hearing a woman's raspy voice.) In general, the term refers to a particularly pleasant version of a phenomenon known as "paresthesia," and is typically described as a tingling sensation in the skin – similar in some ways to static electricity – that's accompanied by feelings of calm and even euphoria.
---
What started over a decade and a half ago as a niche interest on some message boards has exploded into a thriving online community and a significant chunk of online media and content. According to ASMR Unviersity, there are around 500,000 ASMR content distributors on the internet at large, and more than 25 million ASMR videos on YouTube alone. The category particularly exploded in popularity during the pandemic, as people sought not only ways to center their thoughts and remain calm, but also a greater sense of online community.
Most of this content is appropriate for all-ages. The most popular ASMR videos on the internet typically employ everyday kinds of visuals and sounds. (This 70-minute "Sleep-Inducing Haircut" simulation has an astounding 38 million views!) Still, the trend – at least conceptually – has always been tied in some ways to sensuality and eroticism. Prior to 2010, it was often referred to as a kind of "orgasm" and was directly related to sexual expression. Jennifer Allen, who participated in those early forum discussions and is credited with coining the term "autonomous sensory meridian response" said she purposefully selected these terms to be more clinical, and eliminate the direct connection between ASMR feelings and sex.
To this day, a lot of ASMR videos remain overtly sexualized, either using suggestive soundscapes to inspire the familiar sensations or directly combining repetitive sounds and visuals with pornography. The ambiguity has become a real challenge for platforms like YouTube and Twitch, which block openly pornographic content but nonetheless allow a certain level of raunch or titillation, of the kind a viewer might see on network television.
YouTube's terms of service explicitly ban videos that depict "sexual acts or fetishes that are meant for sexual gratification," but this can be a bit difficult to apply in every real-world case, and regardless, the site's enforcement has been somewhat inconsistent. The Verge spoke with one blogger, Elcee Orlova, whose content – largely posted to the channel "ASMR GIRLFRIEND" – essentially lives on this dividing line. While there's an undeniably erotic compontent to the videos themselves, Orlova argues that they're less about sex than simulating feelings of love, care, and affection. It's a similar problem in many ways to the issues Twitch has encountered regarding sexual but not sexually explicit "hot tub" streams.
Still, Orlova – like many other creators – remains generally in favor of YouTube regulating ASMR content. She points out that viewers who desire a more explicit experience can visit an alternate platform, such as OnlyFans, which also has a thriving ASMR community. Services like TikTok, YouTube, and Twitch and their busiest creators remain exceptionally reliant on advertising dollars, which can be threatened by the prevalence of questionably-appropriate content. In a time of increasing desperation around a shrinking digital ad market, it's only natural that some companies would respond by making their platforms even more ad-friendly, say by cracking down on "edge case" content like, say, suggestive ASMR videos. Whether this will do anything to arrest the overall growth of the category remains to be seen. - Lon Harris

Over the past six years, the LAPD spent millions in FEMA funds on automated license plate readers, predictive policing software and other spy tech, according to a new report.
What We're Reading...
--In May, NASA's InSight lander detected a magnitude 4.7 tremor on Mars, the most powerful "MarsQuake" on record.
--TikTok will introduce a new "Why This Video" feature explaining to users why its algorithm has selected particular content for their feeds.
--The Santa Monica City Council approved a 20-year contract for a digital wayfinding kiosk from BIG Outdoors, despite ongoing legal threats from IKE Smart City, which lost out on the bid.
--
How Are We Doing? We're working to make the newsletter more informative, with deeper analysis and more news about L.A.'s tech and startup scene. Let us know what you think in our survey, or email us!