torrance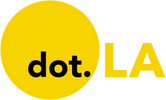 Get in the KNOW
on LA Startups & Tech
X
torrance
Photo courtesy of Canoo
Two months after a Canoo co-founder and CEO resigned, the Torrance-based company is looking to bounce back with plans to build an Oklahoma manufacturing plant and clinching a European contract for its electric vans.
Chairman and newly instated CEO Tony Aquila announced Thursday at Canoo's "investors day" that the company has secured a contract manufacturer in the Netherlands to begin assembly of the first 1,000 Canoo Lifestyle Vehicle vans in late 2022.
Canoo also announced plans to build a plant in Pryor, Oklahoma where its vehicles will be assembled and eventually exported. It's targeting 15,000 units in 2023. Oklahoma Governor Kevin Stitt was in attendance at the event, which was held at the Texas Motor Speedway in Fort Worth, Texas.
"Let me tell you, Oklahoma is a step above Texas," Stitt joked while on stage with Aquila, who has a ranch in Texas.
The plant will be on 400 acres and about 45 minutes from Tulsa and four hours from Canoo's executive hub in Texas. The company received a $300 million incentive package from the state of Oklahoma.
A working prototype of the company's customizable electric vehicle platform was driven onto the stage before the speakers appeared. Its frame will underpin Canoo's van and pickup, allowing them to share most of the same components, despite having different bodies.

The basic model of the company's Lifestyle Van starts at less than $35,000 and rises to nearly $50,000, before EV incentives.
Much like Manhattan Beach-based Fisker's agreement with Magna Steyr in Austria, Canoo is looking to its contract partner not only to produce its cars, but guide them on the manufacturing process as well.
Its Dutch partner VDL Nedcar in Born operates in a plant built in 1967 that was once owned by Volvo and then Mitsubishi Motors. Since the manufacturing's parent company VDL Groep took over the facility in 2012, the plant has signed a deal with BMW Group to produce various BMW and Mini models. That agreement is set to expire in 2024.
"Nedcar can build as many as 100,000 vehicles for Canoo if needed,'' Aquila said, but added that the partnership is primarily to get the first deliveries fulfilled and learn the manufacturing processes needed for the Oklahoma factory.
Canoo also has plans to sell its vehicles in Europe, where electrification has been more broadly embraced, thanks to mandates and incentives in countries such as Norway and Germany. Aquila said the van could be available in some European countries shortly after the first Nedcar-built models are produced, and that vehicles would eventually be exported from the United States facility.
Canoo will face stiff competition from Ford. The automaker unveiled the F-150 Lightning pickup truck, an electric version of the best-selling vehicle in the country, last month. Prices for it are expected to start at about $41,000.
Like Fisker, Canoo hopes that after-sales parts, constant over-the-air software updates to keep vehicles fresh for second or third owners, and resales will generate significant revenue.
Canoo has gone through a series of changes since it went public last year in a $2.4 billion SPAC deal. A 2020 agreement with Hyundai Motor Group to cooperate on vehicles based on Canoo's platform was effectively declared dead in March, with Aquila telling investors it would get out of the contract engineering business and primarily focus on products for commercial users.
Aquila brought in a raft of new executives, including some former Daimler and Mercedes-Benz USA officials, and Peter Savagian, who worked on the General Motors EV1 project in the 1990s. But the sudden leadership and business plan changes prompted the U.S. Securities and Exchanges Commission to open an investigation into Canoo, which Aquila revealed a month ago.
Rumors of a collaboration with Apple also came to nothing. Canoo co-founder and former CEO Ulrich Kranz, previously of BMW and Gardena-based Faraday Future, took a job at the Cupertino tech giant this month to shore up the car project.
Aquila acknowledged the consolidation that will eventually occur with EV startups as the market gets saturated with plug-in vehicles. He hopes the new team that's been assembled will keep the company nimble and efficient.
"Consolidation is going to happen, he said. "I like to buy companies but I don't like to be bought."
Canoo shares were down Thursday by 2.65% to close at $9.93.
With streamlined styling, innovative packaging and a slew of novel features, Canoo Inc. released a first look at its electric truck. The Torrance-based company is set to produce a compact pick-up in 2023, entering an emerging market that includes Tesla and Rivian, but also General Motors and Ford.
"Our pickup truck is as strong as the toughest trucks out there and is designed to be exponentially more productive," Tony Aquila, executive chairman of Canoo, said in an announcement. "We made accessories for people who use trucks — on the job, weekends, adventure."
Canoo said its yet-to-be-named pickup truck would be available to pre-order in the second quarter of 2022.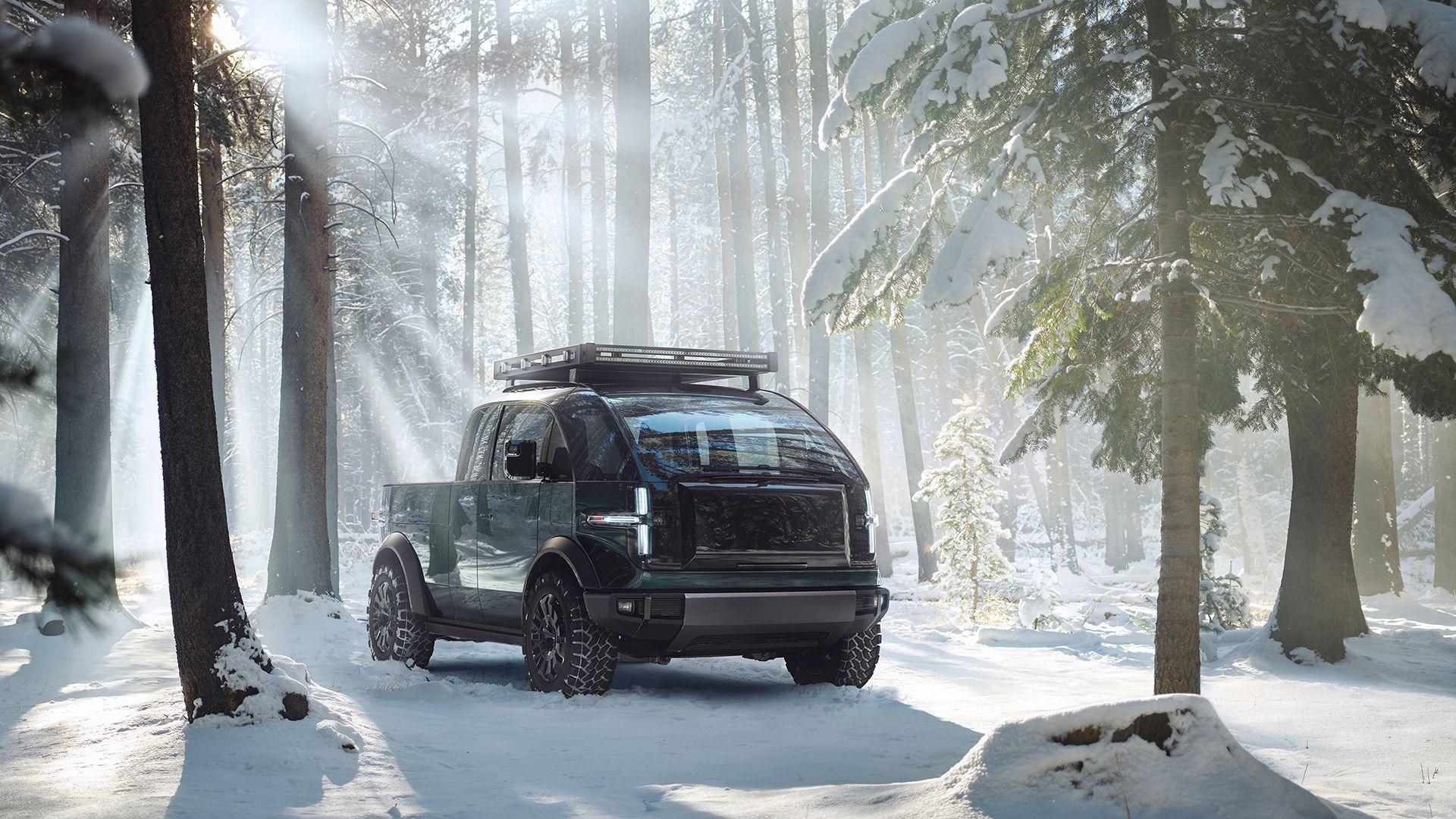 Canoo's yet-to-be-named pickup truck would be available to pre-order in the second quarter of 2022.
Its payload capacity is also expected to be 1,800 pounds, which falls between midsize pickups like the Toyota Tacoma and full-size models like the Ram 1500. But at 184 inches long when the tailgate is closed, the Canoo pickup truck is expected to be nearly two feet shorter than the next smallest pickup truck on sale today. In terms of size, Canoo would fill a market that was largely abandoned by the 2000s as pickup buyers flocked to large, V8-powered full-size models.
That's due in part of the "cab-forward" design that puts the front wheels as far forward as possible. The electric components are under the cab of the truck, eliminating the need for a long hood and maximizing interior space for passengers and cargo. In place of a Tesla-like "frunk" cargo area in front, the Canoo truck has a fold-down desk and small storage cubby as a mobile workspace.

Canoo also said its truck will have innovations in the bed area, with flip-out picnic tables, storage dividers, household-style electrical outlets, a side-step to access the bed and even a built-in extender to accommodate longer items. A roof rack will be offered, as well as a camper shell that could also fit a small tent on it.
The company will offer single and dual motor configurations, giving the Canoo pickup truck either two-wheel or all-wheel drive, and up to 600 horsepower. Canoo did not disclose price targets for its pickup truck, although similarly sized gasoline rivals start around $26,000. But its 200-mile expected range is below that of many modern EVs, such as the Chevrolet Bolt and Tesla Model Y.
Canoo will enter a field that's nonexistent now, but is set to grow immensely in the first half of this decade. Amazon-backed Rivian, which also has operations in Carson and Irvine, unveiled its R1T pickup truck and R1S SUV in November 2018 at the Los Angeles Auto Show. It opened its online configurator and reservation book in November 2020 and targeted the first cars would roll off of an assembly line in Illinois in June. Prices range from $67,500 to $75,000, with an estimated range of between 300 and 400 miles on a full charge.
And there's also Tesla, which showed its boldly styled Cybertruck in November 2019, with reservations exceeding 250,000 by the end of that month. On an investors call in January, Tesla CEO Elon Musk said there would be, "a few deliveries of the Cybertruck in 2021," on target with the timeline from the reveal. While the Cybertruck is expected to be produced at a new Gigafactory in Austin, Texas, rather than with other Teslas in Fremont, it's still unclear if the radical styling and "unbreakable" glass will reach production. Target range is between 250 and 500 miles, with a $40,000 starting price.
Also in the offing are GM with the GMC Hummer EV due to start production in the fall with about 350 miles of range and an initial $113,000 price tag before less expensive variants arrive. Ford is also expected to show an all-electric version of the F-150 full-size pickup truck as early as next year.