swoop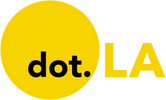 Get in the KNOW
on LA Startups & Tech
X
swoop
Over the last three years, L.A. Lyft driver Nicole Moore has watched her paychecks shrink as her hours have grown. Frustrated, she's ready to leave her part-time gig, but until now there have been few options. That's about to change.
This year, two Texas-based companies are going after one of rideshare giants Uber and Lyft's biggest markets: Los Angeles.
Dallas-based Alto plans to begin their services by the end of October. And the Austin collective Arcade City will start marketing its ride-hailing app in Los Angeles Tuesday. They will be joining other apps already trying to steal away market share such as Wingz and Swoop.
Meanwhile, Uber and Lyft remain mired in a heated battle in California to keep their drivers classified as independent contractors, a business model that, if upended ,could damage their road to profitability. The two, along with other gig companies, have sunk millions into backing Proposition 22, a November ballot measure that would exempt them from a new state law that requires them to classify their drivers as employees.
These two Texas startups offer starkly different employee models.
The venture capital-backed Alto, which has raised $20.5 million, wants to become "the Starbucks of ridesharing," co-founder and CEO Will Coleman told dot.LA.
Unlike Uber and Lyft, Alto classifies its drivers as W-2 employees and supplies them vehicles from its fleet. It launched in 2016, the year Uber and Lyft left Austin in the aftermath of a costly fight to stave off the city's efforts to tighten regulations on ride-hailing companies including background checks.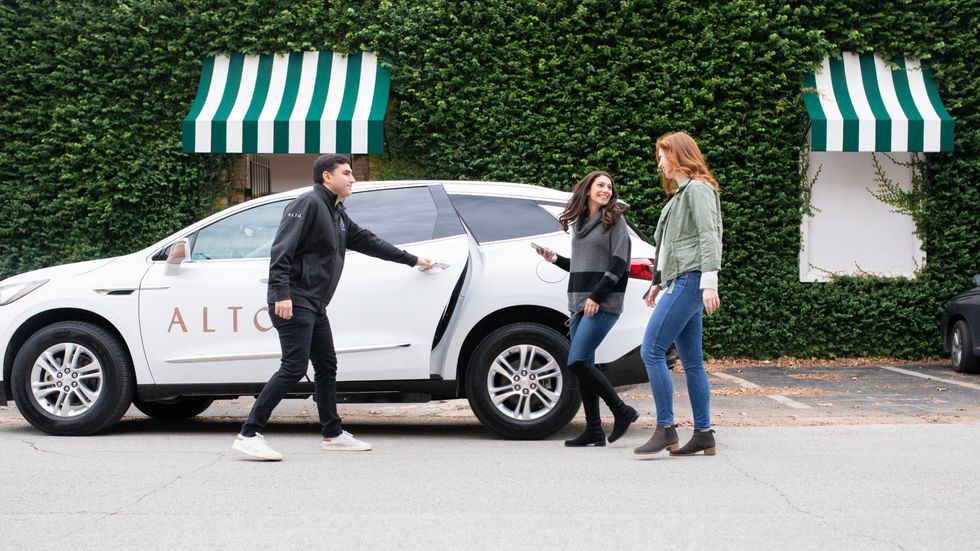 Dallas-based Alto plans to bring their service to L.A. by the end of October.
At the time, a handful of new rideshare startups popped up across the city. One of them was Arcade City, a then-Facebook group where thousands of recently unemployed drivers connected with Austin residents who needed rides.

The startup offers the interface and tools for drivers to build cooperatives, allowing them to set their own rates and build relationships with clients. The peer-to-peer service lets drivers set their own rates and hours. It also allows for them to build up clientele.
"It's a level of job security that no other rideshare in the world is even structurally capable of matching," founder and CEO Christopher David said. "I think that's exactly what California needs. Drivers at minimum deserve the option to build their own recurring customer base."
While Arcade starts marketing its new global app, David said cooperatives take time to form and it could be months before riders here can hail a car as quickly as they can in Austin's 150-driver network. Demand will influence how long this process takes. The app will be in beta testing until next week's official launch.
Moore, the Lyft driver, welcomes new companies to the market and thinks riders would, too. The driver is part of L.A. Rideshare Drivers United, a group that organized following a round of pay cuts and strikes in 2017 and opposes Proposition 22. Many complain that the companies' algorithms that determine the cost of a ride and driver pay are not stable and can't be relied upon for predictable wages.

"Our loyalty is not to Lyft or Uber," Moore said. "Drivers will tell you the 12 companies they've driven for. Almost every Uber driver has a Lyft sticker on their vehicle as well."
A loss of customers or drivers in Los Angeles would be a blow for Uber or Lyft. Last year, nearly a quarter of all bookings at Uber came from five metropolitan areas, two in California — Los Angeles and the San Francisco Bay. Lyft is also reliant on major metropolitan areas and depends on its available pool of drivers to keep up services.
"Goodbye Uber, hello Arcade City." Today Uber and Lyft both threatened to shut down service in California, maybe a… https://t.co/XVZ7dCtS8u

— Arcade City ⚡ (@Arcade City ⚡) 1597285229
Arcade City, Another Side Gig?
Part of David's pitch to would-be drivers is that current Uber and Lyft drivers can start building networks even before the co-ops are fully functioning. Half of Arcade's Austin drivers still work part-time for other ridesharing companies, and drivers are promised 1% from every credit card purchase their referrals make for three years.
"Our model is like beautifully parasitic on the other," he said.
While prices depend on the city and co-op rules, an Arcade City ride will typically run you a couple dollars more than one from Uber or Lyft. Riders can also pay by cash or barter with drivers for rides. In some cases, drivers let riders pay them back days later.
Arcade, which emerged in the heat of a battle between gig workers and the two ridesharing companies in Austin, has not been shy about taking a stance against his competitors.
In an open letter to Californians, Arcade's David encouraged drivers to vote no on Proposition 22 "because Uber and Lyft's years of mistreating drivers and bullying local governments should be punished, not rewarded."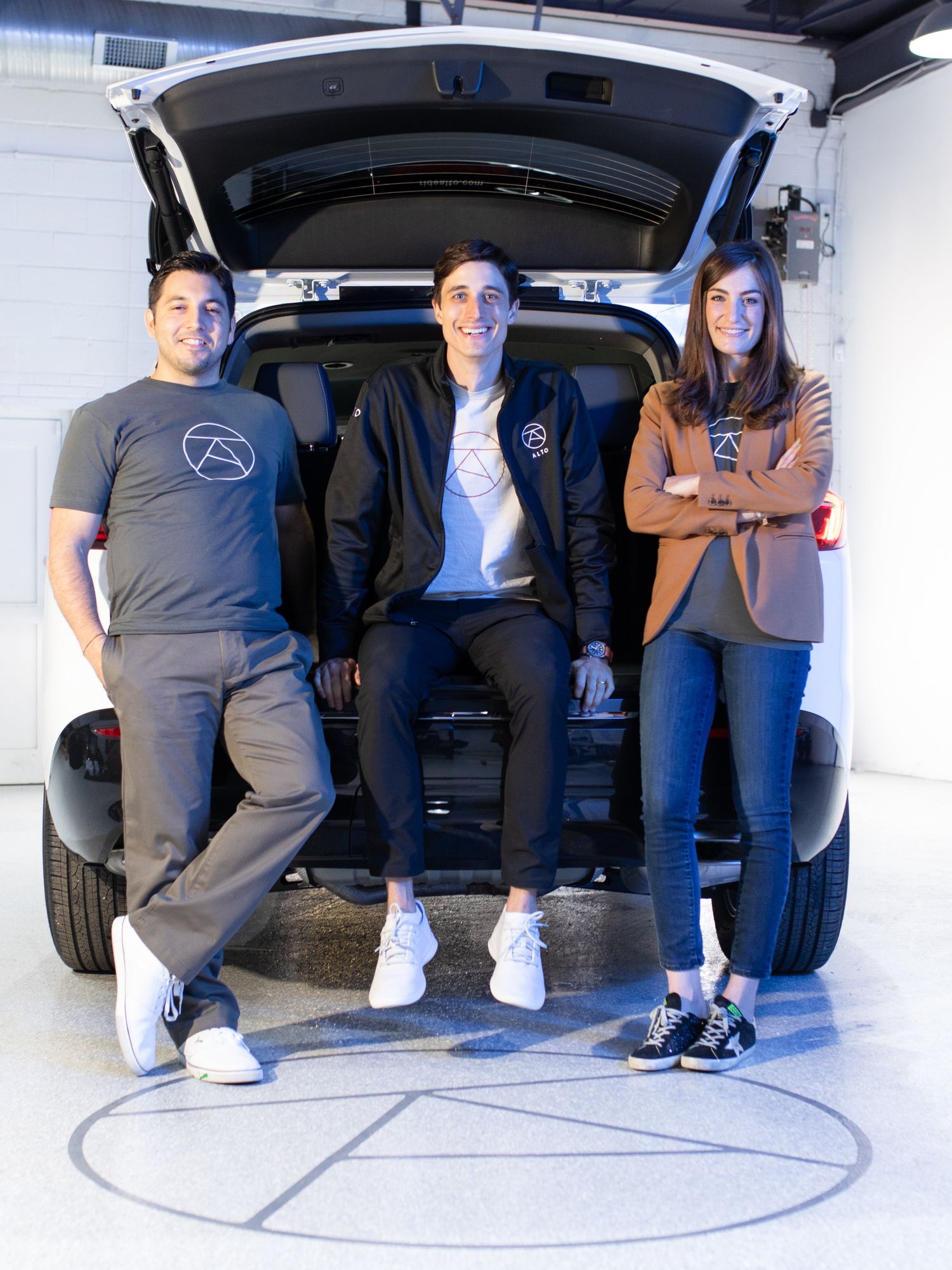 Alto's Ride Hailing Model
Alto is a membership-based service, although non-members can hail rides. Half of Alto employees come from Uber and Lyft, Coleman said, and each one is interviewed and background checked before being hired. He said the company "attracts the most professional drivers," meaning ones who consider Alto a job rather than a gig to make extra cash.
It's expensive to absorb the costs of hiring employees, Coleman told dot.LA, but if companies don't pay into unemployment and workers compensation, taxpayers will. Indeed researchers at UC Berkeley found that Uber and Lyft would have paid $413 million to California's Unemployment Insurance Fund had they classified their workers as employees.
The company offsets the cost by charging more. Coleman told the Dallas Morning News earlier this year that Alto customers come from more affluent households with incomes of $100,000 or higher.
Alto has plans to begin operations in L.A. by late October, just around the corner from Election Day when voters will decide the fate of Prop 22.
Neither Arcade City nor Alto have officially registered for permits from the California Public Utilities Commission yet. According to the state, only one new company, Onward Care Inc., has been issued a permit this year. Both companies said they plan to go through state regulatory channels.

Moore said she's ready for another option because relying on the two apps to pay for expenses isn't cutting it.
"You used to work four or five days a week, pay your rent and put food on the table," Moore said. "And now, doing the same work for the same company in the same vehicle, you have to work seven days a week and you're barely making ends meet."
An appeals court granted Uber and Lyft a reprieve on Thursday, hours before the California rideshare giants were poised to make good on their threats to suspend operations in their home state.
The move would have left hundreds of thousands of drivers in one of their largest markets without employment during a global pandemic and passengers stranded. Alternative ridesharing operations are ready to roll, but before we get to that here's a run down of what happened.
The appeals court's 11th hour decision enables the two Silicon Valley-based companies to continue operating — without classifying their drivers as employees - as the court weighs their appeal.
The planned suspension was the next step in a months-long saga that has played out in Sacramento and in the courts, as the two multi-billion-dollar companies have pushed back against a new law that requires them to classify their drivers as employees rather than independent contractors.
"The vast majority of drivers want to work independently, and we've already made significant changes to our app to ensure that remains the case under California law," an Uber spokesman told dot.LA on Thursday. "When over 3 million Californians are without a job, our elected leaders should be focused on creating work, not trying to shut down an entire industry during an economic depression."
Lyft's plan to suspend its operations by midnight came one week after a court granted a preliminary injunction, requiring Uber and Lyft to stop classifying their drivers as contractors.
In a blog post, Lyft said that four out of five drivers do not support the court's revised employment model. The company also argued in its post, as it has in court, that "this change would also necessitate an overhaul of the entire business model — it's not a switch that can be flipped overnight."
Leaving California would be a political bet for the two companies hinging on jilted riders and drivers being upset enough to push for a change in the law in the future.
Such a bet has worked in some markets, notably in Austin, Texas. In 2016, Uber and Lyft left town in protest of a package of new rules and regulations that would require deeper background checks for drivers, including fingerprinting. After expensive lobbying and marketing campaigns at the Texas statehouse, Republican Gov. Greg Abbott signed a new law in 2017 that included background checks without fingerprinting. Uber and Lyft returned shortly thereafter.
Lyft is actively encouraging customers to vote yes on Prop. 22 in November, which would offer new benefits to drivers and exempt app-based ridesharing companies from having to classify drivers as employees.
Lyft and Uber said last week that they would likely pause business to comply with the order. Uber originally mentioned plans to continue running its food delivery service despite a potential suspension of its ridesharing service.
The reprieve for riders and drivers in the Golden State may be temporary.
For those worried about what may come, here are some alternative ridesharing options:
Hail a ride or schedule one in advance with RideYellow, the app letting riders pay with cash or card for transportation across L.A.
Wingz, once known for it's airport rides, has expanded its operations to offer around-town transportation.
For charter and party bus services, Swoop offers a range of vehicles depending on your destination and group size.
While carpooling to work is put on a temporary pause for many, Scoop's model links co-workers and neighbors traveling in the same direction.
With Waze Carpool users can choose carpool companies based on their profiles, star ratings and filters like co-workers only or same-gender.
Rides for children with vetted drivers are offered by both HopSkipDrive and Kango Each trip can be closely monitored through the app.
Blacklane offers a higher-end car service.
And while Lyft is taking a ridesharing hiatus, you can still access its scooters in Santa Monica and UCLA and rent a car through the Lyft app.
Swoop is hoping to do for group transportation what Quickbooks did for accounting.
The platform service that tracks jobs for bus and limo drivers and their passengers just scored a $3.2 million seed round led by Signa Venture Partners, South Park Commons and other angel investors.
Started by chief executive Amir Ghorbani, Swoop aims to digitize business for the mom-and-pop companies that ferry people to corporate events, weddings and other group outings. Ride-sharing apps may be ubiquitous, but there remains a $40 billion U.S. market that's still largely analog in group transportation, according to the company.
"This whole business was run on pen and paper," said Ghorbani who grew up running around his parents' limousine dispatch center in the 1990s. He said his father, who immigrated from Iran, plastered the center's walls with pictures of the celebrity de jour — from Madonna to Tupac — who rode in their limos.
As a teenager, Ghorbani helped run his parents' transportation service, writing down job leads for them. After he graduated from college, he took a larger role and was struck by the persistent use of so-called "trip sheets" in the industry.
The info would tell drivers details of each ride, but in order to read it, drivers had to come into the dispatch center. Often pieces of information would get lost.

"Being around that, it became apparent — it was kind of an 'a-ha' moment — this industry needs a technical advancement from booking to dispatch."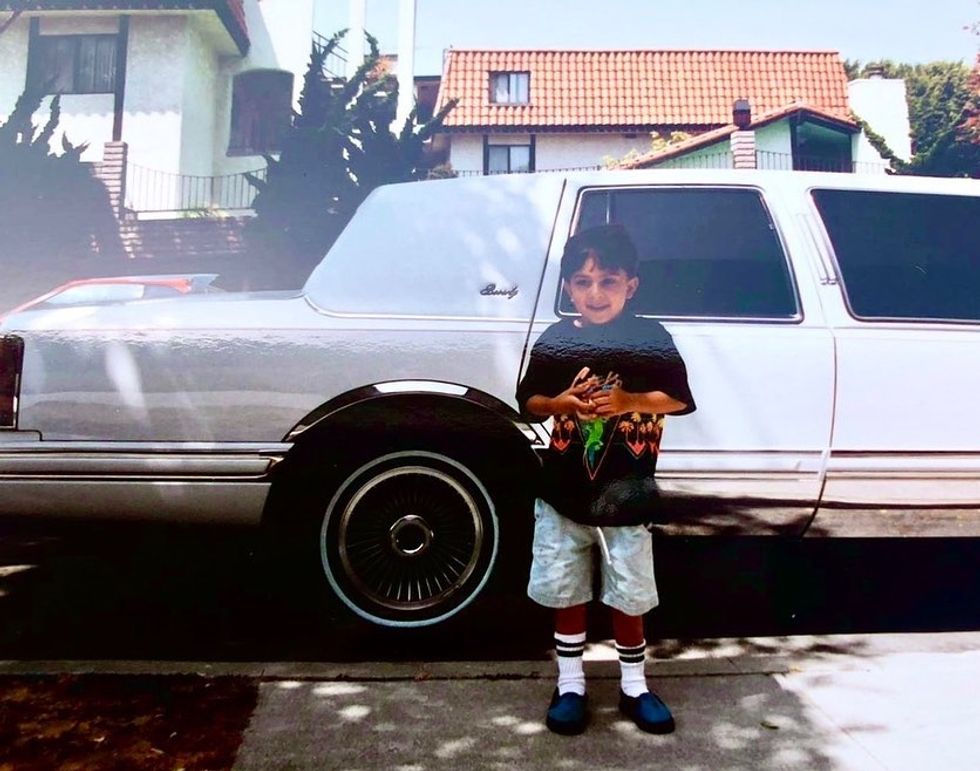 Swoop co-founder and chief executive Amir Ghorbani at his parents' limo business.Courtesy of Swoop
The Los Angeles-based company will use the funds to build out its service, which is already being used by companies like Netflix, Nike and Airbnb.

Ghorbani had help from two longtime friends in creating Swoop: Co-founders Pete Evenson, a high school friend, and Ruben Schultz — whose parents came from the same region of Iran as Ghorbani's. Schultz, who runs operations, left Facebook to launch the company. Evenson focuses on sales.
Last year, the three-year-old service had 120,000 passengers with around 6,000 trips. Swoop caters both to providers and passengers.
"It's almost like what QuickBooks does for the accounting world we do for the transportation business," said Schultz.
The business management platform charges a flat fee for around $400 per month and works in conjunction with Swoop's consumer-facing business which matches transportation groups with companies, planners and other users looking from a group ride. Swoop takes a 15% to 20% commission for rides that it generates.
"It's a marketplace where we create more business for them," Schultz said. "Their vehicle utilization is at only 4.9%. So vehicles are standing around a lot of the time."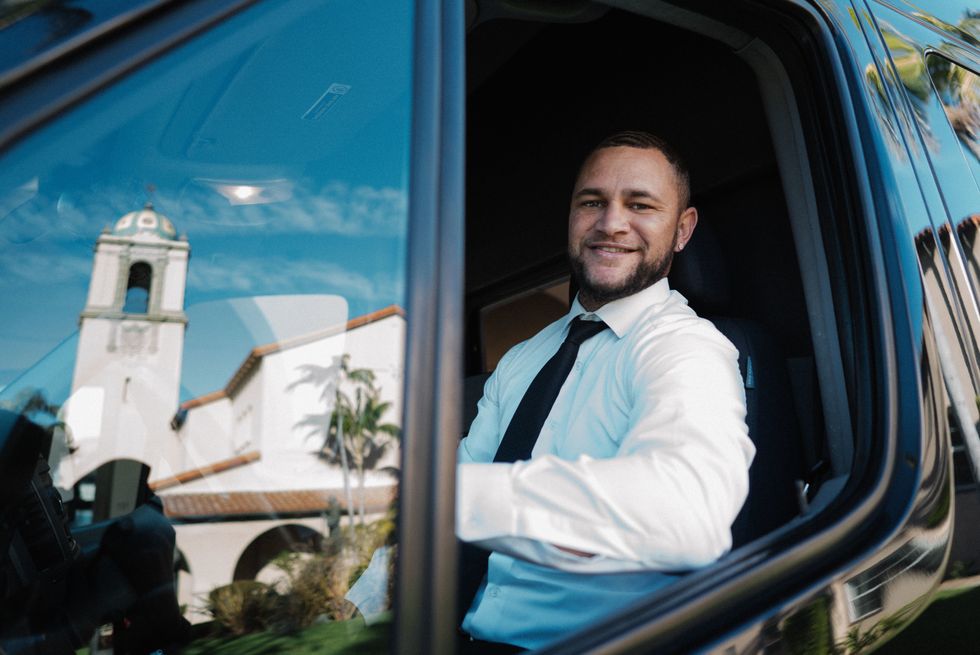 A Swoop driver inside his vehicle.
The application allows operators to track their vehicles, do payments through the service and communicate with customers. It also provides a single point of contact for corporate planners who regularly plan flights and other travel with online booking systems.

For Ghorbani, who as a child grew to know many operators, the business really provided him a way to help them. Many of the transportation owners were immigrants or working folks that didn't have the capital or tools to leverage technology in a way that would grow their business. Creating the company, he said, felt right.
"Being around (those operators) felt like family," he said. So this became — you could call it — a life calling."
Related Articles Around the Web