One brisk Friday evening in January at around 9:30 p.m., 15-year-old Ella rushed down the stairs of her home in Stevenson Ranch, California with an announcement for her parents, who were watching "Lupin," a new Netflix series, in the living room.
"Can you get off of Netflix in 15 minutes?" she asked. "I'm having a watch party at 10. Thanks."
Every few weeks, Ella and her four best friends assembled at their laptops, snacks and drinks in hand, to watch something on the popular streaming service with Teleparty, a browser extension that lets users view the same Netflix movie or show at the same time. On tap for tonight? Two episodes of "Gilmore Girls," a show Ella and her "best friend crew" had never seen. Although Ella, whose parents asked us to withhold her full name because she is a minor, couldn't be in the same room with her girlfriends, this solution proved the next best thing — and for the girls that night, it was.
Ella and her friends are just a handful of the millions of people who have adapted to these unprecedented times. With people now spending more time than ever at home because of the pandemic, streaming services are meeting demand by doling out fresh content and serving up new features that expand the viewing experience.
Over the last 12 months, Hulu, Disney Plus, Amazon Prime Video and Sling all rolled out virtual watch parties, enabling groups of people to watch shows and films at the same time. These features were in the works well before COVID-19 struck, but the pandemic spurred them to step up development.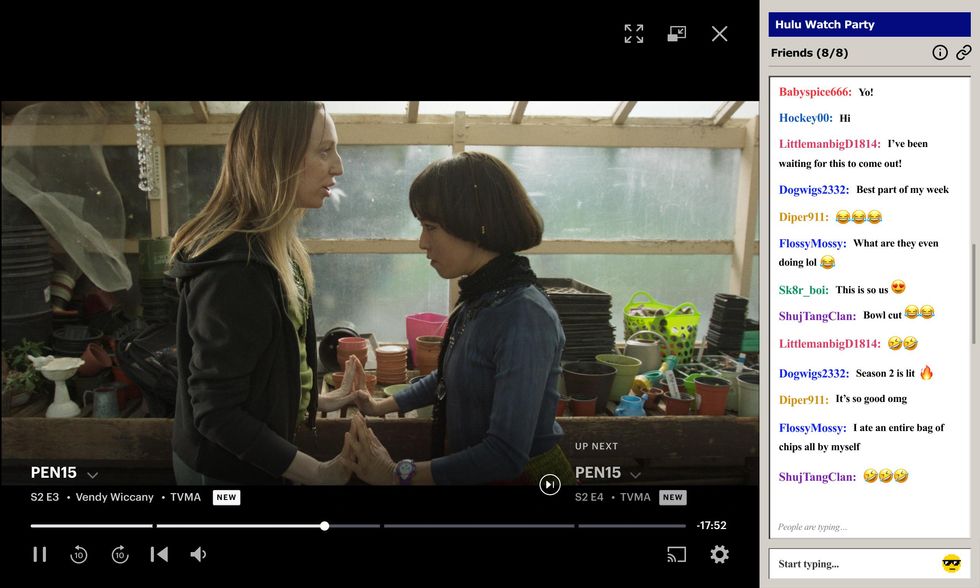 Hulu's Watch Party feature launched in May 2020.
Rolling out features like virtual parties is crucial in the battle for attracting and retaining users. According to a Deloitte survey published this month, 62% of people who signed up for a streaming service, did so to watch a specific show or film and canceled their subscription once they were done watching it. Features like virtual watch parties bring a social element into the equation that keep users engaged longer.

For Hulu, the Watch Party feature it launched its beta version in May 2020 started as an employee and intern hackathon project nine months before. But when the pandemic forced local governments to issue stay-at-home orders, Hulu accelerated plans for Watch Party and developed the feature in less than eight weeks. They rolled it out after initial tests indicated that over 75% of subscribers who hosted a Watch Party said they would do it again.
"We know that watching your favorite shows and movies has always been a social experience, and with TV becoming more synonymous with streaming, streaming has inherently become even more social," said Jason Wong, director of product management at Hulu, who added that the speedy development of Watch Party also stemmed from the fact that 60% of Hulu subscribers already streamed shows and films with others in their home, yielding a social experience unto itself.
"It was an ambitious timeline, but once we identified this need from our viewers, our team was very motivated to quickly deliver something."
In the 24 hours after launching Watch Party last December, Hulu saw over 10,000 unique Watch Party sessions with 60% of viewers in a Watch Party coming from its ad-supported plan. Moreover, Hulu tells dot.LA exclusively that users have held about 1.5 million Watch Party sessions to date, in which nearly 30 million messages were sent through the feature — and it continues to grow in popularity. According to Wong, the number of Watch Parties grew 5x from November to December last year.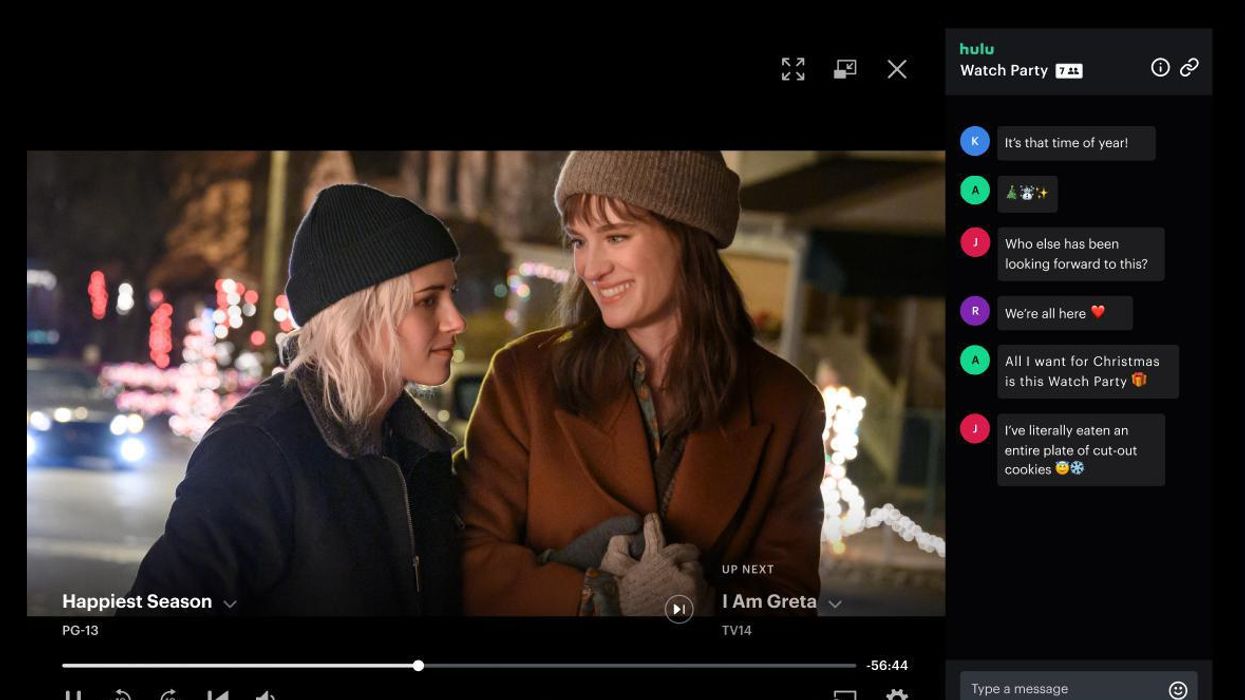 Hulu experienced a 97% increase in Watch Parties when Christmas comedy "Happiest Season" debuted in November.
New show premieres like the LGBTQ+ coming out series "Love, Victor" and Season 2 premiere of the teen comedy "Pen15," as well as films such as "Deadpool," "Parasite," and the Hulu original film "Palm Springs," proved particularly popular for Hulu Watch Parties. Also big? Episodic premieres, like "The Bachelor" and "A Teacher," a Hulu original limited series starring Kate Mara. When "Happiest Season," a Christmas comedy starring Kristen Stewart, Daniel Levy and Alison Brie debuted on Thanksgiving, Hulu experienced a whopping 97% increase in Watch Parties.

Five months later, Disney Plus released its own GroupWatch feature. The rapidly growing streaming service, which reported 86.8 million subscribers in December, took a different tack with GroupWatch, however: users can click any one of six "reactions," or emoji, that pop up onscreen during a viewing, but they can't send text-based messages.
That was a purposeful decision, contends Michael Cerdà, vice president of product at Disney Plus.
During GroupWatch's development, the Disney Plus product team conducted extensive research to identify what worked and what didn't. For instance, GroupWatch currently allows up to seven people in a GroupWatch session — a number the group settled on after agreeing that any more people in a session made it "too noisy."
"In our research, one of the big takeaways was that people wanted to feel like they were a part of something, but we didn't want to get in the way of the content," said Cerdà.
While Disney did not disclose engagement numbers around GroupWatch, Cerda acknowledged that Disney Plus users are more likely to hold GroupWatch sessions when highly-awaited new films and shows premiere, when Disney Plus launches in a new region, and around the holidays. Last Halloween, Tim Burton's "The Nightmare Before Christmas" was the focus of many GroupWatch sessions. Other programming like the recently-released series "WandaVision," "The Mandalorian," "Frozen 2," "Lion King," "Clouds" and "Avengers: Endgame" also proved popular for GroupWatch sessions.
Sling's Watch Party, which launched last September, takes things one step further than its rivals, allowing up to four people to participate through video chat. For the Sling product development team, video chat was a "must have" part of Watch Party.
"When you're watching something in real-time, so much of our responses can't be verbalized," explains Jon Lin, vice president of product at Sling TV. "If something is really impactful, you'll see it on the faces of your friends and family. That's the kind of connection we wanted to capture with Watch Party, which is why we focused so much on creating a video chat feature — so it felt like the people you are watching with are actually right there next to you."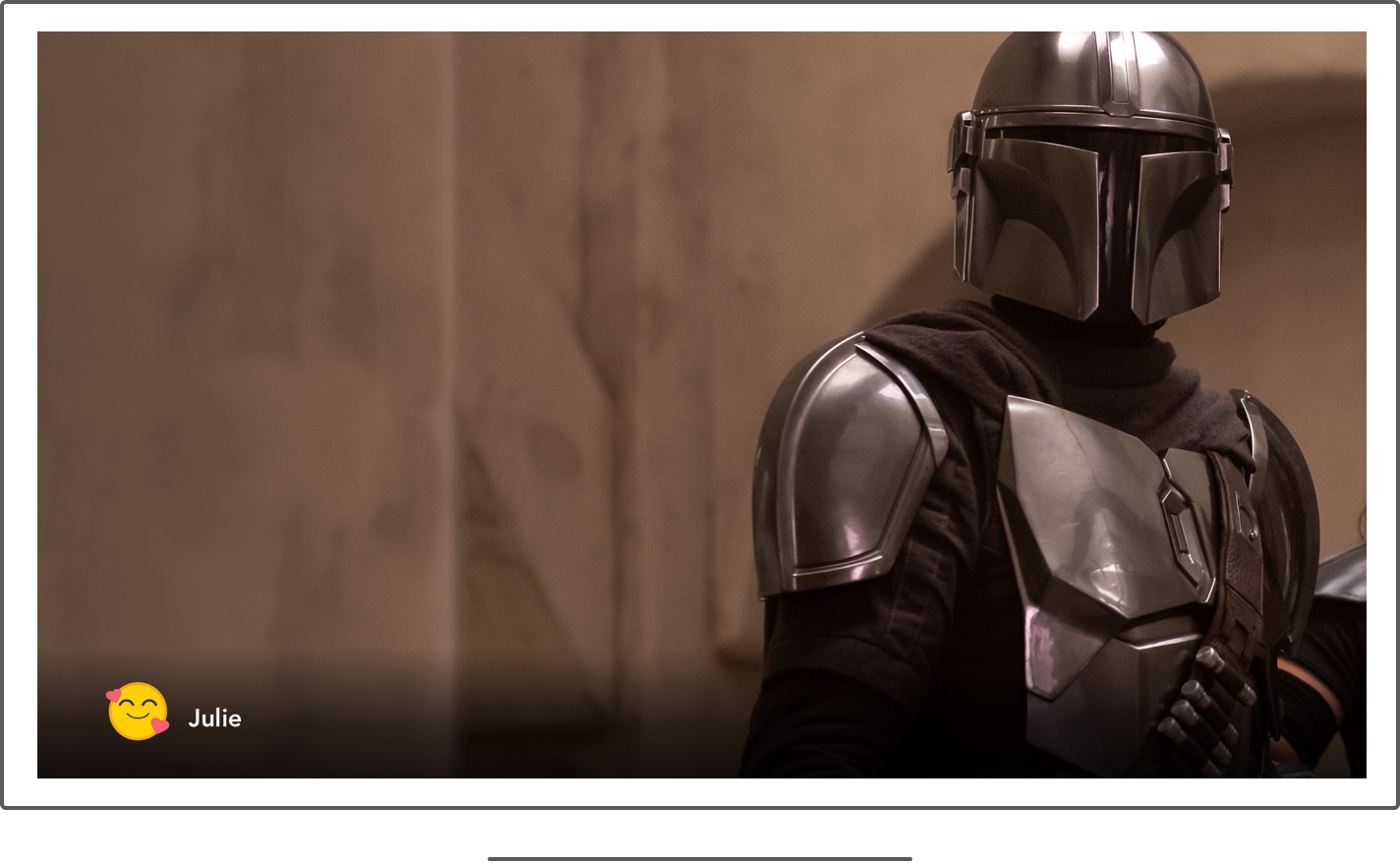 Disney Plus is currently exploring expanding the ways users can communicate and share during GroupWatch sessions
Sling also would not disclose specific engagement numbers around their new feature, but said live events like sports have proven very popular for Watch Party users. The streaming service also saw an uptick on the evening of the 2020 U.S. presidential election in November, as well as around Christmas movies during the holidays, says Lin.

Netflix doesn't offer a comparable group watching feature yet — the third-party extension from Teleparty fills the gap for now — but it's likely coming. For services like Hulu, Disney Plus, Sling, Prime Video and others, the feature is yet another way to incrementally boost engagement on their platforms, particularly during a time when it's difficult — or in many cases, strongly discouraged — for people to mingle in groups.
"Streaming services have quickly adapted, and I think it makes absolute sense — it brings a social element, sort of like going to a movie theater," says Eunice Shin, a digital strategy partner who leads media entertainment and direct-to-consumer efforts at Prophet, a growth strategy consulting company. "It's smart for them to pull the feature onto their platform, as opposed to using a separate app like Airtime."
Virtual watch parties aren't just here to stay, it seems. Services are also finding ways to shore up the experience to make them more compelling.
Based on user feedback, Disney Plus is currently exploring expanding the ways users can communicate and share during GroupWatch sessions, including possibly text-based chat or offering more emoji reactions. Hulu said users are clamoring for the ability to throw a Watch Party with their friends on different devices. (The feature only works on desktop browsers at the moment.) Meanwhile, Sling recently updated the design of Watch Party's chat messaging and upped the number of non-Sling TV subscribers who can join Watch Parties, from one to three.
"It's only going to get better — it's going to get more refined." says Cerdà of virtual watch party experiences. "I think we're at the front end of something even bigger."
***This story has been updated to correct the timeline provided by Hulu regarding its Watch Party data.