As Restaurants Scramble for Workers, It's 'Order Up' for Miso Robotics and Its Burger-Flipping Robot
Like so many other sectors, the restaurant industry continues to face a severe labor shortage.

The November 2021 jobs report found that employment in the leisure and hospitality sector was down by 1.3 million, or 7.9%, since February 2020—bad enough to prompt U.S. Labor Secretary Martin Walsh to admit he saw "room for improvement" in the industry.
But there's no simple solution: A rising federal minimum wage, the option of the gig economy, a pandemic, and new attitudes about work and employment, have made it nearly impossible for restaurants to retain employees.
But for fast food restaurants, there appears to be a solution—albeit a controversial one—to bypass the worker shortage: remove workers from the equation altogether. Indeed, the industry appears to be on the cusp of a transition towards automation, and Los Angeles is situated at the center of the coming storm.
Wavemaker Labs is a Santa Monica-based incubator focused on automating the entire food industry supply chain "from seed to fork," said Wavemaker founder and CEO Buck Jordan.
The company has focused on automating fast food and restaurant kitchens. It recently announced an ambitious robotics project with Nommi, which is working to create what's basically a fully autonomous vending machine that dishes out Michelin-star-quality grain bowls. It was also one of the early backers of Miso Robotics, a company that's making robots that can run a fry station or a drink station in a fast-food restaurant
Los Angeles is an auspicious proving ground for these technologies.
"California, especially Southern California, is a restaurant hub," said Jake Brewer, Miso's Chief Strategy Officer. "You have Panda, you have Chipotle, you have Taco Bell, Del Taco. You have these big brands that are centered there."
These business opportunities, in combination with a strong pipeline of talent from schools like Cal Tech, have allowed Wavemaker Labs to form partnerships and pilot programs.
"It's where food and tech meet," said Brewer. "The food creativity in LA is unlike anywhere else and the tech creativity is unlike anywhere else. If two people live together long enough they either become friends or they kill each other. In this instance they became friends."
Miso Robotics
Miso Robotics has been operating since 2016, but the company has only recently begun testing their tech in the wild.
Miso has 15 robots deployed in restaurants across America and has inked pilot deals with 12 restaurant brands including Buffalo Wild Wings, CaliBurger, and Compass Levy. The plan, according to Brewer, is to have hundreds of robots operational by the end of next year, and thousands by the end of 2023.
Currently, Miso offers three different solutions for the quick service restaurant industry, all of which are designed to help with back of house operations. The first two are robots that can run different stations, specifically the deep fryers and the drink stations.
The robots, known as Flippy and Sippy, effectively replace workers at these stations and—according to Miso—offer improved efficiency. The third piece of technology is an AI-powered camera training platform that helps new hires understand how to assemble orders and run the back of house.
Miso recently started a pilot with White Castle in 2020 for their robotic fry cook. The bot basically operates the deep fryer and the grill in the back of house, which is one of the most demanding jobs with the highest turnover rate in the industry, lasting on average, less than one year and often less than 6 months.
White Castle, Brewer says, was an especially challenging partnership for the company due to the large number of fried items on the menu, the high volume of the restaurant, and the brand's complex limited time offer schemes. Still, the robot earned its keep, and White Castle is looking to add more Flippy units to its stores in 2022.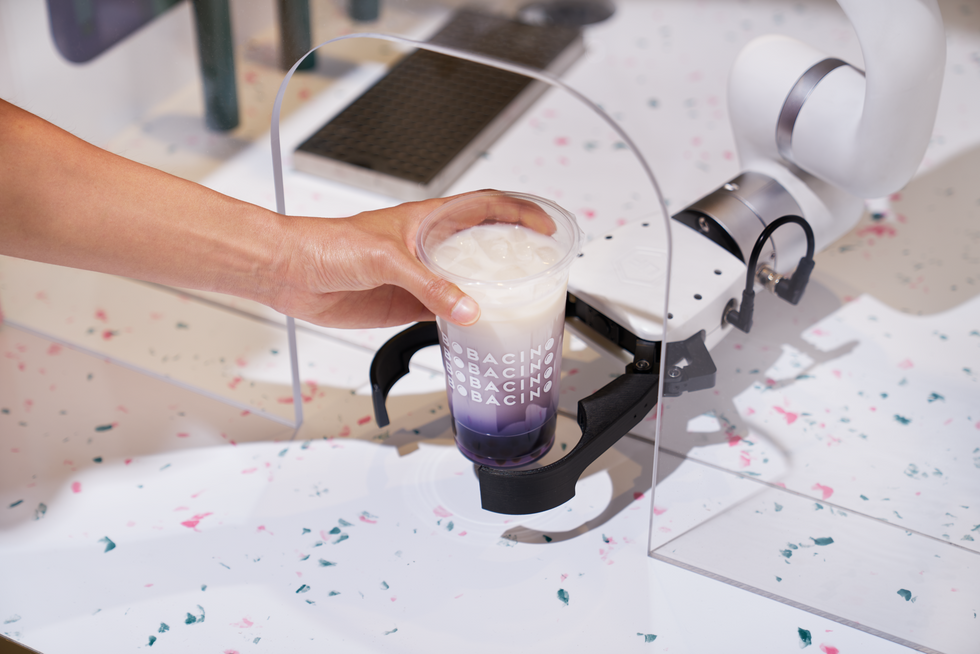 Bobacino robots are set for the food automation age.dot.la
Nommi
Nommi represents an arguably more ambitious vision of the future of fast food. The idea behind Nommi is to make the kitchen fully autonomous. Humans still have to oversee operations or perhaps clean and maintain the machines, but the idea behind Nommi is basically to make a vending machine that serves hot, fresh meals.
The technology follows in the shoes of other kiosk-style operations developed by Wavemaker. The incubator has already dabbled in a pizza kiosk (Piestro) and an autonomous boba-tea maker (Bobacino), but Nommi is considerably more ambitious both in terms of scale and what it might ultimately mean for the future of the industry.
The prototype Nommi kitchen makes bowl-style meals—think noodles plus chicken or rice plus veggies. All of the cooking, chopping, seasoning etc. is handled by a series of robots and the ingredients are dispensed into a bowl atop a small autonomous cart and delivered to a person.
The project has drawn the backing of former Iron Chef Koumei Nakamura, and prototypes are currently in development. "He's real serious about his food," said Jordan, who, in addition to his role as Wavemaker's CEO, is also CEO at Nommi. Jordan says that consumers can expect to see Nommi pilot programs "in the wild" as early as the end of next year, with production versions following another year after that.
Brewer says the pandemic initially depressed in-store fast food purchases by upwards of 70%, but delivery and takeout numbers went through the roof and have remained high ever since. If this trend is here to stay, Jordan thinks Nommi may represent the future model of fast food.
"In five to seven years, what I think you're going to see is a lot of major brands starting to design their menus to be automated," he said. "When you can fully automate a menu, all of a sudden your real estate costs get cut by two thirds or three quarters because you have a kitchen in a box. Your labor goes to almost nothing."
While the pricing schemes haven't been worked out yet, Jordan's hoping Nommi can deliver high-quality food at fast-casual prices.
"We know that the economics are so good for the Nommi machine that we sort of 4x the profitability of a comparable restaurant that's operating in analog," he said. "We think that allows us to really deliver Michelin star quality at a really affordable price. I would love to offer a grain bowl for $7."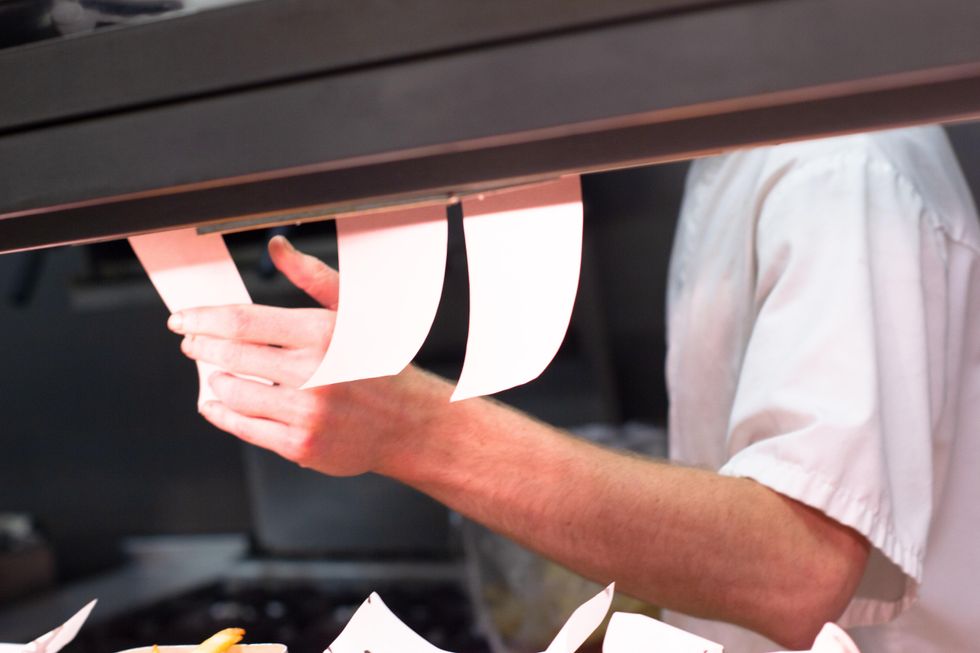 What About the Workers?
An average McDonald's franchise employs between 50 to 150 people. A fully autonomous kitchen will still need humans to clean and service the machines. People will be required to repair damaged equipment. Delivery men will still drive raw goods to the machines. Someone will likely need to oversee the whole operation.
But even still, making a kitchen autonomous represents the loss of dozens of jobs. "Is it going to be one job lost and one job gained here? I doubt it. There will be a shift," said Jordan.
Mark Muro, who studies automation at the Brookings Institute, says the thing he's most concerned about is the loss of entry level jobs.
"It's not always clear how you get started in America's economy," he said. "But one thing there's always been is working in a restaurant or low-end retail. That could be a serious problem for teenage and 20-something workers."
He also points out that underrepresented groups, who've historically taken low paying, difficult jobs, may be disproportionately impacted by automation in the sector.
Conversely, automation holds tremendous promises for business owners and potentially for consumers as well if costs decrease and consistency and quality improve. These aren't groundbreaking concepts, but they're ones that the industry will be forced to confront if automation becomes widespread.
"I don't think we're going to uninvent these technologies," said Muro. The best we can do, in his eyes, is to give workers fair warning that their jobs are on the chopping block and provide opportunities for them to retrain.
Likewise, Jordan believes automation is coming one way or another. He points to the development of the tractor and other technological advances which, in the past, put large numbers of laborers out of jobs, but ultimately created more agricultural industry overall.
"My first job was making pizza at Valley Pizza in Woodland Hills," he said. "I don't think my son, when he's 18 years old, is going to have that job available to him."
Correction: An earlier version of this post stated that Wavemaker had just finished a pilot with Miso. That project just began.