mila capital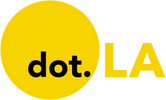 Get in the KNOW
on LA Startups & Tech
X
mila capital
Siddarth Pandiya, the 20-year-old founder of Sike Insights, likes to say he was into remote work before remote work was cool.
He founded Sike Insights from his dorm in October 2019 with Andrew Zhou and Corine Tan, two fellow UCLA students. The three had made several different projects at hackathons and in the entrepreneurship fraternity Sigma Eta Pi before scrapping them all entirely and creating the artificial intelligence platform aimed at managers trying to stay in tune with remote workers.
"Making baby leaders," as he puts it, "more emotionally intelligent was kind of like the thing that I've always cared about, and after we got to work, we found our calling was easy," he said.
The company has just closed a $1 million pre-seed round with backing from Kleiner Perkins, Abe Burns, dot.LA co-founder Spencer Rascoff, Jeff Wilke, The Fund, Overton VC, MiLA Capital and Rough Draft Ventures.
Pandiya, who started his first company at 15 years old, came up with the idea based on his experiences on his high school debate team, where building a culture and cohesiveness could be the difference between winning and losing.
He knew businesses faced the same problem and wanted to create more sensitive companies.
"Especially in our generation, we would rather be unemployed than work at a company where we don't feel like we're cared for right," said Pandiya.
Work from Home Realities
There's a lot of technology already out there to help with asynchronous working — Asana, Trello, Slack and Monday all assist with remote team goal setting and communication. But what Pandiya noticed was missing was building a company culture.
"Culture is now a must-have for remote companies, as opposed to 10 years ago when culture was kind of seen as this wishy-washy thing and it was more like, 'Okay, suck it up and do your job even if you hate it'," he said.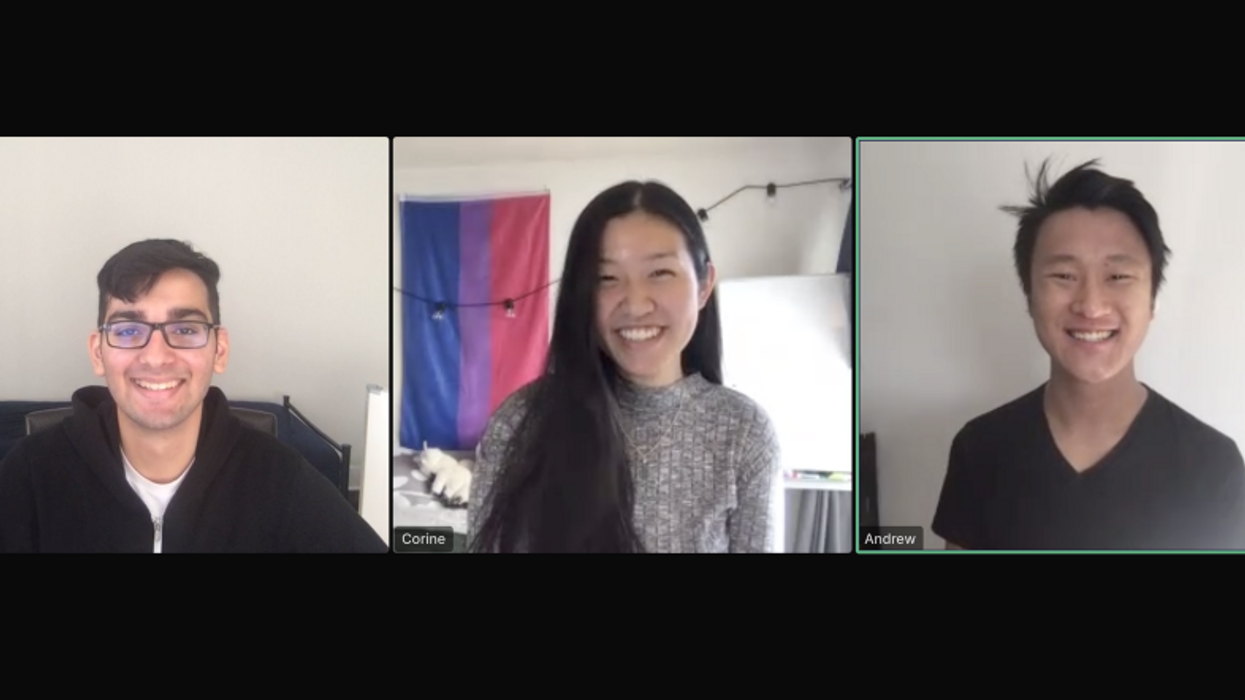 Siddarth Pandiya, Corine Tan and Andrew Zhou are the co-founders of Sike Insights.
There is no way for employees to interface with their managers or each other at the same volume they could while at work, according to Pandiya. Co-workers can no longer stop by each others' desks and chat about their weekends or their projects. Sensitive conversations are harder without body language.

"Startups like Sike, that empower high levels of engagement within teams, have the potential to add a lot of value," said Jonathon Ruane, a professor of global economics and management at MIT. He said research indicates that the share of working days spent at home by full-time workers will triple after the pandemic.
"Managers will need to adapt to managing and leading teams remotely. Many are likely to adopt new technologies that support this," Ruane said.
Sike Insights' first product is a friendly dog named Kona. It's an artificial intelligence bot integrated into Slack who facilitates interactions with employees and managers by making suggestions about how to respond during different conversations.

Kona first gathers employee data from a self-reported survey about their personality types. It continues to monitor employees' Slack activity to build a profile of each persons' working style and make suggestions to their managers on how best to clarify tasks or deliver feedback.
At the start of the day, employees respond to a question from Kona: "How are you feeling today?" They can respond with a color and an explanation of their feelings. Not every status is related to work — teammates can share other happenings in their lives and better get to know each other despite not having in-person interactions.

Sike Insights' first product is a bot in the form of a dog named Kona.
A Test Case
TeamSnap, a sports organizing platform, was one of the beta testers for Kona. Their engineering team had daily stand-ups, weekly one-on-ones, and twice-a-week all-hands meetings. Shane Emmons, TeamSnap's chief technology officer, realized that these meetings consisted largely of small-talk because his team wanted to better know each other.
With Kona, they drastically cut down on meetings.
"Clicking an emoji each morning created some big changes in how we take care of each other," Emmons said. Emmons began spending less time asking his team how they were feeling, and was able to spend his time helping them grow. After two months, the team eliminated daily stand ups and made one-on-one meetings biweekly.
"You can't walk around the office in a remote setting, so Kona acts like my sixth sense. I can see my distributed team's emotional health in a way that I couldn't before," Emmons said. "People naturally check on each other and start casual conversations. It's all from taking a simple 30-second pulse each morning."
The last service Kona provides are daily insights that are relayed to managers and teams as Slack prompts. Each tip or reflection was developed with the help of top executive coaches, some of whom are investors, such as Robyn Ward and Jeff Gray.
"We're really the only company, the only tool that has real data on the culture of your company right now," said Pandiya. "And that's obviously really powerful in and of itself as an analytics platform. But what we have even beyond that is we are really the only tool that can help you manifest the culture that you want to create in your company."
Editor's note: This story has been updated.
From Your Site Articles
Related Articles Around the Web
Art by Candice Navi
There's the accelerators and female-founder dinners. Throw in the hyped-up "pledges" rallying public support for inclusion. But, for all the female focused co-working spaces in Los Angeles, the startup scene remains a male-dominated game.
The data tells the story. Female founders received fewer than 10% of venture capital deals in Los Angeles last year, according to an analysis by dot.LA using data provided by PitchBook. When it came to the money, women got even less. Only 2% of the $8 billion in venture capital that poured into Los Angeles companies last year went to female-founded companies. The numbers have moved only a fraction of a percent over the years.
"That is so depressing," said Anna Barber, managing director of the accelerator program Techstars LA, and a coach to founders. Raising capital is "still objectively and relatively more difficult for women and underrepresented founders to raise."
A dot.LA analysis found that the amount of venture capital investment in female-founded companies has stagnated in Los Angeles, San Francisco, and nationwide since 2015. The numbers are stark despite the region's significant efforts to turn the tide.
In Los Angeles, the mayor's office launched PledgeLA in 2018 to incentivize the business community, boosting diversity in the tech and venture capital industries. Backers include the Annenberg Foundation, dozens of LA-based venture capitalists, and tech companies. Another initiative includes All Raise, founded the same year by 34 senior female investors to accelerate the success of female founders. The organization recently opened an L.A. chapter.
"Someone said this to me a couple months ago and it really hit a nerve," Barber said. "For men, making money together has always been part of the culture of male friendship, it's 'I know this guy, he's got this thing, let's do this thing together and it'll be fun.' It's part of how men operate together."
"For women, for female friendship," she said, "making money together has never really been on the agenda. I want to change that, I want to think of the women I know and have relationships together and think 'how can I make money together.'"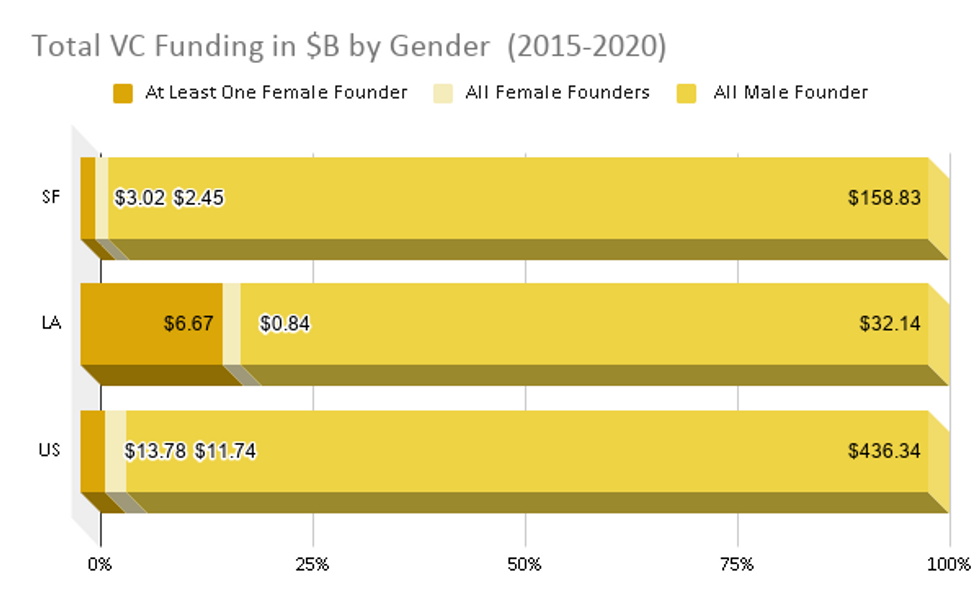 Data from PitchBook
That culture seems to be reflected in the data.

The Los Angeles area has always been an overall smaller market for VC deals compared to San Francisco, with the Bay Area hitting $40.6 billion invested in companies compared to $8 billion in Los Angeles, according to PitchBook. But, L.A.'s traditionally more consumer-focused market has led to better chances for female entrepreneurs who want to receive VC funding.
In San Francisco, all-male founders made up 73.2% of the total deals in the metropolitan area. Solely women founded companies made up just 5.4% of that total. In Los Angeles, all-women founded companies did slightly better, making up 9.4% of the total number of deals while all-male founders got 65% of the cash.
Smaller Deals, Better Returns
Women founders in L.A. fared better. But, while they got more deals, the investments were smaller in size. This resulted in less total capital.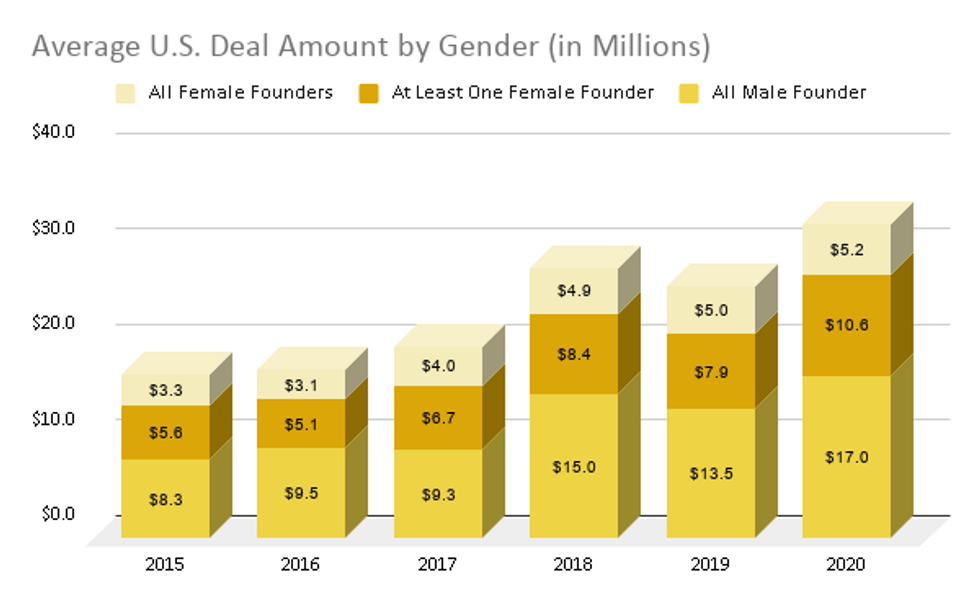 Data from PitchBook
Jennifer Acree, the chief executive of JSA Strategies, a strategic communications firm that works with both consumer tech and digital media companies, is not surprised by the data.

"Look at how many VCs there are and most of them are men," Acree said. "Venture capital has traditionally been a male-dominated industry, just like technology...it just takes time to fix it and people need to see examples of women in the industry."

A dot.LA review of the last 14 years of median pre-money valuation broken up by gender showed that companies with all-male founders had valuations that rose somewhat steadily from $13.1 million in 2006 to $25.5 million in 2019. For female founders, that number was $11.5 million in 2006 with a rise to $12 million in 2019.
Michael Silton, managing director of Act One Ventures, said their VC firm has made an effort to identify and fund people of all backgrounds, with 70% of their founding teams including women or minorities. The firm also requires term sheets carry a diversity clause for hiring.
"We're not doing this to change the world, we're doing this to make more money," Silton said. "We believe finding the best founders no matter their background and making diverse teams means we're going to make more money. It's the right thing to do and it also works."
That has been borne out in a series of studies that finds diverse teams outperform those that aren't, and that investment in female-led companies actually provides a better return than investments in male-led companies.
Investing in diverse founders requires outreach to communities that are often overlooked and to founders at early stages more proactively, as well as trying to create a more hospitable and welcoming environment for founders of any background, Silton said.
"One of the things you see is that women often present differently, their degree of confidence in relation to their background tends to present differently, than a man," Silton said. "If you listen, a man sounds more positive and a woman maybe less so, when they are equally capable and maybe the woman is even more capable."
Studies have shown that men are more willing to apply for jobs for which they don't necessarily meet the criteria, while women tend not to apply unless they have all the necessary skills perfected. They've also shown that VCs tend to ask women questions they don't ask male founders.
That puts a burden on VCs to look beyond men they've previously invested in, to be conscious of their biases, to support and coach founders, and to give them equal opportunities, Silton said.
"There are intentional biases, there are unconscious biases, and there's a lack of effort to find different founders," Silton said. "And some believe that to achieve a different outcome you have to start differently."
Barber said that to combat some of this she often tells founders who are women or underrepresented to try to "be the biggest version of yourself" and exude confidence. "Sometimes what gets in the way for people is imposter syndrome," Barber said, "just the idea of keeping yourself small."
It's worth noting that PitchBook doesn't track data on venture investments in companies founded by people of color. The numbers are far smaller when you factor in businesses founded by women of color.
The Case for More Female Investors
"It starts with the capital, and I don't just mean where VC funds are investing, I mean who is investing in VC funds," said Kara Weber, president of Brud and founder of Brilliant Ventures. Weber said the largest shift of private wealth from men to women is occurring globally right now, as people's fathers and husbands pass away. But the challenge is where women put that money. Historically, women have been directed to more philanthropic efforts like the nonprofit sector.
"I've heard women talk about how they will not bat an eyelash at giving $250,000 to the New York City Ballet, but god forbid you suggest investing $25,000 in a startup," Weber said. "I think there were gendered norms around that stuff that we're still shaking off the chains from. The men handle one side and the women handle the other."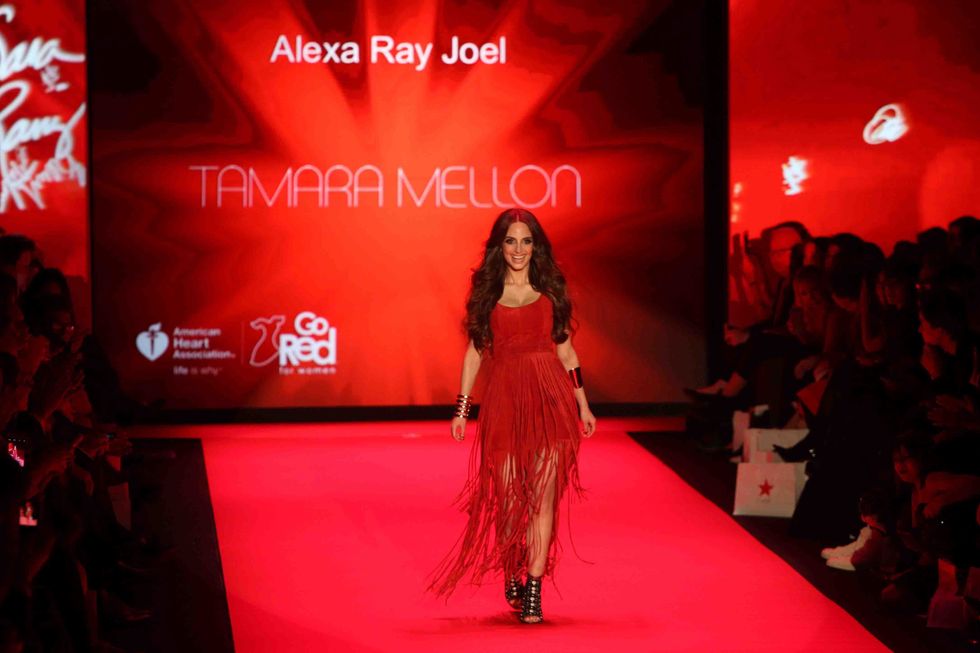 Alexa Ray Joel wears Tamara Mellon at Go Red for Women-The Heart Truth Red Dress Collection at Mercedes-Benz Fashion Week at Lincoln Center on February 12, 2015 in New York City.by Debby Wong
She added that driving women's capital into the innovation ecosystem ultimately will still benefit women investors and founders: "There's so much economic evidence showing that when you do well by women, you do well by the world." Brilliant Ventures has invested in 17 companies; 72% of the founders are women. But even though there have been a lot of deals, "our check size was miniscule," Weber said.
Weber remembers telling a prominent female angel investor that she wanted to raise Brilliant's first fund entirely from women, "She laughed and laughed and laughed, and said, 'I wish the world for you, but I don't believe you'll ever do it.'" Spoiler alert: "She was right," said Weber. "We did get a lot of women investing, but the bulk of our capital came from men."
She added, with a sad laugh, "I would say, we had a dream."
In 2016, Weber's new L.A.-based venture capital firm Brilliant Ventures was looking to do its first deal, and had the chance to back Tamara Mellon, a new luxury footwear brand founded by Mellon who had previously founded the highly successful Jimmy Choo.
"This deal had everything going for it, it was very well-backed, had a proven founder, and was a category that women investors can understand," Weber said. "And every single woman I took the deal to asked me to speak to a man on her behalf."
One good friend came back and told Weber: "I'm going to do it! My brother thinks it's a no brainer." Weber was dumbfounded. The woman's brother is an emergency wilderness doctor and less qualified on the subject matter than she was to make such a decision.
"We've been so trained to not have confidence in ourselves," Weber said. "That really struck me. These were women, who have plenty of experience buying luxury footwear, they know who Jimmy Choo is and they all still asked me to talk to men, whether financial advisors, private wealth managers, or husbands on their behalf."
Grid110, a nonprofit and accelerator program, has worked to flip the narrative, working with 126 companies over the past five years. About 70% are led by a female founder or cofounder and 60% of the companies are headed by a person of color. So far, 17 companies have raised $16 million and 95% of that is from teams with at least one female founder.
"That's typically the inverse of what you see," said Miki Reynolds, executive director of Grid110 and also a member of the advisory board for PledgeLA.
More women are starting businesses and so there are more female business owners, Reynolds said. But those businesses aren't necessarily the type that has traditionally received VC funds.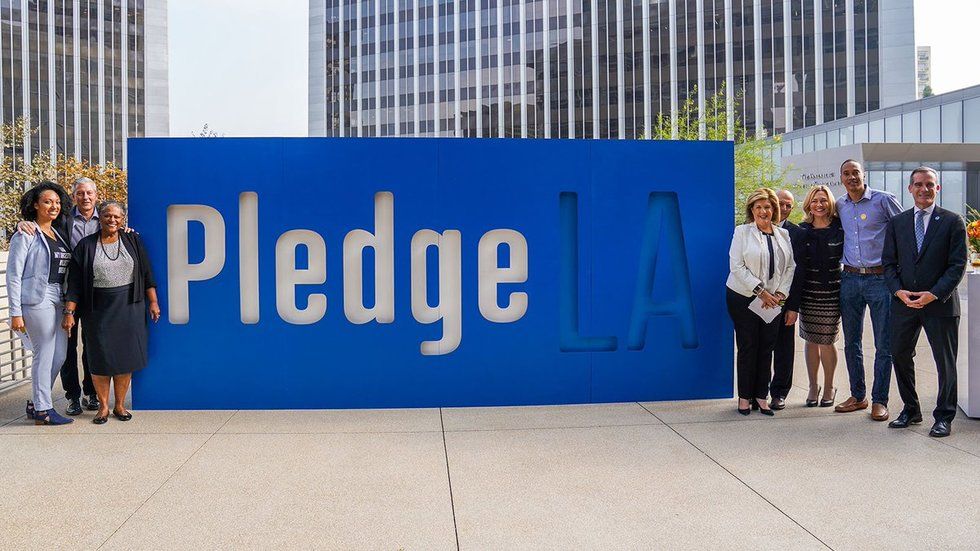 Courtesy of LAMayor.org
VCs "invest in what scales and forms the size returns they're looking for, which is a certain type of business," Reynolds said.

Carmen Palafox, managing partner at MiLA Capital said having more female investors is also critical.
"I think (the stagnant numbers) goes back to the need for systemic change," Palafox said. "You're going to see incremental improvements, there's some programs that will accelerate the pace. But at the end of the day, bottom line, if you don't have more women investors, you're going to just go at a turtle's pace."
Palafox strongly believes there needs to be strong incentives, perhaps government-backed, to push for VC firms to invest in women.
"You need to create incentives for folks to do something differently than what they're currently doing," Palafox said, "because what they're currently doing is working for them."
Barber, of Techstars, said she still feels "a lot of hope" despite the numbers that "we will move the needle."
"Looking at who's writing checks is a big part of it," she said. "Not only thinking about investing in more women but also enabling more women to invest."
__
Do you have a story that needs to be told? My DMs are open on Twitter @latams. You can also email me at tami(at)dot.la, or ask for my Signal.