Siddarth Pandiya, the 20-year-old founder of Sike Insights, likes to say he was into remote work before remote work was cool.
He founded Sike Insights from his dorm in October 2019 with Andrew Zhou and Corine Tan, two fellow UCLA students. The three had made several different projects at hackathons and in the entrepreneurship fraternity Sigma Eta Pi before scrapping them all entirely and creating the artificial intelligence platform aimed at managers trying to stay in tune with remote workers.
"Making baby leaders," as he puts it, "more emotionally intelligent was kind of like the thing that I've always cared about, and after we got to work, we found our calling was easy," he said.
The company has just closed a $1 million pre-seed round with backing from Kleiner Perkins, Abe Burns, dot.LA co-founder Spencer Rascoff, Jeff Wilke, The Fund, Overton VC, MiLA Capital and Rough Draft Ventures.
Pandiya, who started his first company at 15 years old, came up with the idea based on his experiences on his high school debate team, where building a culture and cohesiveness could be the difference between winning and losing.
He knew businesses faced the same problem and wanted to create more sensitive companies.
"Especially in our generation, we would rather be unemployed than work at a company where we don't feel like we're cared for right," said Pandiya.
Work from Home Realities
There's a lot of technology already out there to help with asynchronous working — Asana, Trello, Slack and Monday all assist with remote team goal setting and communication. But what Pandiya noticed was missing was building a company culture.
"Culture is now a must-have for remote companies, as opposed to 10 years ago when culture was kind of seen as this wishy-washy thing and it was more like, 'Okay, suck it up and do your job even if you hate it'," he said.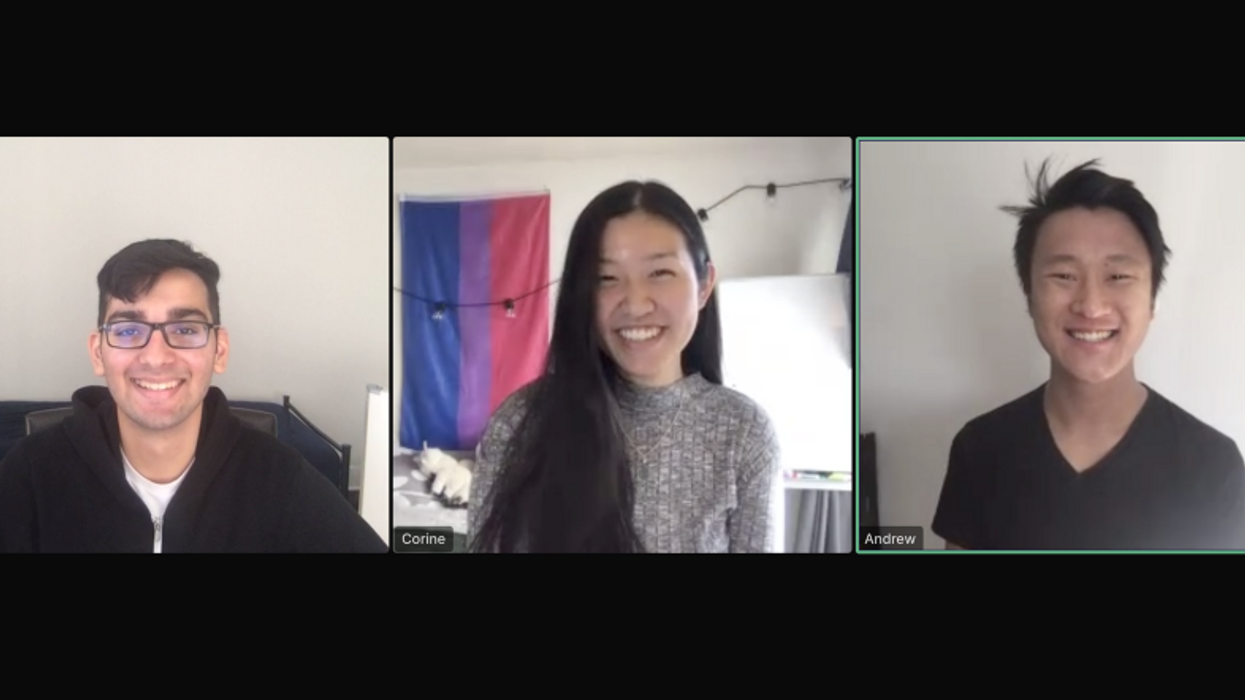 Siddarth Pandiya, Corine Tan and Andrew Zhou are the co-founders of Sike Insights.
There is no way for employees to interface with their managers or each other at the same volume they could while at work, according to Pandiya. Co-workers can no longer stop by each others' desks and chat about their weekends or their projects. Sensitive conversations are harder without body language.

"Startups like Sike, that empower high levels of engagement within teams, have the potential to add a lot of value," said Jonathon Ruane, a professor of global economics and management at MIT. He said research indicates that the share of working days spent at home by full-time workers will triple after the pandemic.
"Managers will need to adapt to managing and leading teams remotely. Many are likely to adopt new technologies that support this," Ruane said.
Sike Insights' first product is a friendly dog named Kona. It's an artificial intelligence bot integrated into Slack who facilitates interactions with employees and managers by making suggestions about how to respond during different conversations.

Kona first gathers employee data from a self-reported survey about their personality types. It continues to monitor employees' Slack activity to build a profile of each persons' working style and make suggestions to their managers on how best to clarify tasks or deliver feedback.
At the start of the day, employees respond to a question from Kona: "How are you feeling today?" They can respond with a color and an explanation of their feelings. Not every status is related to work — teammates can share other happenings in their lives and better get to know each other despite not having in-person interactions.

Sike Insights' first product is a bot in the form of a dog named Kona.
A Test Case
TeamSnap, a sports organizing platform, was one of the beta testers for Kona. Their engineering team had daily stand-ups, weekly one-on-ones, and twice-a-week all-hands meetings. Shane Emmons, TeamSnap's chief technology officer, realized that these meetings consisted largely of small-talk because his team wanted to better know each other.
With Kona, they drastically cut down on meetings.
"Clicking an emoji each morning created some big changes in how we take care of each other," Emmons said. Emmons began spending less time asking his team how they were feeling, and was able to spend his time helping them grow. After two months, the team eliminated daily stand ups and made one-on-one meetings biweekly.
"You can't walk around the office in a remote setting, so Kona acts like my sixth sense. I can see my distributed team's emotional health in a way that I couldn't before," Emmons said. "People naturally check on each other and start casual conversations. It's all from taking a simple 30-second pulse each morning."
The last service Kona provides are daily insights that are relayed to managers and teams as Slack prompts. Each tip or reflection was developed with the help of top executive coaches, some of whom are investors, such as Robyn Ward and Jeff Gray.
"We're really the only company, the only tool that has real data on the culture of your company right now," said Pandiya. "And that's obviously really powerful in and of itself as an analytics platform. But what we have even beyond that is we are really the only tool that can help you manifest the culture that you want to create in your company."
Editor's note: This story has been updated.
From Your Site Articles
Related Articles Around the Web