A swarm of flying street-vendor carts festooned with multicolored umbrellas was seen hovering above MacArthur Park this week, alongside a cadre of magical objects that included a gigantic rolling orange, a rocket-propelled elote stand and a humongous white bucket overflowing with flower petals.
The scene was one of five new virtual monuments dotting L.A. available through Snapchat, collaboratively developed by Santa Monica-based Snap and the L.A. County Museum of Art.
Ruben Ochoa's "¡Vendedores, Presente¡"pays tribute to the hustle of L.A.'s street vendor community.
"Snap and Lens Studio are a tool to empower the creativity of others," said Sophia Dominguez, Snap's head of camera platform partnerships. "The whole idea behind this project was to rethink what it means to create a monument in today's world, that can teach others around the world about specific Los Angeles histories and untold stories."

The lenses are available to Snapchat users anywhere, but have connections to specific sites across L.A. To see them, users in the area can find the lenses via the sites' markers on the Snapchat Map, while those elsewhere can access them from LACMA's website.
Ruben Ochoa, of West L.A., created "¡Vendedores, Presente¡", the vivid, circus-like flying food-cart lens, as a tribute to the hustle of L.A.'s street vendor community.
Raised by a mother who created her own tortilla delivery business, Ochoa was moved by the rough plight faced by L.A.'s street vendors during the pandemic. In addition to facing economic hardship, he noted, some were physically attacked.
"That was really hard to bear witness to," he said. His lens includes links to nonprofit organizations whose work supports street vendors.
Mercedes Dorame's "Portal for Tovaangar" pays tribute to L.A.'s indigenous Tongva people, whose legacy includes familiar names like Cahuenga, Topanga and Tujunga. Dorame, who is based in Glassell Park, is part Tongva herself. She said her lens aims to transport users into the Tongva mindset, which is inspired by the land, sky, celestial bodies and "the infinite ability to connect to these entities and with each other."

"I'm always looking at the landscape of Los Angeles, the idea of Los Angeles, how we visualize the city, and trying to kind of re-envision it and show the indigenous presence and the native people who always inhabited this place," Dorame said.
"It was a really fun opportunity to imagine something that wouldn't be possible in a non-virtual space," she added.
Dorame's lens depicts levitating stones connected by swirling red ribbons to a portal-esque circle with indigenous imagery, accompanied by Tongva music. It is meant to be experienced on the LACMA grounds, next to the La Brea Tar Pits, which fittingly also connect the present to an earlier era, Dorame said.
The three other lenses are linked to Magic Johnson Park and the L.A. Memorial Coliseum. Ada Pinkston's "The Open Hand is Blessed" pays tribute to Biddy Mason, who passed away in L.A. in the late-19th century as one of the wealthiest Black women in America.

"All of the artists and lens creators use the same tool, but all of the results are just so wildly different," said Dominguez.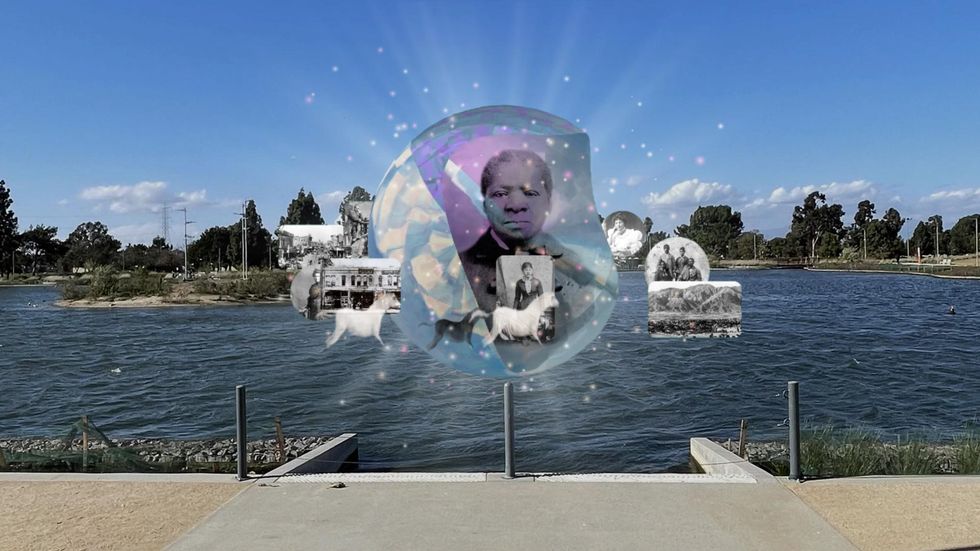 Ada Pinkston's "The Open Hand is Blessed" pays tribute to Biddy Mason.
Snap and LACMA commissioned the works as part of a multi-year initiative called "Monumental Perspectives." The Andrew W. Mellon Foundation will provide future funding for community engagement, public programming and bringing on more artists in the coming years as part of its five-year $250 million "Monuments Project" initiative.

In 2018 Snap joined LACMA's Art + Technology Lab Advisory Board, and in 2019 the two organizations partnered to present Christian Marclay's "Sound Stories" installation.
Next week, L.A. Mayor Eric Garcetti and Snap's chief executive Evan Spiegel will join the heads of LACMA and the Mellon Foundation on a panel to discuss the future of monuments, with an eye toward using technology to create more virtual, interactive experiences.
"LACMA is very much driven by innovation and always seeking to try out new things, and at Snap that really resonates with us," said Dominguez. "We hope in the next iteration of this the lens creators and the artists can leverage some of our even newer technology and do even wilder things than what we can imagine today."