Snap Releases AR Lens for Biden's Inauguration
Sam Blake
Sam primarily covers entertainment and media for dot.LA. Previously he was Marjorie Deane Fellow at The Economist, where he wrote for the business and finance sections of the print edition. He has also worked at the XPRIZE Foundation, U.S. Government Accountability Office, KCRW, and MLB Advanced Media (now Disney Streaming Services). He holds an MBA from UCLA Anderson, an MPP from UCLA Luskin and a BA in History from University of Michigan. Email him at samblake@dot.LA and find him on Twitter @hisamblake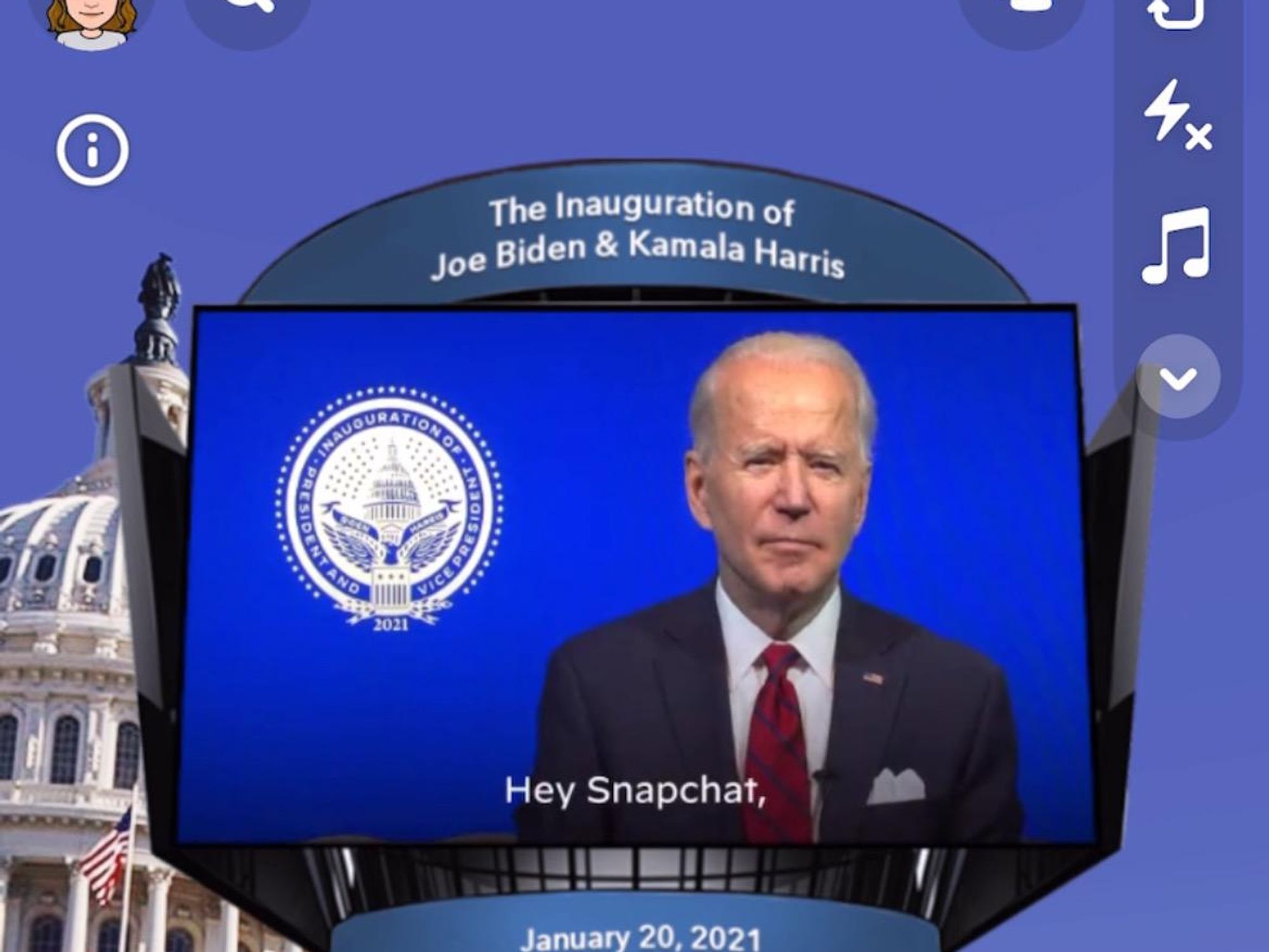 Anyone who wanted to attend Wednesday's Presidential Inauguration but couldn't is in luck. President-elect Joe Biden's team has released a series of Snap AR lenses to bring users to Washington, virtually.
The Presidential Inaugural Committee developed the lenses in partnership with Snap. Users can take a selfie "in front of" the U.S. Capitol, where they'll see themselves decked out in inauguration gear as celebratory confetti flutters from the virtual skies.
---
Turning the camera externally, users will also be able to see their faces in a virtual Capitol audience – comprised of selfies that users send in – while an exclusive audio greeting plays from President-elect Joseph Biden.
This inauguration is one of the most heavily guarded ever and because of COVID-19 mass crowds can't safely gather like they normally do.
"We are honored to partner with the Presidential Inaugural Committee by creating a thoughtful way for young Americans from across the country to be part of Inauguration by safely celebrating from their homes through the power of AR on Snapchat," Snap Public Policy Manager Sofia Gross said in an emailed statement. "Young Americans played a critical role this election cycle and we look forward to continuing to build creative ways to help young people engage in our civic processes."
Snap previously released a series of voting-based mini-apps
in August. As part of that effort, the company said it helped
over 1 million Snapchat users register to vote
using the app.
Sam Blake
Sam primarily covers entertainment and media for dot.LA. Previously he was Marjorie Deane Fellow at The Economist, where he wrote for the business and finance sections of the print edition. He has also worked at the XPRIZE Foundation, U.S. Government Accountability Office, KCRW, and MLB Advanced Media (now Disney Streaming Services). He holds an MBA from UCLA Anderson, an MPP from UCLA Luskin and a BA in History from University of Michigan. Email him at samblake@dot.LA and find him on Twitter @hisamblake
https://twitter.com/hisamblake
samblake@dot.la