fox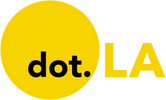 Get in the KNOW
on LA Startups & Tech
X
fox
upload.wikimedia.org
Hollywood, an economic engine that has powered Los Angeles since the dawn of television screens and movie cameras, has been devastated by stay-at-home orders. With production at a standstill and sports halted, mass layoffs and unemployment have stopped the show.
Studios, theaters, production companies and entertainment venues have laid off or furloughed more than 14,000 workers in Los Angeles County over less than two months, according to state filings. The April and May records reflect only a sliver of the job losses in the entertainment industry, but they provide a window into just how widespread the pain has been felt by workers from Disney to independent production studios and sports networks.
One of the hardest hit employers, according to documents from the state's Economic Development Department, was the Los Angeles office of Fox Sports Productions, where 3,595 people were temporarily laid off at the end of April. The Labor Department reported Thursday national filings for unemployment claims totaled just shy of 3 million for the most recent reporting period, bringing the total to 36.5 million since the pandemic forced states into lockdown.
At Paramount Pictures, a subsidiary of ViacomCBS, 638 people were furloughed in late April and early May.
The long list also includes Sony Pictures and NBCUniversal. Even one of Tinseltown's strongest unions, the 160,000-member Screen Actors Guild-American Federation of Television and Radio Arts, had to temporarily let go of 27 workers.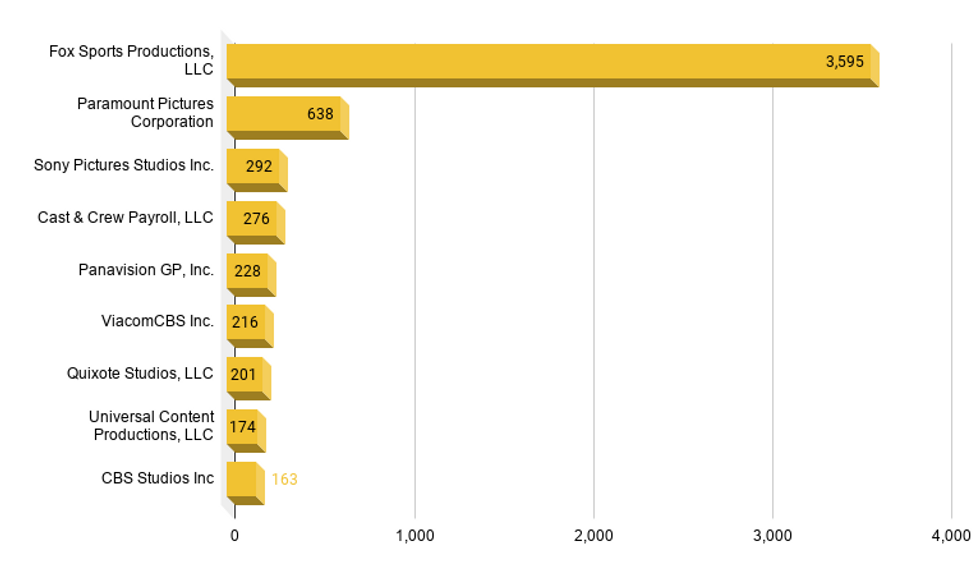 A look at some of the production companies that experienced temporary layoffs in April and May.
In mid-March the International Alliance of Theatrical Stage Employees, which includes cinematographers and other below-the-line Hollywood workers, said at least 120,000 of their 150,000 members lost jobs.

All told, it's been a serious economic blow to the region. Last week Mayor Eric Garcetti said he is creating a working group to reopen industries including film and television.
The entertainment industry not only defines Los Angeles in the national imagination, but according to the Otis College Report, it employs around 258,000 people and fuels about a quarter of the region's economy - from the talent in front of the camera to the florists, caterers and lighting crews that serve the industry.
The data doesn't reflect the many contractors the Hollywood machine depends on, including writers, performers and others that work on on a project-by-project basis, noted Gene Del Vecchio, author of Creating Blockbusters and an adjunct professor at USC Marshall School of Business.
"When you look at studio layoffs, you're looking at a fraction of the people that have been hit," he said.
Between mid-March and June, Del Vecchio estimated that with theaters closed, Hollywood could lose about $3.8 billion at the box office.
"Where does that money go? Most of it goes to pay independent production companies. Even those hire a lot of independent contractors. All those people that we are talking about are flying under the radar."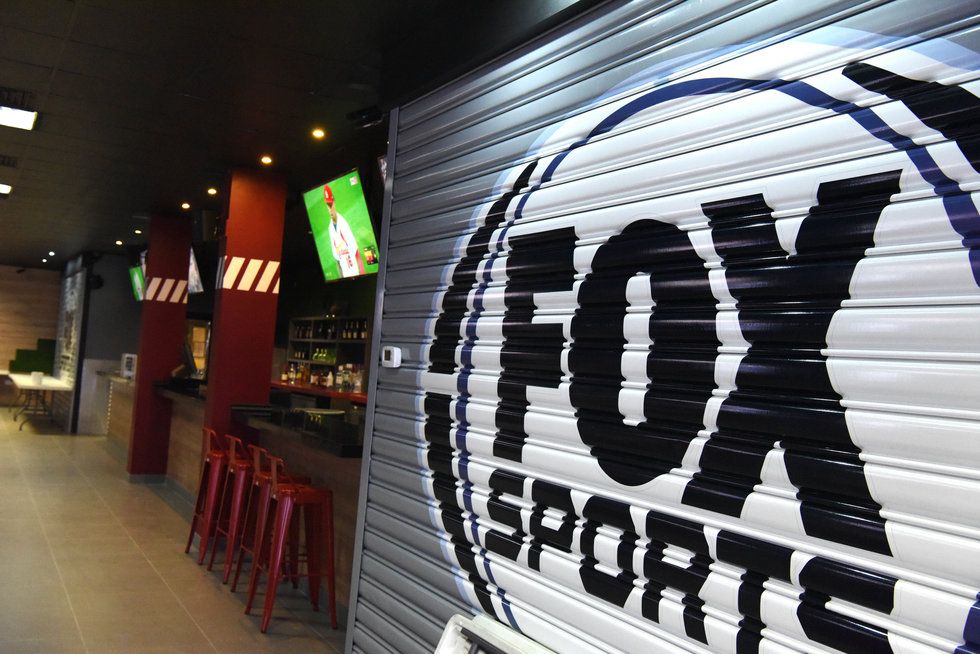 FOX Sports Skybox: back and better media.defense.gov
The state's data also doesn't include companies with fewer than 75 employees, or those that have yet to report. The latter includes Disney, which has said it will pink-slip 100,000 workers - nearly half its workforce, as all of its theme parks — save the slowly reopening Shanghai park — remain closed. The future of the Happiest Place on Earth is murky, with most analysts thinking its corporate might will help it to weather the crisis, but with little clarity about how long the pain will last.

Released daily, the state filings offer a window into the depth of the crisis in the city that can't be gleaned from local unemployment number, which lag behind national figures. California won't produce detailed county-specific unemployment data for March until next Friday.
"There are so many people that live off of Hollywood," said Ivette Rodriguez, founder of American Entertainment Marketing, a Venice-based public relations firm specializing in film and music for the Latin market. Since stay-at-home orders took effect, her business has dried up.
"Right now you can't have conversations with studios," she said. "They are having their own troubles. It's a trying situation."
Although Rodriguez's business has stopped, her situation is unlikely to appear in any of the data as she hasn't collected unemployment or qualified for a loan.
File:Walt Disney Studios Park Wikimedia Commons
"There's a lot of independent people that do what I do that will never be counted," she said. "We service Hollywood."

Rodriguez, who has done publicity for films from Disney and Netflix including Roma, the Academy Award-winning film by director Alfonso Cuarón and more recently Call of the Wild, said she's trying to diversify her two-decade old business to gaming and other platforms.
The most vulnerable jobs in the industry have been "the jobs where people are on-site doing the actual production," media analyst Dan Rayburn told dot.LA. In February there were 1,091 local film productions, according to FilmLA. By March 20, the day filming was halted, there were zero.
When production first shut down, writing jobs were widely considered relatively safe, since writers' rooms could operate virtually; but Rayburn noted that writers are now being laid off, too, with less content set for production.
And things may get worse before they get better.
Pre- and post-production roles that have been done remotely since before the pandemic have also been viewed as safer, but as the pandemic wears on, the amount of content for those roles to work on will shrink.
"That may mean a new wave of job losses," observed Rachel McCallister, Chair of MPRM Communications, a public relations firm with clients across the entertainment industry.
As for when and and if the lost jobs will return, that remains anyone's guess: "Nobody knows, because we don't know when stuff will get back into production," Rayburn said.
Numerous efforts have emerged around Hollywood to dampen the carnage. Netflix, which is increasingly entrenching itself in Los Angeles, set up a $100 million relief fund in mid-March, some of which went to support ongoing support efforts from unions and nonprofits.
The streaming giant has been among the relative beneficiaries of the pandemic so far, blowing past expectations in its last earnings call as viewing has climbed amid Stay-at-Home orders. So, too, have major potential buyers of Hollywood productions like Amazon and Apple TV, who have ample resources to acquire content now and once filming resumes, noted Bill Allen, chief executive of the Los Angeles County Economic Development Corporation.
The imbalance between the relatively unscathed and the ruthlessly clobbered could permanently rejigger Hollywood's landscape.
"If it gets bad enough, you may see a company that is doing well in this environment, like Amazon and Netflix, you might find them starting to buy other companies," Del Vecchio said.
A second wave of the virus in winter, as some have predicted, would crush Hollywood, he said.
"What you are seeing now is terrible. What you could see in the fall will destroy the industry."
Do you have a story that needs to be told? My DMs are open on Twitter @racheluranga. You can also email me.