The SoCal Companies Affected By the Fall of Silicon Valley Bank
Samson Amore
Samson Amore is a reporter for dot.LA. He holds a degree in journalism from Emerson College. Send tips or pitches to samsonamore@dot.la and find him on Twitter @Samsonamore.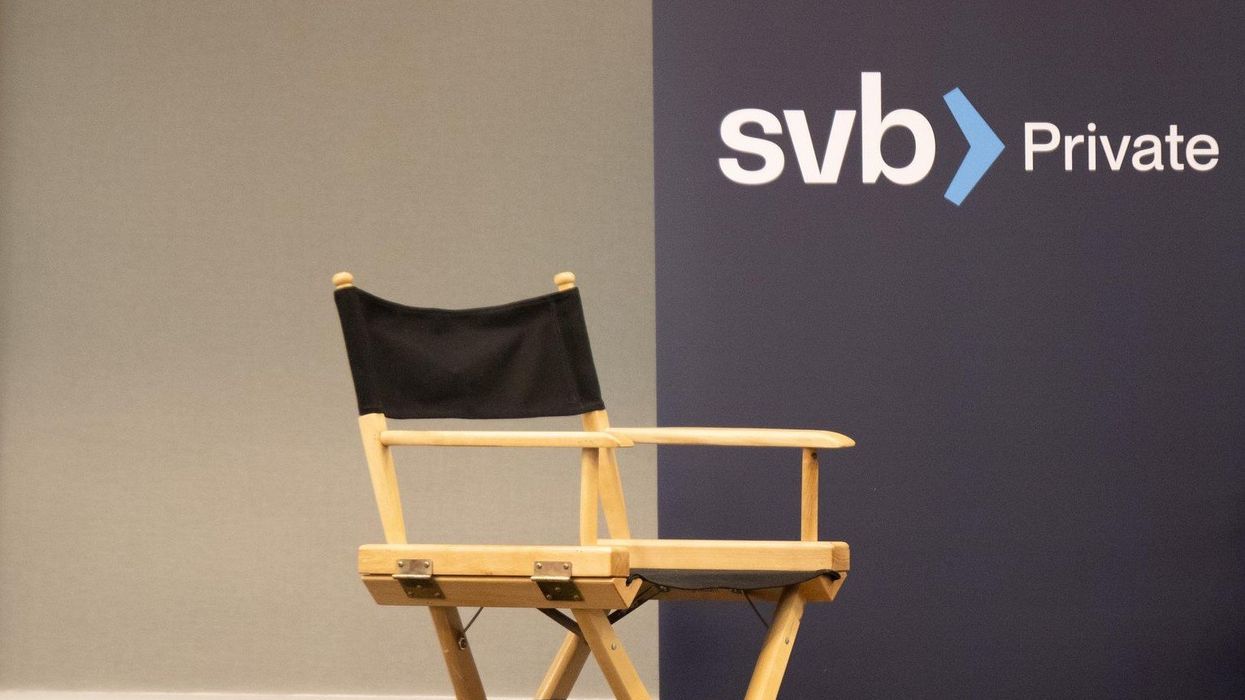 An event held by SVB Private, an arm of Silicon Valley Bank, in March. (Cameron Rice)
This is the web version of dot.LA's daily newsletter. Sign up to get the latest news on Southern California's tech, startup and venture capital scene.
The shockwaves fromSilicon Valley Bank's (SVB) unexpected shutdown are rattling the tech industry writ large. In Southern California, SVB invested in several local tech companies through its SVB Capital venture arm.

Though the bank's VC arm won't be able to conduct future investments, founders that do have money tied up with the company in the form of debt will have to pay back the eventual new owner of SVB, and potentially would be opening themselves up to new loan terms.
With this in mind, let's look at the Southern California tech firms that still have money tied up with SVB, and how that might affect their operations as the floundering bank searches for a bailout.
---
Walnut-based Suitness makes an app for people to book adjoining hotel rooms or suites. It took debt financing from SVB and paid it off last year, founder Kyle Killion said.
But, Killion said he almost wished they had been a bit less financially responsible: "We could have gotten an even better deal if we had waited" to pay off the SVB debt, he told me. "If we had waited the debt would be sold off to another bank at a discount and we would need to pay them [and] that new bank's cost-basis would be lower because of the discount."
In addition to SVB, Suiteness has also taken funding from Y Combinator and counts OpenAI founder Sam Altman as a board member and investor. Killion said that despite the current turmoil, his company had a good experience lending from the embattled bank. "We did get a very generous deal from SVB," he said.
Pathmatics is now part of app data firm SensorTower, but before itsMay 2021 buyout, the Santa Monica-based mobile ad analytics company raised debt funding from SVB. Gabe Gottlieb founded Pathmatics and served as its CEO for nearly 11 years before the buyout, and he is now Sensor Tower's chief strategy officer.
Gottlieb said Pathmatics found SVB after its series A round. He said Pathmatics paid off its SVB debt before the acquisition and noted if it weren't for the closing, he'd bank with SVB again. "I feel like we got a pretty good deal," Gottlieb told me, adding it was a "low interest rate in absolute terms for a startup that was still very much in the growth phase."
The founder also added, "I always felt like they had top-notch people working there [and] I'm really sad to see what has happened to them as they were an important part of literally generations of startups' success.
In the last several years EcoSense has bought out a number of rival LED makers, including Lumium Lighting in January 2019 andSoraa in March 2020. The LED luminaire company raised a debt financing round from SVB in late June 2020, according to PitchBook Data. EcoSense launched in 2009 and is now owned by Korrus, a lighting company based in Chinatown.
A semiconductor company based in Calabasas, Fulcrum Microsystems raisednearly $17 million from investors including SVB Capital back in March 2007. The company was lateracquired by chip-maker Intel in July 2011 for an undisclosed sum. Fulcrum's tech mainly powers Ethernet switches for data centers, and Intel's buy gave it a valuable direct supplier to power its data centers across the globe.
Per Pitchbook, Sunnyvale-based virtual doctor appointment app HealthTap raised debt financing from SVB in April 2020. SVB was biotech-focused and rana healthtech investment banking division alongside providing debt rounds to healthtech companies in California.
Last November, HealthTaplinked with Samsung to bring its Eval360 tech – which lets doctors conduct virtual medical exams – to develop software that would allow people to get those virtual evaluations through their Samsung Smart TVs in the future.
ThisSan Diego-based company builds a device management software for IT teams using Apple products. It raised $60 million from investors including SVB Capital in March 2021. Less than a year later, itraised another $100 million, also from investors including SVB Capital. In addition to SVB Capital, Kandji is backed by VC firm Greycroft, which has an Arts District office, and Manhattan Beach-based B Capital. Kandji has raised nearly $90 million since its 2018 launch.
San Diego-basedShield AI is trying to build Hivemind, the world's first artificial intelligence pilot to power autonomous planes. SVB backed the company in December 2022, joining Shield AI's$225 million Series E round. SVB also invested in its $22 million Series B round in April 2019. Shield AI has raised $575 million since it launched in 2015, and is also backed by Venice-based Riot Ventures.Boeing recently partnered with Shield AI to research unmanned flight technologies for the U.S. Air Force.
Disclosure: SVB has been a sponsor of dot.LA events and recently had an article published on the site as part of a paid partnership agreement.
Samson Amore
Samson Amore is a reporter for dot.LA. He holds a degree in journalism from Emerson College. Send tips or pitches to samsonamore@dot.la and find him on Twitter @Samsonamore.
https://twitter.com/samsonamore
samsonamore@dot.la