Inside the First-Of-Its-Kind TikTok Task Force To Stop Kia Theft
Kristin Snyder
Kristin Snyder is dot.LA's 2022/23 Editorial Fellow. She previously interned with Tiger Oak Media and led the arts section for UCLA's Daily Bruin.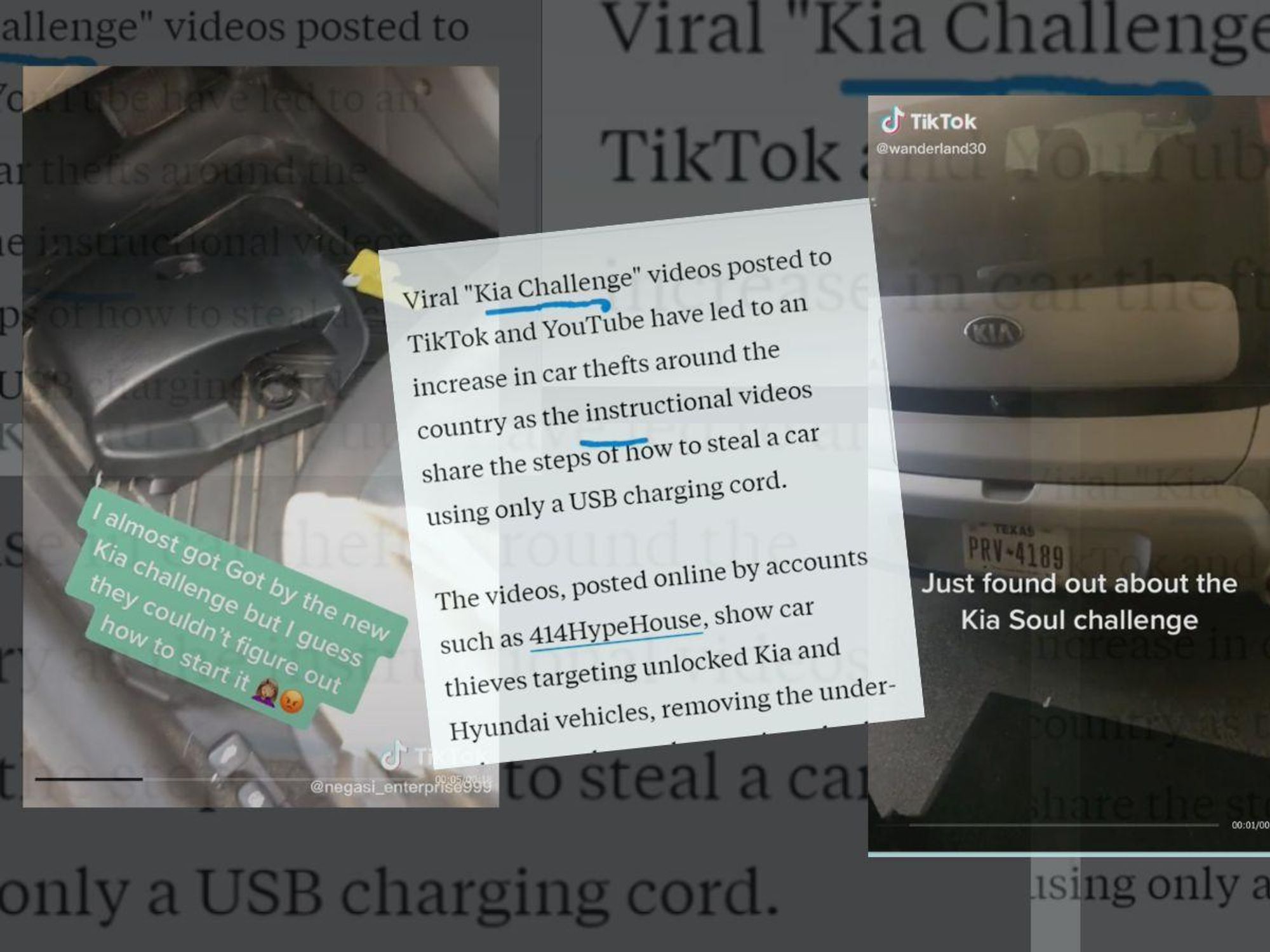 courtesy of @wanderland30 and @negasl_enterprise999 via TikTok
The video begins when a blue-gloved hand pries a screwdriver inside a car's ignition switch. Parts dangle off the dashboard as the camera reveals the exposed interior where a USB cable could serve as a key to start the engine. This is the notorious "Kia Challenge." And it's been trending on TikTok since July.

The original tutorial for how to steal a Kia has since been deleted. But others just like it highlight the ways in which specific models—those that don't have a chip in the ignition that prevents the car from starting when the key is not present—can be hijacked with a screwdriver or a USB charging cable.
---
The Los Angeles Police Department first noticed the trend in 2021, months before the TikTok challenge went viral. Though they too have since attributed the rising number of thefts to TikTok. In a statement, LAPD Chief Michel Moore linked this year's 85% increase in car theft and 1,600 stolen Kias and Hyundais to the challenge. But it wasn't until this past August, that the LAPD put out a community alert to warn people who own the vehicles suggesting that they lock their car doors, park in secure locations and install a GPS tracking system.
In recent months, the Kia Challenge has led to so much car theft that police departments acrossthecountry have been scrambling to figure out ways to reign in the social media-supercharged crime trend. In Montgomery County, Ohio, Major Jason Hall, who works with the Dayton Police Department's Patrol Operations (DPD) says a 61% increase in grand theft auto led multiple police departments to form a task force dedicated to stopping TikTok-inspired car theft.
Hall says local law enforcement agencies began sharing data several months ago after noticing the rising number of local car thefts. The task force allows them to not only work jointly to recover stolen vehicles and apprehend thieves across the various counties, but officers within the task force are granted county-wide jurisdiction.
Having located seven stolen cars and arrested 12 individuals, Hall says the task force monitors social media to identify potential crime trends. DPD first noticed the spike in Kia and Hyundai thefts in July, when the information about how to do so began to spread on TikTok. Hall says evaluating crimes spread through social media doesn't differ much from looking into more traditional methods of spreading information.
"The major difference is that social media appears to have the ability to accelerate the proliferation of these crimes," Hall says.
To be clear, the issue of Kias and Hyundais being vulnerable to carjackings has existed before people began pointing fingers at the video platform. A number of articles and Redditthreads written prior to the TikTok trend point to the ease with which thieves can hijack Kias and Hyundais. In Milwaukee, where the trend seemingly originated, there was a 150% increase in car theft in 2021, more than half of which were exclusively Kias and Hyundais.
In response to the viral trend, both Kia and Hyundai have provided anti-theft kits for owners of vulnerable models. Though, it's also worth noting that both manufacturers are facing a class action lawsuit in Orange County claiming that the car companies deliberately left out anti-theft parts that made the vehicles easy to steal.
Still, this isn't the first time police have had to warn against the potential impacts of a viral challenge. Earlier this year, law enforcement officials in Georgia and Florida alerted the public to people shooting unsuspecting citizens with gel balls as part of the Orbeez challenge. In 2021, police also arrested students after the devious licks challenge encouraged them to vandalize school property.
But up until now, these trends had been examined through existing task forces. In 2018, the Tangipahoa Parish Sheriff's Office retail theft task force investigated the theft of Tide Pods at a time when people were eating the laundry detergent packets as part of the Tide Pod challenge. Additionally, the platforms themselves have taken action to remove content depicting dangerous or illegal actions, as YouTube did when people were injured while participating in the "Bird Box" challenge blindfolded. But the Kia challenge is a bit different. It's the first of its kind to actively encourage theft. Which explains why it necessitates an approach like the task force.
Whether similar social media-induced task forces will pop up in other jurisdictions is hard to know. LAPD did not respond to dot.LA's request for comment. But as frustration mounts among Kia and Hyundai owners, local law enforcement officials will have to figure out how to confront the wide reach of TikTok's algorithm.
"This [the task force] is a very efficient approach," Hall says. "Since these crimes are proliferating throughout multiple jurisdictions."
Kristin Snyder
Kristin Snyder is dot.LA's 2022/23 Editorial Fellow. She previously interned with Tiger Oak Media and led the arts section for UCLA's Daily Bruin.
https://twitter.com/ksnyder_db