Former Amazon Consumer CEO Wilke on Why He Left, Unionization and 'Nomadland'
May 03 2021
In March, Jeff Wilke quietly stepped away from Amazon, the company he was instrumental in building from an online book retailer to one of the most valuable and influential corporations in the world.

As CEO of Amazon Worldwide Consumer since 2016, he oversaw the company's vast retail business, Prime, the Amazon marketplace, Amazon stores, marketing and Whole Foods.
---
When Wilke joined Amazon in 1999 to oversee operations the company was doing about $2 billion of revenue a year. Now it brings in about $1 billion every day and last week announced its sales grew by an astonishing 44% year-over-year.
Wilke was long considered the second most important person in the company behind Amazon CEO Jeff Bezos, who shocked the world by announcing his own departure in February.
Bezos called Wilke his tutor and he was seen as a likely successor, but that job instead went to Andy Jassy, the chief executive of Amazon Web Services.
In a wide ranging conversation with dot.LA – among his first since leaving – Wilke says he has no regrets and felt it simply time to do something else.
Wilke also talked about what it was like to work for Bezos and his reaction to last month's failed unionization vote at an Amazon warehouse in Alabama.
This interview has been edited for length and clarity.
You left Amazon only a few weeks ago. What's it been like these past couple of weeks, not being at the helm of that giant operation?
Jeff Wilke: It's certainly been an adjustment and I'm still adjusting. I was there over 21 years and it's a part of me in so many different ways. I have so many connections there still and friends who are there. I spent the first two weeks learning to code in Python, which I thought would be a really good way to stay connected to the engineers that build Amazon every day and upgrade my skills since I hadn't written code in modern languages.
So you're not on the golf course. You're learning Python?

Yeah, it was super fun. It was very immersive. It was a reminder to me of how coding compounds creativity and invention.
Why did you want to depart Amazon?
I just said it was time. I didn't spend any time through the years carefully charting some course. We were building what we hoped would be a lasting, important company and worrying about the customer experience and I got to a point where I felt like it was time to do other things.
Did the job become not as fun with all of the scrutiny from Washington and organized labor and just the giant pressure you were under with all that?
The job was just as fun when I started to think about leaving, which was well before the pandemic. And it was really meaningful last year in terms of all that was accomplished. But it just felt time for me to move on.
Did you want to be the next CEO?
I never really thought about it because I always imagined Jeff doing it forever. When I was making my decision that wasn't what I was thinking about.
But when you heard he was stepping down, were you like, "I should have just stuck around a little longer?"
No. I was super excited and I am super excited for [new Amazon Worldwide Consumer CEO] Dave Clark and for Andy Jassy.
Were you surprised when the other Jeff said he was leaving?
Yes
It's interesting that both of you who had been there over 20 years and in his case founded the company decided at this moment to leave. Do you think he took some inspiration from you?
(Laughs) That's hard to say but I think in many ways the last year or so has been quite a time of self-reflection for many people. It's not surprising to me that if people were maybe thinking in the back of their mind about making a change, the events of the last year would have caused them to think even harder about it. I don't know for sure why Jeff chose the particular time he chose, but he has so many things in his life that he wants to focus on, too. And I'm just really happy for him.
How do you think the company will be different under Andy Jassy?
Andy was a part of the S-team [Amazon's senior leadership group] for a long time and contributed materially to a bunch of the things that are part of the culture. He and I worked with a group of people on a couple of the revisions to the leadership principles that really have guided the company for nearly two decades. And of course the business and culture that he built with the team and AWS is a big part of Amazon and certainly a big part of the technical underpinnings of the way Amazon works. And that's not going to change at all. So I think it's a terrific team with a great mission and a lot of runway because of the businesses that they're in. I'm going to remain a fan.
What was Jeff Bezos like to work for?
You vote with your feet at work, and if I didn't think he was somebody that I enjoyed working for and that I could learn from, I wouldn't have had him as my boss for over 20 years. He and I have different strengths in different areas where we were able to help each other out by learning from each other and of course Amazon is more than just one or two or 10 people – it's thousands and now actually over a million people.
In those early days what did you see Amazon becoming? Did you just think it would be a big bookseller or could you have seen this global colossus?
I don't think anybody could have imagined what actually happened. Too many things had to fall into place. For instance, there was no iPhone or Android system in 1999 when I joined. People weren't carrying around what are basically supercomputers in their hands, which radically changed the way people interact with the World Wide Web. The delivery networks were not nearly as capable as they became over those 20 years. There's a ton of work to do to get costs to a point where you could afford to offer something like Prime. We didn't have a studio so the idea that we would be creating movies and TV shows as a complement to the delivery services as part of the subscription program called Prime – I think it would have been hard to envision all these things in detail.
What was your reaction to the union vote in Alabama failing by a pretty wide margin?
Jeff hit this well in the shareholder letter; the company can always be better at taking care of employees. If I were still there, I wouldn't have hung my hat on the outcome of that particular vote. I would have said there are some signals that we're receiving that say we have more work to do. We should be proud of what we've done – proud of our safety record and proud that we pay industry leading wages and proud that we have 20 weeks of family leave for people who started an unskilled hourly job on day one, which is really unheard of. So, we have all these things that we've done that are great and then there's a lot of things that we can do to get better.
What did you think of "Nomadland"?
The work camper thing was something that sort of naturally evolved. There were groups of people who had come to work only for the holiday at Amazon and they showed up in campers and they were making great money and then they left post-holiday. They started coming back every year. They really enjoyed it. They built email networks together and they coordinated their work. They asked Amazon to help with finding parking lots for the campers and we were happy to do that. But it was really an organic thing. It just sprouted up. I really enjoyed my trips to the fulfillment centers, hearing their stories and then seeing them come back year after year.
Is it hard when you order something now from Amazon and it doesn't arrive on time and you're like, "why did this happen?" Is it hard to get that out of your system after all these years?
Of course. I mean, the team knows any time there's a defect, I'm going to send an email and that's not going to change.
Part two: Jeff Wilke reveals his next chapter.
Lead illustration by Eduardo Ramón Trejo.
From Your Site Articles
Related Articles Around the Web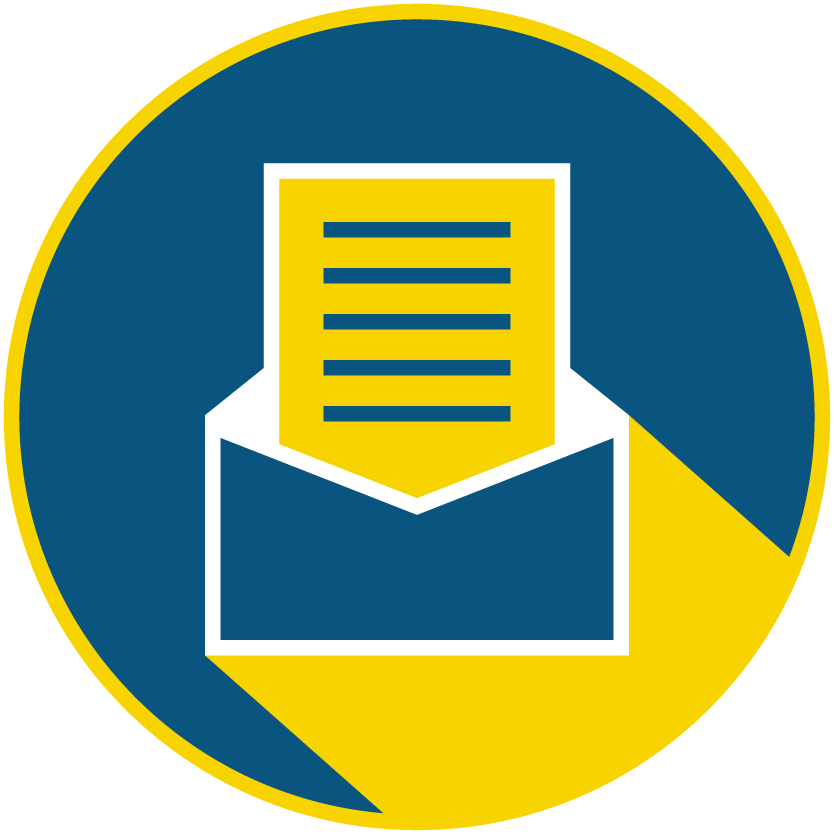 Subscribe to our newsletter to catch every headline.
On this week's episode of L.A. Venture, hear from Will Schmitt, the head of venture strategy at Miroma Ventures. Miroma Ventures is the investment arm of The Miroma Group, which is made up of a collective of smaller marketing agencies. Their venture team works with Fortune 500 companies like Spotify, Starbucks, Masterclass and Netflix to help build brand awareness and recognition.
From Your Site Articles
Related Articles Around the Web
Former Cisco executive Shaun Cooley's two-year-old Los Angeles startup is creating a platform to make buildings smarter.
Mapped, which just raised $6.5 million led by Allegion Ventures and MetaProp, helps commercial real estate companies operate their buildings remotely.
So far, it has about a dozen commercial customers that have anywhere from 100 to 1,000 buildings where HVAC, elevators and other systems can be controlled from a central brain.
Although their current customers are all commercial real estate, Cooley hopes to expand that to refineries, energy production facilities, manufacturing floors and retail spaces.
Mapped's software represents physical buildings in standardized, open-source digital database graphs and automates everything from heating and air to lighting, elevators and even conveyor belts — adjusting them based on the temperature outside or time of day, all without the need for human intervention.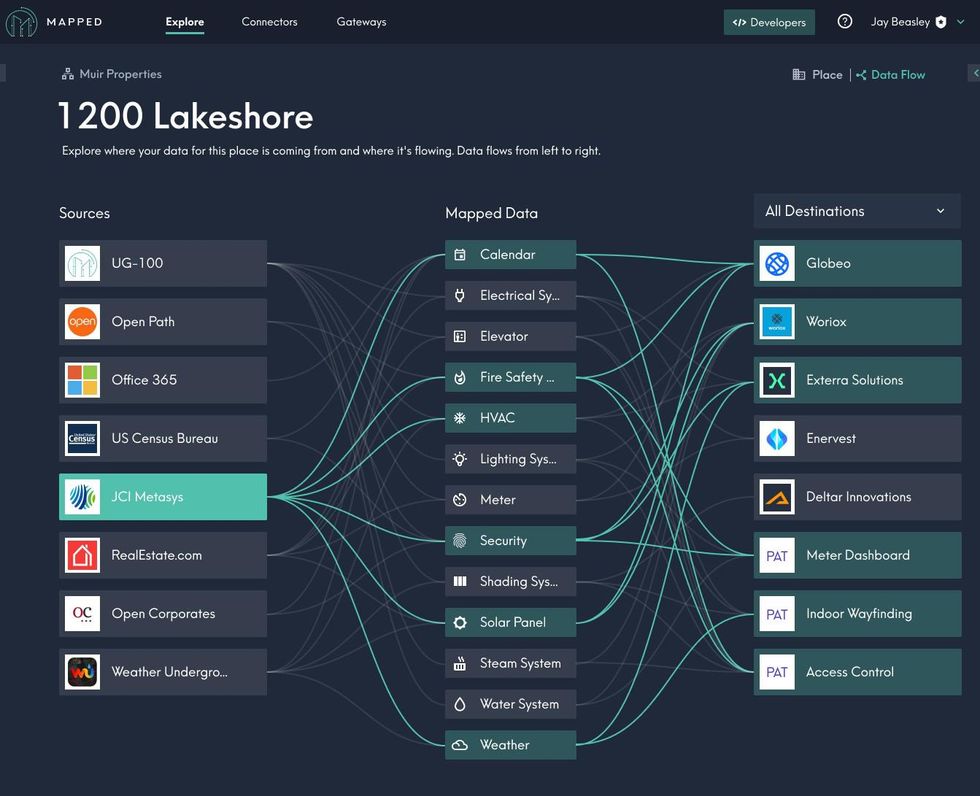 Cooley came up with the idea after years as Cisco's CTO and vice president of IOT and industries, where he saw his customers struggle with extracting data from their systems and making it usable.

"Just because you digitize, or you IoT enable one factory, doesn't mean you can take that digitization and move it to the factory across the street," said Cooley. "They have different systems, installed in a different time period, by a different system integrator."
For example, a decades old building might have an HVAC, lighting, security, elevators, irrigation system, gas metering and other systems feeding into a central hub. For owners of multiple building, the interfaces that those systems operate on are often different. Mapped offers a platform for developers to standardize those interfaces.
Using APIs, Mapped's software constantly scans the environment, communicates with devices in their native protocols, and then brings data back to its central platform. Thus, software developers can write applications one time and instantly deploy them across all of a company's buildings.

Cooley said his product is different than what's offered by Oracle and Microsoft because its designed to be an all-in-one automated platform, making it much faster than his competitors.

In March 2020, Mapped raised $3 million in its first seed round, bringing today's total to $9.5 million.

The latest round was co-led by Legion Ventures and MetaProp, Singtel joined the round and Greycroft and Animo participated.
The prospect of internet fame is no longer enough to bring in the best and brightest. Instead, paying for content has become table stakes for these platforms as they battle one another and compete in the broader attention economy.

Netflix chief executive Reed Hastings made that clear in a recent earnings call, when he called YouTube — rather than other streaming services or theater chains — his company's "second largest direct competitor."
Within the last two years, at least 10 platforms have announced they'll be paying creators for their work, but the size of the purse, what type of content they're funding and how differs by platform.
"These types of funds are what a lot of creators have been waiting forever for, and as soon as one platform starting doing it, the others had to follow suit," said David Rhodes, a multiplatform content creator with over 10 million followers across his 12 accounts, who has earned a few thousand dollars from Snapchat's creator fund.
Whether this new funding will be enough to lure talent and sustain quality content remains to be seen, but the financial arms race has been welcomed by many creators.
Here's a quick look at each:
TikTok has said that within three years, its creator fund will grow to over $1 billion in the U.S. and more than double that globally. Only residents of certain countries are currently eligible, and successful applicants must meet other criteria, including having at least 10,000 authentic followers and receiving 100,000 views in the last 30 days. To apply, users must have a creator account, which is free to make, and submit an application via the app. Payouts are based on video views and engagement, and no caps have been set for outlays per day or to a given user, the company says.
YouTube's "shorts fund" is a $100 million pool that will be distributed through 2022. Available to creators in India and the U.S., it is an effort to boost YouTube's presence in the short-form video market via its new "Shorts" product. Phil Ranta, a social media veteran and CEO of Wormhole Labs, said he has seen lots of creators with relatively modest followings earn "bonkers" views via Shorts. YouTube says it will reach out to creators whose Shorts earn the most views and engagement each month, and called the fund "the first step in our journey to build a monetization model for Shorts on YouTube."
Snapchat is offering $1 million per day to creators on "Spotlight," a TikTok-like video-broadcasting feature launched late last year that heralded Snap's departure from an exclusive focus on peer-to-peer messaging. Anyone can submit clips to Spotlight and be eligible for the funding. Payments are distributed based on an algorithm that checks whether a post passes a "value threshold" within seven days. Snap has said factors the algorithm looks for will vary but may include unique views and performance relative to other users' posts.
Facebook set aside $25 million for a Black creator fund in 2020, available to U.S. residents with at least 10,000 Facebook or Instagram followers. The program launched in August and applications are now closed. Instagram, owned by Facebook, does not have a general creator fund, though its head, Adam Mosseri, has suggested it might create one in the future. Reports have surfaced indicating that Instagram has sought to lure some creators to its platform with lavish payments.
Pinterest has a creator fund that reportedly measures $500,000 and is open for application; participants receive $25,000 in cash and ad credits and participate in a four-week workshop. Clubhouse has indicated it will offer application-based creator grants but has not publicized details, and ran an inaugural creator accelerator program that closed applications in March. Substack offered $25,000 each to four selected writers in 2020 while OnlyFans provided four £20,000 grants to UK-based musicians.
How Some Artists Are Gaming 'Creator Funds'
The largest funds are algorithmic and the factors that trigger payouts are a moving target, but that doesn't mean they can't be gamed.
"There's always an exploit," said Ranta, noting that conversations among creators and agents often include sharing tactics for what seems to be working.
One hack he cited pertains to Snap's Spotlight fund. Some creators with big followings have found they can post to Spotlight as frequently as every five minutes with simple videos such as blowing a kiss to the camera, and earn money for it, Ranta said.
Accessing the funds can also simply mean posting relentlessly.
"The more content you can push out the better," said Rhodes. "Although some videos may do well and some won't, you're still increasing your chances of videos taking off and earning money."
Rhodes said it's key to find "formula," and "ride it out until it stops working — or until the novelty wears off — and then switch it up and try different things until you find a new formula that works, and ride that one, too."
Ranta noted that a good way to know what a platform algorithmically prefers is to monitor the company's press releases and best practices guides.
"You put those two together and you kind of get it," he said.
Conversations about how to hit the moving target also take place on forums like TubeBuddy, in addition to Reddit and Discord. Proceed with caution, though.
"Those are really hit or miss," said Ranta, or downright "unfounded gossip."