Urban Activists Are Using TikTok To Highlight LA's Housing Problems
Kristin Snyder
Kristin Snyder is dot.LA's 2022/23 Editorial Fellow. She previously interned with Tiger Oak Media and led the arts section for UCLA's Daily Bruin.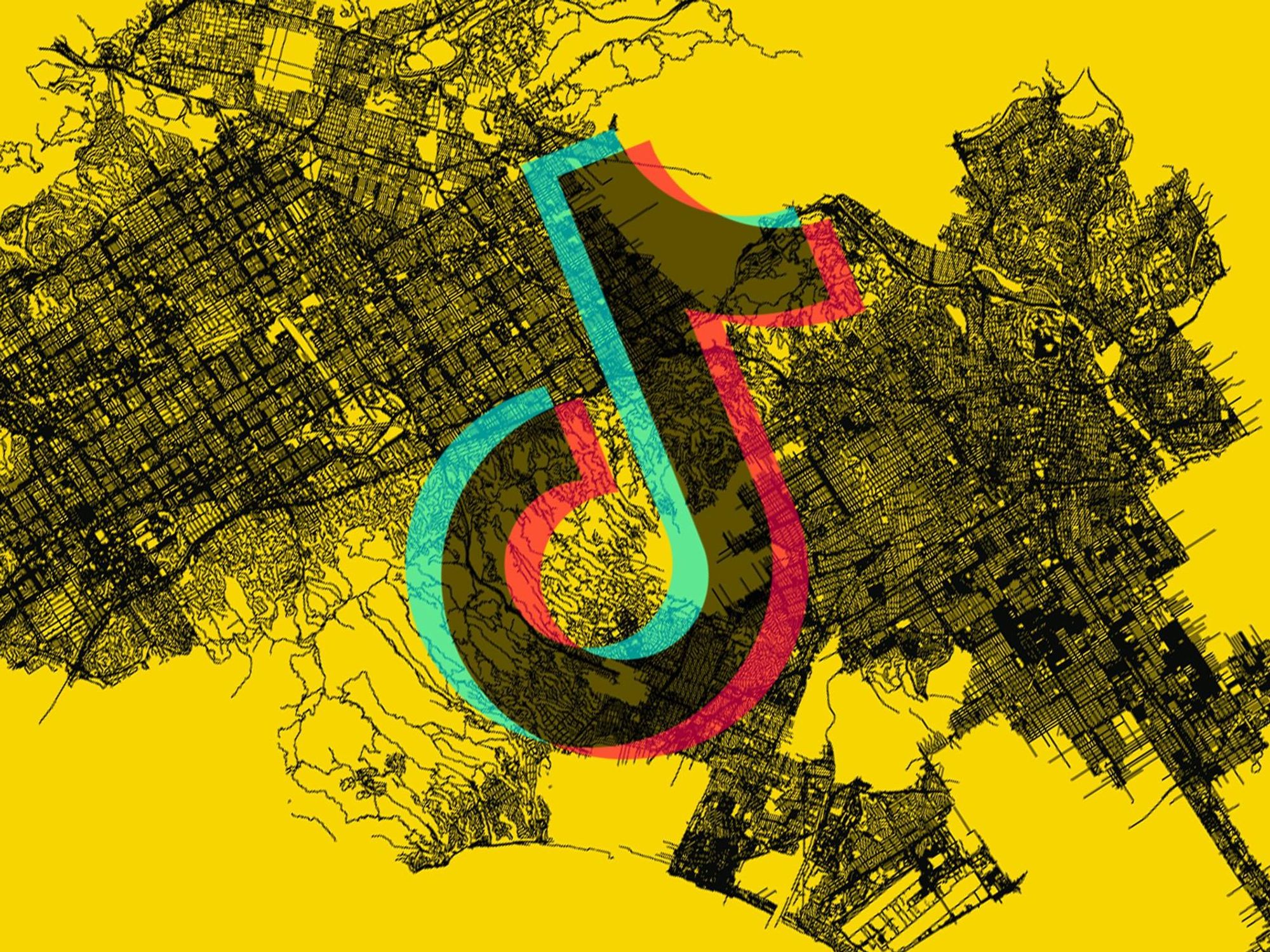 Image by Sebastian Miño Bucheli from OpenStreetsMaps.
Known as a platform for dancing teens, TikTok is also becoming a community space for young users to bring attention to wonky civic issues like housing and transportation.
A growing number of TikTok users are taking to the app to discuss how hard it can be to exist in Los Angeles. In one example, a user complains about Google Maps claiming a sidewalk-less road is walkable. In others, users bring up exorbitant housing prices while cyclists demonstrate the lack of bike lanes.
---
Videos ranging from homogenous suburban developments to accessible public transit have found a growing audience. #Urbanism has amassed almost 60 million views, #suburbs has over 194 million views and #urbanplanning has 184 million views. Across the board, the top videos under each hashtag do not paint American cities in a positive light.
Such content isn't unique to Los Angeles. Young users across TikTok mock ever-expanding highways and indistinguishable intersections. But Southern California,—where cars reign supreme and suburbs keep sprawling—seems particularly central to the growing discussion about transportation and urban planning.
Max Dubler, the communication manager at Abundant Housing L.A., said the public discourse around urban issues has moved away from academics and policymakers and into online spaces. Its first home was on the Facebook group New Urbanist Memes for Transit-Oriented Teens, which gained traction in tandem with the Yes In My Back Yard movement. Since then, Dubler said people have gained large followings across different platforms by discussing urbanist issues. The shift away from more traditional outlets, like academic journals, has drawn in new audiences by highlighting how these topics impact their lives. TikTok's visual element helps make the conceptual topics more understandable.
"A lot of this stuff is highly visual," Dubler said. "You can have all the diagrams and charts as you want, but people understand what this kind of dumpy little teardown house turned into 15 apartments looks like and they can understand that this six-lane arterial street got redone with some trees in a bike lane. You could show people that and they understand it and they're like, I want that for my life."
How Short Videos Get at the Larger Concepts
One of TikTok's early urbanists is Jake Gotta, who took to TikTok due to pandemic-induced boredom.
Crammed between videos of dance trends, Gotta said his videos were able to carve out a specific niche for viewers. In short clips, he could dive into issues like affordable housing or zoning laws in order to inform people about problems impacting their lives.
@beachboyz2men

Thrifty ice cream is living history (and only $2!!) #icecream #thrifty #california #riteaid #sodafountain #dessert #history #foodhistory #vestige #remnant #socal #helado
"Hopefully, that gets people to start understanding that all of this is a larger systemic issue and there's not just one quick fix," Gotta said. "They start to understand more of the larger concept from getting all these little consumable bites"
TikTok offers Greg Ruben a platform for him to look at Los Angeles with fresh eyes after nine years spent in New York. He has delved into the history of the old houses in his neighborhood, Highland Park. A video on El Mio, also known as the Smith Estate, performed well, and that led Ruben to explore why L.A. is the city that it is. Even some of L.A.'s iconic, towering palm trees reveal how the city is man-made; the land used to feature mainly chaparral plants. With TikTok, Ruben explores how specific choices shaped the city.
"Everything here was brought by someone," Ruben said. "There's really interesting historical and cultural context when you try to find out why those plants, why these architectural styles, why this layout of the city."
Highlighting specific locations can help provide context for Los Angeles' current state, Ruben said. A video on bungalow courts—a style of housing unique to early 20th century L.A.—can point to the history of affordable housing solutions in the city, while discussing the stairs in L.A. shows that the city once prioritized streetcars.
"I would love to imagine what would have happened if we had kept building that type of infrastructure—more pedestrian and streetcar infrastructure—and kept those alive." Ruben said.
Making Policies Personal
Showing off the human element of urban issues is what makes TikTok so useful to John Yi, the executive director of Los Angeles Walks. The discussion is often focused on city politics and infrastructure. His personal TikTok account allows him to show off his neighborhood, Koreatown, and demonstrate how those ideas are actualized in the streets. According to Yi, highlighting sidewalks built for cars or inaccessible parks can urge people to reconsider their own community spaces.
"I think that reframing something that's mundane in a slightly different way has been able to really attract people's attention," Yi said.
TikTok's format helps provide context for the theoretical content such creators often explore. From Gotta walking the hills of UCLA while discussing university housing to Ruben showing off staircases to Yi taking viewers through the streets of Koreatown, providing visuals can help viewers understand conceptual ideas. Time spent traversing the city to film content on top of the research that goes into each video can quickly add up. Reuben said he spends about five hours on each video, but payouts from TikTok's controversial creator fund don't amount to much.
Fostering community discussion keeps creators going back to the platform. TikTok's algorithm helps push content to communities Ruben didn't even know existed—a video about Cold War air raid sirens reached a whole group of users dedicated to the topic. But beyond self-proclaimed experts, Gotta said the algorithm can reach people who may have never considered how issues like local zoning laws were affecting their daily lives.
Gen Z is Looking for Answers
According to a Credit Karma report, about one-third of Gen Z live with family, and the rest have to set aside roughly half their monthly income for housing. Maxwell Alejandro Frost, who could become the first Gen Z member of congress, focused part of his platform on affordable housing. And as climate change progresses, both Gen Z and millennials are turning to public transit, while fewer teenagers are getting driver's licenses.
Yi said younger generations, who tend to be interested in sustainability and environmentalism, have yet to fully tap into the transportation justice movement. Social media platforms like TikTok provide spaces to engage with these ideas, he said.
"Social media is like any other medium we've had in history, like television or radio," Yi said. "[These] things have helped spread ideas and build community. I think social media is just taking the same page as all these others, but it's just a different medium now."
Shifting complex conversations away from spaces dominated by credible experts, however, can lead to misinformation. Dubler said that housing can be a hard-to-understand technical topic, especially as some ideas within the space may seem counterintuitive. Just as TikTok's visual element helps humanize the issue, he said it can also capitalize on those gut reactions with misconstrued facts. Big claims—such as Los Angeles having a certain number of empty homes compared to its homeless population—connect with people on a human level, but can lead them to draw incorrect conclusions. Much of what Abundant Housing LA is doing on social media is responding to false claims, Dubler said.
"It's like a little bit of nuance gets lost in translation when you're going from the policy, press and the academic journals to 280 characters on Twitter or 30 seconds on TikTok," Dubler said.
Asking TikTok users to shape urban policy might be a big stretch. For Gotta, it serves as a useful tool to inform people of issues. A minute-long video won't solve Los Angeles' housing issues—but Gotta said it can get people to consider larger systemic issues. It also helps provide answers for topics that are of increasing concern to a young generation growing into adulthood.
"There's an entire generation growing up…that never thought they'd have a chance of buying a home unless they come from family wealth, [or] unless they got super lucky," Gotta said. "Everyone's realizing that as they grow up, and searching for a reason why."
Kristin Snyder
Kristin Snyder is dot.LA's 2022/23 Editorial Fellow. She previously interned with Tiger Oak Media and led the arts section for UCLA's Daily Bruin.
https://twitter.com/ksnyder_db