As TikTok Faces a Ban, Competitors Prepare to Woo Its User Base
Kristin Snyder
Kristin Snyder is dot.LA's 2022/23 Editorial Fellow. She previously interned with Tiger Oak Media and led the arts section for UCLA's Daily Bruin.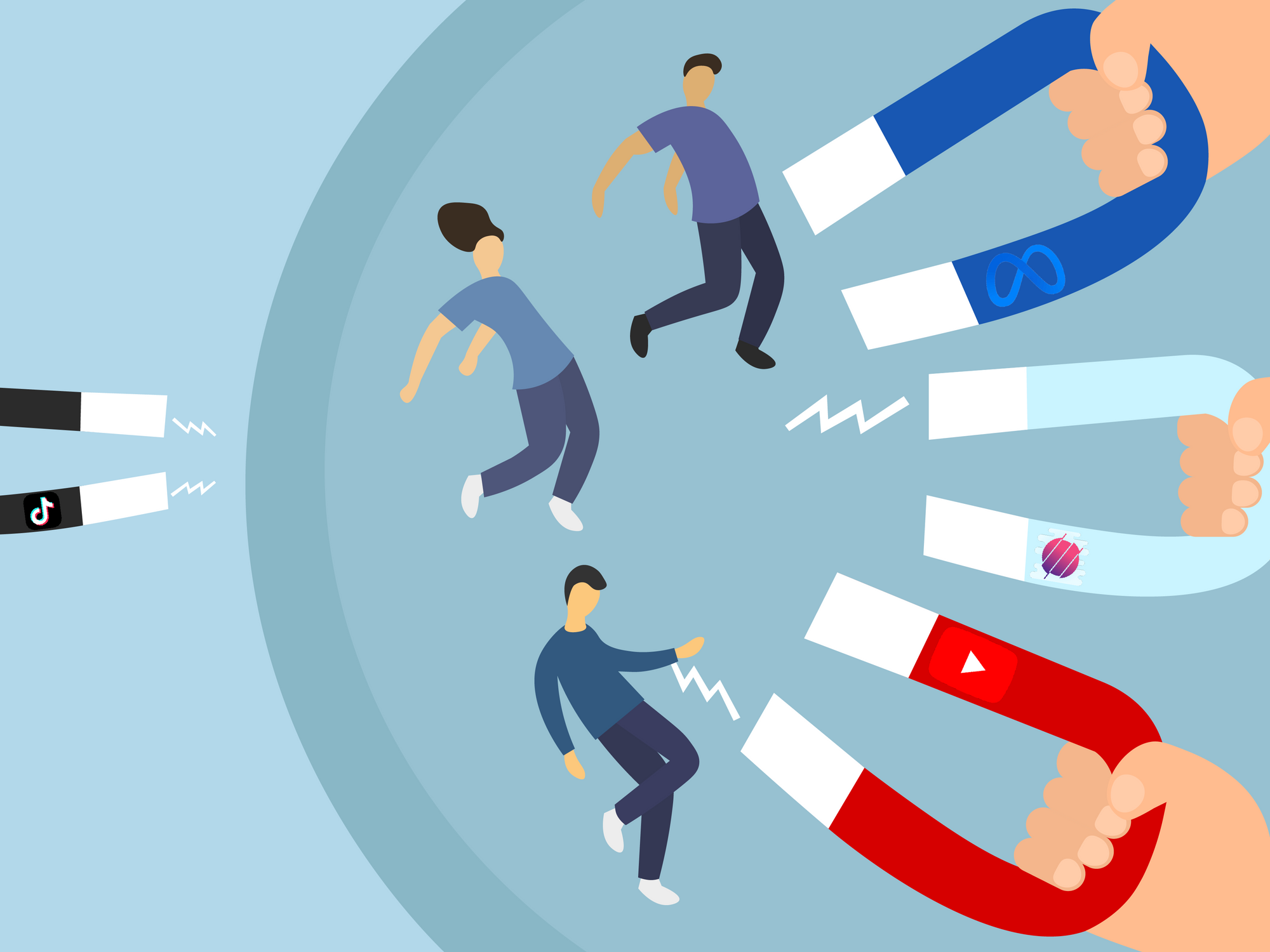 Evan Xie
This is the web version of dot.LA's daily newsletter. Sign up to get the latest news on Southern California's tech, startup and venture capital scene.
Another day, another update in the unending saga that is the potential TikTok ban.
The latest: separate from the various bills proposing a ban, the Biden administration has been in talks with TikTok since September to try and find a solution. Now, having thrown its support behind Senator MarkWarner's bill, the White House is demanding TikTok's Chinese parent company, ByteDance, sell its stakes in the company to avoid a ban. This would be a major blow to the business, as TikTok alone is worth between $40 billion and $50 billion—a significant portion of ByteDance's $220 billion value.
Clearly, TikTok faces an uphill battle as its CEO Shou Zi Chew prepares to testify before the House Energy and Commerce Committee next week. But other social media companies are likely looking forward to seeing their primary competitor go—and are positioning themselves as the best replacement for migrating users.
Meta
Last year, The Washington Post reported that Meta paid a consulting firm to plant negative stories about TikTok. Now, Meta is reaping the benefits of TikTok's downfall, with its shares rising 3% after the White House told TikTok to leave ByteDance. But this initial boost means nothing if the company can't entice creators and viewers to Instagram and Facebook. And it doesn't look promising in that regard.
Having waffled between pushing its short-form videos, called Reels, and de-prioritizing them in the algorithm, Instagram announced last week that it would no longer offer monetary bonuses to creators making Reels. This might be because of TikTok's imminent ban. After all, the program was initially meant to convince TikTok creators to use Instagram—an issue that won't be as pressing if TikTok users have no choice but to find another platform.
Snap
Alternatively, Snap is doing the opposite and luring creators with an ad revenue-sharing program. First launched in 2022, creators are now actively boasting about big earnings from the program, which provides 50% of ad revenue from videos. Snapchat is clearly still trying to win over users with new tech like its OpenAI chatbot, which it launched last month. But it's best bet to woo the TikTok crowd is through its new Sounds features, which suggest audio for different lenses and will match montage videos to a song's rhythm. Audio clips are crucial to TikTok's platform, so focusing on integrating songs into content will likely appeal to users looking to recreate that experience.
YouTube
With its short-form ad revenue-sharing program, YouTube Shorts has already lured over TikTok creators. It's even gotten major stars like Miley Cyrus and Taylor Swift to promote music on Shorts. This is likely where YouTube has the best bet of taking TikTok's audience. Since TikTok has become deeply intertwined with the music industry, Shorts might be primed to take its spot. And with its new feature that creates compiles all the videos using a specific song, Shorts is likely hoping to capture musicians looking to promote their work.
Triller
The most blatant attempt at seducing TikTok users, however, comes from Triller, which launched a portal for people to move their videos from TikTok to its platform. It's simple, but likely the most effective tactic—and one that other short-form video platforms should try to replicate. With TikTok users worried about losing their backlog of content, this not only lets users archive but also bolsters Triller's content offerings. The problem, of course, is that Triller isn't nearly as well known as the other platforms also trying to capture TikTok users. Still, those who are in the know will likely find this option easier than manually re-uploading content to other sites.
It's likely that many of these platforms will see a momentary boost if the TikTok ban goes through. But all of these companies need to ensure that users coming from TikTok actually stay on their platforms. Considering that they have already been upended by one newcomer when TikTok took over, there's good reason to believe that a new app could come in and swoop up TikTok's user base. As of right now, it's unclear who will come out on top. But the true loser is the user who has to adhere to the everyday whims of each of these platforms.
Kristin Snyder
Kristin Snyder is dot.LA's 2022/23 Editorial Fellow. She previously interned with Tiger Oak Media and led the arts section for UCLA's Daily Bruin.
https://twitter.com/ksnyder_db