With most employees confined to their homes at least another month as the coronavirus pandemic rages on, there's been an unusual trend of construction projects continuing uninterrupted at many sites in Los Angeles. Among them is the new Rams and Chargers home, SoFi Stadium, where two workers have reportedly been diagnosed with COVID-19.

A Los Angeles company, WorkerSense, wants to make construction safer by embedding microchips in workers' hard hats that track how effective workers are at social distancing and send alerts when they get closer than six feet to each other. Crew members are ranked at distancing similar to competing in a video game or taking Flywheel class and can get bonuses for top scores.
"A lot of them see this as the only way to keep their projects open," said Canyon Dell'Omo, 23, who founded WorkerSense when he was a sophomore at Duke University.
Dell'Omo says there are occasional moments when tradesmen have to be in close contact, but most of the time it is completely unnecessary – such as the formerly innocuous routine of taking a lunch break or arriving or leaving a job.
The firmware is being piloted at the company's research construction site in Chatsworth in coordination with DPR Construction, and Dell'Omo hopes to roll it to more sites in the coming weeks.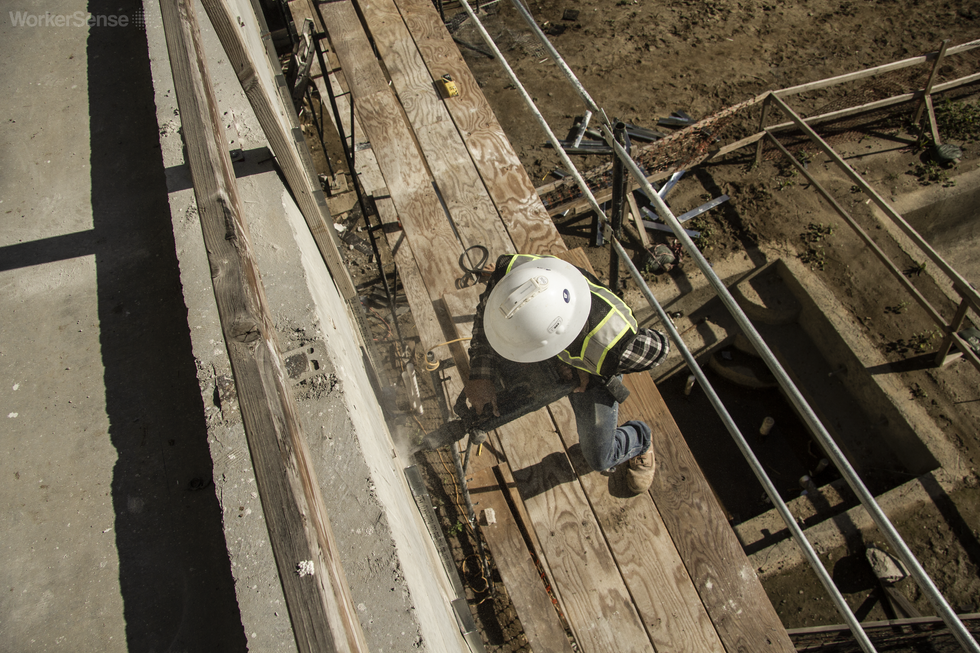 "We've observed an overall increase in site-wide safe distancing of 19.6%, as well as a staggering 75.8% decrease in non-essential proximity," Dell'Omo said. "When I've been on site I've seen a lot of workers underestimate the gravity of the situation, so having real time stats really helps."

Under new rules the city of L.A. updated Wednesday, construction companies are required to implement 16 measures as part of their COVID-19 exposure control plans that include social distancing.
"We will not be shy about shutting down construction sites that do not comply, so comply," said Los Angeles Mayor Eric Garcetti.
Building and safety inspectors have made 12,000 visits to construction sites over alleged violations of new rules, but only 61 of those sites were found to be out of compliance and none were required to shut down, Garcetti said this week.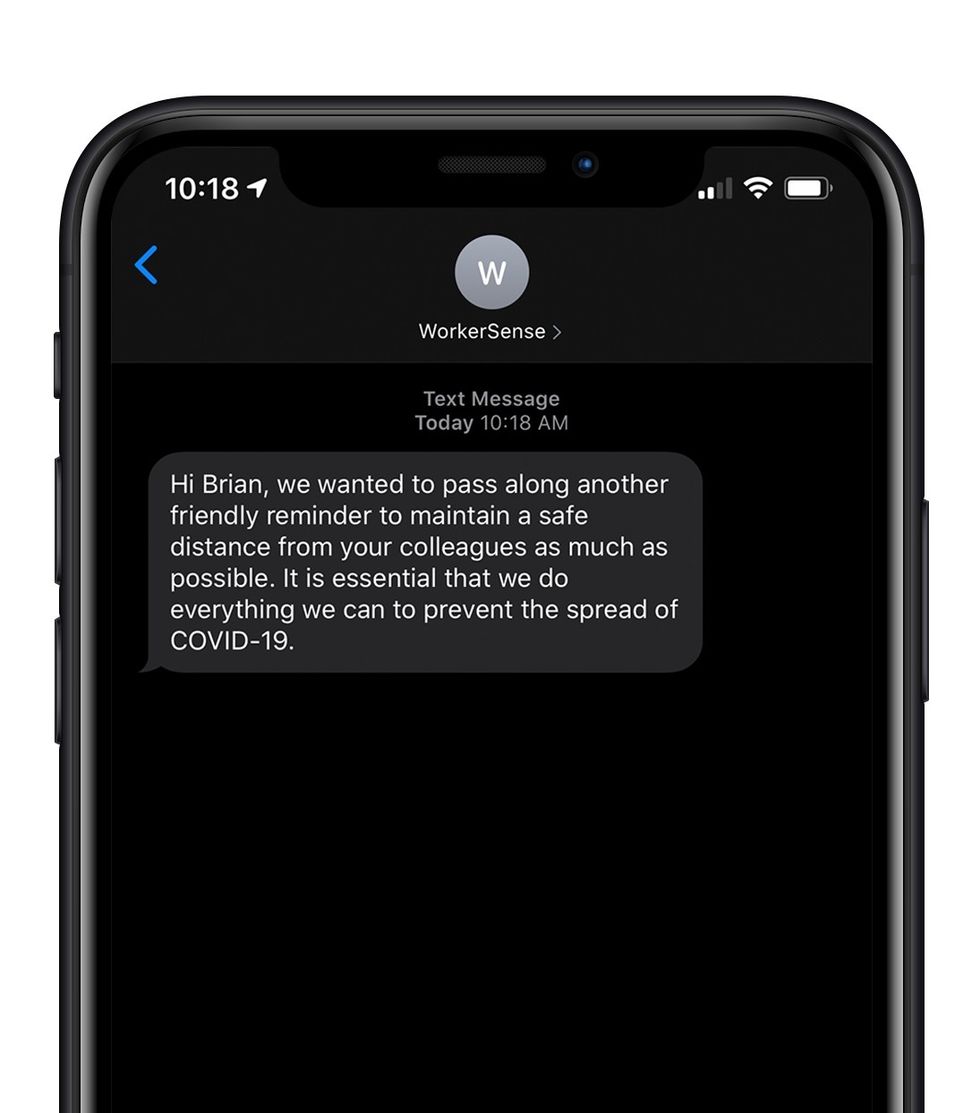 Courtesy of WorkerSense
WorkerSense has also unveiled a new feature that records temperature and checks for symptoms when a worker arrives. "We don't even need to think about it, we just look up at the monitors to see how all our people are doing in real time," said Dan Wolverton, Senior Superintendent at Uncommon Developers. "It's quite an amazing technology."
If all the preventive measures are not enough, the software allows supervisors to retrospectively analyze a tradesman's past four weeks of job site activity after he has tested positive for COVID-19 and instantly identifies other coworkers who have been in contact with the infected worker.
"Tools like that are at peak value because you don't have supervisors who can walk around as much," Dell'Omo said.
Fewer supervisors are on-site these days so it is an added feature from the company's point of view that managers can monitor workers from anywhere. Naturally, many construction unions do not see it that way and privacy concerns have limited the deployment of tracking tools.

Dell'Omo says it is a benefit of WorkerSense that it does not have to use real-time location data to track workers and merely tracks workers in relation to each other, something that unions find more palatable. He also hopes that the pandemic will make everyone more comfortable with tracking workers in the interest of keeping workers safe, even in industries beyond construction. He says he's already received queries from companies in manufacturing and agriculture.