The founder of Curative Inc. is in a race to make more than 10,000 coronavirus test kits a day, but he can't find the labor or parts fast enough. The lab set up a few weeks ago is providing the region with one of the fastest turnarounds on test results with their saliva-based test kits, health officials said. Yet, it can only run about 1,000 a day right now.
"They are desperately trying to hire," said Clayton Kazan, the medical director for the Los Angeles County Fire Department, who has been coordinating testing efforts. The company is bumping into many of the same problems that other labs have found. "They need swabs for their kits. It's really unfortunate."
Public health officials said as of Tuesday over 6,300 individuals in the county have been tested, with 11% coming back positive.
"With a population of 10 million people, we should have the capacity to run 100,000 tests a day," Kazan said. "The fact that we haven not been able to figure this out, not just locally but nationally, is really a failure."
South Korea's expansive testing was credited with curbing the spread of the virus, but officials have been hamstrung with tests in short supply. Meanwhile, hospitals are bracing for a surge of cases.
This week, Los Angeles county and city officials ramped up testing efforts when they announced on Monday the purchase of 20,000 new test kits from South Korea-based Seegene Technologies, Inc. along with a partnership with Curative. Mayor Eric Garcetti also rolled out a portal this week so that high-risk individuals could find testing in Los Angeles.
The first round of the Seegene tests will go towards first responders and health care workers. But, Kazan said the test are yet to arrive, while labs like Quest have a six day lag time for test results. Additionally, Seegene has committed to providing 100,000 tests per week to Los Angeles that will be made free to the public.
The need is urgent. Officials are in a race to stop the spread. The public health department only has the capacity to run between 80 to 120 tests daily with results in about 48 hours. At the same time the region's 72 hospitals are scaling up their labs, but Kazan said he's been so swamped he hasn't been able to track their individual capacity.
Curative did almost 400 COVID-19 tests on Monday and nearly double that on Tuesday and 1,100 on Wednesday. Curative founder Fred Turner's goal is 10,000 a day.
Unlike other labs, Curative doesn't rely on off-the shelf testing kits and automated machines. The company is also trying to hack the current supply chain by creating tests that don't rely on hard-to-come-by kit components. The lab is looking to make its own swabs, tubes and plates for RNA extraction.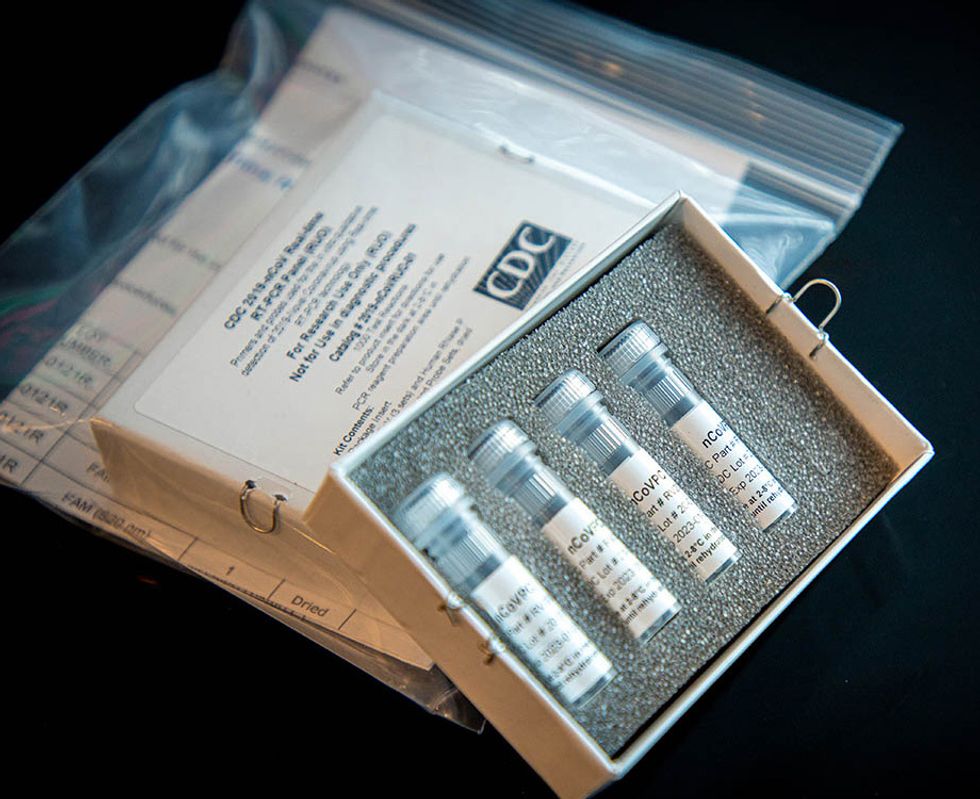 Startup Aims to Produce 10,000 COVID-19 Kits a Day at Los Angeles Lab upload.wikimedia.org
Shaun Arora, an investor in the company, said this week he's been scrambling to help founder Turner find about 50 lab technicians that can process tests, spaces near their lab where they can handle biological specimens as well as other needed supplies to scale up their operations.

Arora is trying to procure an injection-molding machine that will allow the company to form its own plastics. Arora has been working with the local chamber of commerce and universities to procure some of the needed products and find qualified workers.
Curative set up shop in a 10,000-square-foot lab San Dimas earlier this month after Turner arrived from the Bay Area, where he was based.

Kazan said more companies like Curative are needed because, unlike Quest Diagnostics and Seegene, they are local and not competing with other regions like New York.
They've also set up at a drive-thru operation with the city of Los Angeles and have an agreement with the Los Angeles County Fire and Sheriff's department.
Los Angeles County Sheriff Alex Villanueva earlier this week said he would release about 1,700 inmates from the jails, as officials try to ease conditions and prevent an outbreak inside the crowded facilities. The jails house many homeless individuals who health care workers are especially vulnerable to the virus.
The test kits tests provide results within 24 hours and eliminate unnecessary risk to health care workers by using saliva samples taken from a swab, rather than nasal ones which require a nurse.
Turner couldn't be reached for comment, but on Wednesday he tweeted out a plea: "We need PhDs who have experience with PCR and generalist software engineers (ideally with some lab/science experience) and are free in LA to help us scale Covid-19 testing!"