Courtesy of Machina Labs
The nondescript two-story building in Chatsworth still has remnants of its previous life as a coworking space; inside, there are vibrant abstract murals on the walls, meeting rooms and a full coffee bar. Only now, the ground floor is bustling with nearly a dozen orange machines, each more than 20 feet tall and equipped with two giant robot arms.
The machines belong to Machina Labs, an AI company that uses robots to speed up the manufacturing design lifecycle. While the Chatsworth building is currently the company's only facility, there are expansion plans in the works as Machina aims to lead an AI-enabled revolution in hi-tech manufacturing.
"We are deploying new enablers that have not been used in manufacturing," Machina Labs CEO and co-founder Edward Mehr told dot.LA.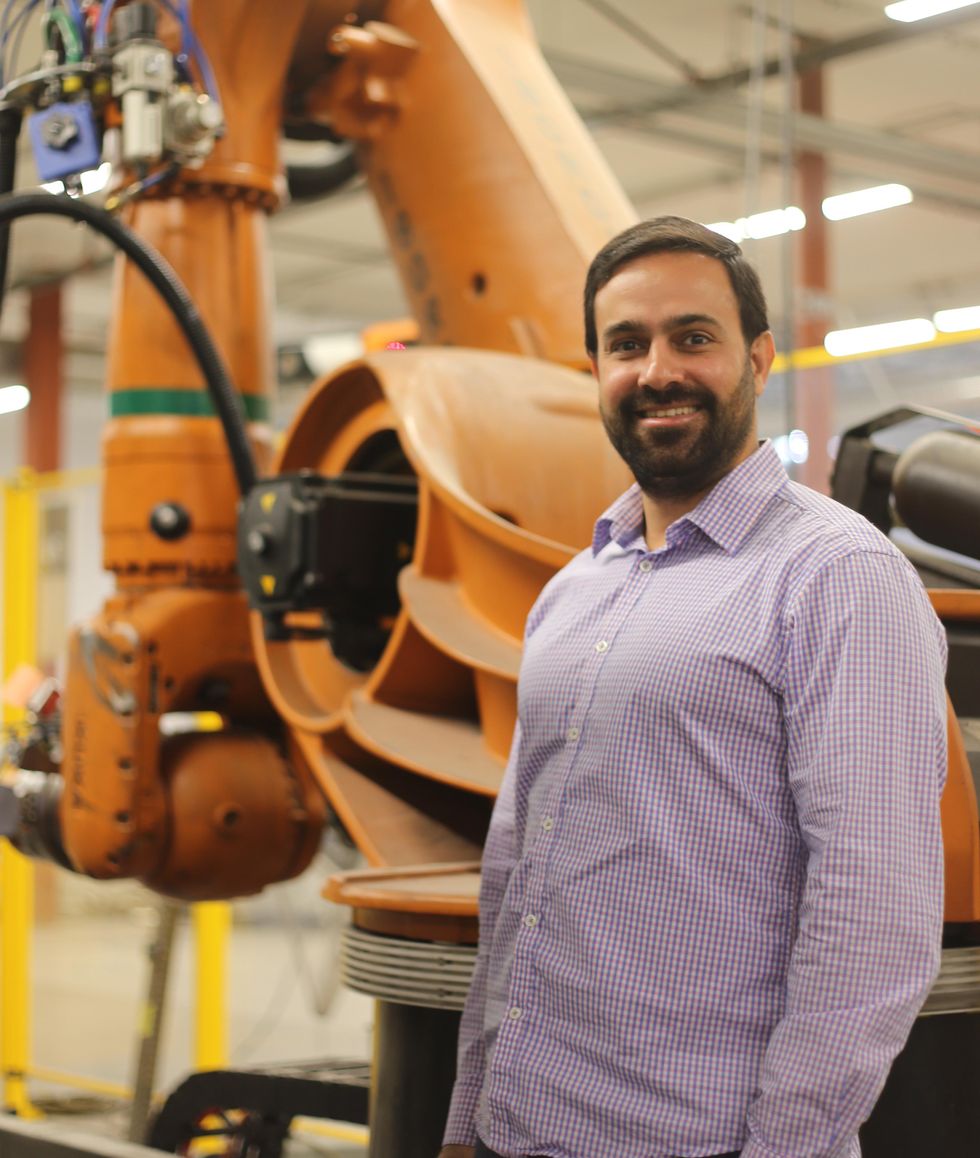 Machina Labs CEO Edward Mehr stands in front of one of the robotics startup's machines.
Image: Decerry Donato
Mehr has spent his career at the intersection of manufacturing and artificial intelligence. Following stints at Google and Microsoft, he joined SpaceX in 2014 as a software and control engineer. In 2016, Mehr was part of the founding team at Relativity Space, the Long Beach-based 3D metal printing company that is automating rocket manufacturing. But he eventually grew frustrated with bottlenecks in the 3D printing process, and in 2019 Mehr linked up with Babak Raeisinia, a former lead scientist at aluminum manufacturer Novelis, to create Machina Labs. (Raeisinia serves as the firm's CTO.)

Two years later, the company is on an upward trajectory: In November, Machina raised $14 million in Series A funding, bringing its total capital raised to $16.3 million. The money will help accelerate its development of composite molds, the production of parts, and the hiring of more engineers in the L.A. area. The round was led by Palo Alto venture capital firm Innovation Endeavors (an investor in Uber and SoFi), with participation from Congruent Ventures and Santa Monica-based Embark Ventures.
Machina uses AI-driven sensors to gather data that allows its machines to manipulate sheet metal; that technology creates car doors, rocket wings and fuel tanks, as well as drone parts for the U.S Air Force, which is among the startup's government clients. In addition to aerospace and defense—NASA is another client—Machina Labs has also manufactured parts for the architecture, energy and automotive industries.

Each Machina Labs robot requires one person to oversee its operation. Though the time frame varies depending on the project, a majority of the parts created take only a few hours to complete. And because Machina Labs relies on AI-enabled robots rather than humans, its products are also cheaper; the company says it can save aerospace clients hundreds of thousands of dollars on parts that can typically cost more than $1 million.
"The cost in the long term [for clients] will drop significantly," Mehr said. "We are focused on building the next generation of factories that can be configured to do different things just through software."
Of the 22 robots in Machina's Chatsworth facility (each of the 11 manufacturing cells on the factory floor holds two arm-like robots), four are currently fully operational; the rest are expected to come fully online by the end of this year. Despite their imposing size—each robot stands 23 feet tall—the machines can easily be disassembled and transported.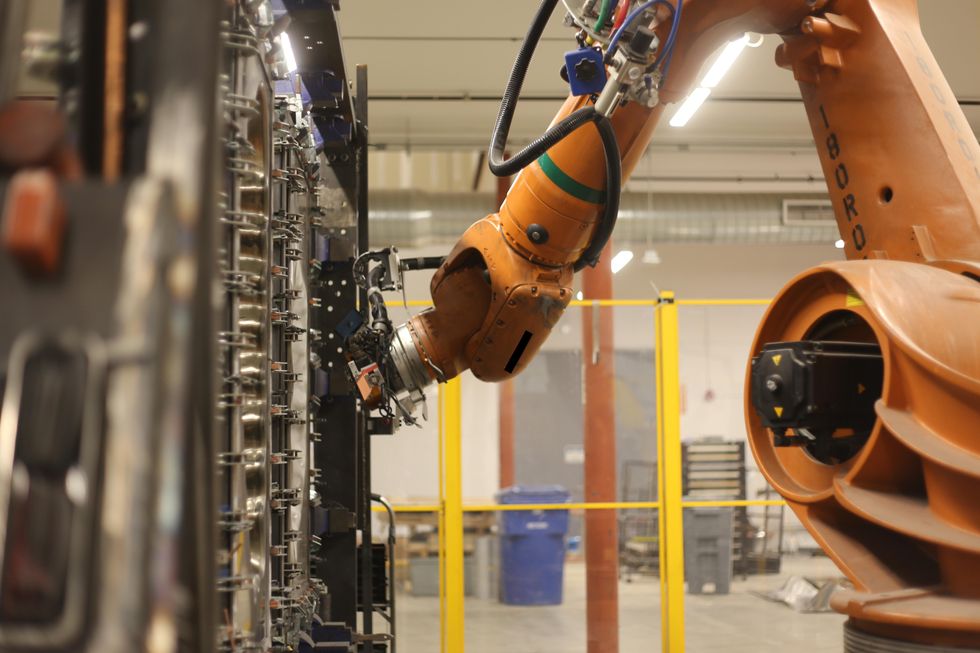 One of Machina Labs' AI-enabled robots at work.Image: Decerry Donato
The company plans to deploy some of its robots onsite at Air Force facilities next year to streamline the manufacturing process, while Mehr sees particular potential in the now-booming space sector. "Our technology is a very prime candidate for space manufacturing, because you can send these robots up there," he noted.
So far, it seems like Machina's technology is very much in-demand. With more than 100 customers in the pipeline, the startup has paused on accepting new clients unless they are "willing to commit to a large number," according to Mehr.
Mehr understands that there is a stigma around automated technology taking away manufacturing jobs. "We're not actually getting rid of [manufacturing] jobs, we're getting rid of the expensive machinery you have to put in to get it done," he countered. "By doing that, you're actually bringing manufacturing closer to communities and are actually going to create more local jobs."