After weeks of being forced to work at home during the coronavirus pandemic, many workers have no desire to turn back.
Nearly half of employees would like to keep working from home and more than 45% say their employers are actively considering or at least open to that option, according to a survey of more than 1200 workers this month by getAbstract, an online business library.
"The fact significant numbers of employers are now considering remote work for their employees could bring societal changes that rival when large numbers of women first entered the workforce decades ago," said Andrew Savikas, chief strategy officer at getAbstract in a statement.
Only 3.4% of the U.S. workforce telecommuted in 2019, though that was up from 2.9% in 2015, according to Flexjobs.
With so much uncertainty about the virus and when the economy will reopen, most employers have been vague about how long remote work will continue. However, Seattle-based Zillow Group told its 5,249 employees Friday that they can work from home until at least the end of the year. "This situation has dramatically changed how we envision our future of work and we expect this experience will influence our decisions going forward," said a Zillow spokeswoman. (dot.LA co-founder and chairman Spencer Rascoff co-founded Zillow.)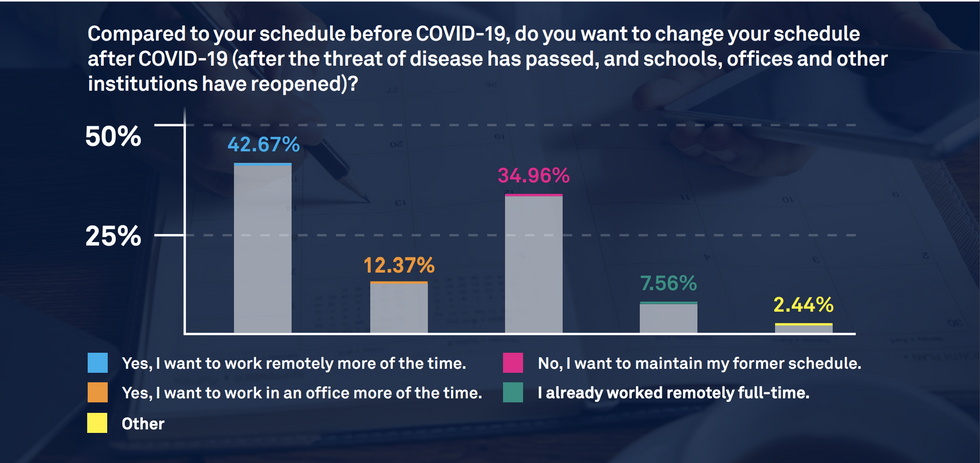 A recent survey from getAbstract finds early half of employees would like to keep working from home.getAbstract
The new survey showed that for those who had never worked remotely before the pandemic, nearly 50% did not want to return to the office. 80% of those who occasionally worked remotely want to do so more of the time.

On the other side of the equation, more than half of employers surveyed plan to expand or increase flexible work arrangements after the coronavirus outbreak is contained, according to a survey of 27 companies this month by the Institute for Corporate Productivity.
How many jobs can be done entirely at home remains an open question. A recent study by the University of Chicago found only a third of work could be remote.
Although demand for office space in Los Angeles has taken a pause since the spread of the coronavirus, real estate brokers expect the trend to be temporary.
"We will probably go back to business as usual and make adjustments," predicted Petra Durnin, head of market analytics at
HelloOffice.