Image by Songquan Deng/ Shutterstock
According to PledgeLA's annual report, the Los Angeles venture capital and tech scene is still very much an all-boys club.
From an analysis of more than 6,300 investment transactions made in 2021 the L.A. venture capital report found that the percentage of funding going to white male founders increased to 53% of the whole (that's an increase of 7% over the prior year). Meanwhile, Black founders saw a 5% decrease. The data also highlights how Black and Latino founders are the most underfunded group over the last three years. Asian founders saw a dip in funding in 2021, but still received 24% of the funding– more than double what Black or Latino founders received.
The third annual report also shows that PledgeLA venture capital firms who are committed to making investments on companies led by traditionally underrepresented founders were 1.75 times more likely to fund women and 10 times more likely to fund Black founders.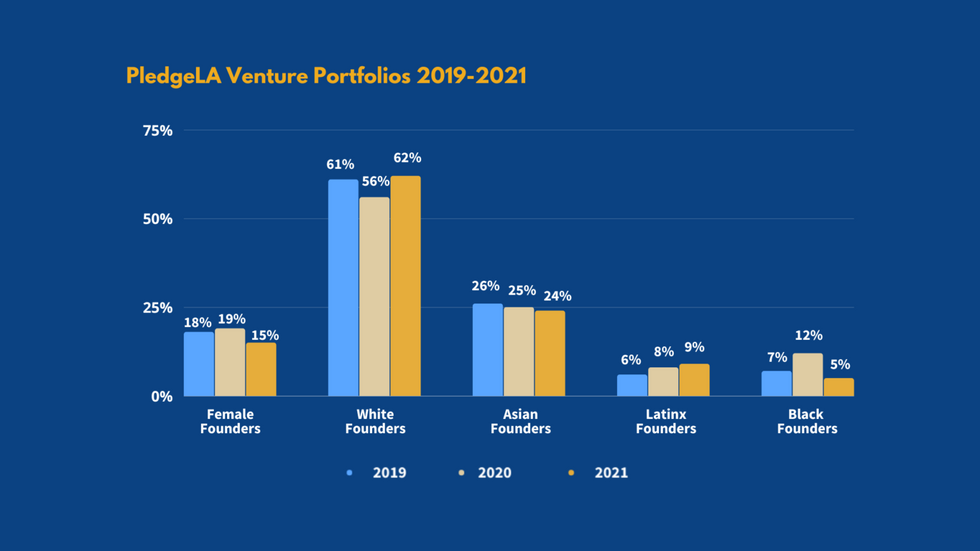 Graph from PledgeLA's report indicating how much funding each group received over the course of three years. (2019, 2020, 2021)
Courtesy of PledgeLA
Vamos Ventures Founding Partner Marcos Gonzalez says there are a couple of reasons why we are seeing a decrease of funding being allocated toward diverse founders.
"Generally speaking, when you have economic uncertainty, if you're an asset owner, you're going to think twice about putting more capital into the market," says Gonzalez.
While Latino founders did see a jump in investments from 8% in 2020 to 9% in 2021, PledgeLA's report also examined trends in founder investments from 2019 to 2021 and found that women and founders of color saw a drop in overall investments. In 2020, women founders only received 19% of funding, a number which decreased to 15% in 2021.
One way to mitigate some of these disparities, Gonzalez says, is by creating relationships with MBA students at firms across the city that will lead to eventual hires.
"They're going to show up with different networks than the established folks at that firm," he says, adding that once these new hires hold positions at VC firms, it will lead to firms being more comfortable with investing in more diverse founders that they wouldn't have looked into otherwise.
"There's a lot of talented resources in this demographic (Latino and underrepresented founders) that's going to generate real innovative solutions and a lot of wealth," Gonzalez says, "And that's where we're putting our money."