It may not be love, but this fund made its first match.
A Gen-Z dating app hinged on short-form videos closed its first round of funding last month with backing from the California Crescent Fund, a new student-run venture capital firm focused on Southern California.
Lolly, the dating app, lets users upload videos into a feed and scroll through them for potential matches. Instead of swiping left or right, users hit "clap" on videos and later "crush" on the user — what the company calls a "non-binary matching model."
"Not ready to fully commit to a potential match? Send some claps instead," reads a January statement from California Crescent Fund announcing the investment.
The student VCs only invest in startups that evolve on college campuses. The group did not disclose how much funding it has raised, but its first LP is Carey Ransom, founder and president of Orange County-based Operate. The venture studio is serving as co-general partner with California Crescent Fund in its first fund.
Managing partner Keyan Kazemian said the goal is to raise $1 million from SoCal university alumni and local investors and to eventually invest an average of $40,000 in 24 startups over the next two years.
"The point we're trying to make is that there's a lot more than Silicon Valley," said Kazemian, a senior at UC Irvine studying computer science and engineering.
He started building California Crescent Fund last summer with five co-founders and student entrepreneurs across the region who later led a "fundraising cold email frenzy" to find money and mentors. The fund's roster of advisors now includes Ransom and CRV investor Olivia Moore, who launched a student-run accelerator while enrolled at Stanford.
Their fund was modeled loosely after organizations like Dorm Room Fund, a student-operated VC firm created in 2012 by First Round Capital, focused on student entrepreneurs in Philadelphia, New York City, Boston and San Francisco. There's also Rough Draft Ventures, a similar firm funded by General Catalyst.
Kazemian said he noticed a gap in capital distributed to college founders between Santa Barbara and San Diego.

"This geography is pretty uncommon when it comes to technical talent from universities," Kazemian said. "They don't have the same access to capital as students on the East Coast or in the Bay. VCs are obviously looking at Wharton and Berkeley before they will come down here."
The fund's student partners come from USC, UCLA, UCSB, UCSD, UCI, Caltech and Harvey Mudd.
In January, the TikTok-meets-Tinder dating app closed a $1.1 million seed round — $40,000 of which came from the California Crescent Fund. Other investors included Ron Conway's SV Angel, Next Coast Ventures and Sequoia Capital Scouts.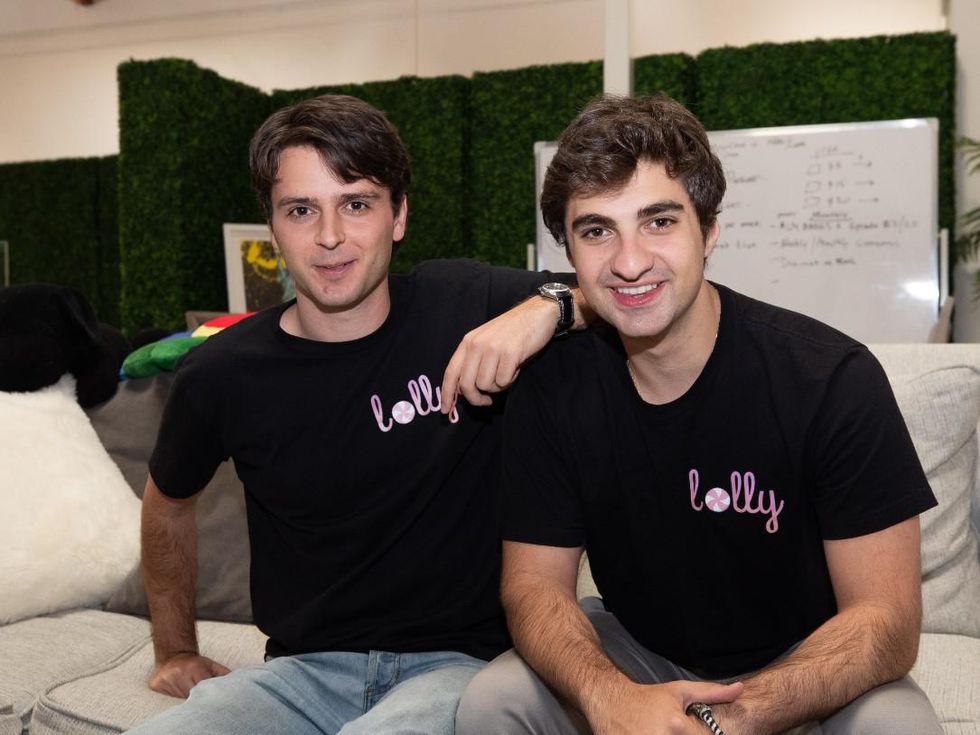 NYU grad Sacha Schermerhorn (left) and Marc Baghadijian are the co-founders of Lolly, a new dating app aimed at the TikTok generation.
It was founded by 21-year-old Marc Baghadijian and NYU grad Sacha Schermerhorn, who turned down a PhD in neuroscience to pursue the app. It went live in December.

"Tinder and Bumble first came out as a way to make dating easier, but almost 10 years later, they haven't drastically changed much, even though their targeted users drastically have," said Baghadijian, a senior at Babson College.
TikTok has changed how Gen-Z users interact with social media, Baghadijian said. They've come to expect video. On a dating app, a video-sharing feature opens up a new way for users to share different parts of their personalities.
"The thesis is that it's really hard to sell yourself with just pictures," Baghadijian said. "Not everyone can be a 10 out of 10."
"The same way TikTok made Instagram boring, we would like to make Tinder boring."