Photo by Keerthi Vedantam
It may just be symbolic, but the two-year-old gene therapy Capsida Biotherapeutics built its manufacturing site in the shadow of pharma giant Amgen's headquarters, a wink to its greater ambitions.
Capsida's new 15,000-square-foot manufacturing site in Thousand Oaks will be used to engineer small viral particles to treat rare diseases like ALS and Friedreich's Ataxia, both of which severely impact mobility.
It's a rare move for a company that young; most startups developing therapeutics often partner with a contract manufacturing facility that makes drugs for multiple companies. But Capsida, already a fully-integrated company that works on research and development and preclinical studies, will be able to create therapeutics at a higher rate than if they were to contract.
"We've decided that, given our platform and what we feel like we can do with capsid engineering, the speed to market and the ability to get to clinic is such that if we have our own internal capabilities, we can move faster. We can be more agile," Capsida Chief Manufacturing Officer Rayne Waller said.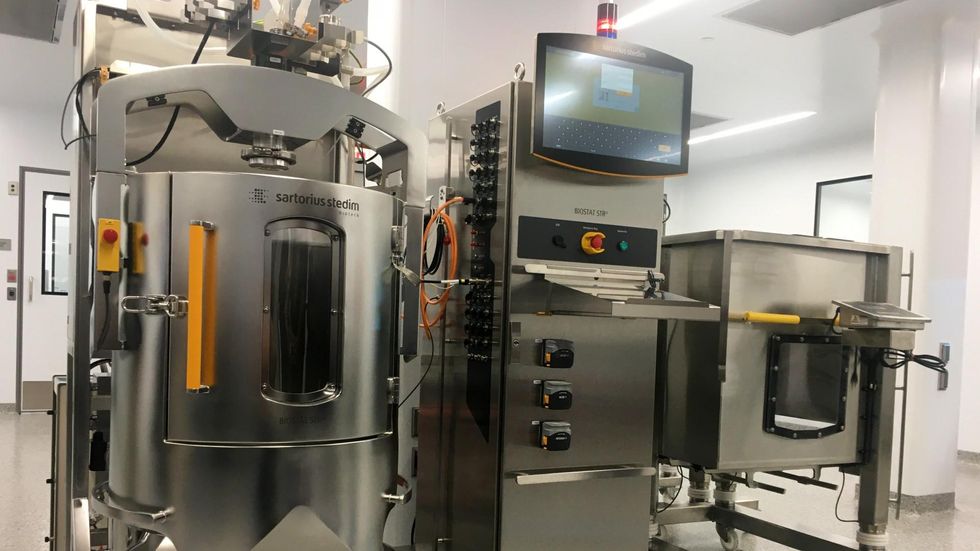 Photo by Keerthi Vedantam
Capsida's facility comes with two production suites where equipment can move flexibly (which will be useful as the company scales up, scales out or pivots), a sterile fill room to package drugs, and a large storage facility to preserve drugs in freezers. The facility will employ 40 to 50 people. Capsida is still building out a research space that will be anywhere from 20,000 to 25,000 square feet that will look into different use cases for capsid engineering — and the facility can support three to four clinical programs a year, allowing Capsida to test for a variety of use cases.

Capsida's facility is yet more proof of the impact local funding can have on keeping companies in L.A. The company announced in April it raised $140 million from Westlake Village BioPartners, a two-year-old venture capital firm founded by Amgen executives that raised one of the biggest funding rounds of 2020 in L.A and invested in several life science companies in Southern California. The firm recently built out an incubator space and office spaces for companies like Capsida to move into.
Venture capital firms like Westlake Village BioPartners are key to establishing biotech companies in L.A., according to Stephanie Hsieh, head of the Los Angeles' office for Biocom. In order to successfully pull off drug development, she said startups need need "the right investors with the sophistication and the knowledge of what it takes to really invest in biotech."
"It's super long lead times. It's a really complex product when you're talking about drugs and all that goes into it," Hsieh said.
The facility is another win for Thousand Oaks, which changed its zoning laws two years ago in a bid to accommodate more biotech companies. Capsida's facility is surrounded by medical technology facilities, including manufacturer ECA Medical Instruments, immunotherapy company Atara Biotherapeutics and pharma giant Amgen.
"We realized early on how important it is to make way for growth in the sector and to attract some of the best research companies in the world," said Thousand Oaks Mayor Claudia Bill-de la Peña.