Local Political Candidates Are Using TikTok To Communicate with Young Voters
Kristin Snyder
Kristin Snyder is dot.LA's 2022/23 Editorial Fellow. She previously interned with Tiger Oak Media and led the arts section for UCLA's Daily Bruin.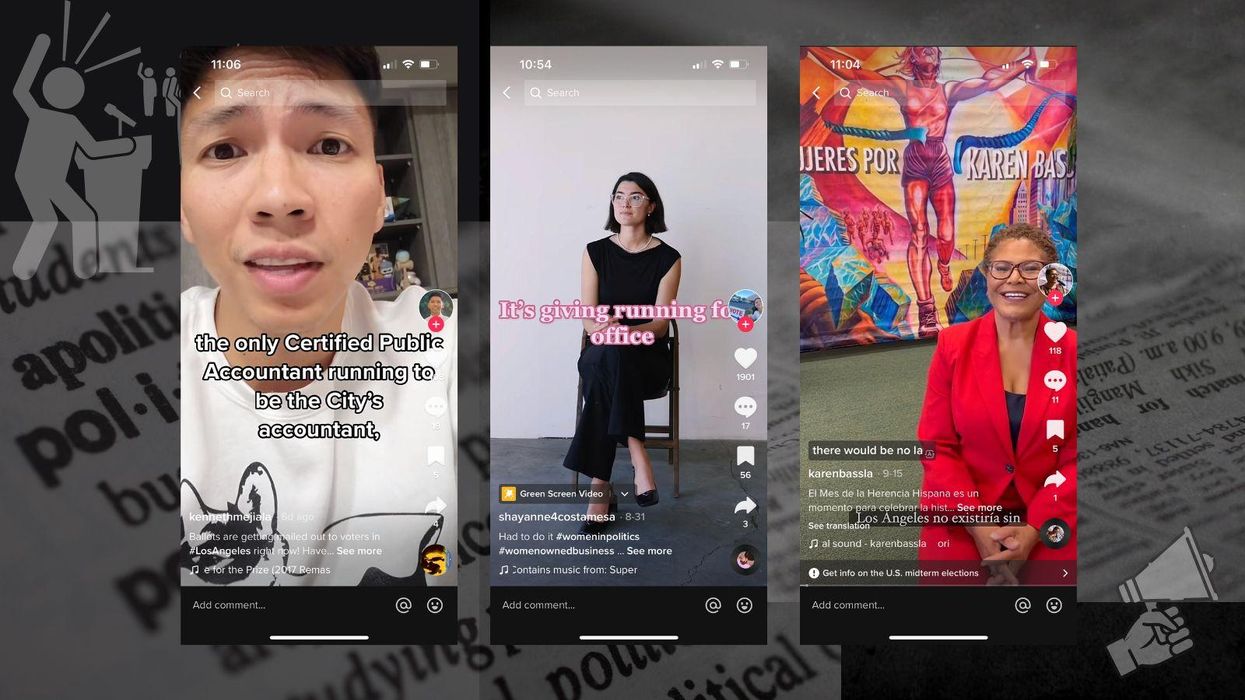 TikTok courtesy of Karen Bass, Kenneth Meijiala, Shayanne Wright
In March, congresswoman and mayoral candidate Karen Bass documented submitting her paperwork to run for L.A. mayor on TikTok.

The video has just over 1000 views. Compared to her 14,000 Instagram followers and 46,000 Twitter followers, her 141 TikTok followers don't amount to much.
Still, it reflects the growing number of political candidates trying to make the video-sharing app work for them.
---
That TikTok has exploded in recent years is hardly news. The app hosts 138 million active users in the United States, and 60% of its overall users are considered members of Gen Z. Teens and young adults have already utilized the app for political activism that ranges from sabotaging a Donald Trump rally to advocating for abortion rights.
Now, politicians have caught on to the fact that if they want to reach younger audiences, they have to be on TikTok.
"What we're seeing now is this gold rush where politicians are trying to be the first to stake their claims in this relatively unknown world of this medium that very few of them are actually using themselves," says UC San Diego Political Science Professor Thad Kousser.
Though in 2018 midterms youth turnout nearly doubled and in 2020, the number of young people increased by 11%, turnout at local elections remains low. Engaging voters in local races has also proven to be difficult—in the 2017 Los Angeles mayoral election, only 20% of registered voters actually filled out their ballots.
But, platforms like TikTok can help boost the visibility of local candidates, according to University of Pennsylvania Professor Pinar Yildirim, who has previously studied how social media impacts political fundraising. Historically, smaller candidates have struggled to catch the mainstream media's attention, making it more difficult to spread their message. Which is why they're turning to TikTok.
"We started posting on TikTok because there's a void of information, and there's a lot of folks that are very interested in what's happening in their community," Carmona says.

But amassing thousands of followers doesn't always translate to thousands of voters. Kousser says TikTok can make it hard to foster a loyal base. Its finicky algorithm doesn't always push videos to people who follow a user, and it is less focused on cultivating a social network. Not to mention, political concerns around privacy can put some candidates in a tricky position—using the app seems to be crucial for reaching young voters, but further measures taken against TikTok could make some candidates' usage appear hypocritical.
But one thing is clear, Gen Z isn't going to ditch the app anytime soon. Which is why, for the time being, Kousser says, local politicians should be asking themselves two questions. First, are these eyeballs winning votes? And second, are these eyeballs in my district?
Kristin Snyder
Kristin Snyder is dot.LA's 2022/23 Editorial Fellow. She previously interned with Tiger Oak Media and led the arts section for UCLA's Daily Bruin.
https://twitter.com/ksnyder_db