Design, Bitches
Looking to Build a Granny Flat in Your Backyard? Meet the Firms and Designs Pre-Approved in LA
Sarah Favot
Favot is an award-winning journalist and adjunct instructor at USC's Annenberg School for Communication and Journalism. She previously was an investigative and data reporter at national education news site The 74 and local news site LA School Report. She's also worked at the Los Angeles Daily News. She was a Livingston Award finalist in 2011 and holds a Master's degree in journalism from Boston University and BA from the University of Windsor in Ontario, Canada.
07:10 AM | March 12, 2021
Adding a backyard home in Los Angeles is now nearly as easy as buying a barbecue.
Homeowners who for years have wanted to build a granny flat in their backyard, but dreaded the red tape, can now choose from 20 pre-designed homes that the city has already approved for use.
The shift, made official last week, will speed up a weeks-long process and bring more badly needed units to an overpriced market. It also has the potential to elevate the 14 startups and firms building the next generation of homes.
---
The designs for the stand-alone residences range from a 200-square-foot studio to a 1,200-square foot, two-story, two-bedroom unit. And many of the homes are filled with design flourishes, reflecting the diverse architecture of the city, from a house in the silhouette of a flower to one with a spiral outdoor staircase leading to the roof.
It's no surprise. The program was spearheaded by Christopher Hawthorne, a former architecture critic at the Los Angeles Times and now the city's chief design officer.
The firms are primarily local and startup architecture and design firms, while others are well-known with a history of building granny flats, also know as accessory dwelling units, or ADUs.
The standard plans avoid the Los Angeles Department of Building and Safety's typical four-to six-week review process and can allow approvals to be completed in as quickly as one day.
Some aspects of the plans can be modified to fit a homeowner's preferences. Eight other designs are pending approval.
Mayor Eric Garcetti believes by adding more such units, the city can diversify its housing supply and tackle the housing crisis. Recent state legislation made it easier to build the small homes on the lot of single-family residences. Since then, ADUs have made up nearly a quarter of Los Angeles' newly permitted housing units.
Because construction costs are relatively low for the granny flats – the pre-approved homes start at $144,000 and can go beyond $300,000 – the housing is generally more affordable. The median home price in L.A. County in January was $690,000.
Here's a quick look at the designs approved so far:
Abodu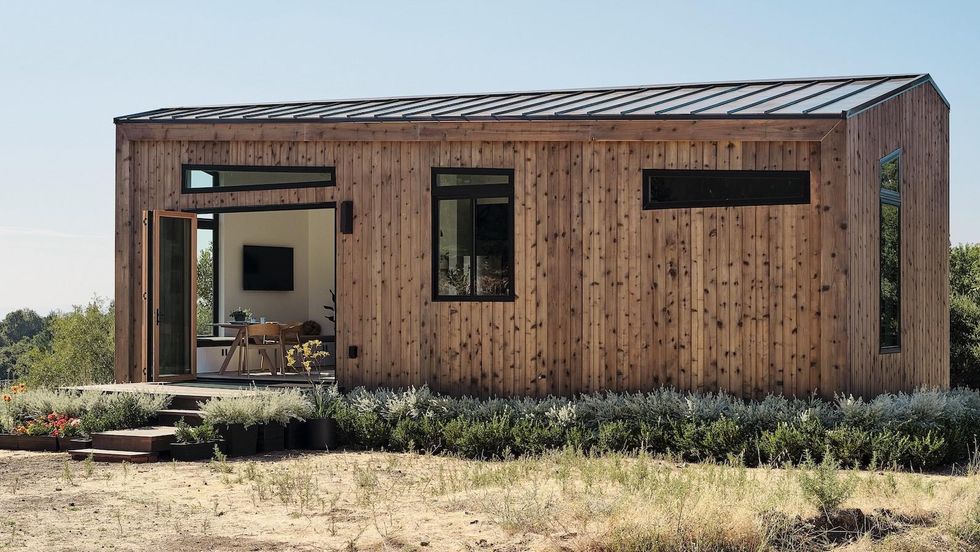 Abodu
Abodu, based in Redwood City in the Bay Area, exclusively designs backyard homes. In 2019, it worked with the city of San Jose on a program similar to the one Los Angeles is undertaking.
In October, it closed a seed funding round of $3.5 million led by Initialized Capital.
It has been approved for a one-story 340-square-foot studio, a one-story one-bedroom at 500 square feet, and a one-story, 610-square-foot two-bedroom.
The pricing for the studio is $189,900, while the one-bedroom costs $199,900 and the two-bedroom is $259,900.
Amunátegui Valdés Architects
Led by Cristobal Amunátegui and Alejandro Valdés, the firm was founded in 2011 and has offices in Los Angeles and Santiago, Chile. Amunátegui is an assistant professor at the Department of Architecture and Urban Design at UCLA.
The firm designs work in various scales and mediums, including buildings, furniture and exhibitions.
Its one-story, two-bedroom with a covered roof deck 934-square-foot unit is pending approval from the city.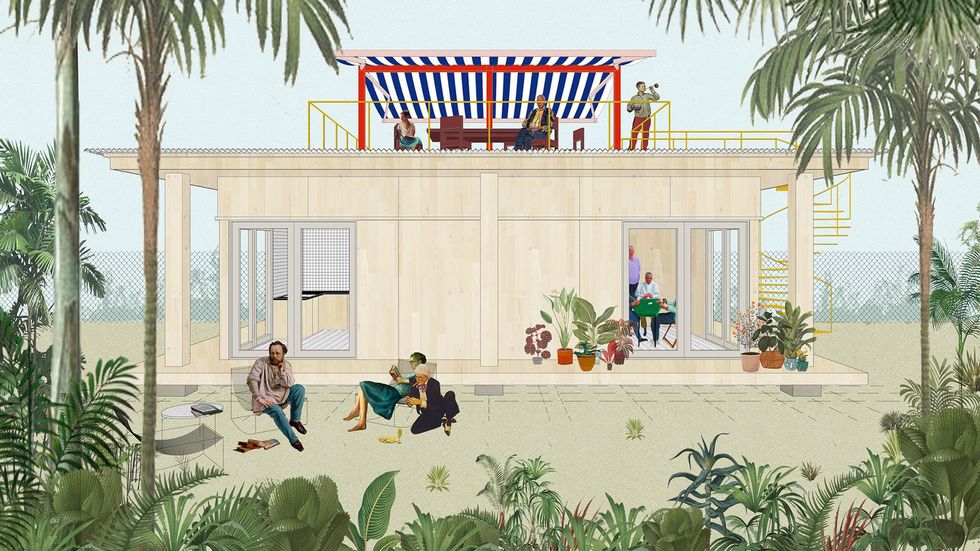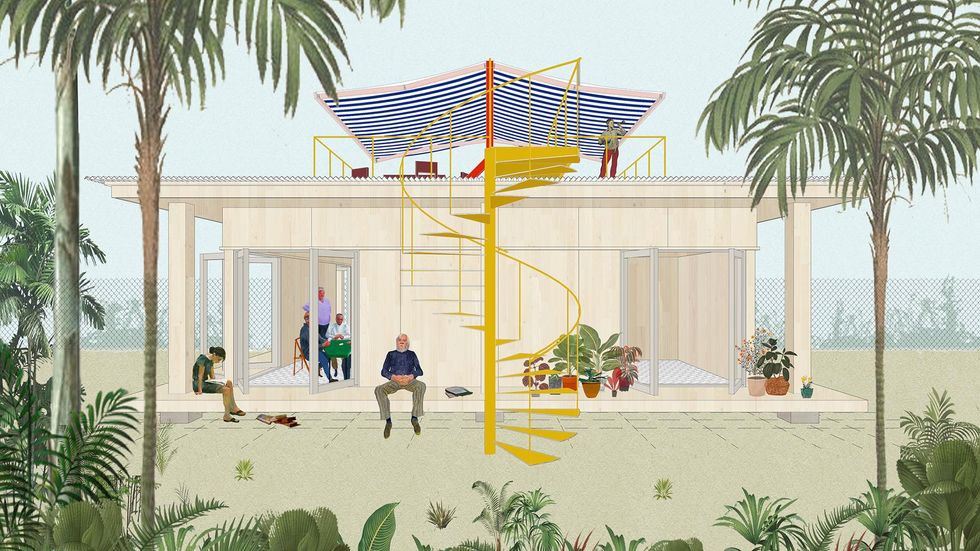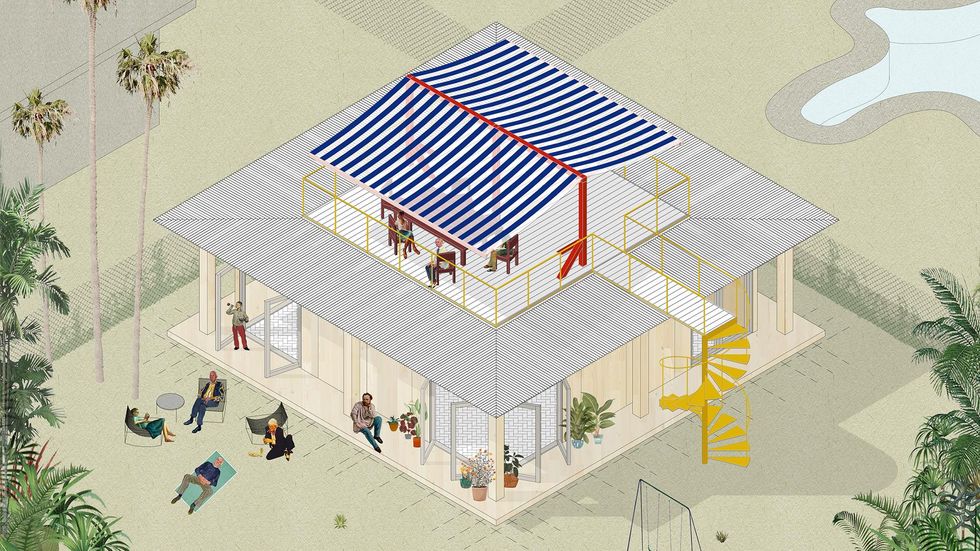 Connect Homes
Connect Homes has a 100,000-square foot factory in San Bernardino and an architecture studio in Downtown L.A.
It specializes in glass and steel homes and has completed 80 homes in California. Its designs have an aesthetic of mid-century modern California residential architecture.
It has two one-bedroom models pre-approved by the city, one is 460 square feet, which costs $144,500 with a total average project cost of $205,000. The other is 640 square feet, which costs $195,200 with a total project cost of $280,000.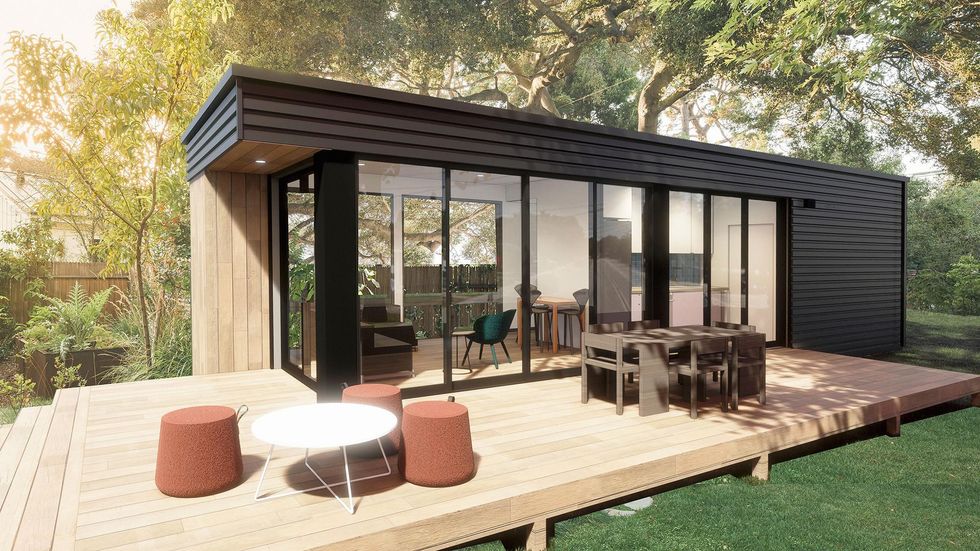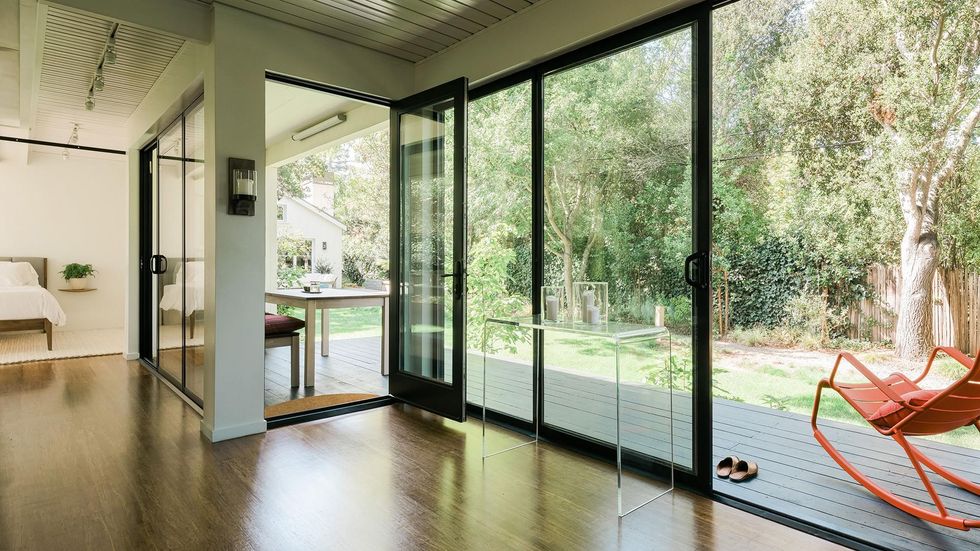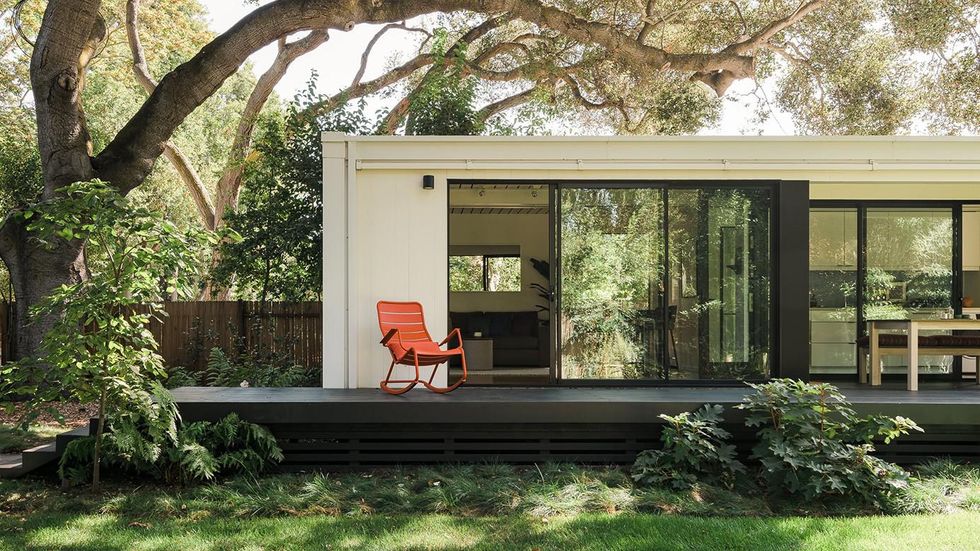 Design, Bitches
The Los Angeles-based architectural firm founded in 2010 describes itself as having a "bold and irreverent vision." Its projects include urban infill ground-up offices to single-family homes, adaptive re-use of derelict commercial buildings and renovations of historic landmarks.
Its pre-approved design, named "Midnight Room," is a guest house/ studio. Its bedroom can be left open for a loft feel or enclosed as a separate room. The design is a one-story, one-bedroom at 454 square feet.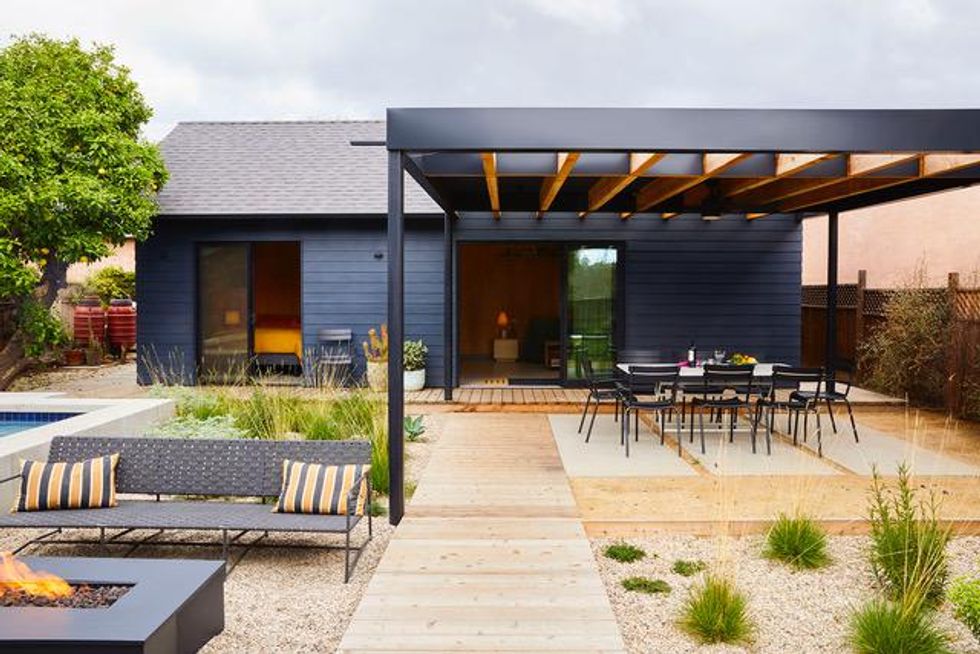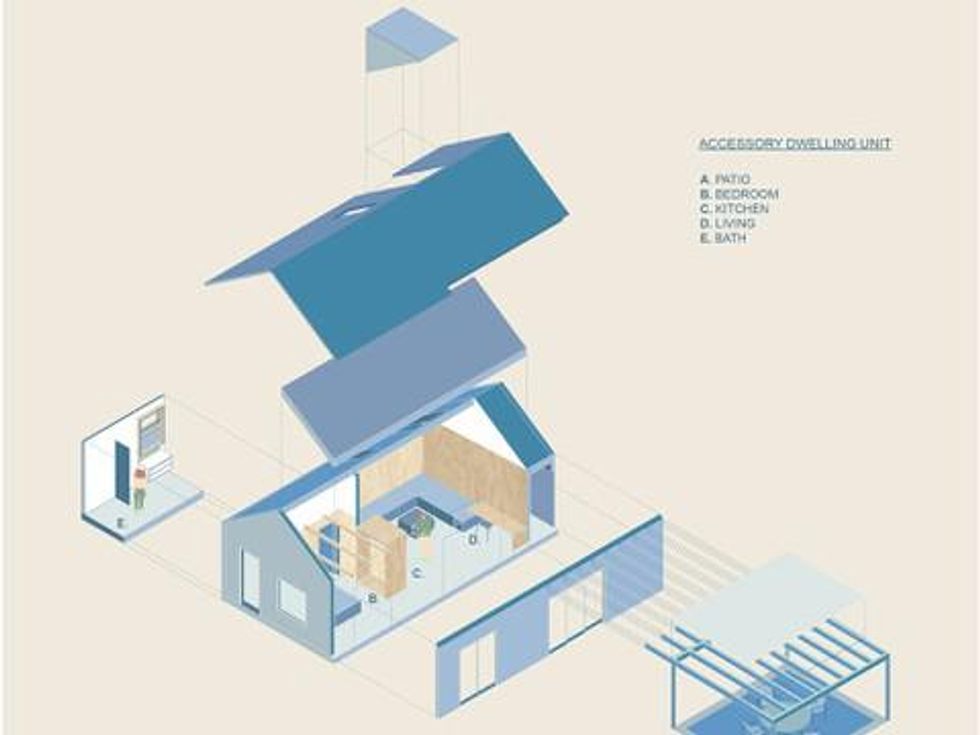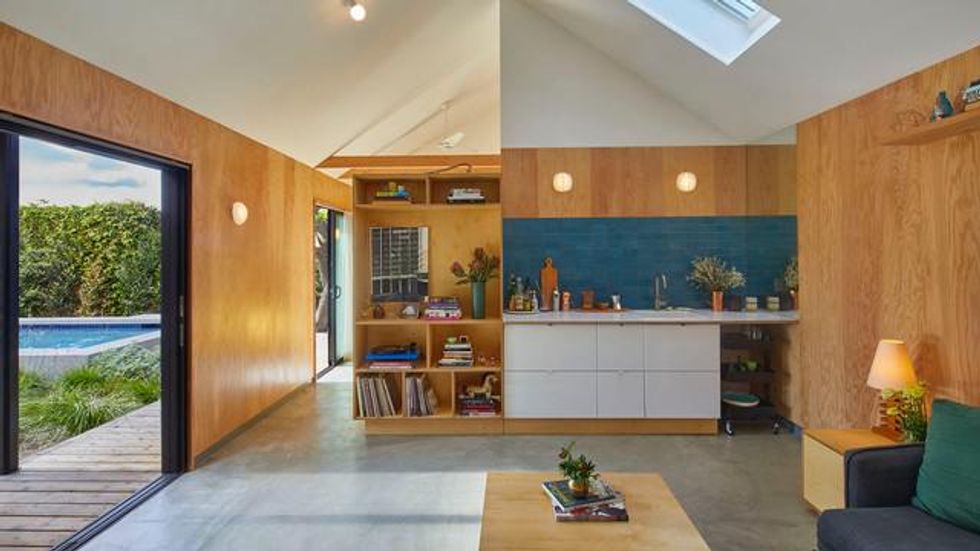 Escher GuneWardena Architecture
Founded in Los Angeles in 1996, Escher GuneWardena Architecture has received international recognition and has collaborated with contemporary artists, worked on historical preservation projects and more.
The company has been approved for two different one-story, one- or two-bedroom units, one at 532 square feet with an estimated cost of $200,000 and another at 784 square feet with an estimated cost of $300,000. The firm noted the costs depend on site conditions and do not include soft costs. Those could add 10% to 12% to the total construction costs.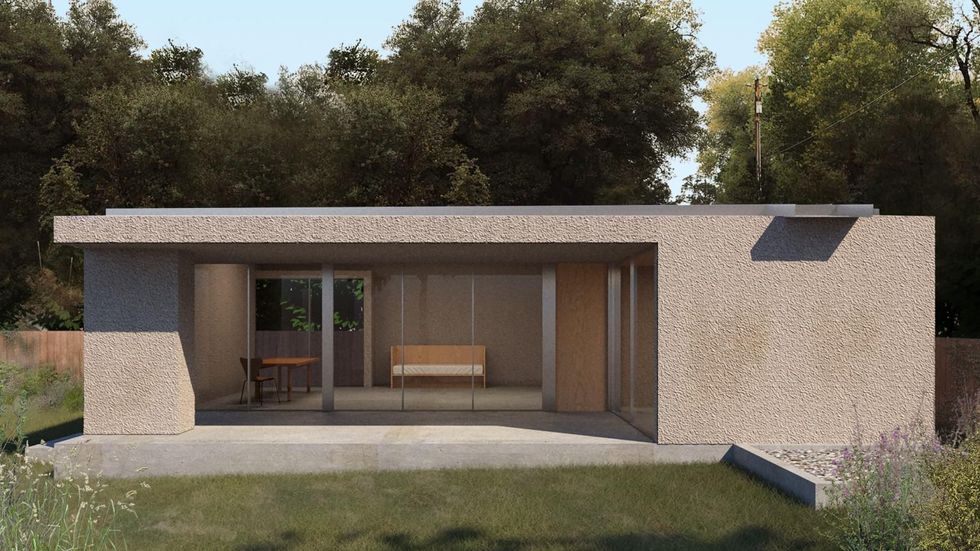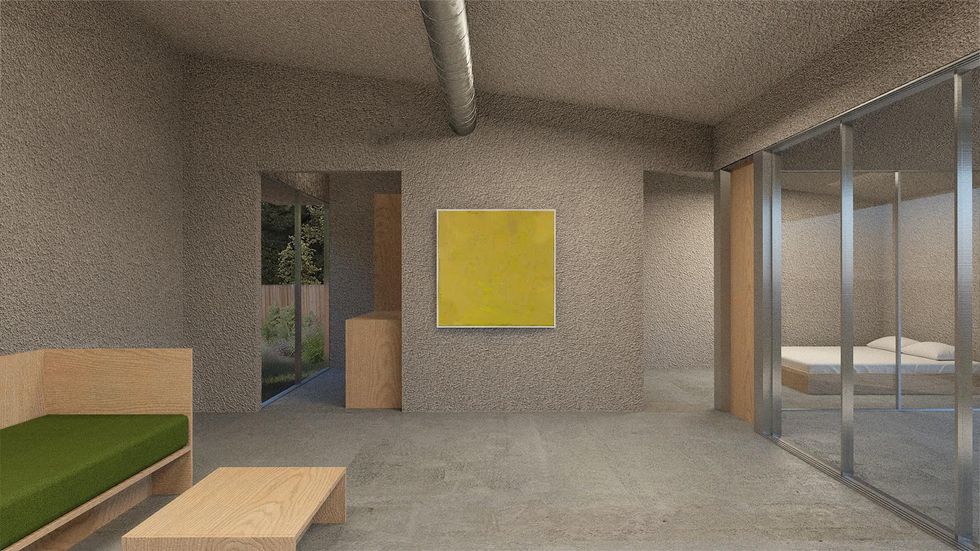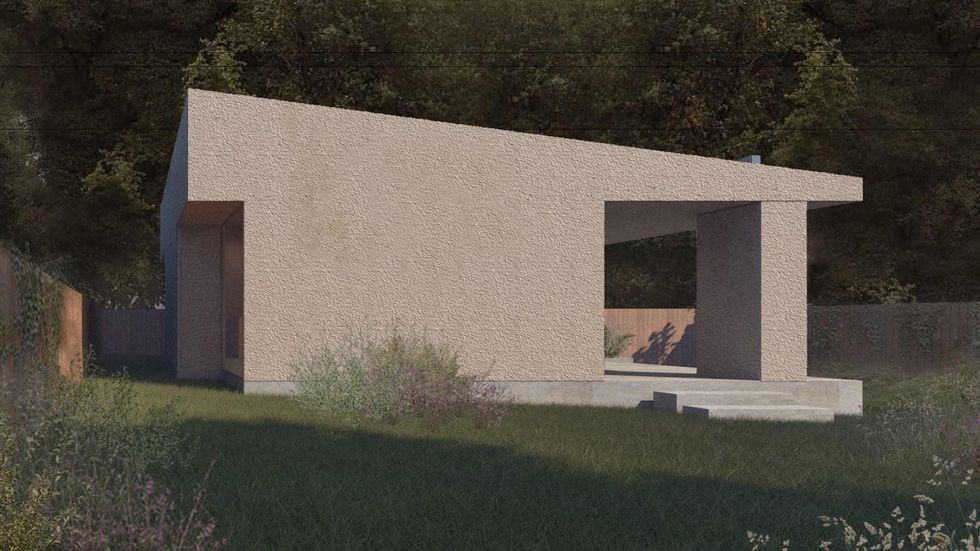 First Office
First Office is an architecture firm based in Downtown Los Angeles. Its approved ADUs will be built using prefabricated structural insulated panels, which allow for expedited construction schedules and high environmental ratings.
The interior finishes include concrete floors, stainless steel counters and an occasional element of conduit.
There are five options:
A one-story studio, 309 to 589 square feet
A one-story one-bedroom, 534 to 794 square feet
And a one-story two-bedroom, 1,200 square feet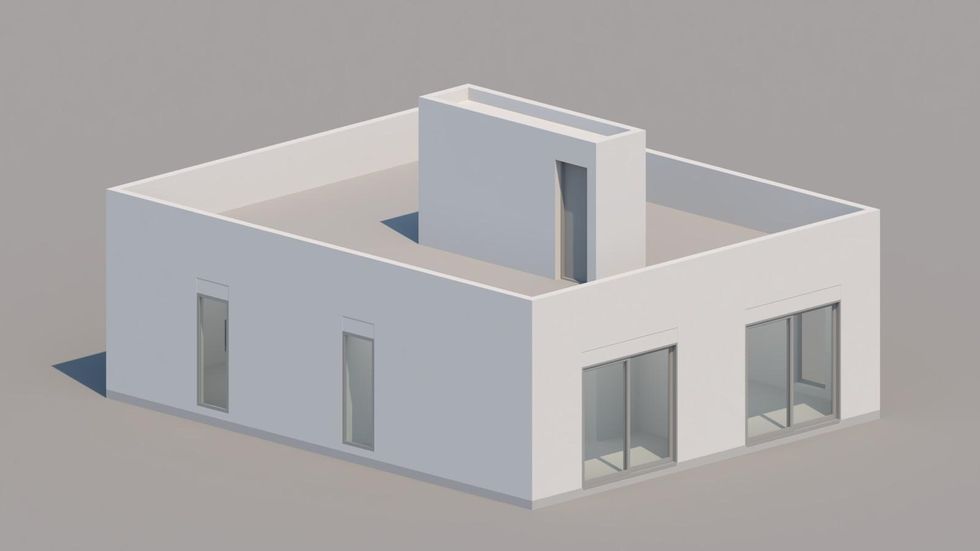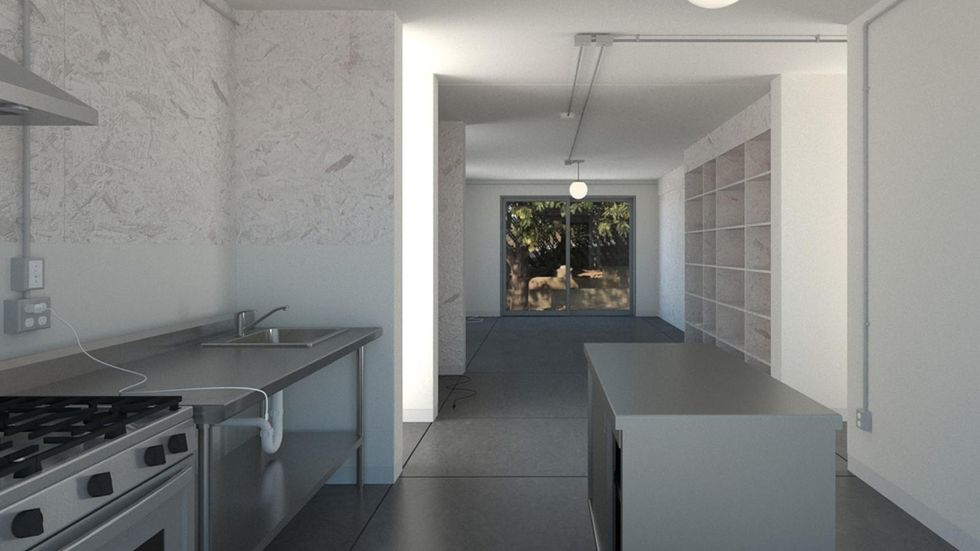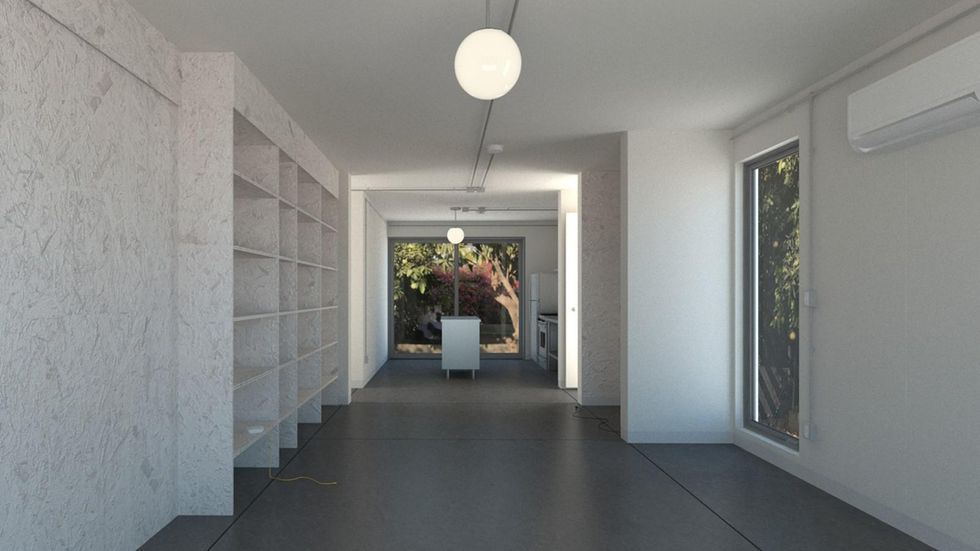 Fung + Blatt Architects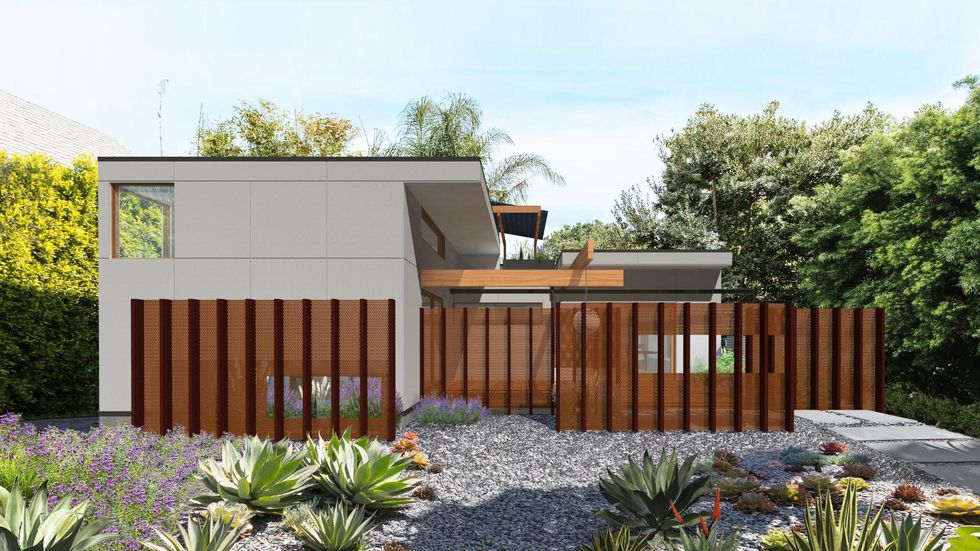 Fung + Blatt Architects is a Los Angeles-based firm founded in 1990.

The city has approved its 795-square-foot, one-story, one-bedroom unit with a roof deck. It estimates the construction cost to be $240,000 to $300,000, excluding landscape, site work and the solar array. Homeowners can also expect other additional costs.
Taalman Architecture/ IT House Inc.
The design team behind "IT House" is Los Angeles-based studio Taalman Architecture. Over the past 15 years, IT House has built more than 20 homes throughout California and the U.S.
The IT House ADU standard plans include the tower, bar, box, cube, pod and court.
The city has approved four options, including:
A two-story including mechanical room, 660 square feet
A two-story including mechanical room, 430 square feet
A one-story studio, 200 square feet
A one-story including mechanical room, 700 square feet
The firm also has another two projects pending approval: a 360-square-foot one-story studio and a one-story, three-bedroom at 1,149 square feet.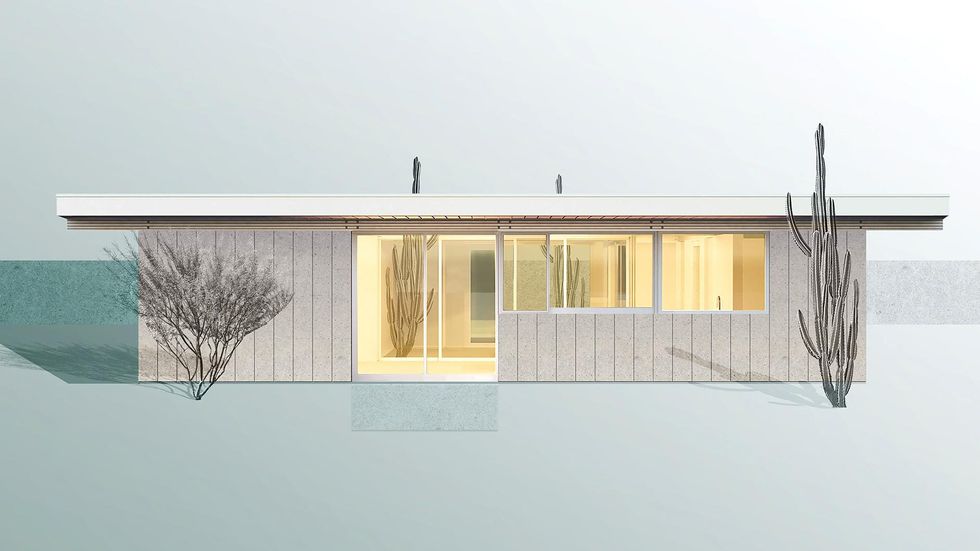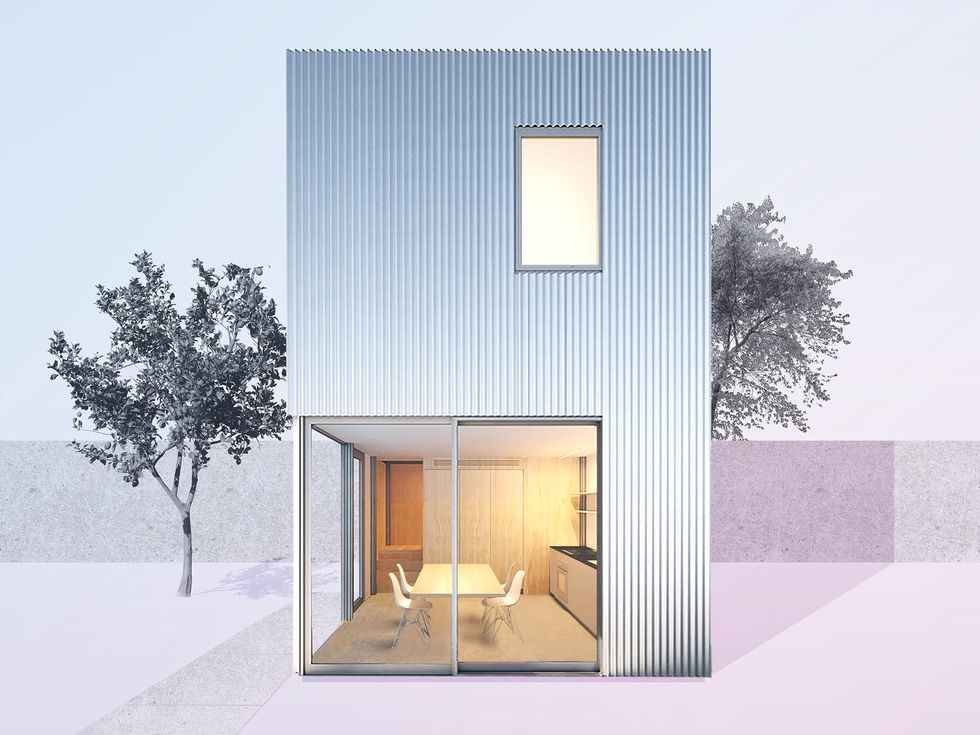 LA Más
LA Más is a nonprofit based in Northeast Los Angeles that designs and builds initiatives promoting neighborhood resilience and elevating the agency of working-class communities of color. Homeowners who are considering their design must commit to renting to Section 8 tenants.
The city has approved two of LA Más' designs: a one-story, one-bedroom, 528 square feet unit and a one-story, two-bedroom, 768 square feet unit. The firm has another design for a one-story studio pending approval. That design would be the first 3D-printed ADU design in the city's program.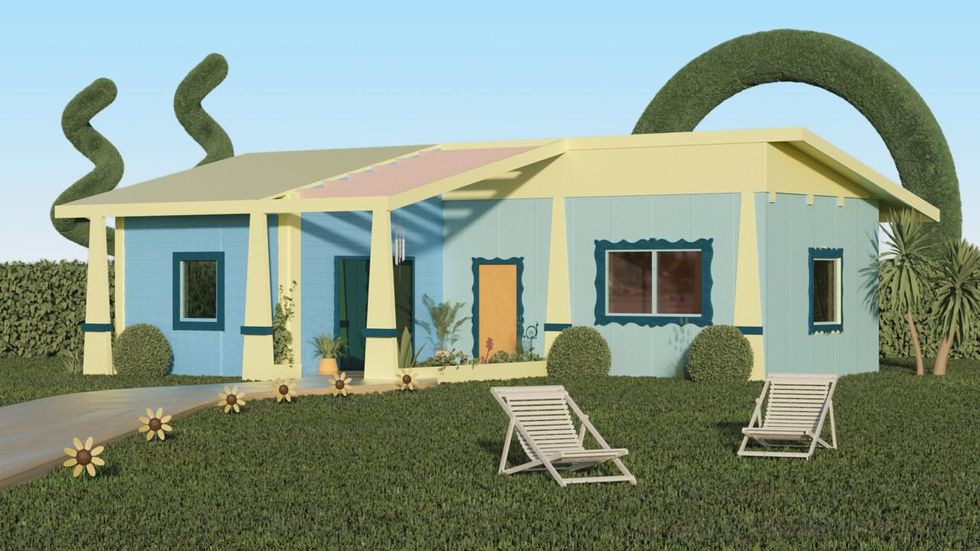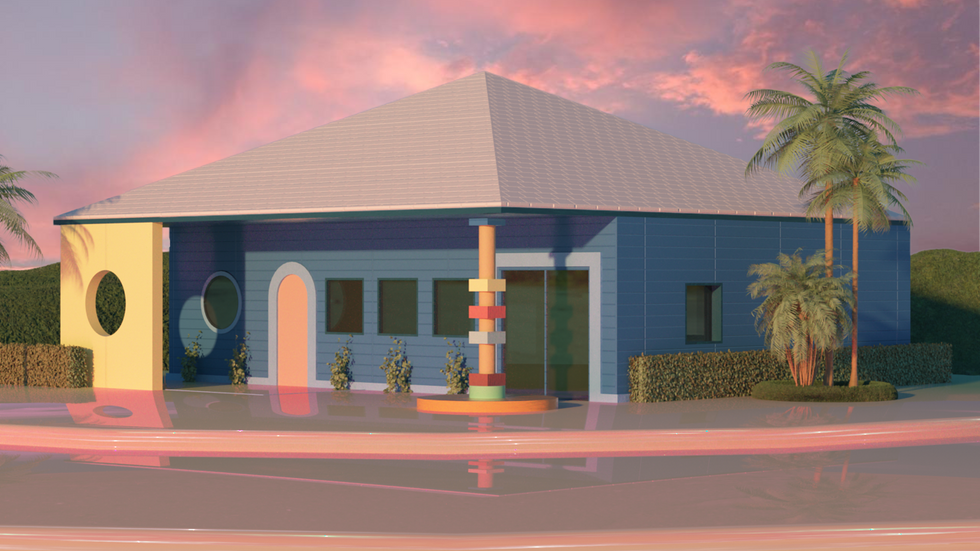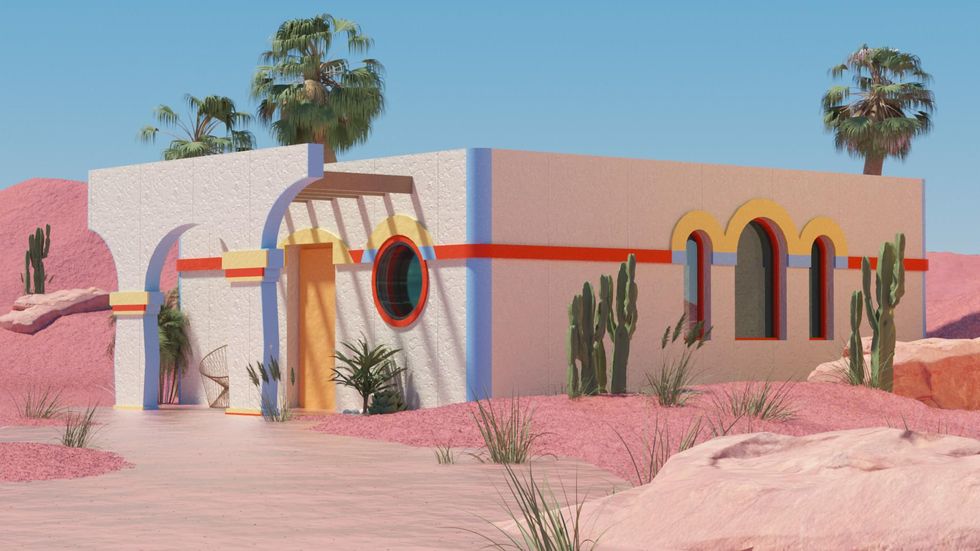 Jennifer Bonner/MALL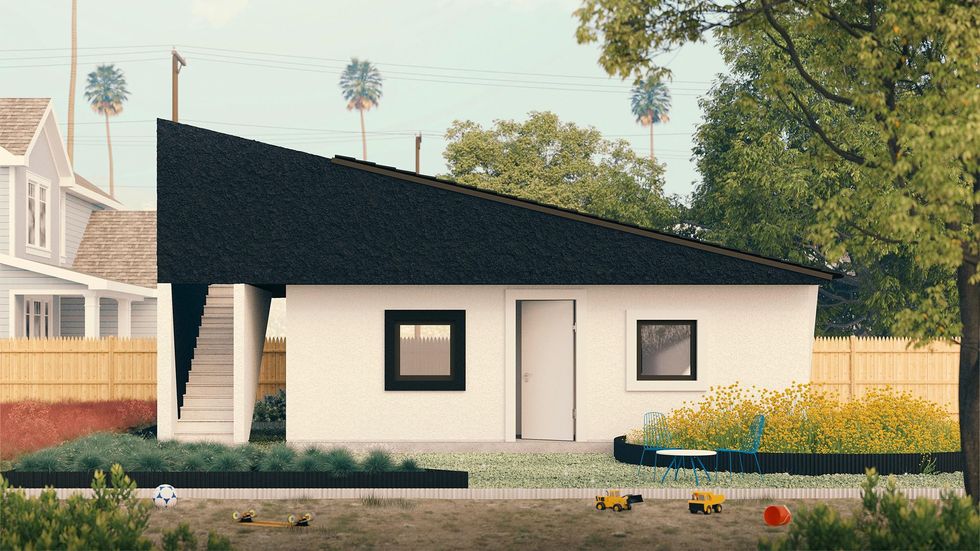 Massachusetts-based Jennifer Bonner/MALL designed a "Lean-to ADU" project, reinterpreting the stucco box and exaggerated false front, both Los Angeles architectural mainstays.
The design has been approved for a 525-square-foot one-story, one-bedroom unit with a 125-square-foot roof deck.
sekou cooke STUDIO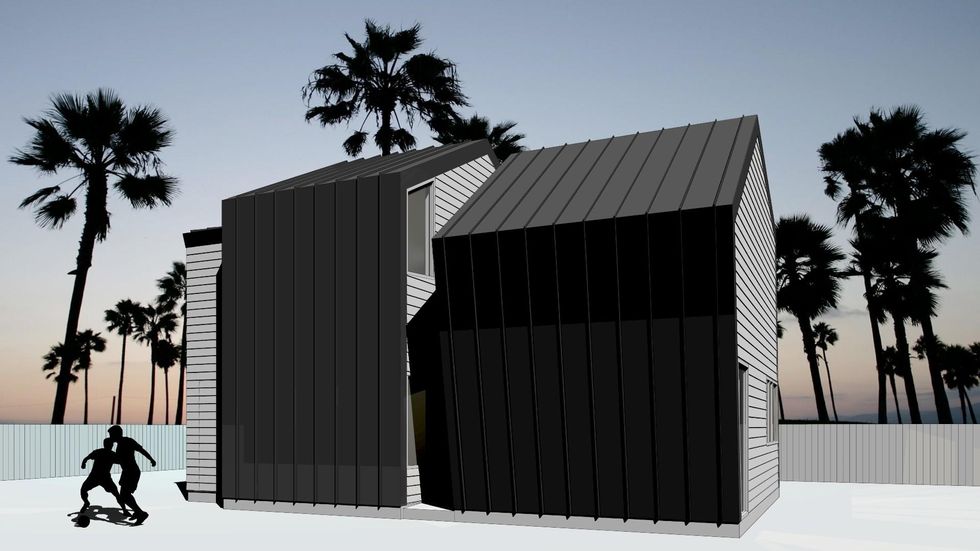 New York-based sekou cooke STUDIO is the sole Black-owned architectural firm on the project.

"The twisted forms of this ADU recalls the spin and scratch of a DJ's records" from the early 90s, the firm said.
Its design, still pending approval, is for a 1,200-square-foot, two bedroom and two bathroom can be adapted to a smaller one-bedroom unit or to include an additional half bath.
SO-IL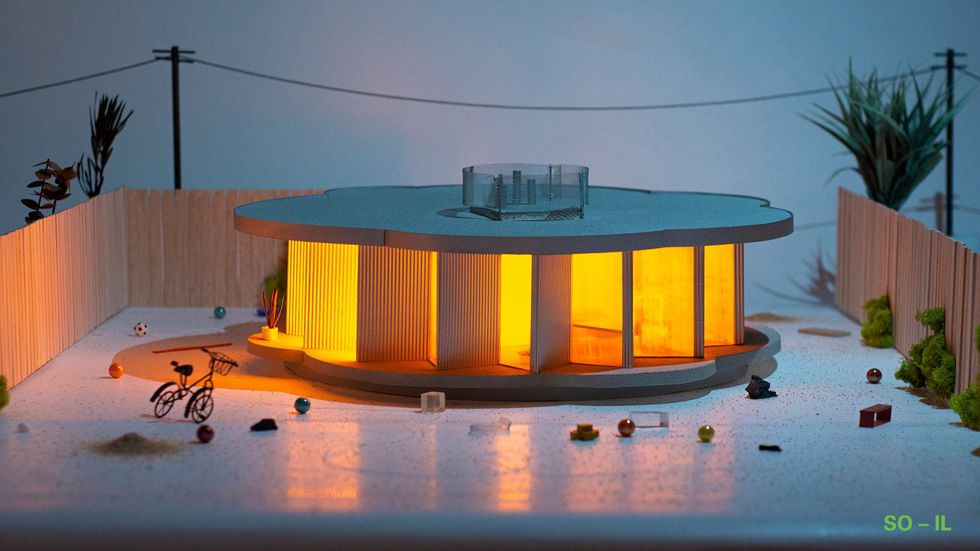 New York-based SO-IL was founded in 2008. It has completed projects in Leon, Seoul, Lisbon and Brooklyn.
Its one-story, one-bedroom 693-square-foot unit is pending approval. It is estimated the construction cost will be between $200,000 and $250,000.
WELCOME PROJECTS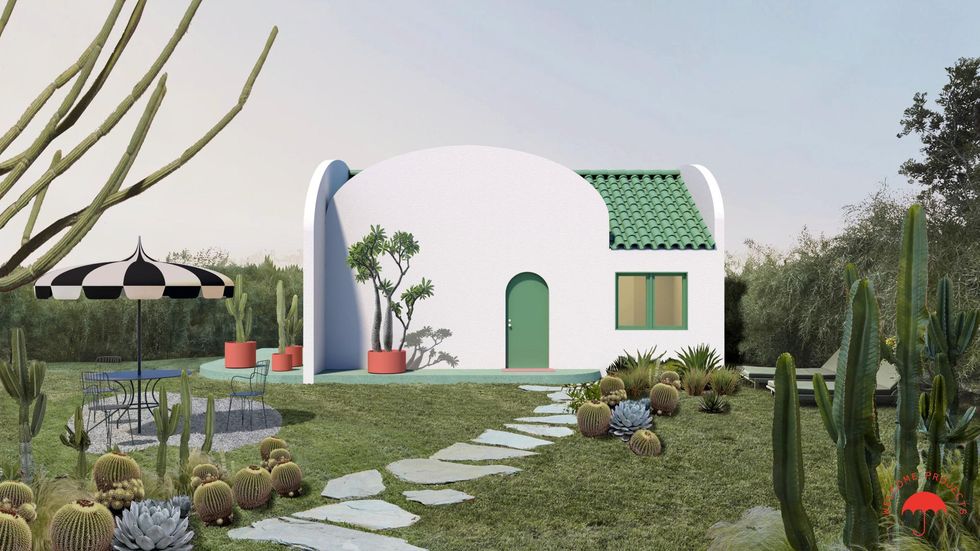 Los Angeles-based Welcome Projects has worked on projects ranging from buildings, houses and interiors to handbags, games and toys.
Its ADU is nicknamed The Breadbox "for its curved topped walls and slight resemblance to that vintage counter accessory."
It has been approved for a one-story, one-bedroom 560-square-foot unit.
wHY Architecture
Founded in 2004, wHY is based in Los Angeles and New York City. It has taken on a landmark affordable housing and historic renovation initiative in Watts.

Its one-story, one- or two-bedroom 480 to 800-square-foot unit is pending approval.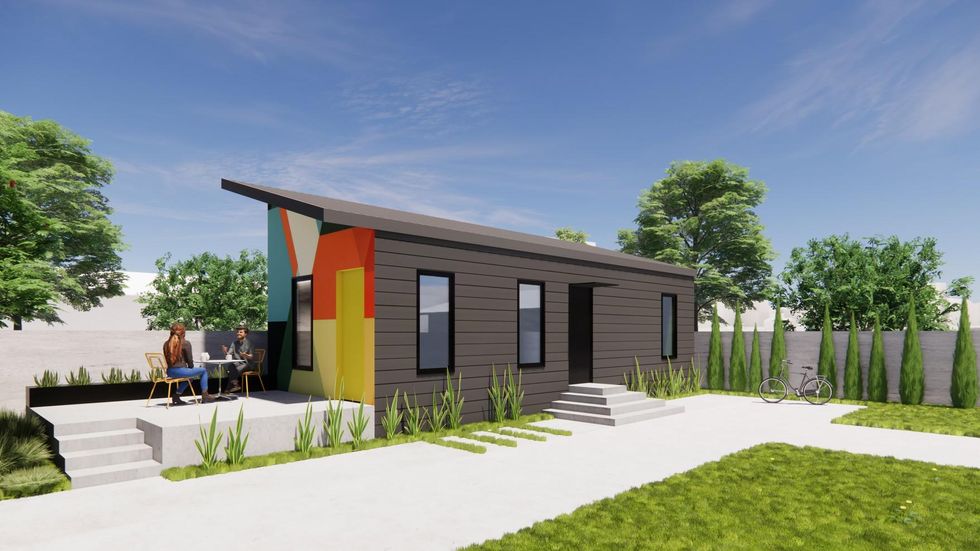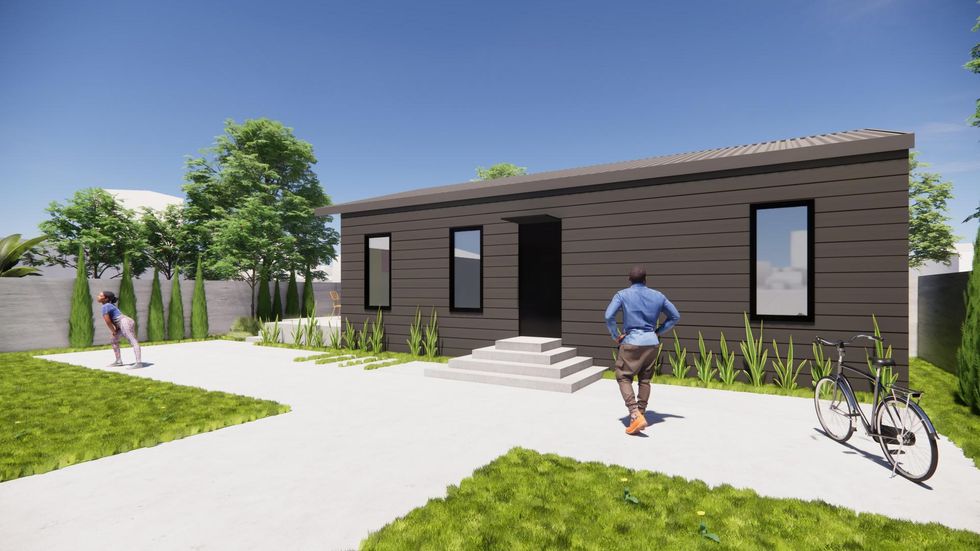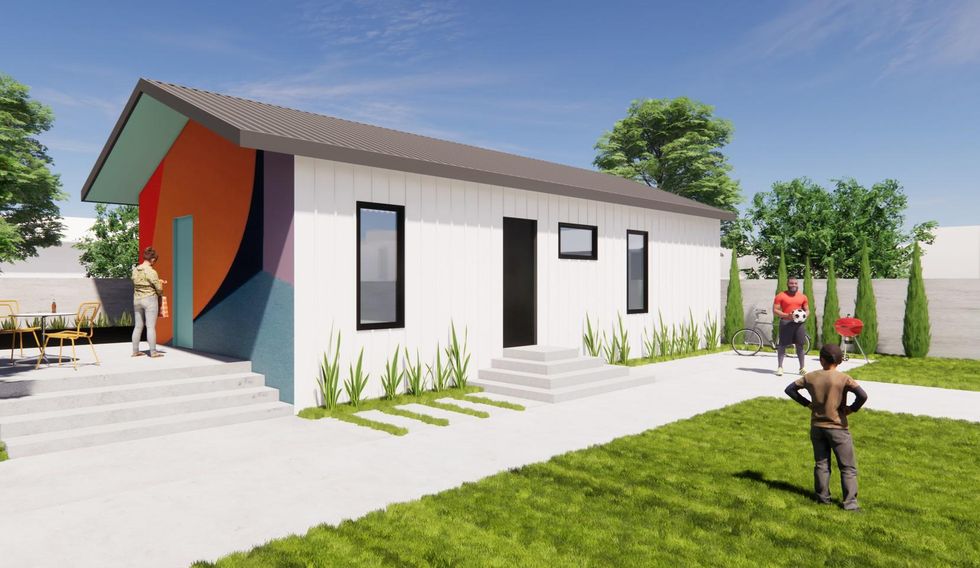 Firms that want to participate in the program can learn more here . Angelenos interested in building a standard ADU plan can learn more the approved projects here.
Sarah Favot
Favot is an award-winning journalist and adjunct instructor at USC's Annenberg School for Communication and Journalism. She previously was an investigative and data reporter at national education news site The 74 and local news site LA School Report. She's also worked at the Los Angeles Daily News. She was a Livingston Award finalist in 2011 and holds a Master's degree in journalism from Boston University and BA from the University of Windsor in Ontario, Canada.
05:00 AM | October 17, 2022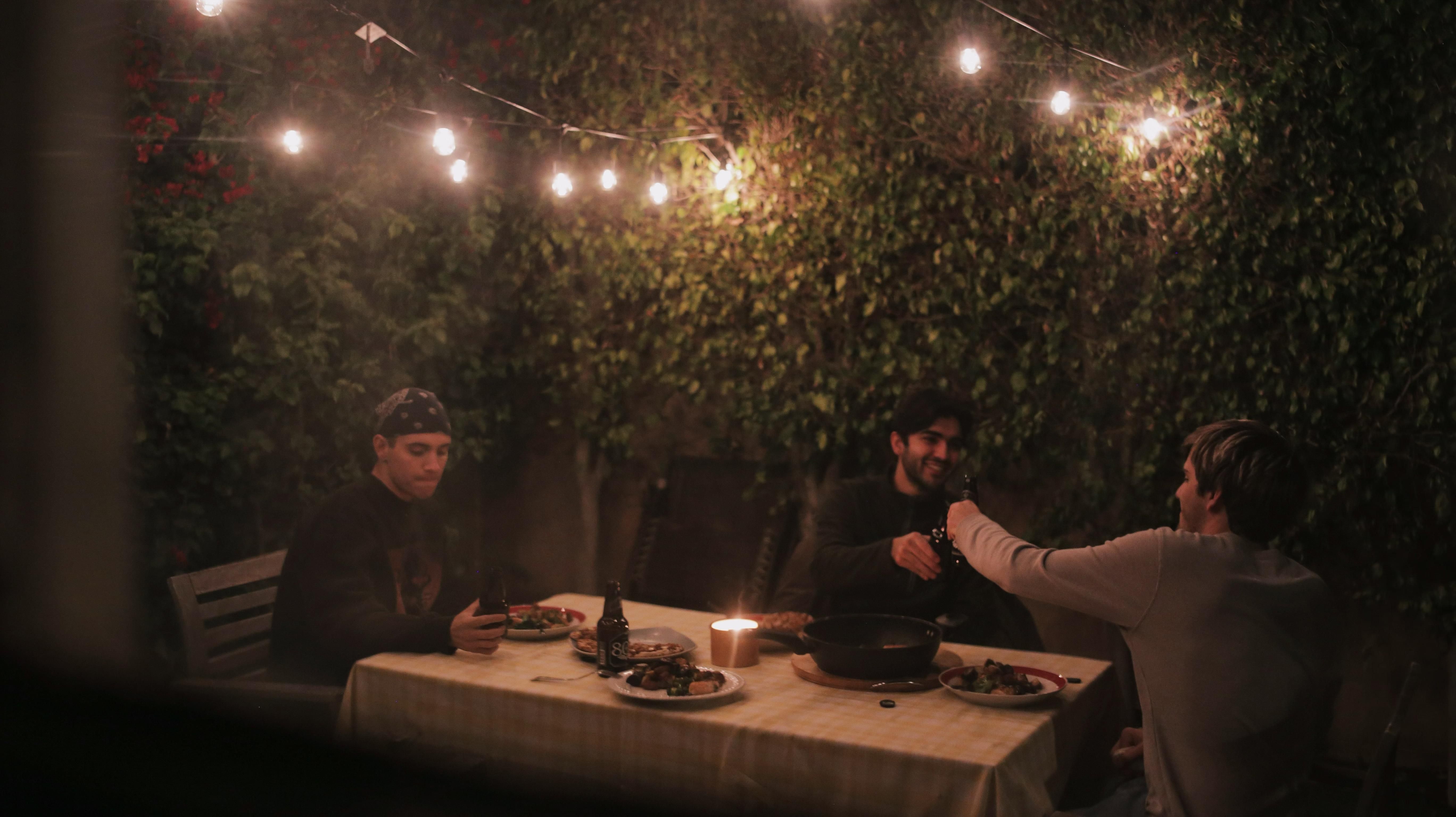 image by 222
Midway through dinner at a West Hollywood restaurant, Arman Roshannai, the 21-year old CTO of 222 brings up 19th century French polymath Pierre-Simon Laplace's demon. Or, rather, the Frenchman's theory of destiny. As Roshannai explains, LaPlace thought that if someone (the demon) knows the precise location and momentum of every atom in the universe, their past and future values for any given time can be calculated from the laws of mechanics. Freewill, Laplace would say, is an illusion.
How did we get to Laplace? Roshannai made a joke about 222 being his demon after I suggested he's Dr. Frankenstein.
"Don't mention that in the article," Roshannai says. He's mostly joking.
But how could I not? 222 is a demon caste from human brain mimicry. But unlike the other demons — consumer predictability, metaverse, surveillance — 222 is offering salvation.
The idea for 222 began with a simple theory: "Meeting people through chance encounters, being at a bar, seeing someone wearing a shirt of a band you like and striking up a conversation just felt much better than getting a follow request on Instagram," says Danial Hashemi, the 21-year-old COO.
To test it, Roshannai and Hashemi began to host events at Keyan Kazemian's house—the 23-year-old CEO of 222.
"We would beg our friends who didn't know each other to come to Keyan's backyard where he lives in Orange County," says Hashemi. "We cooked pasta and served wine." They also had their friends fill out a personality survey that they then used to determine who should sit at which table at subsequent dinners.
People kept coming back. Some people became best friends. Others started dating. And what began as a college research project bloomed into an AI company. "No swiping, no profiles, no dms, just say yes and find the people and places that best match your personality," says Hashemi.
Sound cool? The table next to ours thinks so. They're one of a smattering of four-to-eight person cliques at the West Hollywood restaurant who have been synthesized to have a good time. And by the looks on their faces, bright-eyed and full of expression, 222 is working.
To sign up, you have to be between 18 and 27. For now, 222, is targeting Gen Z. The app, I'm told, is coming soon but until then you enter your phone number on 222's website before being directed to 30-some odd questions that include:
"Would you rather watch an arthouse or mainstream blockbuster?"
"Would you rather go clubbing or have a daytime picnic?"
"Would you rather listen to Tchaikovsky or Megan Thee Stallion?"
Potential members also have to rate how strongly they agree or disagree with statements like:
"I would go to space if there's a chance I wouldn't come back."
"Humans should make an active effort to curb the emission of greenhouse gasses."
"Humans are born with an innate purpose."
The survey also includes a self-assessment of your drug habits and at one point you have to rate your own attractiveness on a scale between one and 10. The goal is to provide the AI with enough data points for it to determine which of the 16 categories your personality falls into.
"Once you get your personality type, you wait until we have an experience," Hashemi says.
For now, 222 experiences are held every other week. Members who are selected by the AI engine to attend the dinner portion of the evening pay $2.22. Those who aren't selected for the dinner portion of the experience can still, if they choose, attend the post-dinner venue.
The way the AI determines compatibility is a bit of a mystery.
"The AI picks up on these social trends itself," says Roshannai. "It may notice that similarity is a great indicator of compatibility, or find other underlying patterns that we didn't even know existed."
Based on feedback from real-life interactions, he continues, "we certainly can and will do some tinkering with what we feed the model." But ultimately, the model itself will start learning what prompts have weight and which questions are best used to predict meaningful connections.
According to Kazemian, "Do you think comedy is becoming too politically correct?" Has been particularly successful in determining compatibility. Political leanings less so.
Back at the restaurant, Kazemian pulls out his laptop, scans the room like a spy, taps a few keys on the keyboard and runs a script. The program sends participating 222 members a text message with info for the post-dining venue.
Tonight, the venue is a rooftop lounge within walking distance of the restaurant and with a 180-degree view overlooking the city. Hashemi confirms there's a section designated for 222 members. While we're standing around the tables, Kazemian's girlfriend dares Roshannai to go talk to a girl. He does. Pays her a compliment on her dress "and it worked," Roshannai exclaims. The look on his face is a familiar one, it's the look of excitement spawning from serendipity. It may seem like typical human behavior but increasingly, it's not.
Every trend report suggests young people just don't care about being in the physical world anymore. Tech companies are obsessed with trying to create increasingly immersive online spaces to hang out in. The average young person spends half their waking life staring into a screen. The office is dead. Third spaces are increasingly scarce. The loneliest generation in the history of the world keeps getting lonelier.
"Have you read Robert Putnam's book "Bowling Alone?" Hashemi asks me. "One of the slides on our pitch deck literally says we're anti-Metaverse."
Not long after our arrival, the trio begins to notice familiar faces from the restaurant pour in. Hashemi says that as their member base has grown steadily at a rate of 30% per month since 222's inception, it's increasingly difficult to differentiate who's been sent by 222 and who hasn't. Based on the RSVPs, of the nearly 40 people who attended the dinner portion of the evening, only four or five replied that they wouldn't attend the post-dinner venue. Which is to say, 222's success rate, at least for this evening is roughly 90%.
The use cases for this technology, Kazemian says, are myriad: choosing seats on airplanes, selecting roommates, providing venues with information about their patrons' likes/dislikes to best curate an unforgettable evening. But the goal, the same one that inspired those backyard dinners, remains the same: Veer people back towards the physical world. Incite meaningful connections IRL. Use the demon to fight the demons.

Andrew Fiouzi
Andrew Fiouzi is an editor at dot.LA. He was previously a features writer at MEL Magazine where he covered masculinity, tech and true crime. His work has been featured in the Los Angeles Times, Long Reads and Vice, among other publications.
10:20 AM | November 22, 2022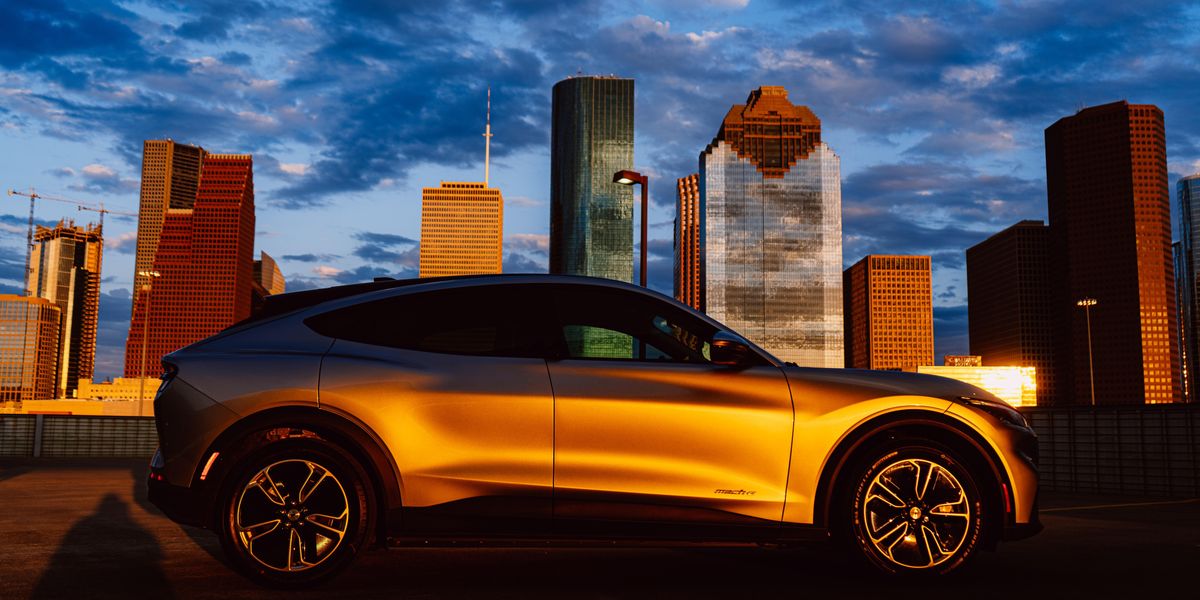 How We Calculated Cost
It is difficult to pinpoint one figure that will apply to every EV driver. Even within a single state, there's variables – such as mileage driven, the type of vehicle and battery, plus the type of charger as well as if the car owner is opting to fuel up at a public station versus installing a personal home charging point.
But the general formula for calculating how much charging an electric car will cost is pretty simple: divide your car's maximum range by its range per kWh, then multiply it by the average cost of electricity per kWh.
That figure, range per kWh, is an estimate that can vary greatly depending on vehicle and also driving factors. More intense driving, say, uphill in the wind, would lower your overall range per kWh since the car needs more power.
Regardless of driving conditions, though, you're always likely to pay more to charge an EV in California than other parts of the country.
California's average electricity cost in August was about 27 cents per kilowatt hour (kWh). Compared to the national average price of around 16 cents per kWh, that's quite high. In part because California's "fixed" costs of operating its electric system are used to offset public programs including wildlife mitigation.
Based on data from the Department of Tax and Fee Administration and Energy Commission, as well as the U.S. Energy Information Administration we also calculated the average California driver spends around $230 on gas monthly, or around $2,760 per year.
How Much Does It Cost To Charge a Tesla?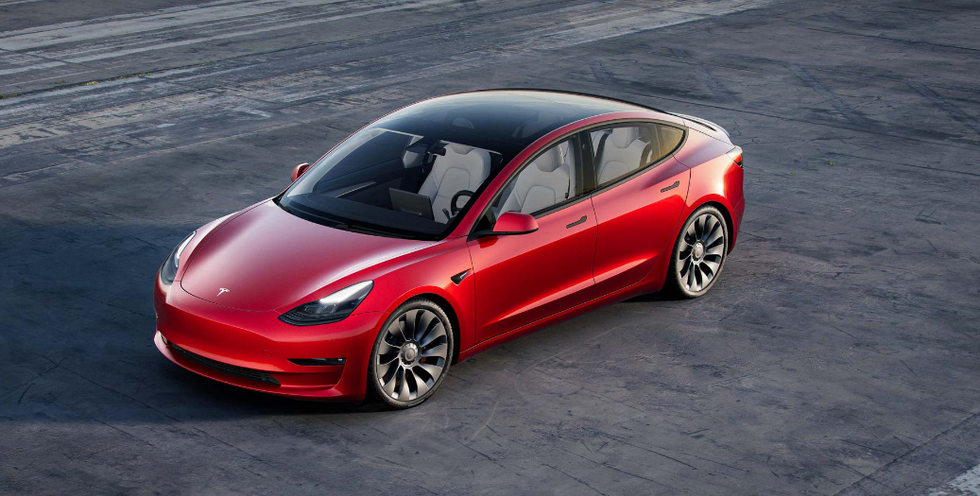 Tesla Model 3.
Photo courtesy of Tesla
So, say you drive a Tesla Model 3, one of the most popular Tesla cars.
Tesla says the standard 2022 Model 3's long-range battery has a top range of 350 miles per full charge, and while it doesn't report range per kWh, auto analysts at Edmunds estimate it to be around 25 kWh/100 miles or 2.5 miles. All told, it should cost about $29.36 to fully fuel a Model 3 in California – but bear in mind that you can only use Tesla's network of proprietary Superchargers unless you have an adapter.
Or, as the U.S. Department of Energy (DOE) estimated, charging a Tesla Model 3 costs about $550 per year.
Tesla's 2022 Model S sports car, on the other hand, requires more charging for higher performance. It costs $39.05 per charge, or around $1 per 25 miles.
Teslas are more expensive to charge than most of their counterparts in part because of their Supercharger network – which most drivers will find a worthy trade-off, given that they're fast, and can charge an EV from 0% to 80% in about 30 minutes.
How Much Does It Cost to Charge a Rivian?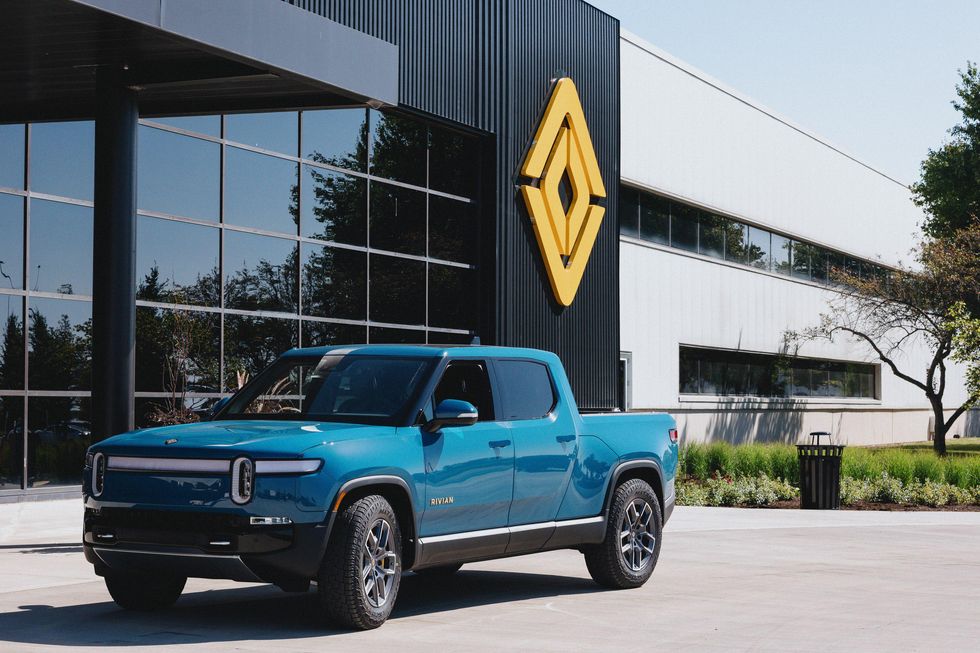 An R1T in Rivian Blue at the main entrance to the plant in Normal, IL.
Courtesy of Rivian
If you're one of the few driving a 2022 Rivian R1T electric truck, it'll cost around $17.66 per charge. Rivian's battery models have varying range, but on the high end, contain 400 miles on a full charge. The DOE estimates that driving 25 miles in a 2022 R1T will cost about $1.68 or about $1,000 annually.
Rivian's other model, the R1S, is almost identical in price (it costs about 20 cents less than the R1T, by our estimates).
How Much Does It Cost to Charge a Nissan Leaf?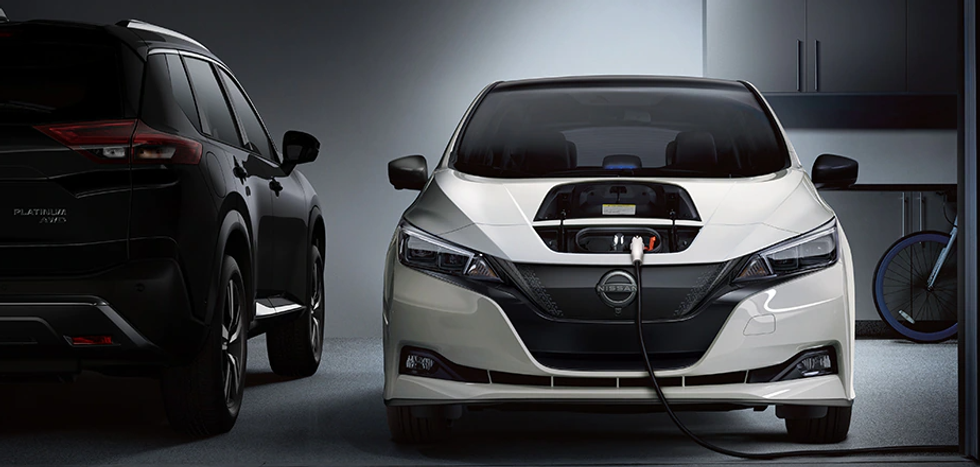 2023 Nissan Leaf charging.
Photo courtesy of Nissan
A 2022 Nissan Leaf's base model comes with a 40 kWh battery pack. The DOE estimates this version of Nissan's affordable commuter car has a maximum range of 149 miles, and gets about 3 miles per kWh, pretty much on par with the overall average for electric vehicles.
Using this information, we can estimate that the Nissan Leaf will cost around $13.41 to charge once. The DOE calculates that a 2022 Leaf's annual fuel cost will total $650.
How Much Does It Cost to Charge a Ford F-150 Lightning EV?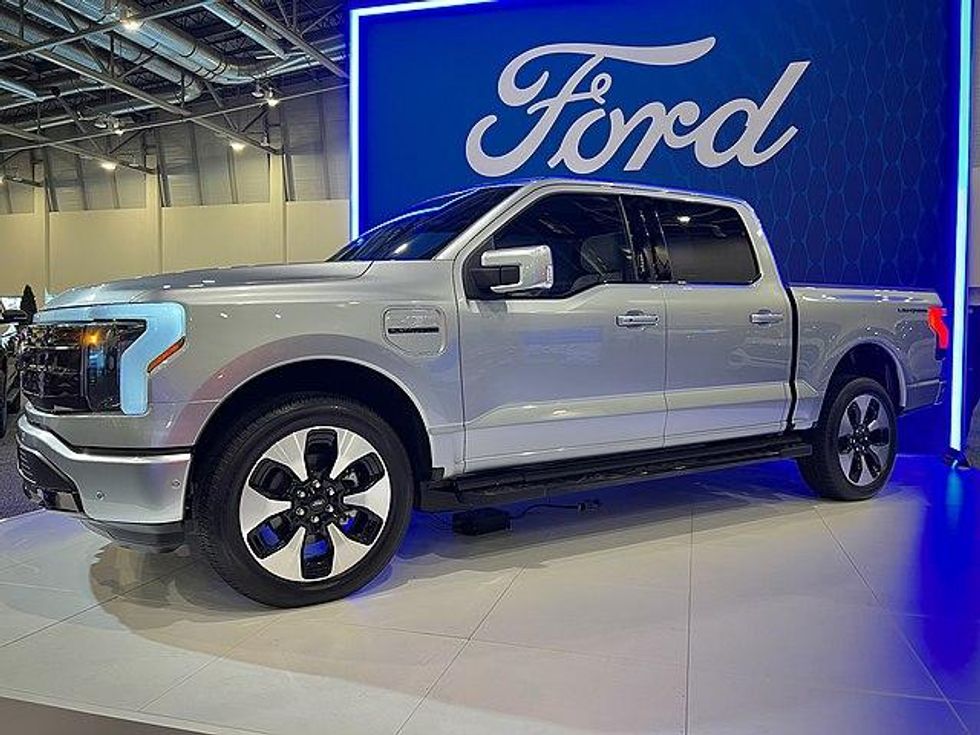 2023 Ford F-150 Lightning
Photo courtesy of Wikimedia Commons
Ford's much-hyped electric F-150 all-wheel drive truck debuted last May to much fanfare, including a test drive from President Joe Biden.
The F-150 Lightning has a max range of 230 miles, and on average a higher fuel cost than competing electric trucks like Rivians. On average, it'll cost roughly $12.67 for one charge, though the DOE estimates this will amount to around $1,050 annually.
This year Ford also released an electric Mustang, the Mach-E SUV. The standard Mach-E has a top range of 247 miles on a full charge, and gets about 3 miles per kWh. One full charge of the Mach-E will cost around $22.23, and
the DOE surmises
that'll add up to a yearly charging expense of roughly $700.
Samson Amore
Samson Amore is a reporter for dot.LA. He holds a degree in journalism from Emerson College. Send tips or pitches to samsonamore@dot.la and find him on Twitter @Samsonamore.
https://twitter.com/samsonamore
samsonamore@dot.la