Tarte's Sponsored Dubai Influencer Trip Leaves Fans Sour
Kristin Snyder
Kristin Snyder is dot.LA's 2022/23 Editorial Fellow. She previously interned with Tiger Oak Media and led the arts section for UCLA's Daily Bruin.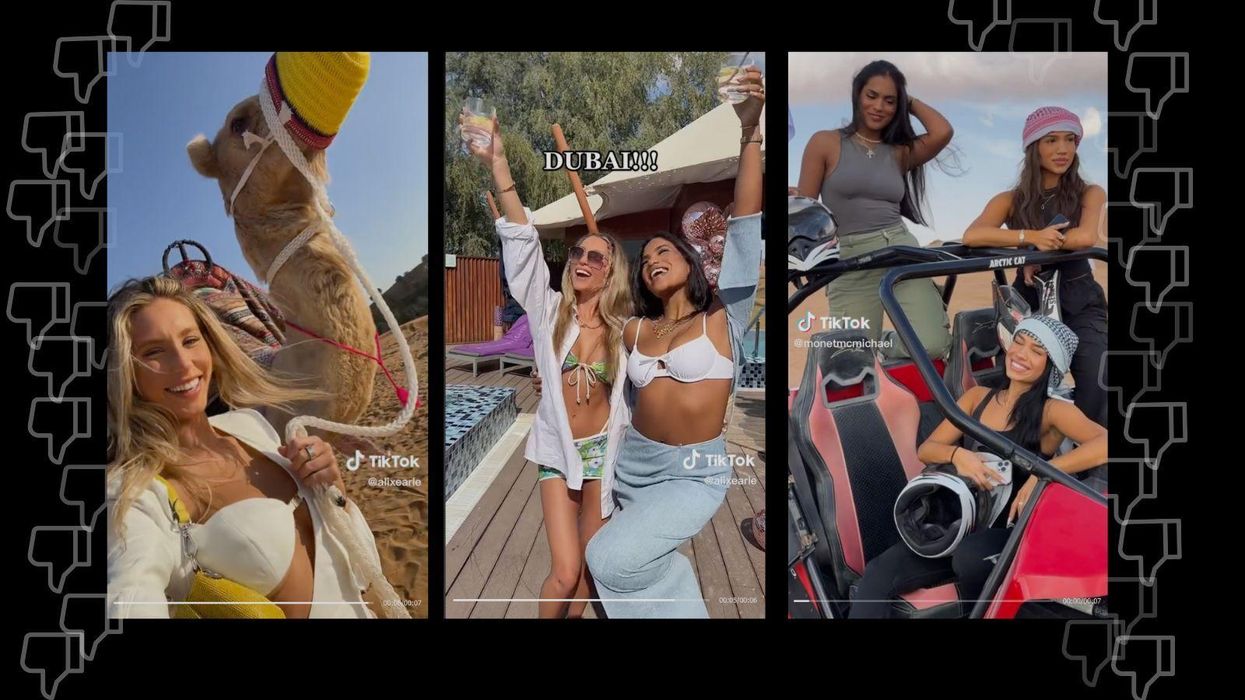 This is the web version of dot.LA's daily newsletter. Sign up to get the latest news on Southern California's tech, startup and venture capital scene.
Last week, TikTok influencer Alix Earle shared clips of extravagant parties, camel rides and jeep adventures from her vacation to Dubai.
The trip, which was sponsored by Tarte, a New York-based makeup brand that flew 29 influencers to the United Arab Emirates, paid for their hotel rooms as well as their excursions, is a way for brands to curry favor with their influencers. The idea is that when an influencer goes to film their next Tarte review, they might think back to the extravagant trip and provide a glowing recommendation. After all, knowing that a Tarte foundation can hold up in the Dubai climate probably doesn't translate to a North American audience.
---
In 2021, retail company Revolve sent influencers to Iceland to promote a new fragrance. And in 2018, Benefit Cosmetics funded luxury hotel stays in the Maldives for influencers to launch a new mascara. For its part, since 2015, Tarte has sponsored over 20 "influencer trips," including a stay in Bora Bora, in exchange for promotional content.
But in light of layoffs, an economic downturn, and increased grocery prices, this latest "influencer trip" appears to have backfired. Responses to Earle's videos from the trip suggest people are having a tougher time connecting with influencers flying business class, drinking champagne on a plane and dancing poolside in a foreign city.
One TikTok user said "this is just so unrelatable" and labeled it "tone deaf" during the current economic climate. Another said the lack of authenticity turns people off from influencer trips. People invested in the drama kept pointing to the price of the trip during a time when many people are struggling to buy groceries.
A major facet of influencer marketing has always been maintaining a "relatable" persona that can be used to sell people products. Take YouTuber Emma Chamberlain who rose to fame for her casual videos. From baking in her small kitchen to shopping at Target, Chamberlain showed her viewers that she was just like them. Her Instagram is littered with cheap food wrappers and low-quality selfies. Even her travel vlogs dedicate more time to typical tourist traps instead of the expensive hotel room she's staying in.
And for good reason. Just look at what's happening to the Tarte influencers. A Reddit page specifically dedicated to snarking on Earle is predicting that her fame will die down because of the scandal. Beauty TikTok has been consumed by debates over whether any of these creators should have accepted the trip in the first place. And many critics are wondering how they can trust these creators' future reviews of Tarte products.
From the brand side of things, Tarte has defended these trips as part of its strategy to prioritize influencers in their marketing campaigns. This trip certainly fits that bill. But whether extravagant vacations are still the best way to utilize influencers' reach, remains to be seen. A poll on a Reddit page indicates that instead of garnering good will, these trips lead more people to not only judge the influencers but also lose favor with the brands themselves.
But, there is another way to look at this and it's tied to the oldest adage in public relations— "there's no such thing as bad publicity." People are talking about Tarte again. Which hasn't happened much since its Shape Tape Concealer went viral in 2021. -Kristin Snyder
Kristin Snyder
Kristin Snyder is dot.LA's 2022/23 Editorial Fellow. She previously interned with Tiger Oak Media and led the arts section for UCLA's Daily Bruin.
https://twitter.com/ksnyder_db