Photo by Jonas Zürcher on Unsplash
In this digital landscape where live streaming giant Spotify estimates over 60,000 song uploads per day, independent and rising artists are struggling to keep up.
According to the Influencer Marketing Hub, 52% of creators spent up to 39 hours per month dedicated to their social content. And as of March 2022, there are more than 30,000 YouTubers with over a million subscribers, which makes for steep competition.
Here's a look at three local music tech companies that are helping creators get discovered and monetize their content faster and easier.
Tuney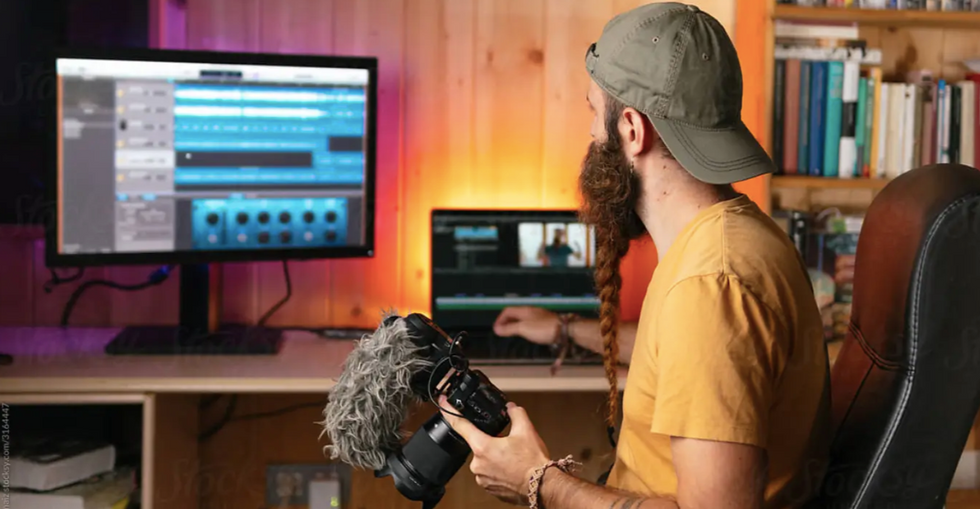 Creator using the Tuney platform to create content. Photo courtesy of Tuney.
In 2019, classically trained percussionist Antony Demekhin noticed how much content is being posted by creators and realized that creators are spending too much time searching for the perfect 10 to 15 second intro for their videos.
So Demekhin teamed up with Grammy and Emmy nominated film composer Filip Mitrovic and data scientist Maciej Kurek to create Tuney, an AI-enabled creator tool and music catalog.
Tuney's engine takes loops and samples of music from musicians and generates soundtracks for videos (of any length) using that material.
Creators have two options. The first is to drop their video into Tuney's platform and the technology will generate the soundtrack for the video in under 30 seconds. The second allows creators to select a popular song which Tuney will match with a version of its own by extracting the genre, mood and tempo.
According to Demekhin, Tuney will make it faster and easier for creators to add music to their videos without endless searching to find the best soundtrack that fits their content.
The Los Angeles-based startup runs on a monthly subscription service and charges creators $10 to use the platform for their YouTube channels. For creators using the music for paid advertising the cost is $20 per month.
So far, Tuney is mostly being used by YouTubers who monetize their channels and are required to use royalty free music. Aside from creators, Demekhin says that Tuney has also worked with Meta, Victoria's Secret, Vice and Apple to help create their social and digital video.
Gigmor
Gigmor allows musicians tocreate a profile that includes their music, upcoming shows and links to other social media accounts.Image courtesy of Gigmor
Live music booking marketplace Gigmor allows musicians and artists to connect with their fans, while also offering venues a platform to find and pay new talent.
Co-founder David Baird has played in bands all throughout his life and one of the biggest problems he encountered as a musician was finding gigs.
With Gigmor, artists can create a profile that includes their music, upcoming shows and links to other social media accounts. Every artists' profile will have a book now button that will allow venues or anyone looking for talent to send the musician a booking offer.
Like Tuney, Gigmor runs on a subscription service that costs $9.99 a month. The Beverly Hills startup has a network of 75,000 artists and over 3,000 venues across the United States and Canada.
Currently, Gigmor is only available on a web browser, but Baird says the company will launch an app in the next three weeks. The app will offer new features that aren't available on the website including new ways to monetize the artists' fan bases through ticket sales, tips, subscriptions, merch sales and NFTs.
Trubify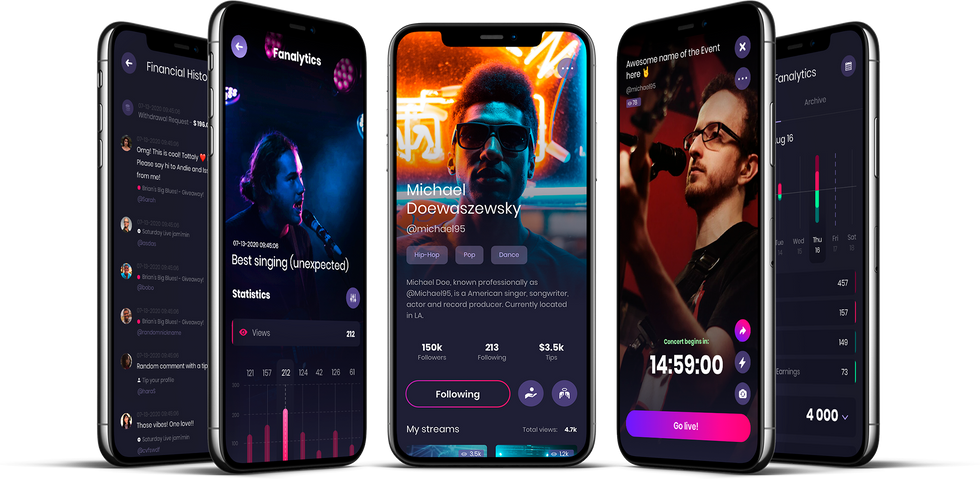 A look into how the Trubify app works. Photo courtesy of Trubify
Lifelong musician Stephen Tyszka built Trubify, a social media and music technology platform designed to help artists get discovered and monetize their music.
The Newport beach-based startup is still in beta, but has already amassed over 85,000 users and 1,400 artists on the platform.
Musicians on the app have the ability to upload an unlimited amount of content, including live streams. Tyszka says Trubify allows fans to purchase tokens (with a monetary value) in the app and gift them to their favorite artists.
Trubify will also include a new duet feature similar to the one on TikTok but geared towards musicians.
Unlike TikTok's duet feature, Trubify's in-app collaboration feature will be built on a timecode with tempos, and Tyszka says this will allow "an artist to set the tempo with a tap and everyone will be in sync."
The new feature will also allow for co-monetization opportunities for both participating parties. For instance, Tyszka says that celebrity drummer JR Robinson is building 100 drum loops on Trubify that younger artists can collaborate with, which have a higher chance of going viral.
The app is free to download and available for iOS, Android, tablets, iPad and any computer or desktop. Currently, Trubify only takes 20% of the artist's earnings, while other platforms like Spotify take 30%.
One can hope then that with these tools, musicians and creators are better equipped to keep up with the content cycle and increase their income.