Courtesy of Theron Trowbridge
An unassuming group of 'hackers and makers' out of Culver City have been working under the radar for months out of a cavernous church-turned-distribution center to churn out hard-to-get personal protective equipment (PPE).
For more than a decade, the nonprofit Collaborative Research Association of Social Hacktivity, or CRASH Space, has served as a clubhouse of sorts for interactive artists, hackers, engineers, fabricators, software developers — or as they informally often go by, nerds. But during the pandemic, the nonprofit group dedicated to innovation has been a lifeline.
The collective has been filling gaps in global supply chains — especially during the pandemic's early days — providing 25,000 total masks, ear savers and face shields to major hospitals and nursing homes across the U.S., and to vulnerable communities like the poorly-served Navajo Nation and Standing Rock Sioux Tribe.
Since March, the group has donated to more than a dozen hospitals, community groups and organizations, including the Culver City Unified School District's Parent-Teacher Assn. as its staff geared up for the new school year. At many times over the past few months, CRASH members sacrificed sleep and worked around the clock to fulfill immediate needs.
"Anything that we can do to help do something is better than (doing) nothing," said Kevin Jordan, as two 3-D printers hummed behind him. Jordan, who heads up production for CRASH's response, has wrangled logistics, such as doling out donated printers and dealing with printing and designs.
It's not the first time the group — founded by a motley crew of technologists, artists and engineers in 2009 — quickly mobilized to respond to a major natural disaster. After the Fukushima nuclear reactor meltdown in Japan in 2011, CRASH members put together radiation monitoring equipment and the infrastructure to capture and map out data. And when protests broke out after George Floyd's death, CRASH members quickly workshopped and donated body camera clips and 500 face shields to Black Lives Matter street medics, not only to protect them from the novel virus but also to help protect protesters' eyes from rubber bullets and mace.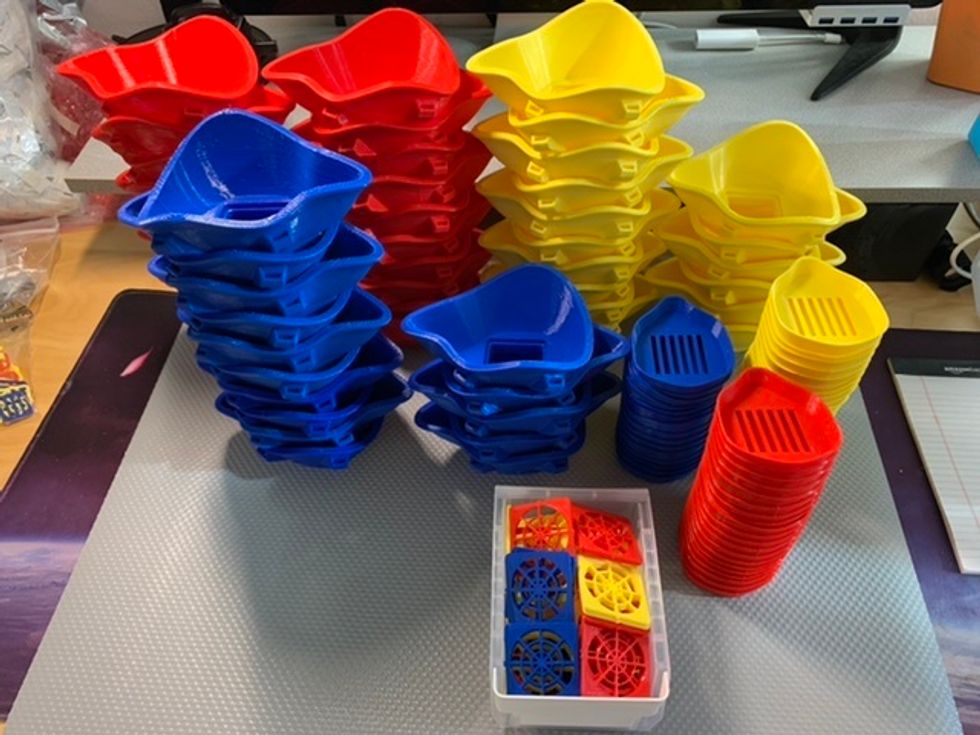 Courtesy of Cameron Nicks
Harnessing Brilliant Minds
In the weeks after the virus hit the U.S., the nonprofit's mailing list of 1,500 was flooded hourly with emailed messages suggesting design ideas for ventilators and masks.
"We basically had a giant community of brilliant people all stuck at home, wishing they could do something," said Ben Sax, the group's organizer for its COVID-19 response. Frustrated with the early talk and no action, he seized the wheel.
Sax culled resources from dozens of CRASH Space members, many of whom had 3-D printers at home, to create a "giant distributed manufacturing machine." He helped organize a small army of volunteers skilled in using tools such as a CNC mill or sewing machine, and built up a virtual production, design, response and logistics team that communicated via Slack.
The group worked with representatives at USC's Keck and Cedars-Sinai hospitals. They ultimately decided to use the same PPE designs as CRASH, Sax said.
Within five days of that first effort to mobilize, the group delivered 25 masks to the University of Southern California's Keck School of Medicine in a giant garbage bag. The consumer electronic retailer Monoprice donated 15 3-D printers, which retail for about $400 each. A local YMCA loaned a printer to the group. And teachers at school districts joined the effort, using school 3-D printers to print out the protective equipment.
"We had this short period of time where the demand on certain supplies both in our own organization and everywhere around the world went up, and it just was hard to get them through traditional channels," said Anne Wellington, managing director of the Cedars-Sinai accelerator. Wellington was tasked with finding innovative solutions to COVID-19's supply chain challenges. "Having a local organization that could help us get through a few weeks of working through some delays in the supply chain was incredibly helpful."
CRASH delivered 1,500 orange, pink and other colorful face shields to Cedars-Sinai, along with 2,236 so-called ear savers, a piece of plastic that prevents the mask's elastic band from digging into hospital staff's ears. The colorful visors have been a morale booster and a hit among weary hospital staff, Sax said.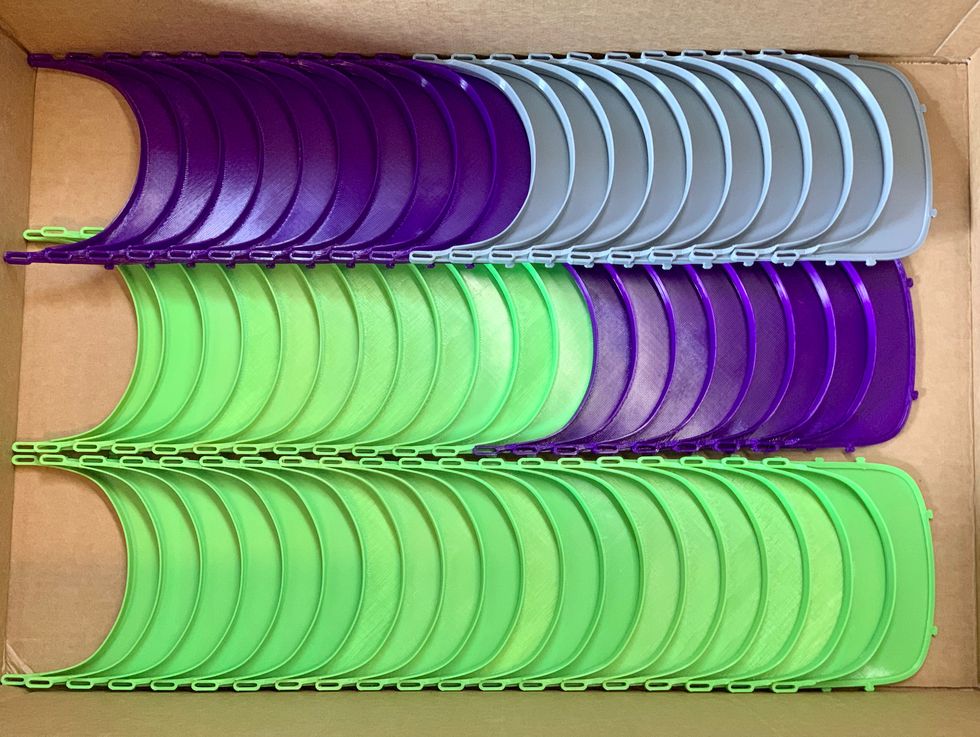 Courtesy of Cameron Nicks
A Space to Make and Break Things
CRASH has been the birthplace of many startups and partnerships, it has also frequently been stomping grounds for small business and startup recruitment. Openpath Security Inc., a Culver City-based electronics security system company that recently raised $36 million, often finds talent there. One of its co-founders has been a longtime member.
The nonprofit, CRASH Space, was inspired by European hackerspaces that serve as meeting places for like-minded creatives. Roughly 75 members pay a monthly fee to access the space, use the tools — donated by members — and to make and break things in the pursuit of innovation.
"L.A.'s got such a crazy community here of technical people who also have an artistic side, and I think that was the kind of energy tapped when CRASH Space was founded," said Sax, who officially became a member nearly six years ago, in part, to work on a startup of his own.
"It changed my life, becoming a CRASH Space member. It's about the community more than anything. If you have a crazy idea, people say, 'let me help you' as opposed to shutdown culture."
The 1,200-square-foot hacker and maker space known as CRASH Space normally sits on Venice Boulevard in West Los Angeles in a stone-exterior building that was a former dental office. But the pandemic forced the workshop to go mostly dark.
Over the last few months, CRASH Space has operated out of a cavernous 5,400 square-foot fellowship hall provided for free by Covenant Presbyterian Church of Westchester.
"Our church didn't even hesitate, they said, 'absolutely'," said the church's pastor Sue Fisher, who lent a hand making face shields. "It's just a miracle, how people use their gifts and skills to help."
The large hall allowed enough room for volunteers to safely assemble and pack up boxes of supplies to ship out. There's a Keck official, Cedars-Sinai PhD candidate and local high schoolers who are part of FIRST Robotics, an international youth organization who all chipped in the overall effort. On a recent Wednesday, a stack of nine large boxes sat by the door, ready to drop off at the L.A. Emergency Operations Center.
Shannon Kalsow, a PhD candidate at Cedars-Sinai, was surprised by CRASH's collaborative and welcoming community.
"As a woman in science it's particularly difficult for people to take you seriously," said Kaslow who became an official CRASH member during the pandemic.
Darryl H. Hwang, director of the 4D Quantitative Imaging Lab at Keck was instrumental in providing insights to the CRASH crew on 3-D printing needs. He's now considered as an honorary member of CRASH Space.
"This entire group of people are essentially just volunteering their time, and that's amazing, they're volunteering their time and spending their own resources, to produce things for strangers," Hwang said.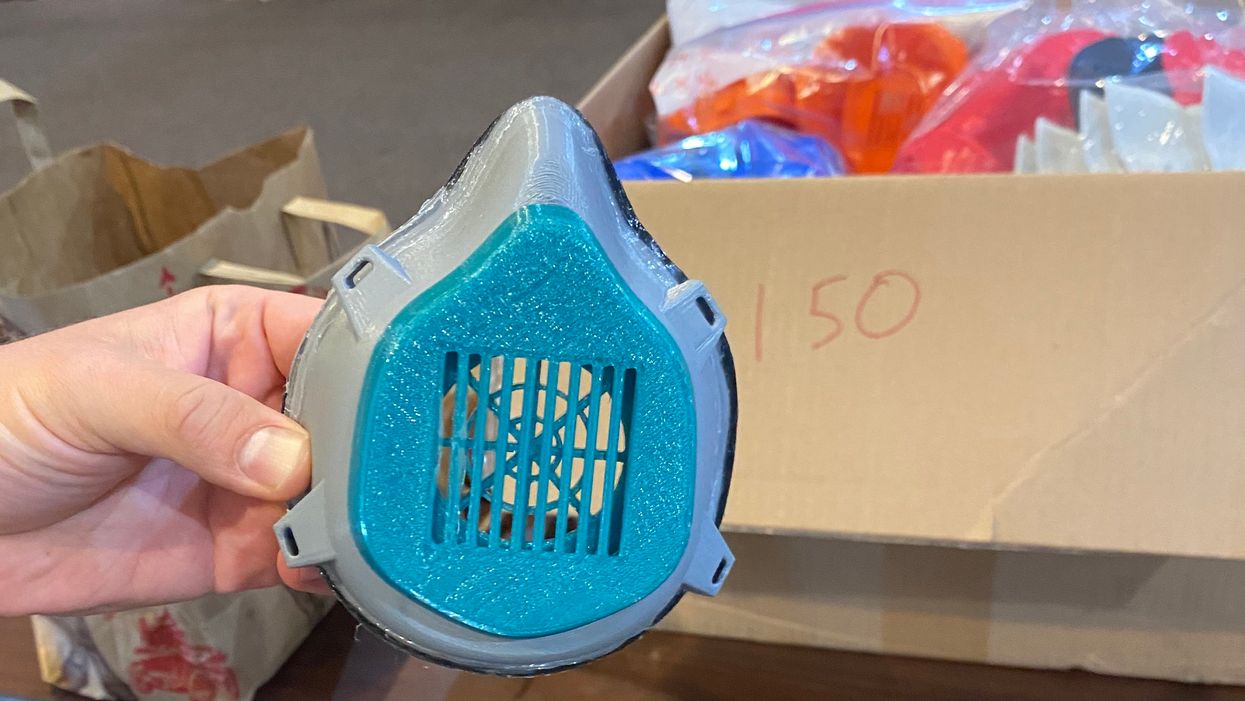 Photo by Tami Abdollah
A Grassroots Effort
CRASH has connected with a volunteer printing network across the U.S. and in Southern California. The network includes a California Institute of Technology and ArtCenter College of Design initiative called Shield Makers group and Matterhackers, a 3-D printer filament company based in Orange County. Its volunteers have offered 3-D printing training to novice printers at USC.
The nonprofit also worked closely with Pasadena-based Sunweaver Creative, which helps put on live events such as masquerades for the entertainment industry during non-pandemic times.
"I went into this thing thinking, 'Me and my Hollywood friends can build dragons on roofs that disappear in 48 hours, why can't we have filtration materials?'," said Shawn Chapman, the company's creative director and CTO.
Chapman realized Sunweaver's costume department could fulfill a need for elastic that's been in short supply. But the process wasn't so simple. He, like others, found that producing supplies for the medical community meant dealing with bureaucratic issues, regulatory hurdles and internal politics.
Others in CRASH have played to their strengths to bolster effort.
A former Walt Disney Imagineer who brought the internet to Disney Corp., Steve Goldstein is a native Angeleno who remembers L.A. as a manufacturing town. Today Goldstein, who calls himself "the original Los Angeles maker," serves as the CRASH Space facilities manager. He's donated many of the machining tools to their Culver City space.
Goldstein once boasted the world record for the largest Tesla coil and found local Plutonium on a dare, so was the perfect person to source materials for the group during a supply-chain stretching pandemic.
"I'm the procurer of hard to find things," said Goldstein, adding that early on hundreds of various groups were looking for the same three to four materials to make PPE. "If it exists, I can find it. I know all the obscure manufacturers that make this or that part or can supply this material."
Makers, hackers, and engineers around the world talk about their experiences making PPE for healthcare workers during a massive global supply chain shortage caused by the COVID-19 pandemic.
As the pandemic has continued and immediate needs for PPE have subsided, CRASH Space has absorbed requests that were never fulfilled from across the country, for example, sending PPE to Howard University Hospital in Washington, D.C. and assisting with PPE efforts in New York and Connecticut.

"I have a feeling there will be demand off and on for a while," Sax said, "but hopefully we'll never be back to the urgency and need that we saw those first couple of months when everything about the supply chain was broken."
___
Do you have a story that needs to be told? My DMs are open on Twitter @latams. You can also email me at tami(at)dot.la, or ask for my contact on Signal, for more secure and private communications.