innovation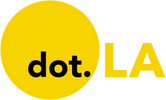 Get in the KNOW
on LA Startups & Tech
X
innovation
Courtesy of Theron Trowbridge
An unassuming group of 'hackers and makers' out of Culver City have been working under the radar for months out of a cavernous church-turned-distribution center to churn out hard-to-get personal protective equipment (PPE).
For more than a decade, the nonprofit Collaborative Research Association of Social Hacktivity, or CRASH Space, has served as a clubhouse of sorts for interactive artists, hackers, engineers, fabricators, software developers — or as they informally often go by, nerds. But during the pandemic, the nonprofit group dedicated to innovation has been a lifeline.
The collective has been filling gaps in global supply chains — especially during the pandemic's early days — providing 25,000 total masks, ear savers and face shields to major hospitals and nursing homes across the U.S., and to vulnerable communities like the poorly-served Navajo Nation and Standing Rock Sioux Tribe.
Since March, the group has donated to more than a dozen hospitals, community groups and organizations, including the Culver City Unified School District's Parent-Teacher Assn. as its staff geared up for the new school year. At many times over the past few months, CRASH members sacrificed sleep and worked around the clock to fulfill immediate needs.
"Anything that we can do to help do something is better than (doing) nothing," said Kevin Jordan, as two 3-D printers hummed behind him. Jordan, who heads up production for CRASH's response, has wrangled logistics, such as doling out donated printers and dealing with printing and designs.
It's not the first time the group — founded by a motley crew of technologists, artists and engineers in 2009 — quickly mobilized to respond to a major natural disaster. After the Fukushima nuclear reactor meltdown in Japan in 2011, CRASH members put together radiation monitoring equipment and the infrastructure to capture and map out data. And when protests broke out after George Floyd's death, CRASH members quickly workshopped and donated body camera clips and 500 face shields to Black Lives Matter street medics, not only to protect them from the novel virus but also to help protect protesters' eyes from rubber bullets and mace.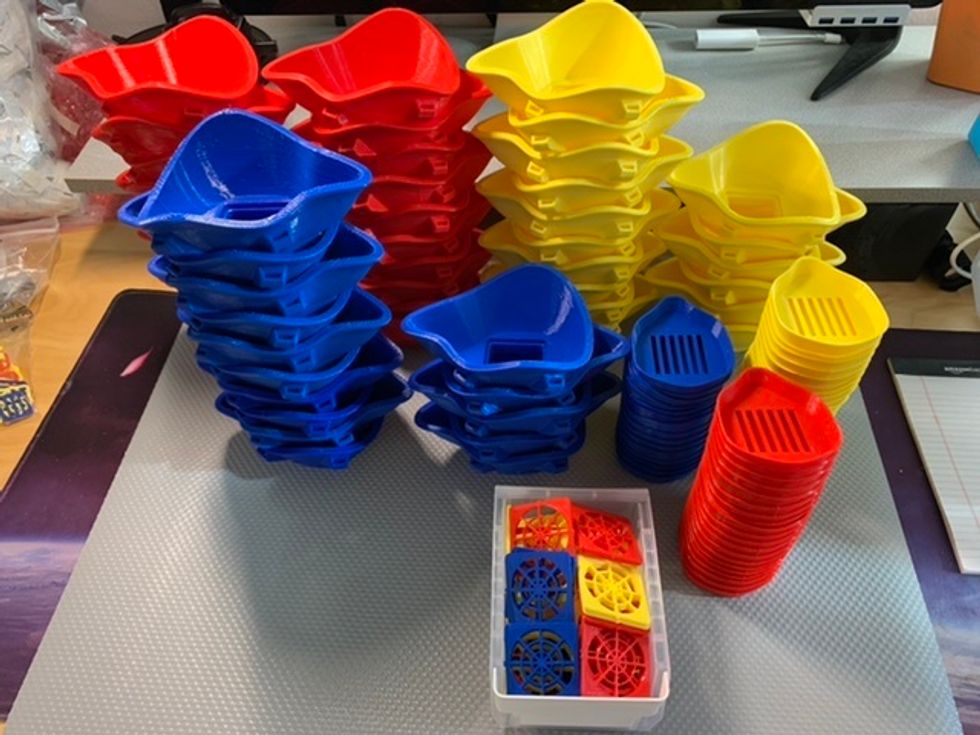 Courtesy of Cameron Nicks
Harnessing Brilliant Minds
In the weeks after the virus hit the U.S., the nonprofit's mailing list of 1,500 was flooded hourly with emailed messages suggesting design ideas for ventilators and masks.
"We basically had a giant community of brilliant people all stuck at home, wishing they could do something," said Ben Sax, the group's organizer for its COVID-19 response. Frustrated with the early talk and no action, he seized the wheel.
Sax culled resources from dozens of CRASH Space members, many of whom had 3-D printers at home, to create a "giant distributed manufacturing machine." He helped organize a small army of volunteers skilled in using tools such as a CNC mill or sewing machine, and built up a virtual production, design, response and logistics team that communicated via Slack.
The group worked with representatives at USC's Keck and Cedars-Sinai hospitals. They ultimately decided to use the same PPE designs as CRASH, Sax said.
Within five days of that first effort to mobilize, the group delivered 25 masks to the University of Southern California's Keck School of Medicine in a giant garbage bag. The consumer electronic retailer Monoprice donated 15 3-D printers, which retail for about $400 each. A local YMCA loaned a printer to the group. And teachers at school districts joined the effort, using school 3-D printers to print out the protective equipment.
"We had this short period of time where the demand on certain supplies both in our own organization and everywhere around the world went up, and it just was hard to get them through traditional channels," said Anne Wellington, managing director of the Cedars-Sinai accelerator. Wellington was tasked with finding innovative solutions to COVID-19's supply chain challenges. "Having a local organization that could help us get through a few weeks of working through some delays in the supply chain was incredibly helpful."
CRASH delivered 1,500 orange, pink and other colorful face shields to Cedars-Sinai, along with 2,236 so-called ear savers, a piece of plastic that prevents the mask's elastic band from digging into hospital staff's ears. The colorful visors have been a morale booster and a hit among weary hospital staff, Sax said.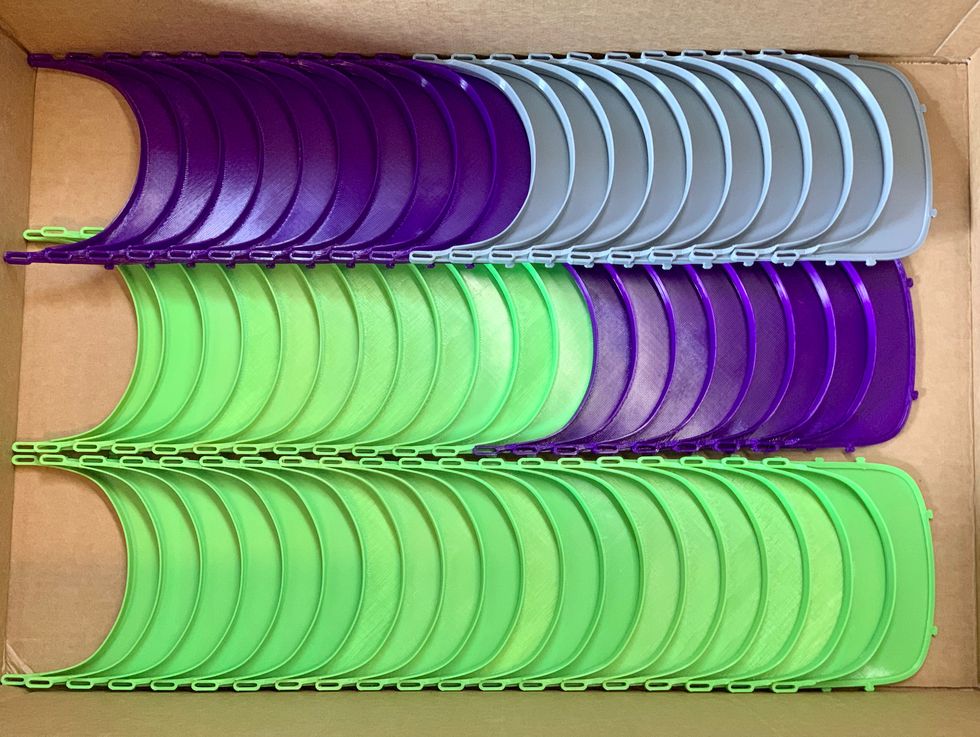 Courtesy of Cameron Nicks
A Space to Make and Break Things
CRASH has been the birthplace of many startups and partnerships, it has also frequently been stomping grounds for small business and startup recruitment. Openpath Security Inc., a Culver City-based electronics security system company that recently raised $36 million, often finds talent there. One of its co-founders has been a longtime member.
The nonprofit, CRASH Space, was inspired by European hackerspaces that serve as meeting places for like-minded creatives. Roughly 75 members pay a monthly fee to access the space, use the tools — donated by members — and to make and break things in the pursuit of innovation.
"L.A.'s got such a crazy community here of technical people who also have an artistic side, and I think that was the kind of energy tapped when CRASH Space was founded," said Sax, who officially became a member nearly six years ago, in part, to work on a startup of his own.
"It changed my life, becoming a CRASH Space member. It's about the community more than anything. If you have a crazy idea, people say, 'let me help you' as opposed to shutdown culture."
The 1,200-square-foot hacker and maker space known as CRASH Space normally sits on Venice Boulevard in West Los Angeles in a stone-exterior building that was a former dental office. But the pandemic forced the workshop to go mostly dark.
Over the last few months, CRASH Space has operated out of a cavernous 5,400 square-foot fellowship hall provided for free by Covenant Presbyterian Church of Westchester.
"Our church didn't even hesitate, they said, 'absolutely'," said the church's pastor Sue Fisher, who lent a hand making face shields. "It's just a miracle, how people use their gifts and skills to help."
The large hall allowed enough room for volunteers to safely assemble and pack up boxes of supplies to ship out. There's a Keck official, Cedars-Sinai PhD candidate and local high schoolers who are part of FIRST Robotics, an international youth organization who all chipped in the overall effort. On a recent Wednesday, a stack of nine large boxes sat by the door, ready to drop off at the L.A. Emergency Operations Center.
Shannon Kalsow, a PhD candidate at Cedars-Sinai, was surprised by CRASH's collaborative and welcoming community.
"As a woman in science it's particularly difficult for people to take you seriously," said Kaslow who became an official CRASH member during the pandemic.
Darryl H. Hwang, director of the 4D Quantitative Imaging Lab at Keck was instrumental in providing insights to the CRASH crew on 3-D printing needs. He's now considered as an honorary member of CRASH Space.
"This entire group of people are essentially just volunteering their time, and that's amazing, they're volunteering their time and spending their own resources, to produce things for strangers," Hwang said.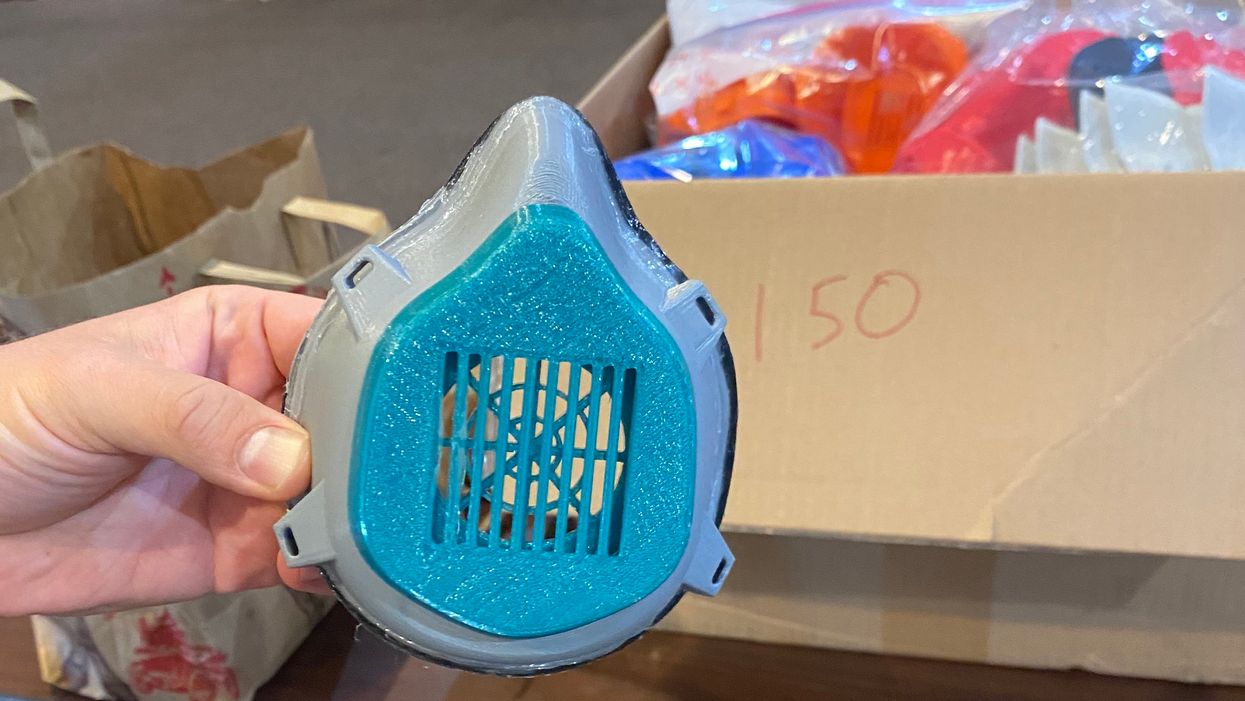 Photo by Tami Abdollah
A Grassroots Effort
CRASH has connected with a volunteer printing network across the U.S. and in Southern California. The network includes a California Institute of Technology and ArtCenter College of Design initiative called Shield Makers group and Matterhackers, a 3-D printer filament company based in Orange County. Its volunteers have offered 3-D printing training to novice printers at USC.
The nonprofit also worked closely with Pasadena-based Sunweaver Creative, which helps put on live events such as masquerades for the entertainment industry during non-pandemic times.
"I went into this thing thinking, 'Me and my Hollywood friends can build dragons on roofs that disappear in 48 hours, why can't we have filtration materials?'," said Shawn Chapman, the company's creative director and CTO.
Chapman realized Sunweaver's costume department could fulfill a need for elastic that's been in short supply. But the process wasn't so simple. He, like others, found that producing supplies for the medical community meant dealing with bureaucratic issues, regulatory hurdles and internal politics.
Others in CRASH have played to their strengths to bolster effort.
A former Walt Disney Imagineer who brought the internet to Disney Corp., Steve Goldstein is a native Angeleno who remembers L.A. as a manufacturing town. Today Goldstein, who calls himself "the original Los Angeles maker," serves as the CRASH Space facilities manager. He's donated many of the machining tools to their Culver City space.
Goldstein once boasted the world record for the largest Tesla coil and found local Plutonium on a dare, so was the perfect person to source materials for the group during a supply-chain stretching pandemic.
"I'm the procurer of hard to find things," said Goldstein, adding that early on hundreds of various groups were looking for the same three to four materials to make PPE. "If it exists, I can find it. I know all the obscure manufacturers that make this or that part or can supply this material."
Makers, hackers, and engineers around the world talk about their experiences making PPE for healthcare workers during a massive global supply chain shortage caused by the COVID-19 pandemic.
As the pandemic has continued and immediate needs for PPE have subsided, CRASH Space has absorbed requests that were never fulfilled from across the country, for example, sending PPE to Howard University Hospital in Washington, D.C. and assisting with PPE efforts in New York and Connecticut.

"I have a feeling there will be demand off and on for a while," Sax said, "but hopefully we'll never be back to the urgency and need that we saw those first couple of months when everything about the supply chain was broken."
___
Do you have a story that needs to be told? My DMs are open on Twitter @latams. You can also email me at tami(at)dot.la, or ask for my contact on Signal, for more secure and private communications.
From Your Site Articles
Related Articles Around the Web
Nick Huzar is co-founder and CEO of OfferUp, the largest mobile marketplace in the U.S. The company has reinvented the model for local, peer-to-peer commerce, and its engagement metrics are incredible. In 2017, the company reported that it had over 60 million downloads and 43 million users who use the platform as frequently as popular social media apps. Today, OfferUp is one of the highest valued private companies in the Pacific Northwest, officially gaining unicorn status. In this episode, Nick offers advice for leaders about scaling a company, the importance of building trust and how his leadership style has evolved with OfferUp's growth.
Press Play to hear the full conversation or check out the transcript below. You can also subscribe to Office Hours on Apple Podcasts.
Spencer Rascoff: I'm in Bellevue, Washington today, near Seattle, with co-founder and CEO, Nick Huzar, of OfferUp. Hey, Nick. Thanks for having me.
Nick Huzar: Hey, really nice to be here.
Spencer: So for those unfamiliar with OfferUp, tell us a little bit about the company and the product, from a consumer standpoint, and when you started it, what the mission was.
Nick: Sure. Well, I started OfferUp from a personal pain point. I had a baby on the way, and I literally had a room full of stuff, and I was just thinking to myself, "Kill me. There's gotta be a better way to sell all this," and there really wasn't, so –
Spencer: Pre-baby decluttering, nesting phase.
Nick: Yeah.
Spencer: I'm very familiar with that.
Nick: Yeah. For all the parents out there, they can relate to what I was going through. So what I saw at the time was a huge opportunity. I believed that the smartphone would be something that everyone would have, and at the time – this was seven years ago – not everyone – most people, in fact, didn't have one.
Spencer: Now remind us. There were iPhones, but no App Stores?
Nick: Yeah, and Android was barely a thing, right?
Spencer: Right.
Nick: So I think there was a few assumptions me and my cofounder made. One, everyone would have one of these, which today you look back and say, "Well, duh." Two, we thought the cameras would get better, and three, ultimately we just felt that everyone would pay from these devices. So I think all those trends had started to manifest in some way. So for me, when I was kinda building and designing the initial app, I was really building it for myself.
Spencer: And that's the way the best products are built.
Nick: Yeah, and I still, to this day, you know, a lot of stuff in my house is from OfferUp. My kids, most of the stuff now – I have two kids now. Most of the stuff that they get is all from OfferUp. I don't buy them new stuff because they don't like it very long. So I think the opportunity I saw was big. I think a lot of the existing players that were out there were respectable, but they were built in a desktop era, and I think mobile gave us an opportunity to really reimagine the entire local buying and selling experience.
And so when we think about OfferUp in the long term, our vision is to really help to transform local buying and selling, and we think the opportunity is way bigger than where we are today. Our mission is to be the largest, simplest, and most trusted marketplace for local, and so I think we still have a very long way to go. It's amazing to see how fast we've actually grown. We're one of the top shopping apps in the country, definitely the largest mobile marketplace out there, so OfferUp's really starting to become a household name in a lot of markets around the country, and again, I think there was a lot of people that were like me. They just didn't have the time to deal with the existing solutions, and they found OfferUp to be something easy to use.
Spencer: So I want to come back to growth and scaling and how the company is, which is now a couple hundred employees, has changed since its founding seven years ago. Just to round out the picture of the competitive landscape, I guess in those early days, you were really competing with Craigslist online, on desktop, and then whatever other hacky, offline solutions people found, if it was at college campuses, putting a poster on a board in a shared space or something. And then there's some newer digital competitors as well on mobile, but I mean, do you think of traditional e-commerce, like Amazon for new goods, as a direct competitor as well?
Nick: So, to be clear, we've had competitors the whole way. Every year one will come and go, and it's just been probably, you know. This is kinda how it's evolved over time. I like to really obsess, so – and my belief is it's – we're really expanding the market, so I never went into this business to even convert a single Craigslist user. I believed that the market was way, way bigger. I believed there was more people like me that weren't using it, and we see that today.
We see a lot of people that said, "I never used X, Y, Z platform," and I use OfferUp all the time, because it's simple, and it works, and so 85 percent of commerce is still local, even in the world of eBay and Amazon, all these amazing e-commerce sites, and that's what we're after. We wanna expand into that market. Now, clearly, Amazon's an amazing company, and they'll continue to kind of chip away at that, but I really think of that as the opportunity. Our biggest focus is reducing friction, and our belief is the more we do that, the more people participate in commerce in this way.
Spencer: How competitor focused is your company versus product focus? This is something a lot of startups kind of struggle with, trying to find the right balance.
Nick: Yeah, so I don't think we really obsess or talk about competition hardly at all. We acknowledge them and definitely wanna understand kind of what are they doing out there in the world, but our obsession is really internal in our customers and really building this simplest and trusted experience, so we really obsess over that. And our belief is the more we do that, the more people continue to use OfferUp, and we believe that that's what the winning approach is. You can try all these other marketplaces, but if you're gonna have – whatever one's gonna yield the most success, where you're either buying or selling, is the one you're gonna use the most, so we really obsess over the product quite a bit.
Spencer: Yeah, so I think competitor aware, consumer focused, consumer obsessed is probably the right balance.
Nick: Yeah.
Spencer: I mean I've done two startups, Hotwire and Zillow. Hotwire was competitor focused. When we started it, we were really focused on competing with Priceline in the discount travel space. Zillow was consumer focused. We certainly have competitors, have had competitors, have acquired some competitors, but we've never been overly consumer focused at all, and I will tell you that from an employee standpoint, it is a much more inspirational, aspirational place to work if you're consumer obsessed and not competitor obsessed. It was kind of soul-sucking at Hotwire to – every accomplishment, every metric was always being measured against Priceline, this other competitor, and it was –
Nick: Yeah.
Spencer: Yeah, I guess it was good motivation, I guess, but it wasn't nearly as fun.
Nick: Yeah, really, and in our case, you – the great thing about OfferUp is you have to go meet and talk to people. It's not a product where – you know, our whole office is furnished from OfferUp. The chairs we're sitting in, in the room we're in, and that's great, because as an employee, you get to go meet them, and talk to people, and learn how to make it better, and actually get to interact with people, and I think in most companies you don't have that opportunity.
Spencer: So the product, from a consumer standpoint, is take a photo of this thing in my garage, press a button, post it, find a buyer, and then I meet them in an OfferUp kind of safe community space, which addresses some of the trust and safety issues that other local marketplaces have encountered, and do you charge the buyer or the seller? What's your revenue model?
Nick: Yeah, so today we have an advertising product. We just introduced shipping. There's many other, I think, exciting things we'll be introducing in the future, but it's kind of a combination of an ad model and then there's a small take rate for transactions that do happen on the platform.
Spencer: Let's fast forward to today. You started about sevenish years ago. Today, 2018, how much capital have you raised? How many employees? What other business metrics can you share with listeners so they get a sense of the scale of the company?
Nick: Sure. So we have over 230 employees today. We've probably raised over $230 million in capital, and we've had over 70 million installs in the US, and like I said, if you go into the App Store, under shopping, you'll see that it's usually one, two, or three. We either trade with Wish or Amazon and OfferUp, and so I felt pretty proud considering how well funded and large both those companies are. That we're in good company considering how small we are relative, you know, as a team, and so, you know, people use OfferUp a lot, and we're becoming kind of a – people engage in OfferUp more like social media. People spend on average, 20 minutes a day, almost every other day of the month.
Spencer: Wow.
Nick: And so people are really engaged, and they're trying to find and discover things that are nearby, and I think – or they're selling something, but it's really interesting to see how people engage in OfferUp versus other e-commerce platforms. We were designed to be visual and discovery-based and I think a lot of other marketplaces are just not built for, you know. They weren't built around all the power in the smartphone, and so we just took a different lens and a different approach to all that.
Spencer: Is there even a desktop product?
Nick: What's interesting is our web team, until probably 18 months ago, was one guy, and he's awesome, but we kind of – that's been growing quite a bit. Actually, our web metrics are now growing and usage is continuing to grow there. So we've been investing a lot more there in the recent number of years, but we're definitely a mobile-first company. That's where a lot of our innovation and focus is, but still, spending more time on the desktop than before.
Spencer: Now you're a Seattle-based company. You're in Bellevue, which is sort of suburban Seattle, and yet you are a unicorn. That's kind of a weird term. I don't know if you embrace it or not and you accept that descriptor.
Nick: No.
Spencer: But it seems to me that the way you've built OfferUp is a little different than some Bay Area tech companies. I mean you're very focused on the consumer and consumer PR, for example, but you haven't been as front and center in the tech trade press as a lot of other tech companies at similar stages. Is that fair to say?
Nick: Yeah.
Spencer: And why is that?
Nick: I think historically, our focus is really again, just customer, and really honing in on the business and really trying to get deep local market and kind of penetration and so a lot of this I think was fairly strategic and very, you know, forward thinking, where even after Andreessen Horowitz invested, we said, "Don't put us on your website." Like, "Mark, please don't tweet about us," and that gave us a number of years to grow around the country before we had more serious competition.
And it enabled us to build these beach heads in some of the most important, I think, markets in the country. And so if you live here, you know kind of what markets and the dynamics are, and you're local, and I think being local has a huge advantage. You really know kind of what's going on, and so I think a lot of this was, you know, we always believed there would be big companies trying to come after this space, and there are now, but again, years ago we kind of planned for this, and I think that was very, very important and strategic, so –
Spencer: Interesting. How very Seattle. I like it.
Nick: Yeah. One of the last markets we ever launched, by the way, was the Bay Area, on purpose, like, years, and so by the time anyone woke up in the Bay Area, we were already pretty deep in many markets, like I think where you live in LA, it's a massive market for us.
Spencer: Yeah.
Nick: But that was one of the earliest markets we launched, and so San Francisco actually came a lot later.
Spencer: That's interesting. I mean most tech companies obsess over the number of Recode and TechCrunch mentions that they get, and you've taken a pretty – a very different approach. Okay, so here we are today, late 2018. You're building out your strategic plan for 2019, 2020, and beyond. Put us in your shoes. What are the things that you as the CEO and the founder face? What do you worry about? What's top of mind for you?
Nick: Yeah. So I think a few things. So, one is just scale and structure. And so when you're small, you don't need a lot of structure, because you're all sitting together. Everyone's aligned and understands, but as you fast forward over the next number of years and you've seen this movie more than I have, but you need that.
You need to get ahead of it. You need to kind of lay out mile markers that help everyone be aligned on where they're going. You need to be able to bring in more leadership that's also seeing the moving, so that's a lot of what's top of mind for me, is continuing to elevate my team and the leadership team to help us on the next chapter of growth. I think in many ways I always say that we're Amazon in the book phase. We are nowhere near where I see this company going.
So how do we start to layer in other things that we think are game changing to the business, and so I think there's multiple things that we have incorporated that have been proven, but there's also a lot of things that we've built as a company that we pioneered that no one else has done. And I think that's really critical, so like an example would be all the things we do around trust and safety. So early on, we built out our TruYou program, and we did it because we knew trust really mattered. We're bringing two people together face-to-face.
Well, who is the person that you're actually engaging with? And so how TruYou works is you can opt in for it. First step is you scan an ID. Second step is we ask you to take a selfie, and then we actually do some image recognition, and match that. If you do it, you have a really prominent badge on your profile that says you're a TruYou member, and that's a big endorsement, we think, in the community.
Spencer: It's pretty much everything that Craigslist is not.
Nick: Yeah, they didn't do that, or where do you wanna meet? That's a logistic challenge, and people go back and forth on that. We try to make that simple, so we leverage natural language processing. We actually suggest meetup locations, and as you've seen, we have this in this lobby. We have thousands of these meetup locations around the country, in retail stores, in police parking lots. That's something, again, that we pioneered. We kinda just said, "We wanna make it easier and find well-lit locations to have people transact," and so that's another thing that I think we focused on and we said, "Trust matters, and we're gonna do something that hasn't been done before."
Spencer: Do you find competitors now trying to drop behind that and use those spaces and –
Nick: Not, I think, to the degree that we do. I think that it's easy to say, "Oh, yeah, we care about trust," but I think you have to really kind of look at how much investment and time are you really focused, and we really – it's a core part of our team and our company's trust, so –
Spencer: So for listeners who are scaling their own company and thinking about how to take their company to the next stage, I guess one of the things that I'm hearing is you're very deliberate and thoughtful about this. You're not just a boat kind of letting the waves take you in one direction or another. You're trying to be really circumspect about what do I need to position the company for success over the next couple of years? And what do I need from my management team? What do I need for me? I mean you're probably asking yourself, how do you need to change as a CEO?
Nick: Yeah.
Spencer: I mean, at least when I was at – when my company was at your size, I was in the process of changing things, like what meetings do I go to? How do I communicate? What input do I give? So when you're 30 employees, 50 employees, 100 employees, the CEO, or other executives that doesn't even figure, but as the company gets bigger, I've had to change the way I communicate. Does this resonate? Is this –
Nick: Totally.
Spencer: Yeah, okay.
Nick: [Laughter] Yeah. I'm going exactly through this metamorphosis right now. Yeah, and I think the – sometimes I miss the days when we used to sit at one table with 20 people.
Spencer: Right.
Nick: Like you didn't have communication challenges. Everyone knew what you were doing. The downside, you can kind of limp along at that stage and do one thing. As you get bigger, alignment and communication becomes the challenge, and you have to over-index on that. And so I've had many mentors tell me the same thing. You need to repeat yourself, and again, I feel like I'm treating people like children, but I realize, "Hey, wait. You have new people here. They haven't heard the same message."
Spencer: Yep.
Nick: I find lately I'm kind of evolving into more of a coach role too, where I'm trying to help other people do the same, where they'll get frustrated and say, "Well, I already said this to Bob," and I said, "Yeah, but you need to say it again. We're evolving. Just make sure it's top of mind." And so that's one. I'm very focused on my calendar and my time and wonderful people on my team that are helping me to kind of manage my time, but I'm also – I'm looking at it now and I'm already mapping out next year.
I'm like, "How do I wanna be spending my time?" So I'm trying to be very thoughtful and deliberate on how I want that to change, and then what meetings I need to be in, and how I need to be in them. I think how I communicate, same thing, where words matter. One word – I've got – you're kind of screwed either way sometimes, and I'm like, "Man, I said that one thing and it made that person upset. Now I kinda wanna follow up and say, 'Hey, you know what? Let me elaborate a little bit more.'"
Spencer: Yeah.
Nick: I think part of the challenge also with communication is I don't have a lot of time in a day. I don't have time to read big decks. I don't have time to go into e-mails. I don't have time to explain for 30 minutes what I mean. I have to be succinct and I need information presented to me that's succinct so I can make an informed decision. So I think that's really happened a lot more in the last year, just being sensitive to my time a bit.
Spencer: We've experimented with different decision making rubrics. LinkedIn uses rapid. There's another one called RACI, R-A-C-I, or something. They're all different acronyms for things that basically say when you're trying to make a decision, determine up front who's the decision maker, who provides input, who needs to be informed, et cetera.
Nick: Yep.
Spencer: Because there are a lot of things, as we've grown, that it's just not clear whose decision it is. Is it my decision? Is it someone's decision? I don't know. Nobody knows.
Nick: Yeah.
Spencer: And we definitely struggle with this. On the communication thing, what I've done is I've tried to make a habit of explaining who is – when these words come out of my mouth, or through my keyboard, or my phone, in what capacity am I saying it? I'll be like, "I'm giving this feedback just as a user of the products. Just take it for – as one person's input."
I'm saying, or I'm saying this as the CEO, "Go do it," or I'm saying it as the, you know, someone that's providing input to you who's gonna go make the decision here, and this is just my advice, do whatever you want. And like, giving that context is helpful, mostly helpful, well, certainly helpful for the recipient, but also helpful for me as well, to like, remind myself of – in what form, in what context am I providing this input [crosstalk] that's helpful? Let's just say five years from now, OfferUp doesn't achieve the success, its destiny that you think it's on the path of. What went wrong? What do you think happened?
Nick: I always say that the problems are internal, not external. I believe that, again, I obsess over shaping culture, I think, and developing people, and helping the team to evolve. So I think that's a challenge. It's even harder, rapid growing companies, especially these days, where if you think about companies and financing and the time horizons a decade ago, you could go for years and do, like – there's just more, faster, and I think my obsession is really trying to help elevate leadership and shape culture and really make sure the right people are at this company and are thinking long term.
And I think that's it. I like to think of our phase as the awkward teenage years where we're not quite the adult yet. We've got acne. Our voice is cracking. We're tripping sometimes. So how do we kind of best get through that and kind of hit our stride and really be high performing? I think we're just kind of in that phase. So I think that's the biggest thing I think about.
Spencer: You're an engineer, and you created the product in your own –
Nick: I wouldn't say I'm an engineer.
Spencer: No?
Nick: More designer product guy I would say. I'm a terrible – I coded on the web, but I'm a terrible developer, so –
Spencer: Okay, so you're a product person?
Nick: Yeah, more product.
Spencer: And you created the product in your likeness to solve a problem that you had.
Nick: Sure.
Spencer: How do you think about your ongoing connection to the product? As the company gets bigger, do you decide to step back a little bit from the product and let others exhibit more product ownership so that you can focus on some other things, or is product – is OfferUp you and you will always be OfferUp from a product standpoint?
Nick: That's a good question. So I would say my obsession and where I wanna kinda evolve is I think I'm really good at the end-to-end experience, and so the first product I designed, and I didn't design in a vacuum. I would draw things in Photoshop. I'd ask my wife on the couch, and she's watching TV. She got sick of me showing her designs, and I said, "Okay. I'm gonna go out and just start to talk to people." So I talked to friends and family. I would go talk to local merchants. "What do you think about this?"
And I would constantly get feedback, and I find I've been doing that ever since, and even today, I'm probably one of the top people in the company to find bugs in the product. I definitely have a lot of opinions about the experience and it only gets more complex as the business evolves, so I don't think I'll ever stop obsessing over the end-to-end experience. And I think just given my visibility and what I understand about the market, I think that's my strength, and I think that's what I bring to the table. Where I think I can evolve is going from, you know. I don't have to be in product meetings and going deep for hours on end.
I think that's things I'd be willing to kind of give up, but I do really care about the end-to-end experience, because I think if you stop focusing on that, it becomes really – it can become spaghetti and not great. And I do believe what I tell our team is, "We're not building a marketplace. We're not building an app. We're building an experience," and I don't think there's many things in this world where you think of that.
I think of the iPhone as an experience. I think of the Tesla as an experience. It is something that kinda grabs you, and it's like, you can't explain exactly what it is, but it's so elegant and easy and it just becomes part of your life that it just – you use it every day. And so I think that's my obsession. I think that's where I'm the strongest, which means I gotta give up other parts of the business.
Spencer: And at 250-something employees, have you already started letting go of some of the detail on product, or that you were forward-looking in what you just ______.
Nick: To some degree, but I like to do more, because I think we're definitely more complex now. We have more lines of revenue. We have more things that we're getting into, and it's just not scalable for me, so it's again where I'm looking around at the leadership team and saying, "Okay, great, but we also have gaps and roles we wanna fill."
Spencer: I remember the woman that runs product at Zillow, for Zillow products, when I started pulling back, as you're describing, from some of the detailed product decisions, and I started delegating more, as you need to, to free up more time to do other things. And she said to me – there was a particular decision that I delegated to her and to the team to make. And they made a decision that I didn't agree with. It kinda came out the other end in the product, I don't know, three, six months later. It was a tiny little thing. I don't even remember what it was, and I remember when I went back to her and was kind of, you know, giving her a hard time about it, she was like, "When you delegate a decision, you need to accept the outcome."
And I was like, "Oh, yeah. I guess she's right. I guess I do need to accept the outcome, whether I like it or not." So I mean what I found at this stage, from like, 200 to 400 or 500 employees, as you're going to experience soon, as I started pulling back from some of the product details, that was definitely the right decision. It was the right thing for the company.
Well, congrats on the success of OfferUp so far. I'm excited. I mean, the last time we got together without microphones, I think you were like, 50 employees and the company was a lot smaller. It's amazing to come in today, and see new office space, and an incredibly vibrant culture, and the success that you've had, and I'm excited to see what's next for you.
Nick: Thanks. Well, thanks for having me.
Spencer: Thanks, Nick.
The post OfferUp CEO Nick Huzar on Evolving as a Leader appeared first on Office Hours.
From Your Site Articles
Related Articles Around the Web
Adena Friedman is president and chief executive officer of Nasdaq, which operates the second-largest stock exchange in the world by market cap. Named one of Forbes' most powerful women, Adena built her career at Nasdaq, starting as an intern straight out of an MBA program. Outside of a three-year stint as chief financial officer at The Carlyle Group, she's been with Nasdaq ever since. In this episode, Spencer joins Adena in New York City to discuss the power of mentorship, the future of the U.S. capital markets and why going public can spark innovation.
Press Play to hear the full conversation or check out the transcript below. You can also subscribe to Office Hours on Apple Podcasts and PodcastOne.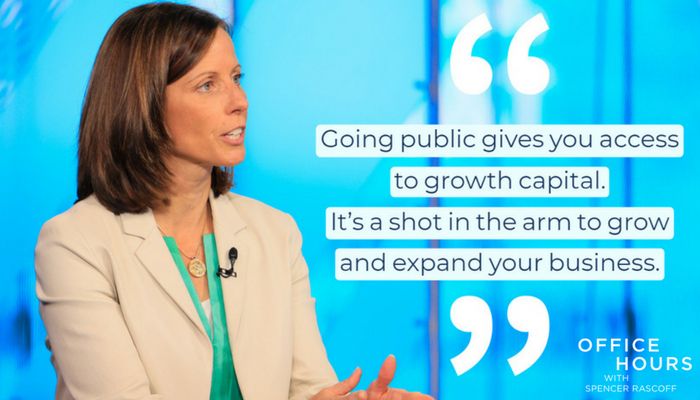 Spencer Rascoff: I'm in Times Square today at the Nasdaq market site with Adena Friedman, CEO of Nasdaq. Hi, Adena. How are you?
Adena Friedman: Fine, how are you?
Rascoff: Great. Firstly, a lot of listeners might not fully understand the size and scope of Nasdaq. So, explain to people, what is Nasdaq?
Friedman: Sure. Well, Nasdaq today is a global technology company that serves the capital markets, and we serve our capital markets by operating exchanges ourselves in the U.S. and the Nordics, but we also provide the technology that powers over 90 other exchanges around the world.
And then we take all of the data and analytics that are generated off of our exchanges as well as other information that we gather, and we provide a lot of insights and analytics to all of the customers in the capital markets, whether they're corporate clients or investment management clients or, obviously, the broker-dealer clients. We feel just so fortunate to be in the center of the capital markets globally today.
Rascoff: And the revenue model is one where issuers — so, companies that trade on these exchanges — pay, or people that buy and sell the stocks pay?
Friedman: Right. So, we basically have — we generate revenue in lots of different ways, but one of the sources of revenue is the listing fee. So, companies who choose to list on Nasdaq pay an annual fee to Nasdaq. We then generate trading revenue not only in our equities business from the trading of those stocks, but also in our options and futures businesses here and in the Nordics.
And then we also generate a lot of information coming off the trading engines, and that information we then sell to give people transparency into what's happening in the markets. That also is a revenue stream.
We then have our index data. We create a NASDAQ 100. We have $150 billion of assets under management tied to our indexes, and that's a revenue generator. And then we provide software and services to corporate clients as well as to other exchanges around the world and broker-dealers, and so that's a technology product base that we have revenue off of as well.
Rascoff: A much more diverse revenue stream than most people realize. So, let's talk a little bit about your career. You started as an intern at Nasdaq.
Friedman: I did.
Rascoff: When was that, if you can tell us?
Friedman: Sure. I came right out of business school, and I did an internship at Nasdaq in 1993 over the summer. At the end of the year, I took a permanent position. And so it was very, very fortunate that I had a chance to be here at the start.
Rascoff: And what was your career path like during that, I guess, two-decade stint? And we'll cover when you left and then returned in a moment.
Friedman: Sure. Well, Nasdaq at the time was a subsidiary of an organization called the National Association of Securities Dealers, which is now FINRA. And so it really was really early in its existence. It had been around for 22 years, but it was still growing up as a marketplace.
And so I really had an opportunity to come in early and be part of the trading operation and the trading organization and help them look at the trading products that they were offering out to broker-dealers to make sure that they were, in fact, optimizing them for their business.
Since NASD was a nonprofit organization and Nasdaq was a for-profit subsidiary, it was an interesting balance in terms of what they were there to do and yet realizing that they actually had these great products that they could optimize from a revenue perspective.
So, I got a chance to write business plans and then become a product manager for some of these products before I then took on the data business.
Rascoff: And we talk a lot at Zillow Group about career development and career pathing. Sheryl Sandberg in "Lean In" — on this podcast she talks, of course, about how career development is more like a jungle gym than a career ladder.
What was your path like during that time? Was it a straight-and-narrow, up-and-down ascent, or did you have detours that took you into different areas around Nasdaq? Describe what that was like.
Friedman: Sure. Well, I would say that it was a jungle gym within the groups that I was in. There was no set career path for me. There was nothing in Nasdaq that had job families. It was very much still a very, what I call, "organic organization" in terms of looking at how to develop your career.
So, I just got very fortunate because when I — every two years early in my career, I just found a new opportunity that would take me up a rung. Or in one case it was sideways, but honestly it then propelled me forward from there.
And I had a few times when I had to look around, and I said, "Wow, should I go and really focus in on marketing, or should I go take this product management job?"
And I had great mentors and sponsors within Nasdaq that really said, "Adena, you are someone who really likes to run a business. You should become a product manager. The marketing job is interesting, but it's not really — it doesn't play to your strengths as well as this other thing." So, I was able to move up through the organization but really with a lot of sponsorship.
Rascoff: One of those sponsors that you talk about is Bob Greifeld, who was the CEO, who recently retired from Nasdaq. What was that relationship like? How should somebody seek out a mentor or a sponsor and get the most out of that relationship?
Friedman: Sure. Well, I do think my personal opinion is that both sponsorship and mentorship — it very much has to be a natural activity. You can't force a sponsor or force a mentor on someone. I think that you, though, have to curate and develop that relationship.
When it comes to mentoring, I think it's an easier thing to curate where you start very casually, and you say, "Well, gosh, I really admire this person," whether that's a person inside the organization or outside the organization. If you ask them to have coffee with you one day, and you give them enough notice, most of the time they're gonna say yes.
Then once you have that coffee or have a meal, and you realize you have a good connection with that person, and they're giving you good advice, and they feel good about the advice they're giving you, they're likely to do it again. And if they do it again, then you have established yourself with someone who you can rely on to help you.
When it comes to sponsorship, most of the time those are people who are in a position of power to guide your career, and they can either be a positive or a negative sponsor. In my case, I was very fortunate. I actually had three sponsors in my career, and I think that all of them were really helpful in not only just putting me in the room and giving me the opportunity, but also guiding me, like that decision around product management versus marketing.
Rascoff: Is that something that Nasdaq in particular focuses on creating and cultivating a culture of or that sponsorship and mentorship is something that you created and owned on your own?
Friedman: It definitely was on me, and frankly, at the time you don't even realize you're getting sponsorship, right? So, with mentors, I do feel like you are realizing that you're going in and touching other people and asking them for their advice. But with sponsorship, you're just — it's so natural that you realize, "Wow, that person just really helped me out." So, it was much more organic than it was planned.
I think Nasdaq has definitely developed its mentorship program, but to me sponsorship really needs to become — it needs to be a naturally developed thing. It's somewhat the responsibility of the employee and of the manager.
Rascoff: So, after many years at Nasdaq , you left to go become CFO of Carlyle Group, a private equity firm, when it was still private with the intention of going public. Why did you leave, and what was that experience like at Carlyle for the, I think it was, three years that you were there?
Friedman: Right. So, I was the CFO at Nasdaq and actually was having a great time and loving my job, and I got a cold call, which I never take cold calls from recruiters. But in this particular case, he got my attention because he did say it was Carlyle. And at the time I —
Rascoff: So, a note to recruiters, by the way, 'cause I get a lot of calls from recruiters too. It's usually super anonymous and vague. It's like, "It's a leading industrial company. I can't tell you who it is." So, maybe recruiters should be a little bit more transparent to get the return call.
Friedman: Exactly. And it was funny because my family lives in Washington, D.C., and I had been commuting to New York for many, many years. I had gotten very used to it. So, it was very much part of our lives. But at the same time, Carlyle is the really premier financial institution in Washington, D.C. It's an organization that I knew well. I knew some of the people there. I had a huge admiration for the company.
And so, he really had no idea that I lived in D.C., but when he called, I said, "Well, do you realize that I live in Washington, D.C.?"
And he said, "Wow, that's fortunate." So he laid out the opportunity, and really, the opportunity to be the CFO of a leading financial institution like Carlyle, to help them go through the process of becoming a public company and really thriving as a public company, was incredibly compelling.
At the time, I'd been at Nasdaq for 17 years, and I felt that if I was going to try something different, this was the one opportunity that presented itself that seemed like the right one to take. So I left and went to Carlyle for three years, and I had a great experience there.
Rascoff: Now when you told your colleagues at Nasdaq— I guess, was Bob the CEO?
Friedman: He was, yeah.
Rascoff: When you told them that you were leaving to go to Carlyle, what was their reaction like?
Friedman: Bob was incredible, actually. He and I have always had a very close partnership. He has been a great sponsor to me, and he recognized at that time with the situation with the age of the kids and the opportunity that was in front of me — it just seemed like it was the right thing to do.
And so, he was very supportive. Really supportive. And he could have chosen not to be. But he really was supportive and said, "That's the right thing for you to do, Adena. Go for it."
Rascoff: And I'm sure the class that Nasdaq handled the situation with factored into your decision to return several years later.
Friedman: Of course, of course. My personal belief is that — I call them boomerang employees. I think boomerang employees can be great, great employees because there are a few reasons for that. One is they go and they experience another part of the industry, and they learn a lot.
The second is that is that they then become a client, and you then get to maintain that relationship with them as a client. And the third thing is that when they do come back, they realize what they missed.
Rascoff: Right.
Friedman: And we do have a fair number of boomerang employees because they realize what a great environment Nasdaq is and what a special place that Nasdaq has in the financial industry, and they become even more loyal to the company when they get back.
But at the time I left Nasdaq, I had no expectation of ever coming back. When I make a decision, you say, "Well, gosh, what do I want to be for the next 15 years," and thinking about the opportunities at Carlyle were really, really exciting to me. So, I left with the intention of spending at least the next 10 to 15 years there.
Rascoff: On the topic of boomerang employees, there's a company that I did a summer internship at when I was in college called Bloomberg — that you know well — that famously does not allow boomerang employees. When you leave Bloomberg, you cannot return — with one exception, which was they let Mike Bloomberg come back. But his name is on the door, and he had left to become mayor.
Friedman: And perhaps he had a lot of equity ownership in the company.
Rascoff: So, they let Mike back, but other than Mayor Bloomberg, they don't let employees return. It's the only company I'm aware of that has a policy like that. But they actually think that's very important to their culture. It seems that you disagree. I also disagree. We welcome back boomerang employees.
But it's something that I've spent a lot of time thinking about because on the way out the door, it does — it certainly gives somebody much greater pause. A tech company like ours, we have people leave not infrequently to go try a startup, and sometimes their attitude is, "Well, if the startup fails, in a year I can always come back." As a manager, that's very difficult for me to let that person leave.
Friedman: Well, and my view on that one is it's totally up to you as to whether you let them come back. They have to make a determination that they're leaving with the intention of not coming back because if they assume they can come back, that may not be an opportunity. First of all, the company may have moved on. Second of all, they may have found someone better, frankly, to replace you. And third of all, you have to be coming back for the right reasons. You can't be coming back as a default.
That's up to the manager to understand what is driving that employee to come back to Nasdaq. Is it because, "Oh, well, they failed at the other thing, so they might as well come back"? Or is it, "Wow, I really miss Nasdaq, and I really can't wait to be one of your best employees ever"? Right? And so, I think it's up to the manager to make that determination, but you certainly shouldn't assume that you have that opportunity.
Rascoff: Right. So, when you decided to leave Carlyle and return to Nasdaq, what went through your mind at that point? Why did you make that decision?
Friedman: Well, so, a few things. The first thing was that I had been a CFO for five years at that point, and while I really enjoyed the role and I really enjoyed learning how to be the lead risk manager in the company as well as to build out the operations — the finance operations for Carlyle and before that for Nasdaq— I really missed the customers.
I had been running a business up until the point I became the CFO of Nasdaq, and I really missed the pressure and the fun of running a P&L and having that client interaction and being able to drive a company forward or drive a business forward.
And so, when Bob came back and said, "Well, why don't you come back as our president, and you can run these certain businesses," it was an incredibly exciting opportunity for me to get back into that P&L responsibility and to take on such a large part of the Nasdaq ecosystem.
So, it was just a huge opportunity. And I really, really enjoyed Carlyle a great deal, but I saw this as the better opportunity for me at that time.
Rascoff: And I would be a terrible interviewer if I didn't ask: When you took Carlyle public, did they end up listing on Nasdaq?
Friedman: They did, actually, and it was really interesting. We went through a full, what I call, "bake-off process." We had both of the companies come in twice. I just got to be a fly on the wall and watch each of them do their pitch. So, it was actually really, really fun.
I tried very hard not to be a part of the decision process, 'cause it really was up to the founders to make that determination. It was fascinating to see how they came at it so differently.
Rascoff: I'm sure that makes you a better CEO of Nasdaq now having been on the client side.
Friedman: Yeah. I'd say certainly going through the process of going public has made me — it really, really informed me in terms of what we could do at Nasdaq to make it a better experience, to help manage the client through that experience and then to realize just how hard it is. We are here to make companies' lives easier, and so what can we do as the exchange to make that process for our customers?
Rascoff: So, a perfect segue into Project Revitalize, which is a project that's important to you. It's something that you and I talked about at the Microsoft CEO Summit.
Friedman: That's right. I'm glad you remember.
Rascoff: I don't know if you had actually formalized it as a full initiative at Nasdaq at the time. But for our listeners, the basic issue here is there are, I think, half as many public companies today as there were a decade or two ago.
Friedman: That's right.
Rascoff: And many fewer IPOs. Of course, that's bad for Nasdaq's business, but it's also bad for the economy. It's bad for innovation. It's bad for the country, the world. There are a lot of different reasons why, and I think reasonable people disagree on the specific reasons.
But you're spearheading a group of initiatives at Nasdaq to try to address this. Why don't you describe what you're working on?
Friedman: Sure. Well, I think the first thing is we had to determine that there really is a problem. I think that we have been seeing this problem manifest itself over a long period of time, and so therefore you don't realize necessarily each year that you go through it that there is a growing issue.
But I would say that over the last three years, it's really culminated into something that's a known issue today, which is that over time the government has placed so many requirements on companies as public companies and the process of going public has become so much more challenging, the nature of investors has really become very different and that the environment around being a public company is very different today than it was 10 and certainly 20 years ago.
And so, we have been looking at what are the things that we can do to advocate on behalf of companies to make sure they find that the process of going public and being public is actually an inviting process and something that they want to pursue?
So, why do we care, and why should anyone who is listening to this care? The first thing is that 86 percent of all job growth in the United States since 2000 has come from companies after they have gone public. So, when we look at the companies before they're public and after they're public, 86 percent of the job growth came after they went public, and that's just in the last 17 years. If we look over a longer period of time, it's over 90 percent.
Rascoff: Partly because being public provides them with access to permanent capital, which allows them to grow. And so, if they're not able to get public, there won't be as much job growth.
Friedman: That's right. So, the whole purpose of going public is to give you access to growth capital. It's really a shot in the arm to allow you to grow and expand your business, and so if you don't have that now people say, "Yes, but there's so much private capital out there. It's so readily available. Why do I need to tap the public market so I can grow that way?"
And for some companies, and a very small subset of companies, that is, in fact, true that they can use private capital to do that. But for the majority of companies, they really still do have to ultimately access public capital to really get the amount of capital they're looking for. I think that we are assuming that that's available to everyone in the private markets, and it's not.
The second thing to realize is that when companies do access private capital, and they have all of this ability to grow using private capital, well, where is that private capital coming from? And I come from private equity. I'm a huge believer in private capital as being part of the ecosystem.
But that private capital is being made available to the wealthiest in the country, right? It's the wealthiest in the country that are generating that private capital and making it available to those companies, which means the vast majority of retail investors don't get access to these growth companies until they go public.
Rascoff: So when Microsoft went public in — when did Microsoft go public, in the early '80s, I think?
Friedman: Mid-'80s, mmm hmm.
Rascoff: Another $500 billion in market capital was created over the ensuing 30-plus-year period.
Friedman: That's right, and Amazon went public. They were $300 million in valuation, and they're now $400 billion. Another great company actually was Applied Materials that was here yesterday. So, they went public in 1972, the first year that Nasdaq existed. At that time, they were generating maybe $10 million in revenue, and today they are generating $14 billion in revenue.
Rascoff: And so, all of that appreciation accrues to investors, whether they be institutional investors or retail investors. It's egalitarian.
Friedman: Or retail. It makes it so that every investor gets to access it as opposed to a subset of investors. I think that private capital providers will say, "Yes, but we represent pensions," and that's totally true. But the average retail saver does not get access to those investments.
And I think it's really in our — I think it's frankly the government's responsibility, and it's Nasdaq and every exchange's responsibility to try to find a way to make the public markets more inviting for companies. So, we have a whole range of changes that we would like to see and that we will be strongly advocating for and pushing to make sure that we create a more inviting environment.
Rascoff: What types of things are those?
Friedman: So, we looked at disclosure obligations for companies as to what we require that they disclose every quarter and whether or not everything should have to be disclosed every quarter. We looked at proxy access and, frankly, how challenging it is to have these very, very small investors to have total access to your proxy.
There is some very large percentage of proxy reform proposals that are being generated by about four investors who just buy up the minimum amount of shares, and then they go out and they agitate. So, is that really what proxy access is all about?
Proxy firm reform. The ISS and Glass Lewises of the world, should they have to have more regulation and oversight to make sure that they're doing the right thing for the companies and the investors?
Rascoff: So, just on disclosure, do European companies only report twice a year and not four times a year? Do I have that right?
Friedman: It depends on the country. So, in the UK, that is absolutely true. They have an obligation to report a full report twice a year, and then they do these interim reports the other two quarters. I think that's a good model to consider.
Rascoff: You would advocate for that or advocate for evaluating that at least?
Friedman: Yeah. In fact, that's one of the things we said in there. There's also tax reform and things we can do on the tax side. There is, in fact, litigation reform to make it so that companies have a fairer environment when they're dealing with shareholder class action suits.
And then I think that then there's market structure. So, is every company being treated the right way in the public markets with a one-size-fits-all market structure, and should we be looking at a market structure that really is more tailored to smaller companies versus larger companies?
Rascoff: So, by that you mean, for example, different disclosure requirements for smaller companies than larger?
Friedman: Yeah, different disclosure requirements, but also different market models.
Rascoff: Okay. Wow, well, a lot to think about there. Obviously we went public relatively early as a company. We had $15 million in quarterly revenue, and people thought that was perhaps too small to go public. We went public with about a $500 million market cap, and we really followed that — it's quaint. You're right. People don't tend to do that anymore.
Now, most of the appreciation that has occurred at our company has accrued to public market shareholders, not private market shareholders, because we went public relatively early. In Zillow Group's case, it has been hugely successful and the right decision to have gone public early.
Friedman: Just using Zillow, for example: One of the great things about Zillow is that your users can now be shareholders, right? So, your users can be owners, and they understand your product. They understand it deeply because they use it.
So, they also understand the potential of it. They can really get involved and engaged in understanding what benefit they're getting, and therefore they can understand why this company is gonna be a growth company, right? So, it actually has been a great success story.
Rascoff: Thank you for the conversation, and thank you for being our exchange. Zillow Group proudly trades on NASDAQ. And thanks for having me today.
Friedman: Well, thank you so much. It was really a pleasure. Thank you.
The post Nasdaq's Adena Friedman on the Power of Going Public appeared first on Office Hours.