At the new zero-waste restaurant La Papille Gustative, customers don't even have to see a server to order $18 avocado toast or $15 buckwheat quinoa waffles.
They can order straight from their mobile phone while dining outside.
"We are not a full service restaurant; we don't have a server coming to you taking your orders, but this is your server. This is your waiter," said owner, Marina Aljanedi.
Aljanedi, like tens of thousands of restaurateurs, has had to adjust to the new pandemic normal. The California Restaurant Association estimates two-thirds of workers in the industry have been either laid off or furloughed since March as some of the biggest names in the Los Angeles-scene, such as Bazaar and Bäco Mercat, permanently closed.
Those that have survived have adopted new contactless menus, delivery services and other tech-powered solutions to keep their employees safe and diners fed.
Aljanedi, who had to scramble to provide outdoor dining, added Santa Monica-based Order For Me's service to let customers order ahead or at their table.
The service relies on QR codes — once said to be a thing of the past. But these codes help power services by companies including Paytronix, Presto and Zuppler that restaurants are increasingly relying on to keep their profits up and customers at a distance. The ordering system lets in-house diners buy food on their phone, a function that companies like Grubhub, Chownow and Postmates haven't focused on.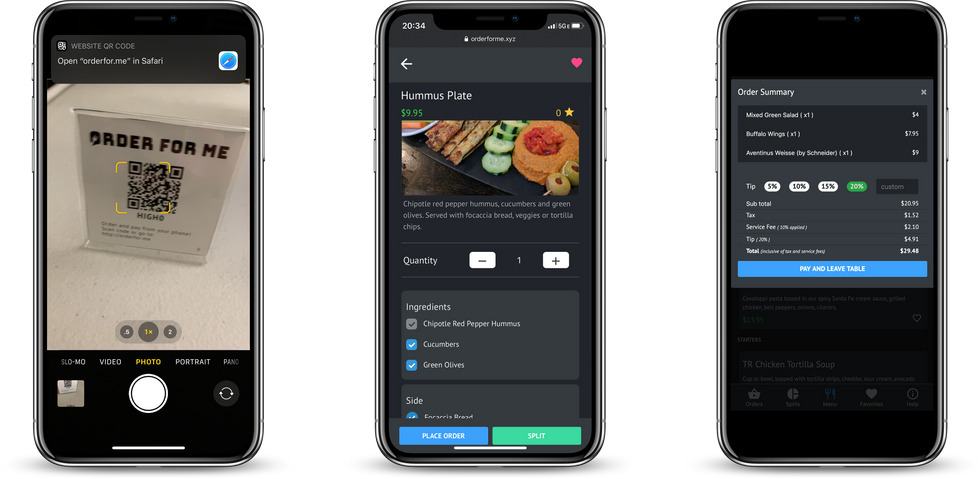 Order For Me's platform lets customers order, pay and tip from their phones. Its most distinguishing feature is that it allows diners at the same table to split bills and keep a running tab.

Although the company only operates in 35 restaurants in Los Angeles, it's working with several hotels to expand their services. And it has seen a spike in demand as California restaurants prepare to reopen in the coming weeks under Gov. Gavin Newsom's new order that allows for a 25% capacity at qualified dine-in restaurants.
But competition is stiff as the restaurant business is increasingly turning to tech.
Founded two years ago by Michael Jordan and chef Greg Daniels, Order For Me sought to develop a contactless ordering service.
At the time, Jordan thought the platform would benefit from California's minimum wage increase as restaurants sought to offset the cost of labor, but he never expected a pandemic to increase the need for the product.
Order for Me co-founders Greg Daniels (L) and Michael Jordan (R).
"I started in 2018. I knew this was going to be a very steep climb; we were thinking like 10 years to do this and disrupt the industry," said Jordan. "But we committed to it because we knew that it was going to happen, and it was going to be us. We were in a few restaurants before COVID and then COVID hit and we changed up our product a little bit."
He added an order-ahead feature to the service.
To draw in new customers, Order For Me is offered free for life to restaurants that sign on until the end of 2020 and to keep a 5% service fee that guests pay when using the platform. The company makes money by charging users a small service fee for the transaction.
Jordan said the pandemic likely changed restaurateurs attitudes about the need for technology as part of their business.

"The attitude was (once), 'Well, I can't wait to get this over with, and for it to get back to normal'," he said. But after restaurants had to shut down for a second time, there was a gradual acceptance. "Normal is going to be different," said Jordan. "Definitely the customer's mindset is changed, probably permanently."