Photo by Sarah Favot/ dot.LA
Los Angeles Unified School District parents and students spent the first day of school refreshing their browsers as the server for the Daily Pass app developed by Microsoft crashed as hundreds of thousands of users tried to log on.
The failure caused long lines that wrapped around the block at some schools as excited and anxious students returned, most for the first time since March 2020.
At Venice High School some students waited two hours to get in, frustrating some even though waits were anticipated as the nation's second-largest school district attempted to orchestrate one of the most complicated public health screenings in its history.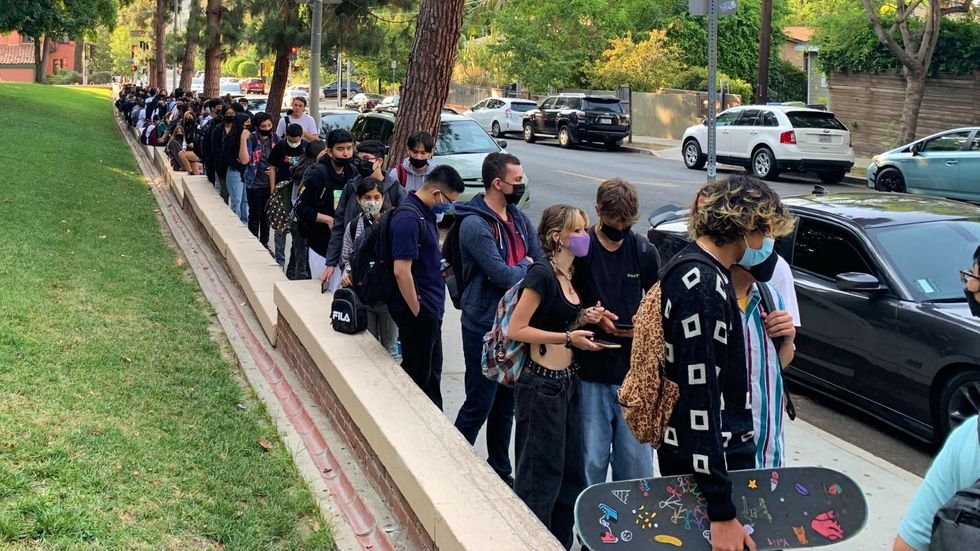 Long lines formed at John Marshall High School in Los Feliz Monday morning as the server for the district's Daily Pass app crashed.Photo by Sarah Favot/ dot.LA
The district touts the strictest protocols in the country, including weekly testing for teachers and its half million students regardless of their vaccination status.

Many parents said they expected delays and glitches with the system. Some blamed Microsoft for the technical challenges.
The Daily Pass was supposed to help mitigate the very scenario that occured on Monday morning. The software generates a QR code for students that screeners can scan to determine whether someone has a negative baseline COVID-19 test and is symptom-free.

Despite all the technology, screeners were checking a printed list at school entrances. If the Daily Pass wasn't working, students were asked verbal health screening questions at the schoolhouse gate.
District officials did not respond to a request for comment.
At John Marshall High School in Los Feliz, a tent with four health professionals wearing scrubs and gowns were prepared to administer rapid antigen tests for students who did not take a baseline test. The tent was not busy. One teacher encouraged students to show their vaccination cards if the Daily Pass was not loading.
The district operated its own testing sites, but students were also allowed to upload results from outside facilities.
Parent advocacy organization Speak Up spokesperson Jenny Hontz said she did not hear of any student being turned away.
In the spring students were forced to stay home if their COVID test failed to load in the system. At least one Venice High student left, appearing to feel anxious, Hontz said a parent reported.
One student said poor internet service in Marshall High School's neighborhood didn't help Daily Pass's log in process. But students were happy to be back -- despite the long line.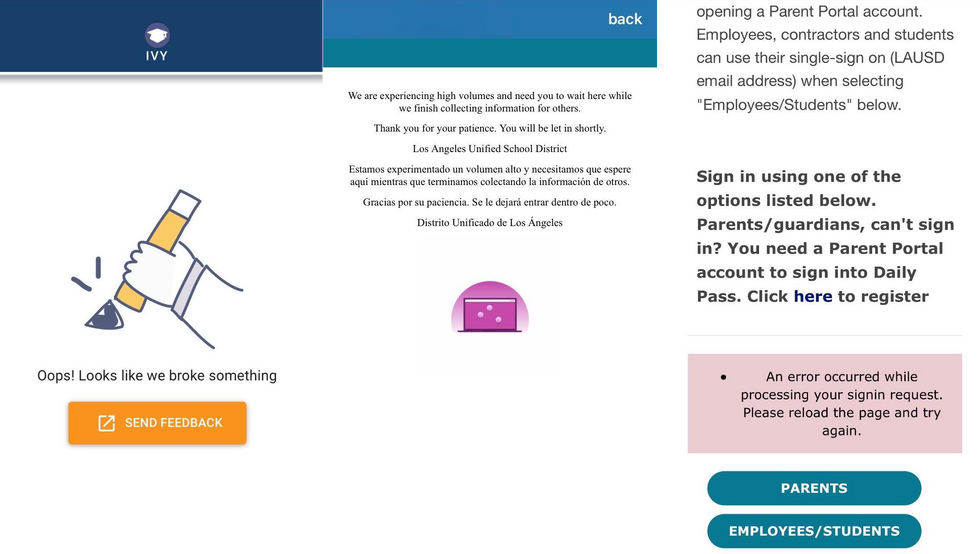 Parents and students trying to use LAUSD's Daily Pass encountered error messages as school started, August 16, 2021.
"I was scared we wouldn't have a year, so we're lucky to even have a year, " said Liam Cole, a senior at Marshall High School. Although he's not sure whether he'll get to go to his senior prom because of the district's safety rules.

Parents who said they didn't have problems logging on the system did so after midnight or early in the morning. The district requires that parents log in the same day as the child will be attending school, so it's not possible to do it the night before. Parents who were familiar with the system also said they took a screenshot of the QR code or printed it out.
Despite the long lines, many parents were grateful for the stringent protocols the district made.
Todd Kruger, whose son was entering kindergarten at Franklin Avenue Elementary School didn't mind the weekly testing requirement or the mask mandate because his son's been wearing a mask for likely as far back as his memory can go.
"The stricter the better. As soon as he can be vaccinated he'll have a needle in his arm but until then we'll be the safest we can," Kruger said.
The error message generated urged students not to leave campus.

"You will be let in shortly," it said.