Photo: Skybound Entertainment
Last month, fans of one of science fiction's most popular franchises were offered an enticing proposition: the opportunity to invest directly in Skybound Entertainment, the owner of "The Walking Dead."
Since the Jan. 23 announcement, the offering has netted Skybound $12.2 million, surpassing its minimum funding goal of $10,000 in less than a month. The company could raise up to $75 million from the crowdfunding effort.
But while this round of investment is definitely enriching Skybound in the short term, some fans have raised questions about when they'll be able to recoup their investment.
"$500 for a single share seems extremely excessive, even if the company succeeds tremendously," potential investor Steve Finley noted in a Republic Q&A thread. "Each stock would have to eventually be worth thousands to justify a current investment at $500 per unit in that case."
As it currently stands, however, there's no timeline for a liquidity event. This means investors who have bought into Skybound's offering have no way to sell their shares, for now.
That said, Skybound CEO David Alpert told dot.LA the goal is to allow individual retail investors and comics fans to invest directly in content they love. "We wouldn't be anything if we didn't have our fans, so the goal for us is we want to actually reward our fans by giving them access to the same upside that a creator should get," Alpert said. "We wanted to literally bring them inside of our company."
The media company is conducting this Regulation A+ offering through Republic, a platform for investors both institutional and retail. Over 4,800 investors have contributed so far. This crowdfunding follows a VC investing round Skybound completed last May, though it didn't disclose how much it raised then.
So it makes sense why Alpert and his co-founder and co-chairman Jon Goldman (who co-founded the company alongside "Walking Dead" and "Invincible" creator Robert Kirkman in 2016) are embracing the global retail market as both a source of funding and a free endless hype train.
"We want to be [the] owner and control our own destiny more than we have in the past been able to," Alpert explained. According to Skybound spokeswoman Hannah Cosgrove, buyers should be prepared to hold onto their units for at least three to five years.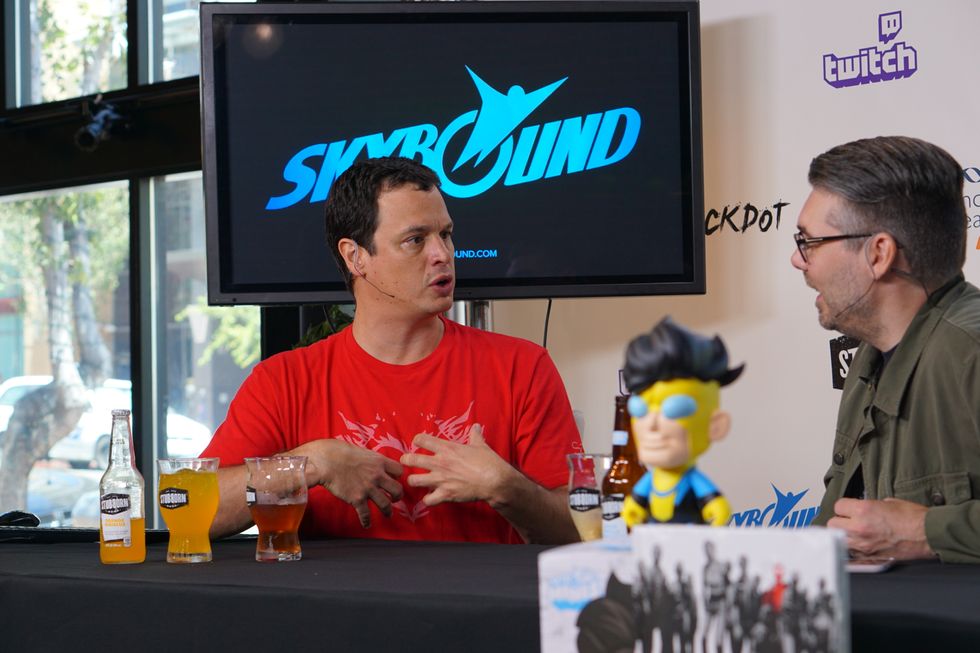 File:David Alpert SDCC.jpg - Wikimedia Commonscommons.wikimedia.org
In addition to both Skybound and investors on Republic, there's also the issue of pricing – Skybound is only accepting minimum investments of $500. The company is offering membership units, not shares, since there can't be stock because Skybound is not yet a public company. These membership units can be thought of as an equivalent to one share. Several investors have noted that $500 for one unit of stock is a steep price.
As potential investor Ritwik Sarkar said in the Republic thread, the share price is "pretty steep."
Sarkar said, "while it is true you're growing and your profitability is sound, I question your ability to give asymmetric returns to investors given that it is 500 USD a share." Sarkar further noted that the stock price – once there is stock – would have to soar to $50,000 per share to see a 100% return and profit from their investment, which he added "seems unlikely."
For context, Netflix, one of the entertainment industry's top public performers, trades for about $366 per share.
Still, Skybound's destiny is directly tied to how well this offering does. The company reported net income of $9 million on $64 million in revenue in 2021, which it said represents a 50% annual growth rate since 2020. In 2021, $35 million of that was retail revenue, from sales of comics and other merchandise. Skybound said it expects to reach $105 million in revenue by this year.
But with 60 active comic titles and 16 new series published last year – plus a new season of its hit "Invincible" coming this year – it could be making far more.
One example of a property that did exceedingly well for Skybound and is a benchmark for future projects is "The Walking Dead," which has lifetime revenues of $10 billion. But Skybound's internal data reported only a $500 million valuation, and the company claimed it lost revenue through licensing franchise content to third parties. Potential investors asked the company about this, and one wondered, "will your royalty rate increase due to the success of Walking Dead?"
To that end, Alpert and Goldman said the goal is to have more control over its content going forward, and produce its own spinoff IP instead of handing it over to third parties.
For now, it seems Skybound's focus is on mining for that new content, with the aim of finding franchises that can transcend mediums. It just invested in gaming studio Mega Cat and recently increased its stake in 5th Planet Games – and the cofounders told dot.LA more deals like that are to come (gaming represented roughly 80% of Skybound's revenue in 2021).
"We're committed to maximizing the value for our shareholders," said Alpert. Goldman chimed in to explain potential options, noting, "we can sell the company. We could have a public offering, or we could bring in an additional future capital provider that buys out secondary shares, but it's no different than any other private company in the United States. All those options are on the table."