Ficto, a cross between Quibi, Netflix and a video game that is set to launch next month, got a big boost this week when LG announced the app would come preloaded on 1.3 million of its new double-screened LG Wing smartphones.
The deal should help Ficto stand out from the competition by (literally) putting it in people's hands.
The mobile streaming service set to launch in October will focus on shows that leverage the smartphone's unique features, bringing to them a heavy dose of interactivity and social engagement. It also offers some brands, like LG, product placement and a degree of creative control in their shows. "Snoop 16," an interactive gameshow hosted by Long Beach native Snoop Dogg, will debut as one of the streamer's original programs.
Mike Esola is the chief executive of L.A.-based Fiction Riot, a.k.a. Ficto. He told dot.LA that talks with LG began about a year ago. Both companies thought the other would be a good match.
"(LG Wing) is best utilized by apps that exhibit premium-level content on the main screen and interactive functionality features on the second screen," Esola said.
In exchange for the preloads, Ficto will embed LG products into some of its programming. LG will be paying for the product placements as well, a revenue stream that will likely be key to the free service's growth. In future phases of the partnership, LG will also include the app on other phones and televisions, Esola said.
Ficto has had about 60,000 users during its beta period. It will launch next month with dozens of licensed shows and seven originals. The latter group is where its mobile- and social-oriented content will predominate.
"Snoop 16" episodes, for example, will center around a March Madness-style bracket, except the competitors will be various items like rappers or cars; viewers will fill out and submit their own brackets, and if they match Snoop's, they will receive an LG Wing smartphone giveaway.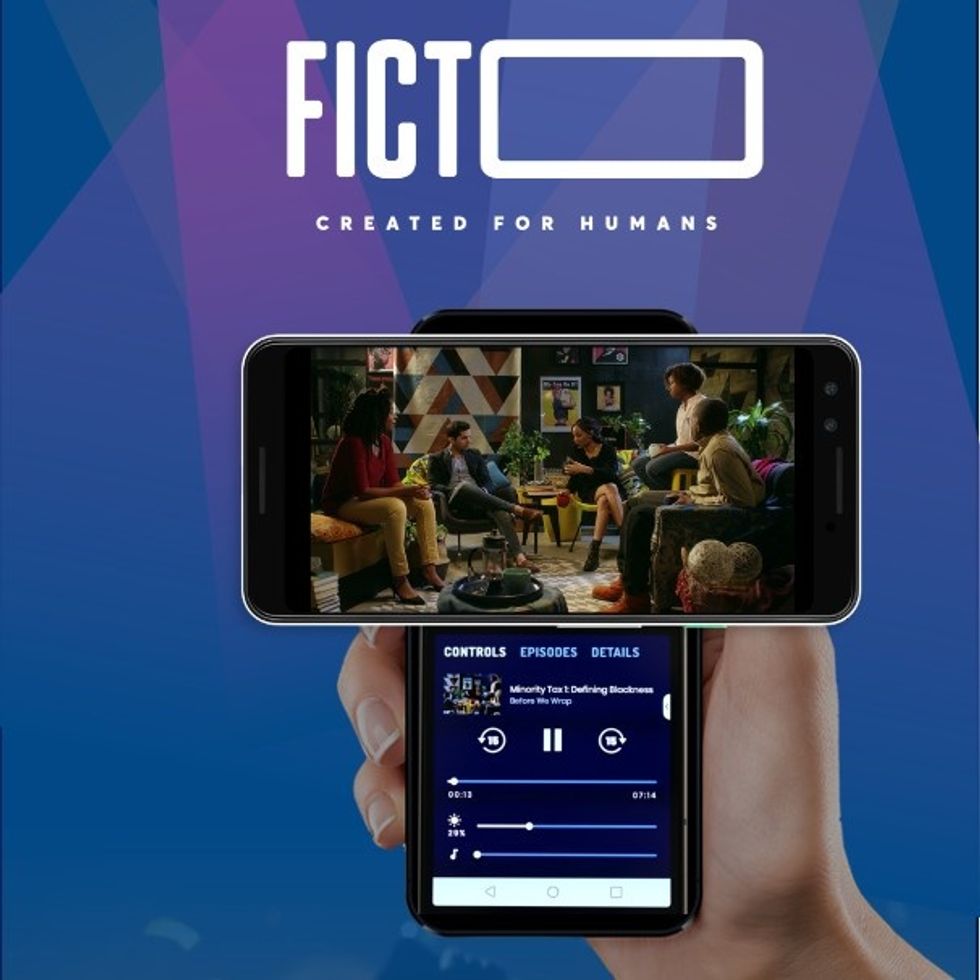 Streaming service Ficto is creating shows with LG's new smart phone in mind.Courtesy of Ficto
Esola acknowledged there is no guarantee the new phones will sell. And getting the app integrated with LG Wing's swiveling second screen required investment.

"It's not easy to adapt to a new form factor," Esola said, referring to the phone's shape and size. "Apps don't (usually) spend the time [to adapt] until they know. We took the risk."
In doing so, LG is betting that Ficto can break through in the crowded streaming field. It will aim to do so largely through interactivity, which Esola has referred to as a form of "engaging and empowering" viewers.
The ability to share Ficto content across social media is a departure from fellow mobile-oriented streamer Quibi, which did not allow users to share content clips. After a disappointing launch, the L.A.-based company recently added that feature, among others.
By contrast, Ficto has built-in technology to enable sharing clips over social media while complying with copyright law. Ficto will also provide creators with some analytics about the performance of their shows, something that Esola says many streaming companies, namely Netflix, do not do.
Ficto has raised $5 million since it incorporated in March 2018.
About 80% of the company's revenue currently comes from licensing shows to foreign markets, which allows apps in those markets to use Ficto's shows and essentially present them as their own.
The company also makes revenue from brand integrations, an area that is expected to grow as its user count climbs. Such arrangements allow a company like Anheuser Busch to "sponsor" a season or episode in exchange for a degree of creative control and product placement.
Ficto also licenses its proprietary technology for functionality like e-commerce integration and data analytics.