When Anna Ivey, CEO and co-founder of CommonCoach Inc., opened her inbox recently she noticed an email from someone who had connected with her on LinkedIn, but she soon found out he was not looking for a professional connection.
"Your beauty and charming smile caught my eye," the man wrote. "You have an amazing profile and glad I had the courage to write you after weeks of deep thought." He then added: "I hope no offense is taken."
Ivey did take offense and posted a screenshot of the offending email to Twitter with the message: "LinkedIn. Is. Not. A. Dating. Site."
"I decided I'm going to start putting these out there, because especially in the startup world, a lot of men don't realize the garbage that women have to put up with," she said in a telephone interview.
Women – and to a much lesser degree, men – have long had to endure unwanted advances in the workplace or at work related events. But the problem is worse on LinkedIn, where people feel more comfortable making advances than they would in-person.
"It would be nice if these platforms took this abuse more seriously," said Ivey.
LinkedIn's community guidelines prohibit "romantic advances." However, as the company's CEO Jeff Weiner told Wired magazine last year, it relies on self-policing to enforce the policy. The company says it removed 52,617 instances of harassment or adult content last year.
Los Angeles has always had a reputation as a tough place to date, and that before COVID-19 shut down bars, parties and workplaces. As internet dating has become more mainstream, especially during the pandemic, people are used to finding love online, and unlike dating apps — where the person you're swiping on might not even be real — LinkedIn confers authenticity. That it is not a dating site is a feature and not a bug for some users wary of being seen on the likes of Bumble or Hinge.
"People don't want their friend's daughter or their assistant to see them online," said eharmony dating coach Laurel House. "They don't want people knowing their personal business."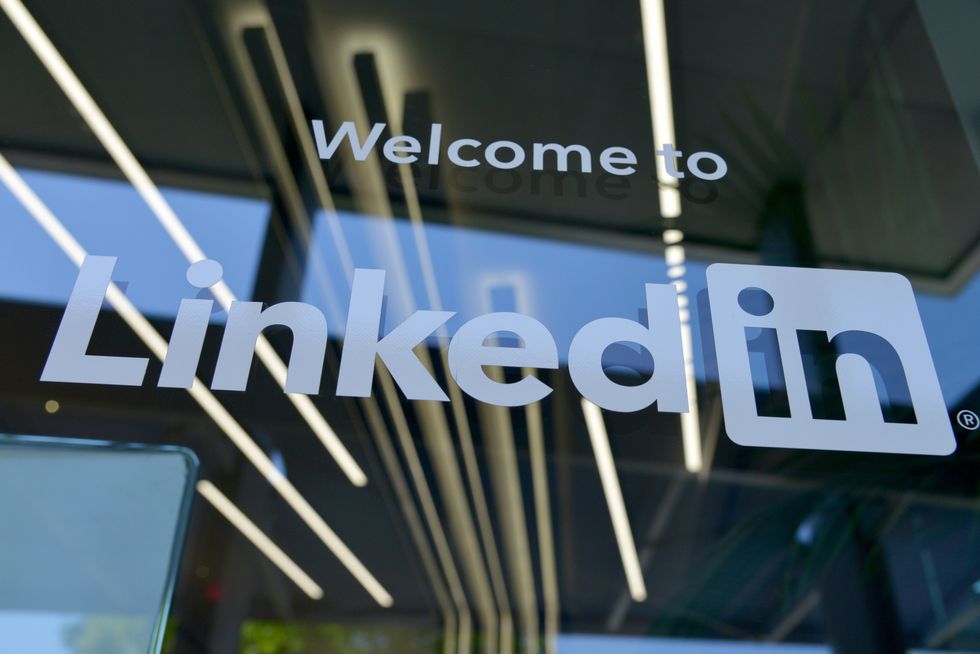 Photo by Greg Bulla on Unsplash
'Sometimes It Does Feel Predatory'
Ivey estimates she gets about one message a month through LinkedIn asking her out and she sees it is as more than just an annoyance. "Sometimes it does feel predatory," she added. "I haven't asked to be a target. I don't know how much they know about me. I don't know how much they have Google stalked me."
Despite the unwelcome advances, Ivey says she cannot delete her LinkedIn profile because it is an important networking tool. She tries to limit how much information she shares in her profile, something she says men do not have to worry about. Some women have also been told to use less attractive profile photos.
"I really mean that Linkedin is not a dating site," Ivey said. "If I were looking for romantic prospects, I would not be looking at Linkedin."
Ivey is hardly alone. Olivia Solon, tech investigations editor for NBC News, got this message: "It's my pleasure meeting you here. You look so beautiful and gorgeous." Kim Taylor, CEO of Cluster, posted a screenshot of a similar entreaty on Twitter: "I've not been able to take my eyes off your picture," a man wrote to her. "You're the most beautiful I've ever seen."
After Taylor posted the message, Ben Katz, a tech entrepreneur who's currently the executive chairman of Haven Coliving, criticized her on Twitter for being overly sensitive.
"The outreach wasn't hostile," Katz replied to her. "Has anyone ever hit on you at a work event? How is this different?" (Katz later deleted the Tweets. When asked to comment he replied "LOL.")
The exchange highlights not only two divergent point of views, but how — three years after the #MeToo movement began — there is still confusion about when making a pass at someone crosses the line. Even when intentionally looking for love on apps, women tend to experience sexual harassment at a much higher rate than men.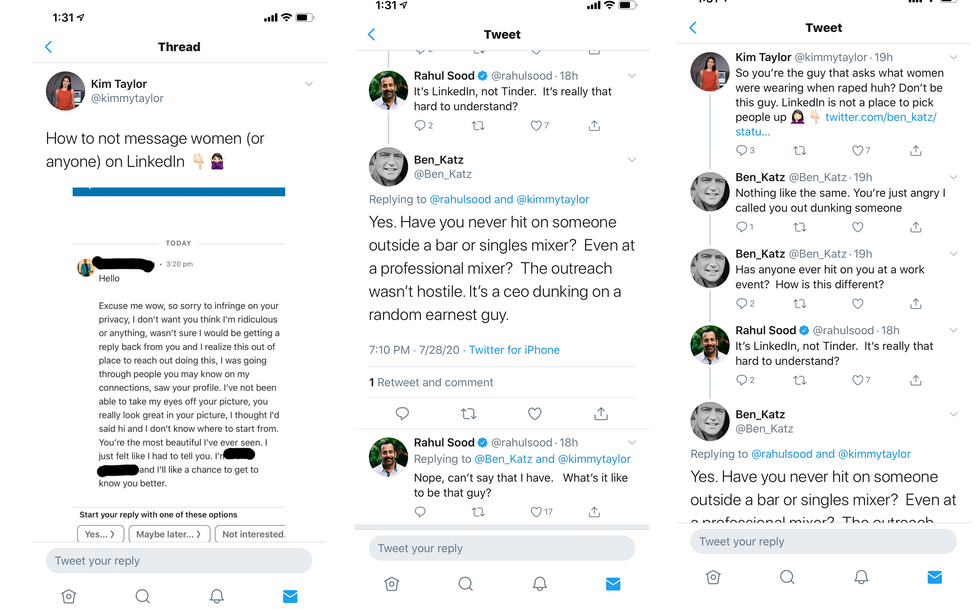 assets.rebelmouse.io
Unclear intentions: An Informational Interview or a Date?
Two years ago, Saphira Howell, who was 20-years-old at the time, was working in an entry-level role at a tech startup in Venice when she received a LinkedIn message from a man seven years her senior. He asked if they could meet over coffee for an informational interview so he could learn more about the company. Since they had mutual acquaintances on LinkedIn, she agreed. But when they met near Venice Beach, he showed little interest in talking about work.
"I thought it was weird because he didn't ask anything about the company," Howell recalls. "I thought maybe this guy was just a big networker?"
When the man texted a few weeks later asking if she wanted to have lunch, Howell asked him if he was looking for a date. He said he was. Howell told him she had a boyfriend and was not interested. She never heard from the man again. "I was a little unsettled that he thought our informational coffee was a date," she said.
Laurel House, the dating coach expert at eharmony, said stories like Howell's are common, but she does not think it is inappropriate to use LinkedIn for dating, so long as people are respectful and upfront with their intentions.
"Make it clear as you can that you're interested in knowing her in a non-business way," said House. "You're giving her the opportunity to say 'thanks, but no thanks'."
House says overtures on the app are often a two-way street. "I have a lot of female clients who reach out to men to date on LinkedIn," she added. "They think a guy is really hot and maybe they can get a job or maybe a date."
Steven Ward, CEO of Master Matchmakers, who counts many tech executives as clients, says he scours dating sites for eligible singles, then cross-references LinkedIn to help verify their professional credentials.
"Linkedin is a great reservoir of talent when it comes to the dating scene," he said.
He also uses the platform to message people, since most dating sites require a mutual match before users can communicate. "You take your lumps," said Ward. "But sometimes they start to feel very intrigued if there's no commitment to work with me."
A matchmaker and chief dating officer at Match, Katie Wilson says she has contacted thousands of people on LinkedIn to ask if they would be interested in dating her clients and experiences "ten times" the success she does on Instagram or Facebook.
"I have yet to come across someone that's frustrated that I've reached out to them about their personal lives," said Wilson. "I think everyone is flattered. Even married folks are tickled that they still got it."
Still, Wilson does acknowledge that receiving a message from her is probably less threatening or creepy than getting one from a suitor.
A Message and Then a Marriage
Some have met or reconnected with long lost acquaintances through LinkedIn that led to relationships, or even marriages.
Katie McCulloh, who lives outside Washington D.C, had grown weary of dating apps after years of bad dates. "If there was an app out there, I had tried it," she said. "I never had any success."
Three years ago, when she had just turned 35, she reached out to an old high school boyfriend on LinkedIn who she had not spoken to in years. "Linkedin was the one way I could reconnect," McCulloh said. "I didn't have a phone number and he wasn't on other social media."
McCulloh said she was only trying to be friends, but once the two met up "It didn't take long for us to realize something was still there." Two years ago they got married and now they are raising a toddler.
"You just never know what's going to happen," she said.
Lead art by Candice Navi.