NASA Gives Crucial Thumbs-up to SpaceX's Historic Crewed Flight to Space Station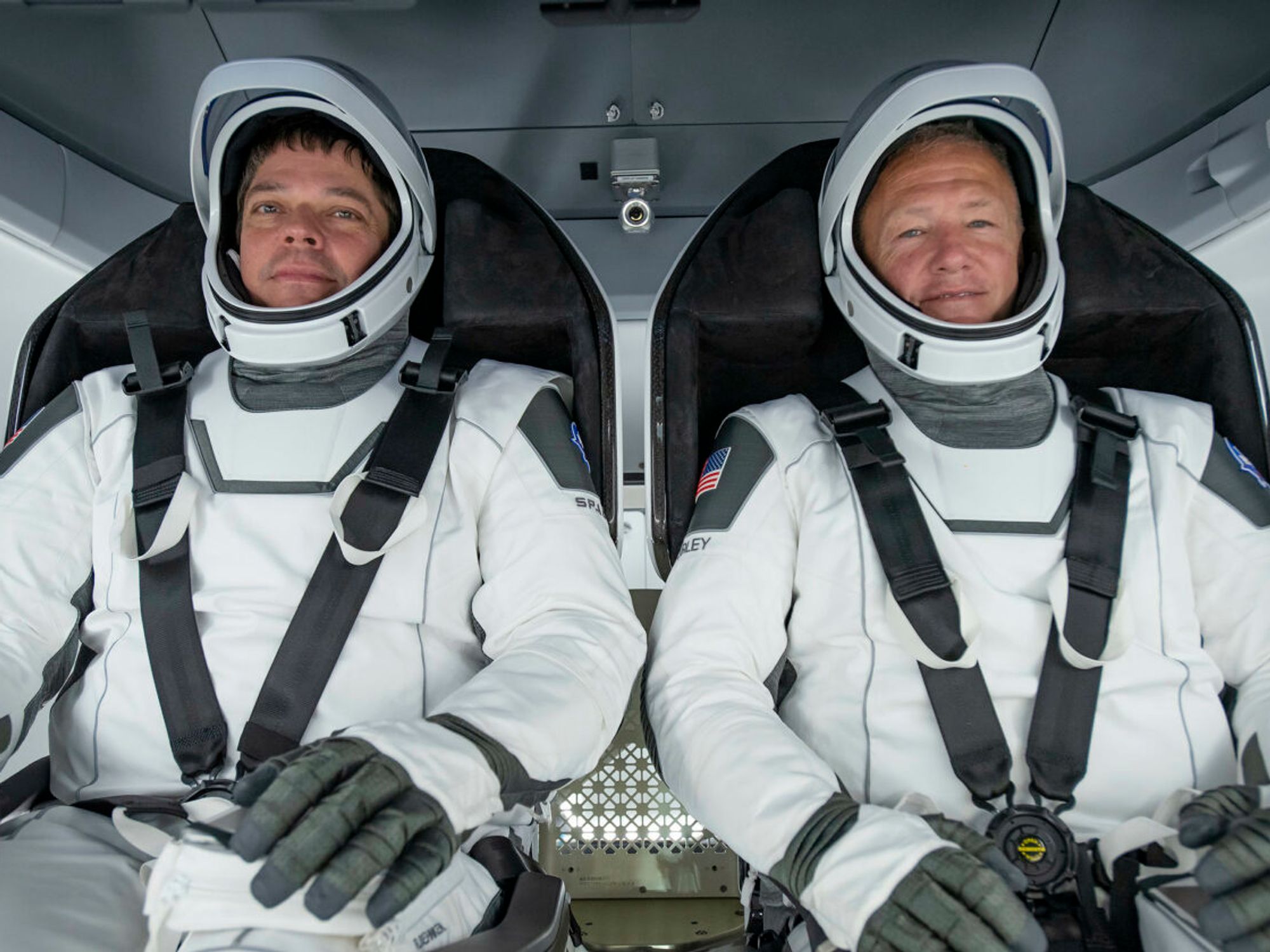 NASA today signed off on the first launch to send a crew into orbit from U.S. soil in nearly nine years, and the rocket for that launch got what's expected to be its final test firing.
After reviewing mission plans for a day and a half, mission managers cleared SpaceX to send NASA astronauts Doug Hurley and Bob Behnken to the International Space Station at 4:33 p.m. ET (1:33 p.m. PT) Wednesday.
---
"We had a very successful flight readiness review, in that we did a thorough review of all the systems and all the risks," NASA Associate Administrator Steve Jurczyk, who presided over this week's meetings, said at KSC during a post-review news briefing. "It was unanimous on the board that we are go for launch."
After the briefing, SpaceX fired up the first-stage engines on its Falcon 9 rocket at Launch Complex 39A, at NASA's Kennedy Space Center in Florida, to conduct its traditional static-fire system check. SpaceX is expected to report whether the test firing was successful later today.
NASA Administrator Jim Bridenstine said this week's meetings weren't just a rubber stamp. "There were conversations that were had that were very important to be had, but it's also true that at the end … we got to a 'go.' "
Jurczyk cited the example of the SpaceX Crew Dragon capsule's parachute system, which had to be reworked and retested to satisfy NASA's safety margin requirements. SpaceX CEO Elon Musk said that wasn't easy. "Much harder problem than it may seem," he tweeted.
SpaceX has completed nearly 100 tests and flights of its Dragon parachute systems for cargo missions and in development of the upgraded Mark 3 design—one of the safest, most reliable parachute systems in the world for human spaceflight pic.twitter.com/WB8zm9ohBC
— SpaceX (@SpaceX) May 22, 2020
The latest Tweets from SpaceX (@SpaceX). SpaceX designs, manufactures and launches the world's most advanced rockets and spacecraft. Hawthorne, CA

The Dragon's fire suppression system also came in for scrutiny, but Jurczyk said "we've deemed the risk to be very low there."
Jurczyk said Russian and Japanese representatives participated in the meetings via remote links. He noted that SpaceX tweaked the Crew Dragon's design after last year's successful uncrewed demonstration flight to the space station, to address a potential collision risk that the Russians called to attention.
Hurle and Behnken, who arrived in Florida a couple of days ago for final pre-flight preparations, looked in on the flight readiness review as well. Today, during their final pre-flight news briefing, they said they understood the risk trade-offs that NASA and SpaceX were making.
"We're really comfortable with it, and we think that those trades have been made appropriately," Behnken said. "As far as insight goes, we've had probably more than any crew has in recent history."
Behnken said he and Hurley, who were veteran military test pilots before they joined NASA, were looking forward to trying out a new spaceship for the first time. "We're living the dream," he said.
Now that the flight readiness review and the static-fire test have been checked off the to-do list, the next big event on the agenda is Saturday's "dry dress rehearsal," which will involve going through the launch-day schedule without fueling up and firing the rocket.
There'll be a final launch readiness review on Monday, leading up to Wednesday's launch day with President Donald Trump and other VIPs in attendance.
The demonstration mission will mark the first time U.S. astronauts have been sent into orbit from U.S. soil since NASA retired the space shuttle fleet in 2011.
For the past five years, SpaceX and Boeing have been working on commercial space taxis to take the shuttle's place as methods for getting astronauts to and from the space station. In the interim, NASA has had to pay the Russians tens of millions of dollars per seat to transport U.S. astronauts in Soyuz capsules.
"Don't ever underestimate the value of a failure... When we've made the biggest progress, it's been in learning from a failure and then using that as a step function to move [us] to the next level." — Kathy Lueders, manager of our @Commercial_Crew program: pic.twitter.com/BJjSeRPqws
— NASA (@NASA) May 22, 2020
There have been plenty of setbacks along the way. A different Crew Dragon blew up during a launch-pad test a year ago, forcing a redesign of the craft's propulsion system. And in December, an uncrewed test flight of Boeing's Starliner space taxi went awry, guaranteeing that SpaceX would be the first to fly a crew.

Kathy Lueders, NASA's manager for the commercial crew program, said that a year ago, she probably wouldn't have thought SpaceX could be ready by now.
"But you know what, you can never sell this NASA and SpaceX team short, and they've always accomplished miracles for me," she said. "And I'm very, very proud of them right now."
Lueders stressed that it's not yet time to relax. Even if the launch and the space station rendezvous go perfectly, Behnken and Hurley will be spending somewhere between a month and four months working in orbit before they ride their Dragon back to an Atlantic Ocean splashdown.
"We're going to stay hungry until Bob and Doug come home," she said.
This story first appeared on GeekWire. Love space and science? Sign up for GeekWire's Space & Science email newsletter.