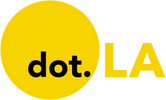 Get in the KNOW  
  on LA Startups & Tech  
X

Design, Bitches
Looking to Build a Granny Flat in Your Backyard? Meet the Firms and Designs Pre-Approved in LA
Sarah Favot
Favot is an award-winning journalist and adjunct instructor at USC's Annenberg School for Communication and Journalism. She previously was an investigative and data reporter at national education news site The 74 and local news site LA School Report. She's also worked at the Los Angeles Daily News. She was a Livingston Award finalist in 2011 and holds a Master's degree in journalism from Boston University and BA from the University of Windsor in Ontario, Canada.
07:10 AM | March 12, 2021
Adding a backyard home in Los Angeles is now nearly as easy as buying a barbecue.
Homeowners who for years have wanted to build a granny flat in their backyard, but dreaded the red tape, can now choose from 20 pre-designed homes that the city has already approved for use.
The shift, made official last week, will speed up a weeks-long process and bring more badly needed units to an overpriced market. It also has the potential to elevate the 14 startups and firms building the next generation of homes.
---
The designs for the stand-alone residences range from a 200-square-foot studio to a 1,200-square foot, two-story, two-bedroom unit. And many of the homes are filled with design flourishes, reflecting the diverse architecture of the city, from a house in the silhouette of a flower to one with a spiral outdoor staircase leading to the roof.
It's no surprise. The program was spearheaded by Christopher Hawthorne, a former architecture critic at the Los Angeles Times and now the city's chief design officer.
The firms are primarily local and startup architecture and design firms, while others are well-known with a history of building granny flats, also know as accessory dwelling units, or ADUs.
The standard plans avoid the Los Angeles Department of Building and Safety's typical four-to six-week review process and can allow approvals to be completed in as quickly as one day.
Some aspects of the plans can be modified to fit a homeowner's preferences. Eight other designs are pending approval.
Mayor Eric Garcetti believes by adding more such units, the city can diversify its housing supply and tackle the housing crisis. Recent state legislation made it easier to build the small homes on the lot of single-family residences. Since then, ADUs have made up nearly a quarter of Los Angeles' newly permitted housing units.
Because construction costs are relatively low for the granny flats – the pre-approved homes start at $144,000 and can go beyond $300,000 – the housing is generally more affordable. The median home price in L.A. County in January was $690,000.
Here's a quick look at the designs approved so far:
Abodu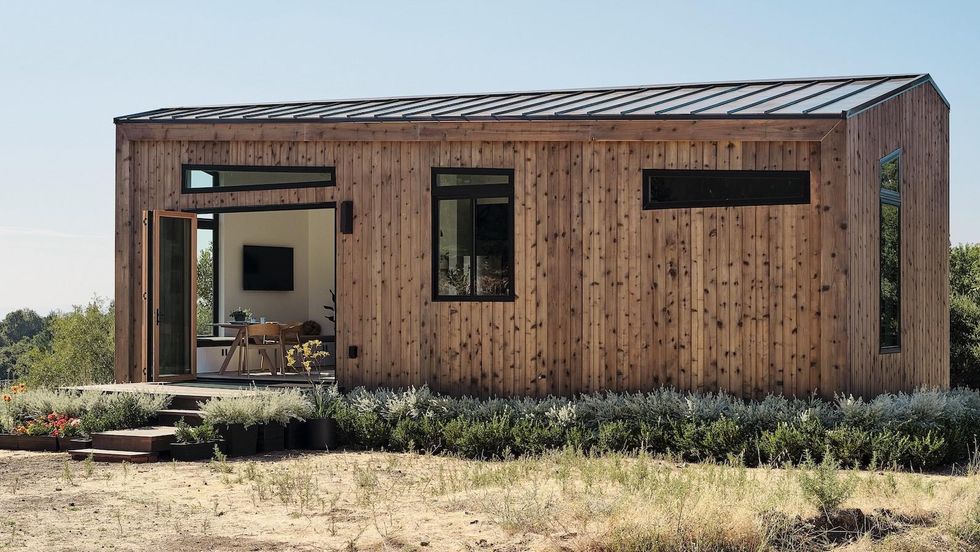 Abodu
Abodu, based in Redwood City in the Bay Area, exclusively designs backyard homes. In 2019, it worked with the city of San Jose on a program similar to the one Los Angeles is undertaking.
In October, it closed a seed funding round of $3.5 million led by Initialized Capital.
It has been approved for a one-story 340-square-foot studio, a one-story one-bedroom at 500 square feet, and a one-story, 610-square-foot two-bedroom.
The pricing for the studio is $189,900, while the one-bedroom costs $199,900 and the two-bedroom is $259,900.
Amunátegui Valdés Architects
Led by Cristobal Amunátegui and Alejandro Valdés, the firm was founded in 2011 and has offices in Los Angeles and Santiago, Chile. Amunátegui is an assistant professor at the Department of Architecture and Urban Design at UCLA.
The firm designs work in various scales and mediums, including buildings, furniture and exhibitions.
Its one-story, two-bedroom with a covered roof deck 934-square-foot unit is pending approval from the city.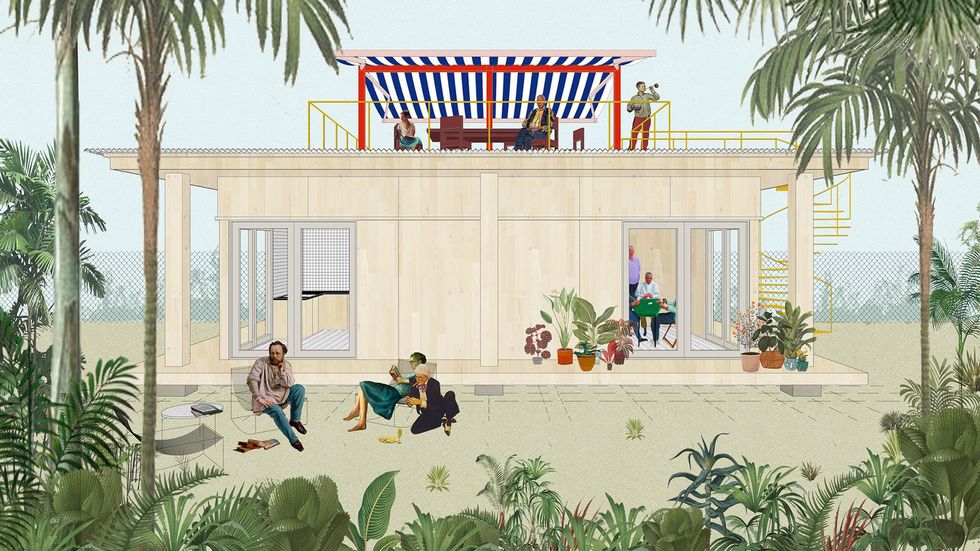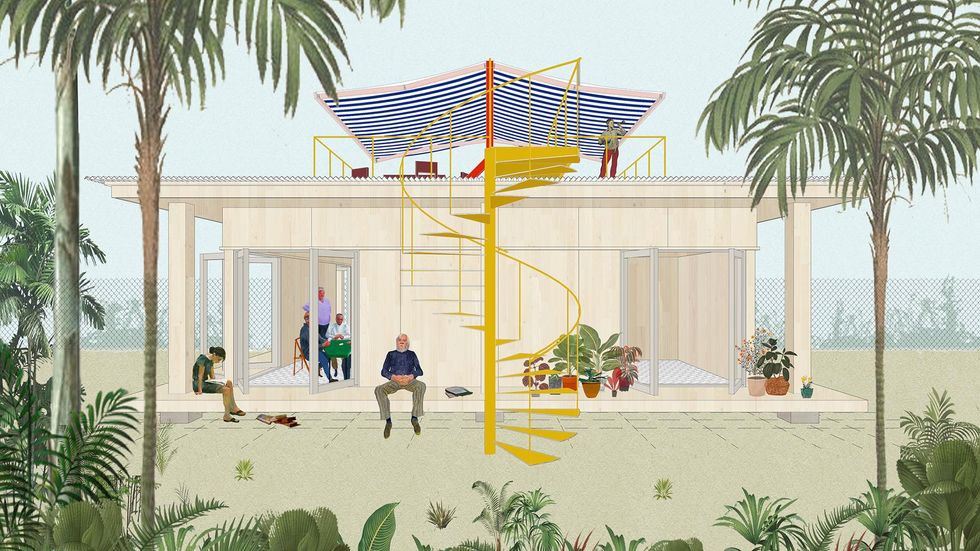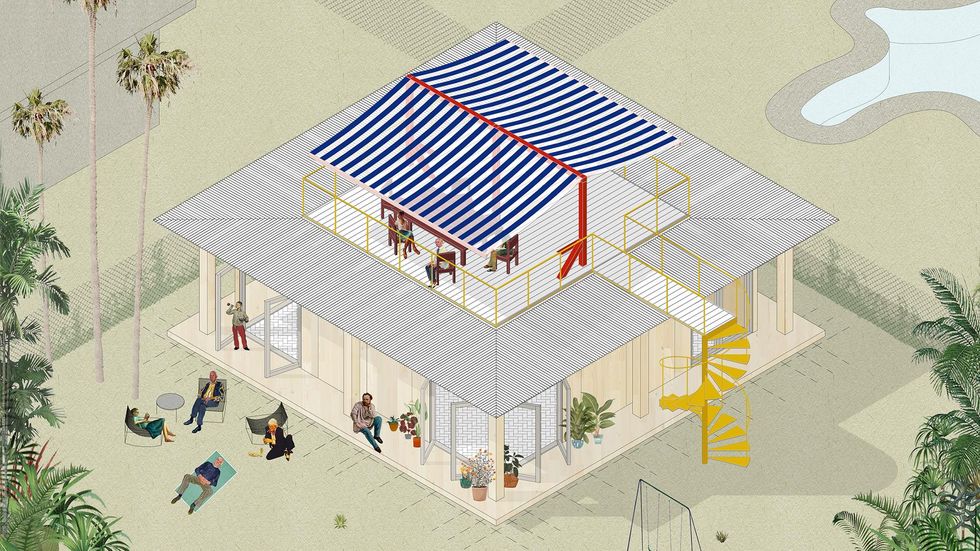 Connect Homes
Connect Homes has a 100,000-square foot factory in San Bernardino and an architecture studio in Downtown L.A.
It specializes in glass and steel homes and has completed 80 homes in California. Its designs have an aesthetic of mid-century modern California residential architecture.
It has two one-bedroom models pre-approved by the city, one is 460 square feet, which costs $144,500 with a total average project cost of $205,000. The other is 640 square feet, which costs $195,200 with a total project cost of $280,000.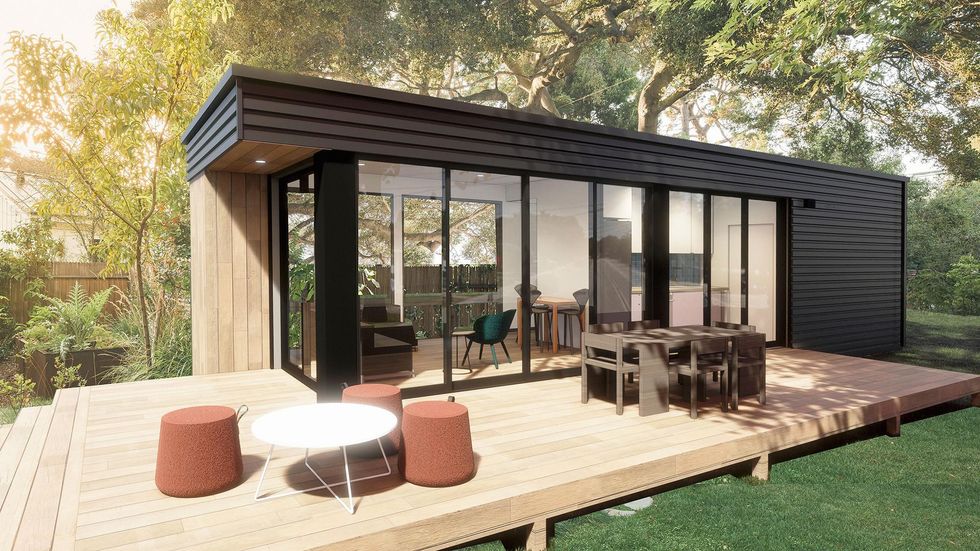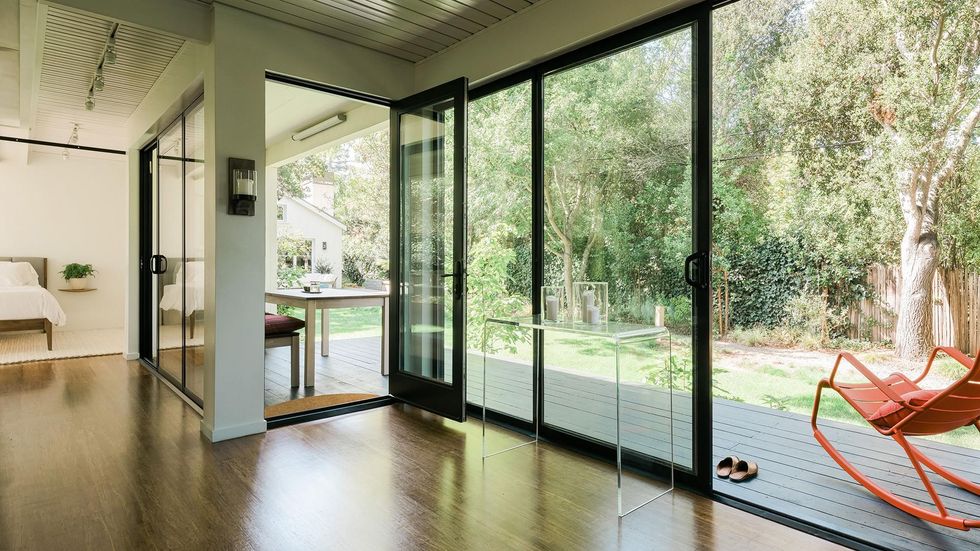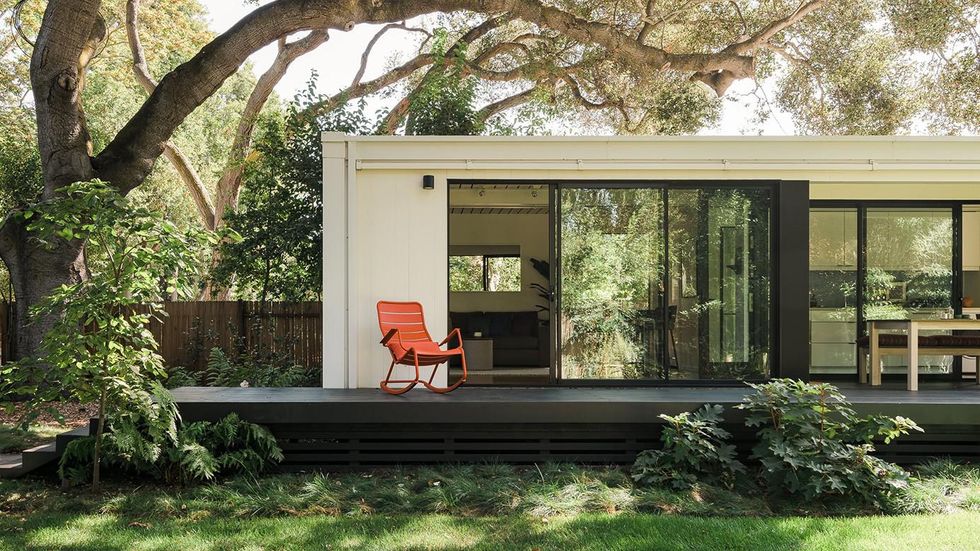 Design, Bitches
The Los Angeles-based architectural firm founded in 2010 describes itself as having a "bold and irreverent vision." Its projects include urban infill ground-up offices to single-family homes, adaptive re-use of derelict commercial buildings and renovations of historic landmarks.
Its pre-approved design, named "Midnight Room," is a guest house/ studio. Its bedroom can be left open for a loft feel or enclosed as a separate room. The design is a one-story, one-bedroom at 454 square feet.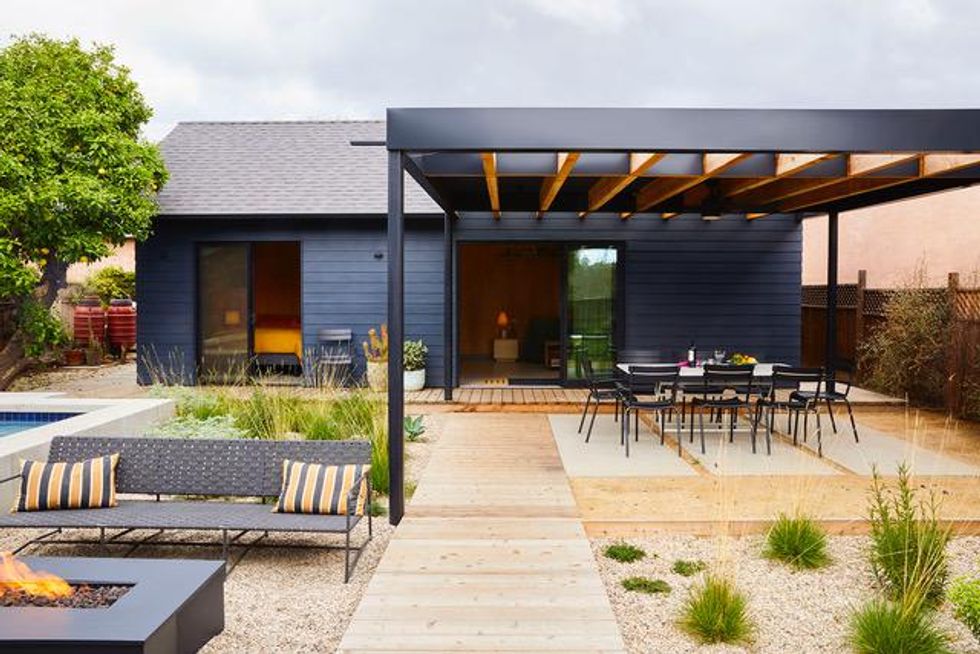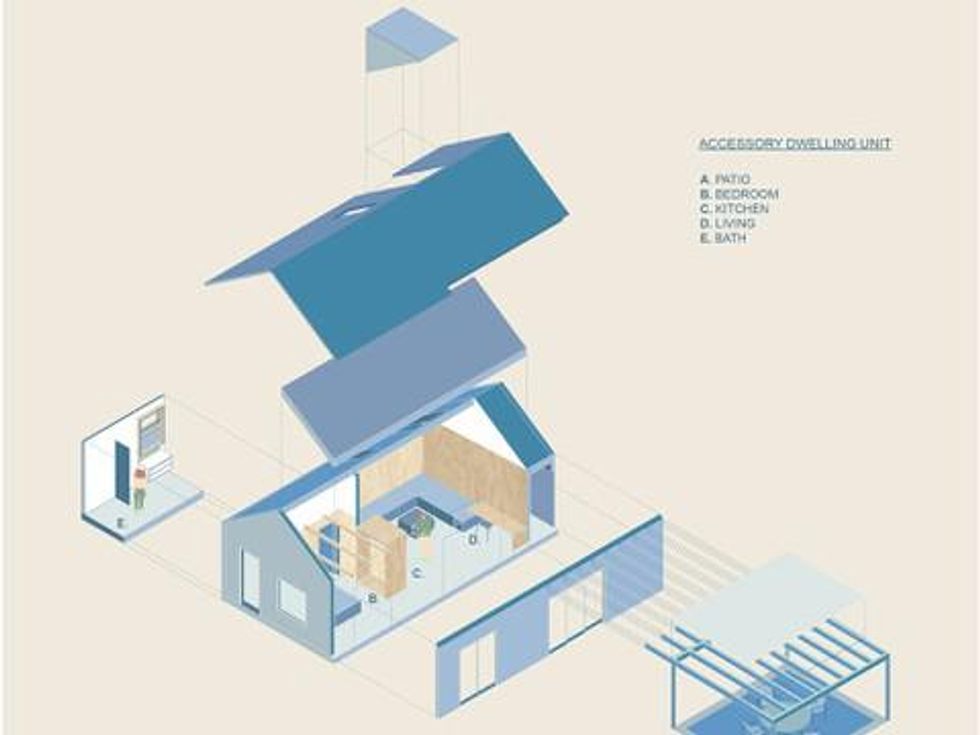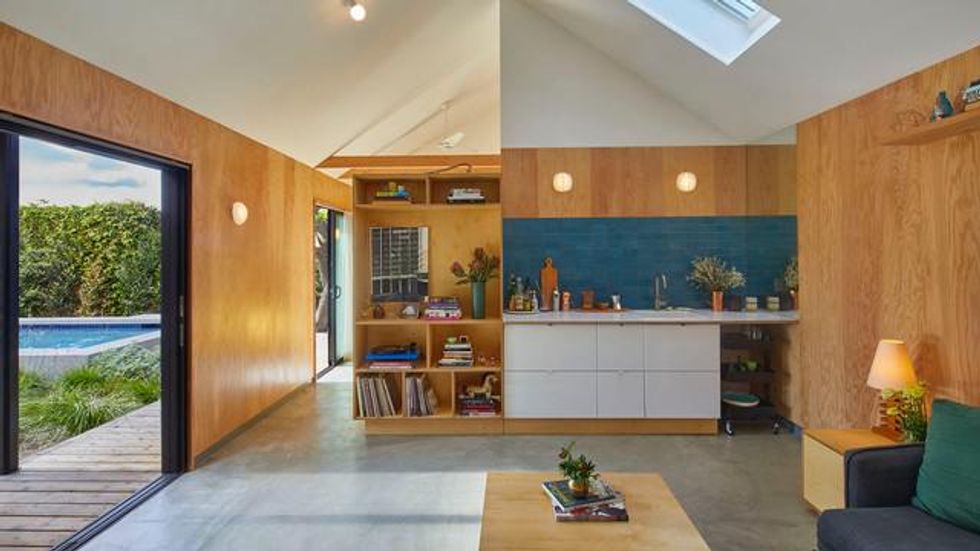 Escher GuneWardena Architecture
Founded in Los Angeles in 1996, Escher GuneWardena Architecture has received international recognition and has collaborated with contemporary artists, worked on historical preservation projects and more.
The company has been approved for two different one-story, one- or two-bedroom units, one at 532 square feet with an estimated cost of $200,000 and another at 784 square feet with an estimated cost of $300,000. The firm noted the costs depend on site conditions and do not include soft costs. Those could add 10% to 12% to the total construction costs.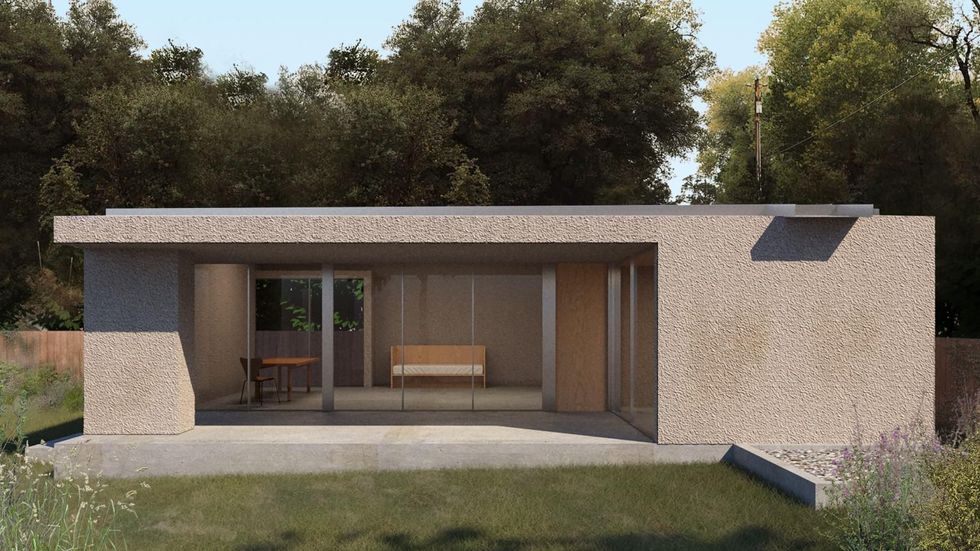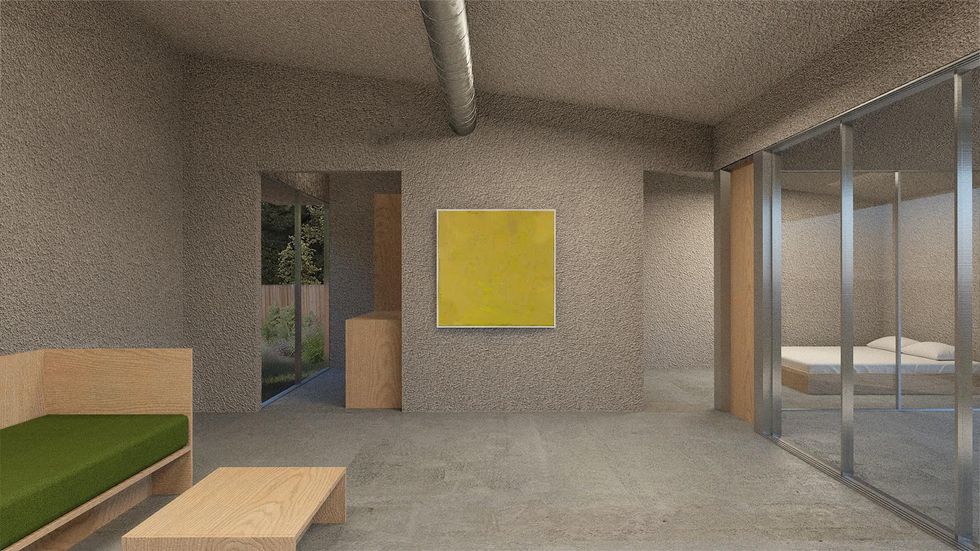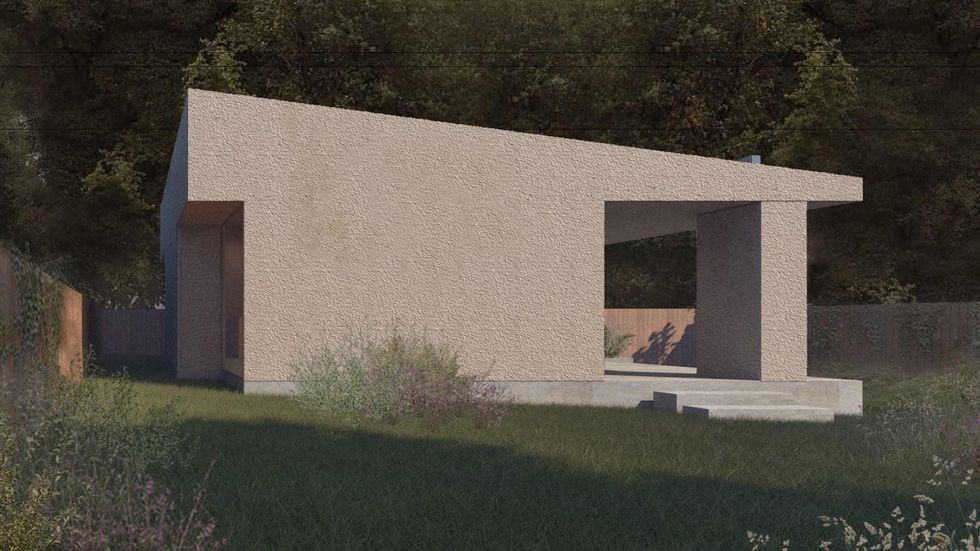 First Office
First Office is an architecture firm based in Downtown Los Angeles. Its approved ADUs will be built using prefabricated structural insulated panels, which allow for expedited construction schedules and high environmental ratings.
The interior finishes include concrete floors, stainless steel counters and an occasional element of conduit.
There are five options:
A one-story studio, 309 to 589 square feet
A one-story one-bedroom, 534 to 794 square feet
And a one-story two-bedroom, 1,200 square feet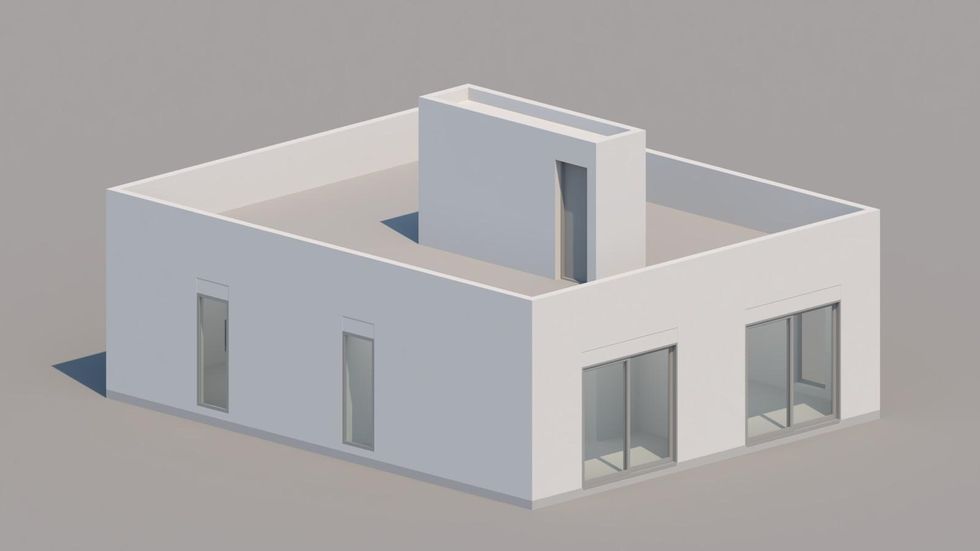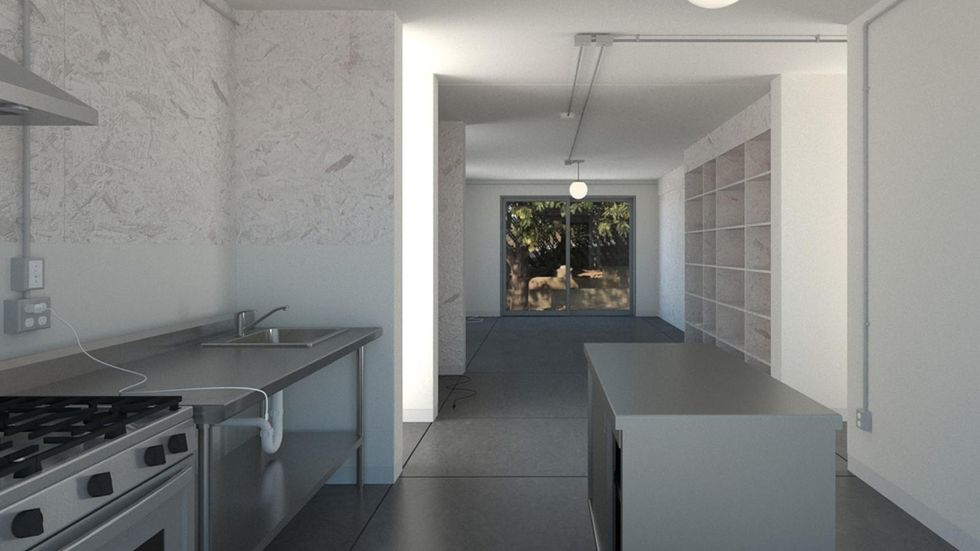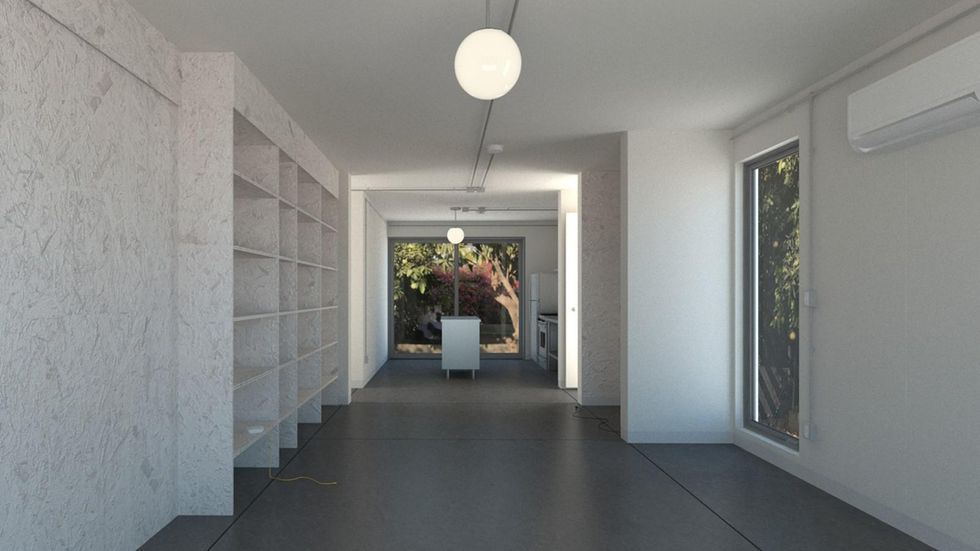 Fung + Blatt Architects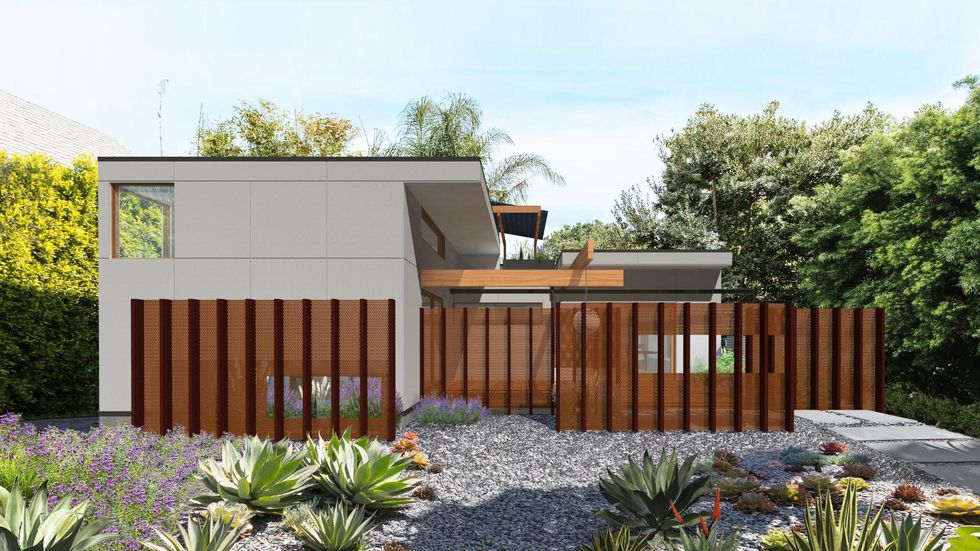 Fung + Blatt Architects is a Los Angeles-based firm founded in 1990.

The city has approved its 795-square-foot, one-story, one-bedroom unit with a roof deck. It estimates the construction cost to be $240,000 to $300,000, excluding landscape, site work and the solar array. Homeowners can also expect other additional costs.
Taalman Architecture/ IT House Inc.
The design team behind "IT House" is Los Angeles-based studio Taalman Architecture. Over the past 15 years, IT House has built more than 20 homes throughout California and the U.S.
The IT House ADU standard plans include the tower, bar, box, cube, pod and court.
The city has approved four options, including:
A two-story including mechanical room, 660 square feet
A two-story including mechanical room, 430 square feet
A one-story studio, 200 square feet
A one-story including mechanical room, 700 square feet
The firm also has another two projects pending approval: a 360-square-foot one-story studio and a one-story, three-bedroom at 1,149 square feet.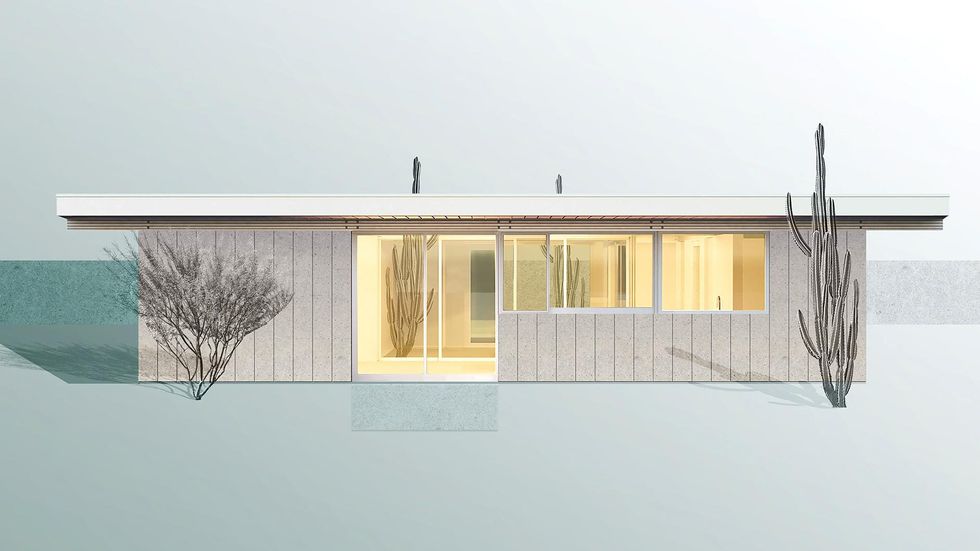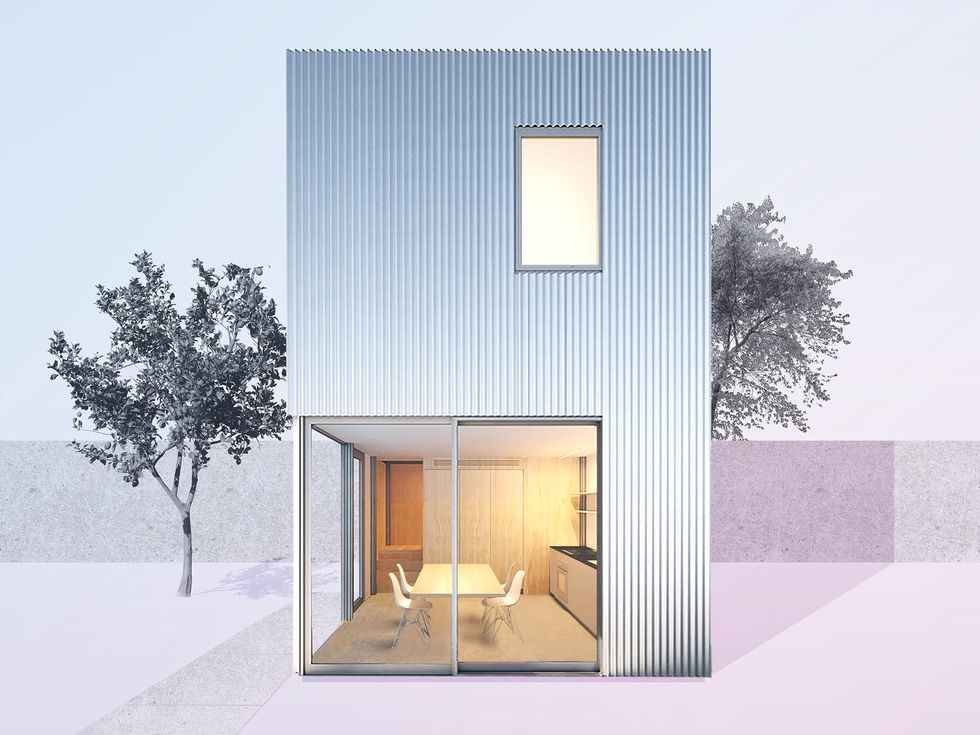 LA Más
LA Más is a nonprofit based in Northeast Los Angeles that designs and builds initiatives promoting neighborhood resilience and elevating the agency of working-class communities of color. Homeowners who are considering their design must commit to renting to Section 8 tenants.
The city has approved two of LA Más' designs: a one-story, one-bedroom, 528 square feet unit and a one-story, two-bedroom, 768 square feet unit. The firm has another design for a one-story studio pending approval. That design would be the first 3D-printed ADU design in the city's program.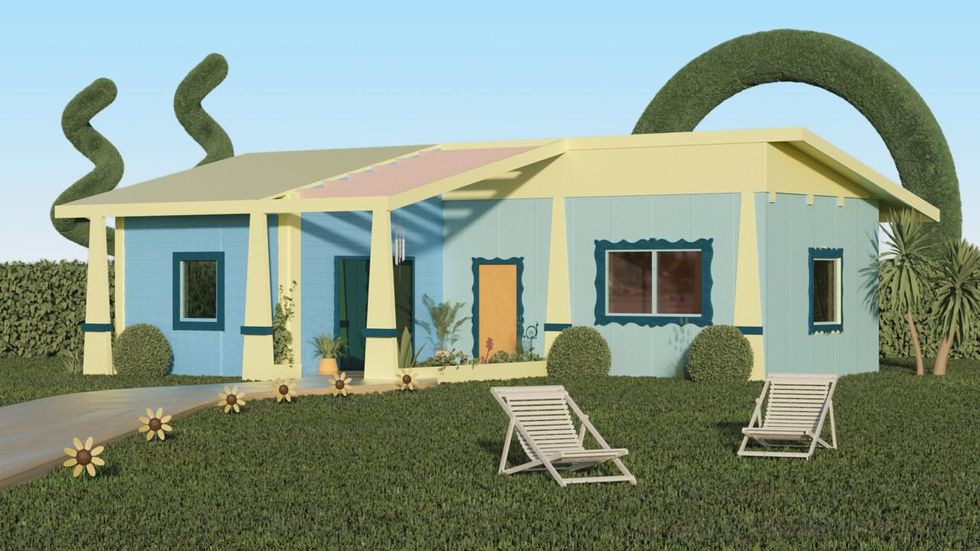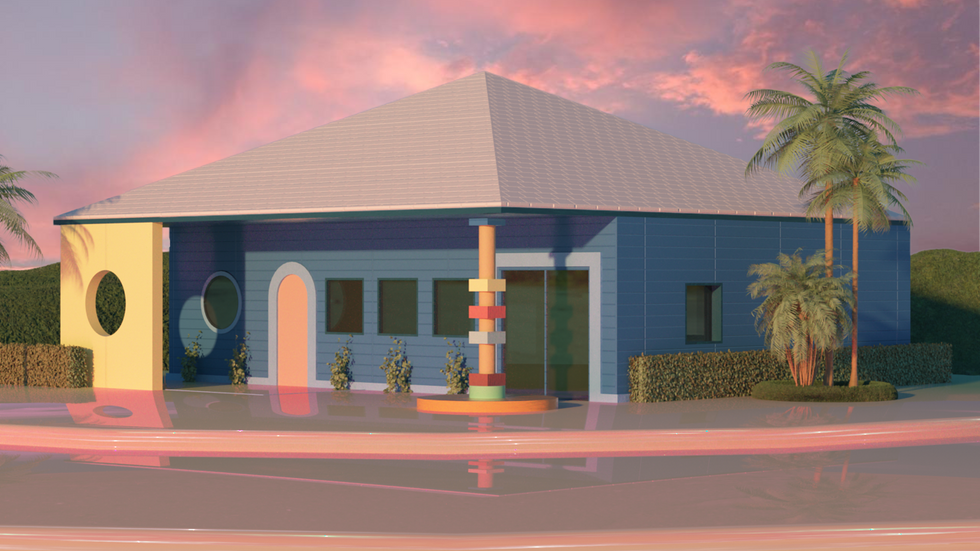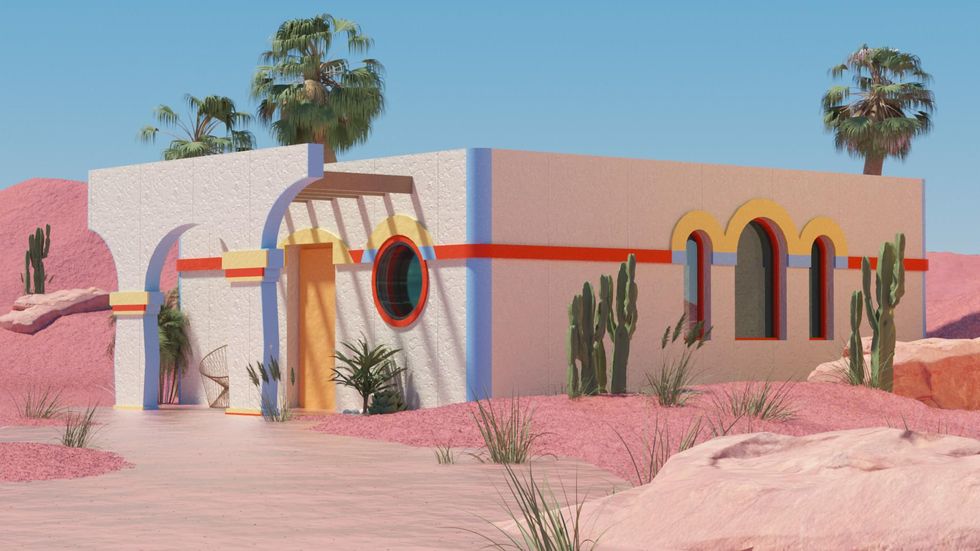 Jennifer Bonner/MALL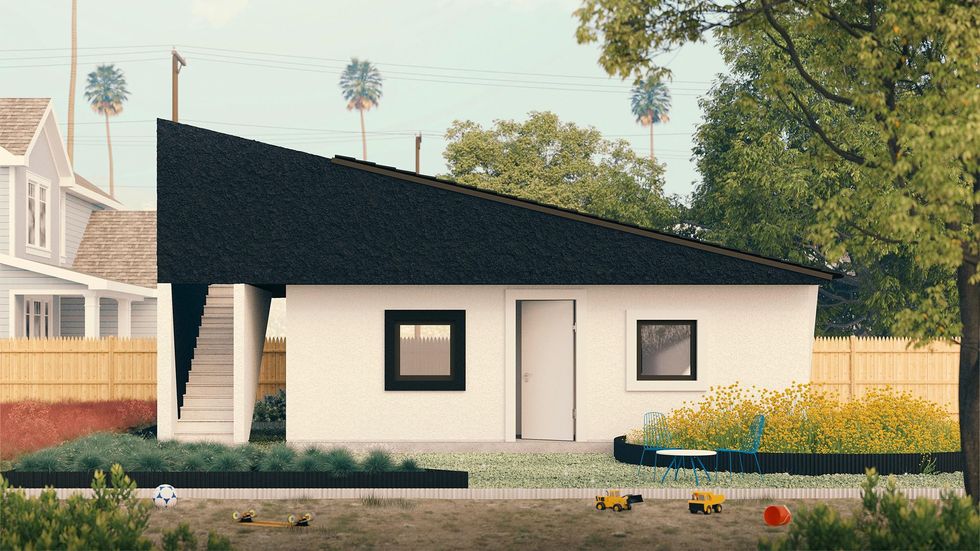 Massachusetts-based Jennifer Bonner/MALL designed a "Lean-to ADU" project, reinterpreting the stucco box and exaggerated false front, both Los Angeles architectural mainstays.
The design has been approved for a 525-square-foot one-story, one-bedroom unit with a 125-square-foot roof deck.
sekou cooke STUDIO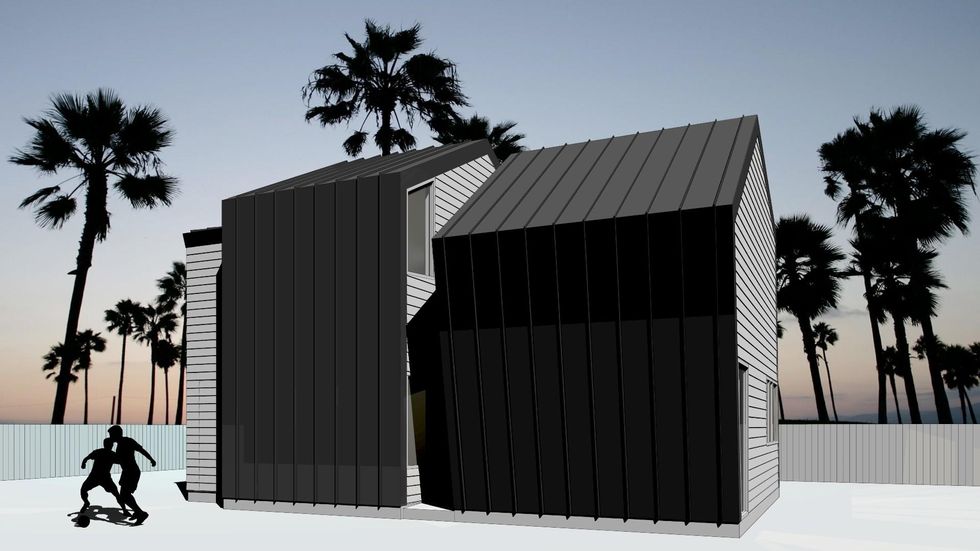 New York-based sekou cooke STUDIO is the sole Black-owned architectural firm on the project.

"The twisted forms of this ADU recalls the spin and scratch of a DJ's records" from the early 90s, the firm said.
Its design, still pending approval, is for a 1,200-square-foot, two bedroom and two bathroom can be adapted to a smaller one-bedroom unit or to include an additional half bath.
SO-IL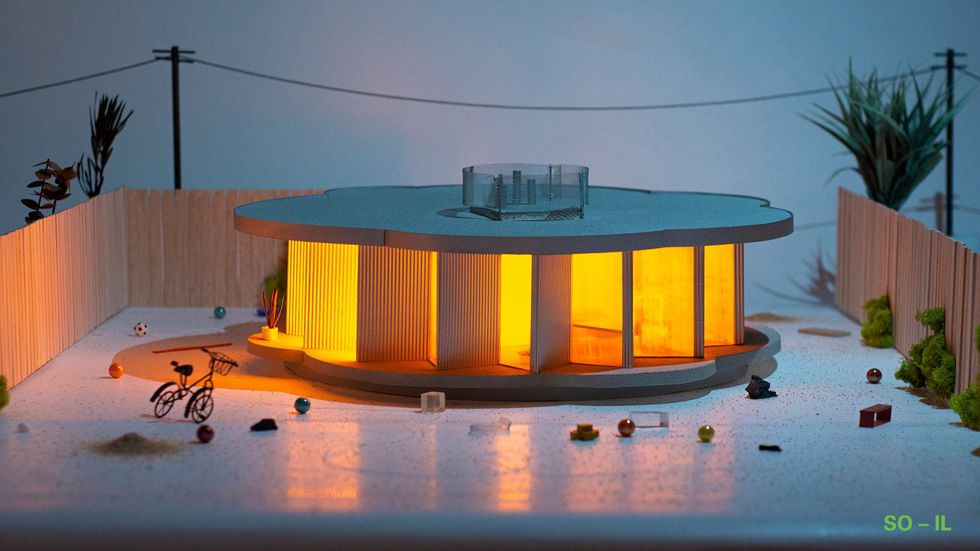 New York-based SO-IL was founded in 2008. It has completed projects in Leon, Seoul, Lisbon and Brooklyn.
Its one-story, one-bedroom 693-square-foot unit is pending approval. It is estimated the construction cost will be between $200,000 and $250,000.
WELCOME PROJECTS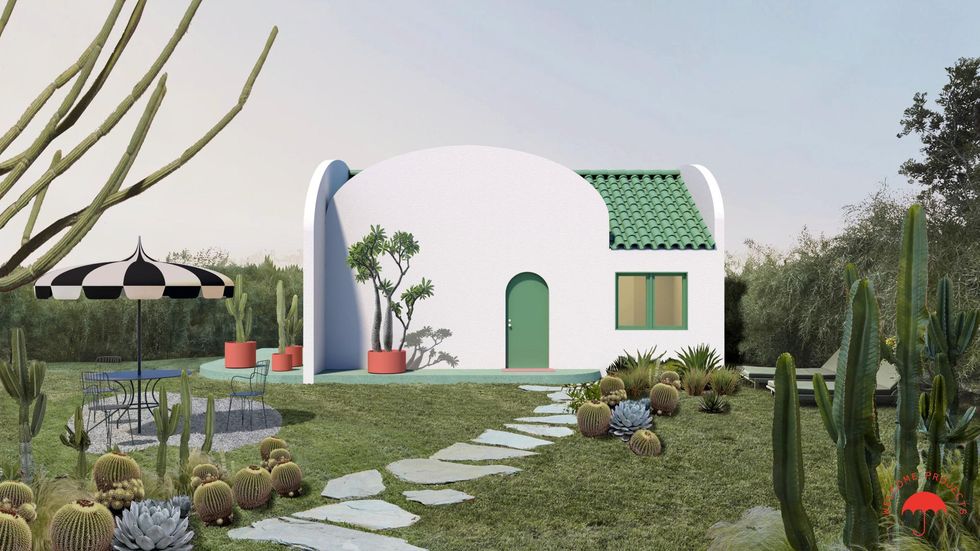 Los Angeles-based Welcome Projects has worked on projects ranging from buildings, houses and interiors to handbags, games and toys.
Its ADU is nicknamed The Breadbox "for its curved topped walls and slight resemblance to that vintage counter accessory."
It has been approved for a one-story, one-bedroom 560-square-foot unit.
wHY Architecture
Founded in 2004, wHY is based in Los Angeles and New York City. It has taken on a landmark affordable housing and historic renovation initiative in Watts.

Its one-story, one- or two-bedroom 480 to 800-square-foot unit is pending approval.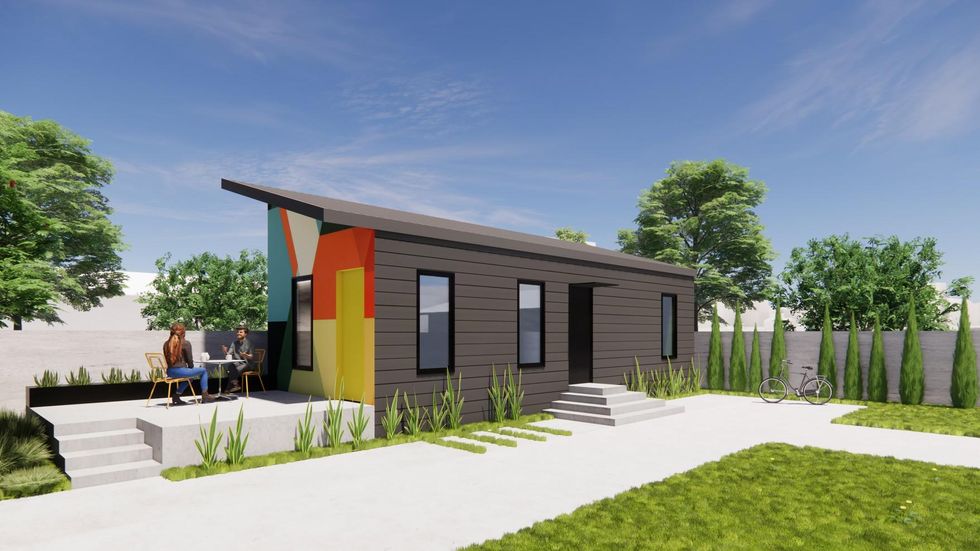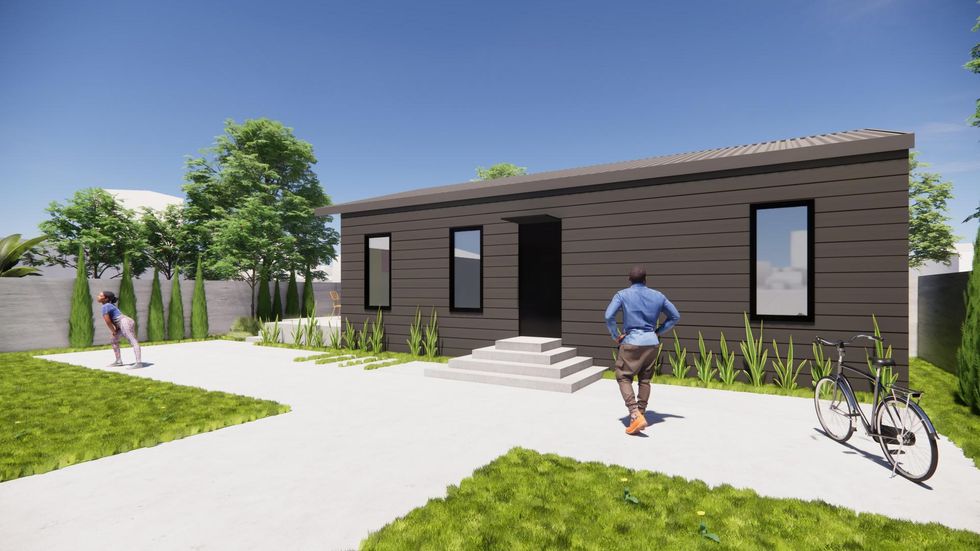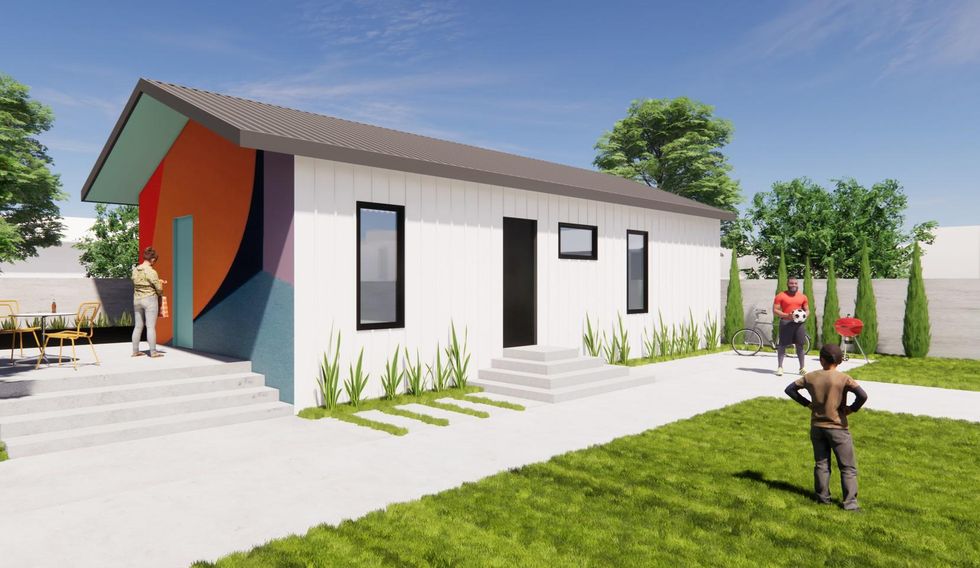 Firms that want to participate in the program can learn more here . Angelenos interested in building a standard ADU plan can learn more the approved projects here.
Sarah Favot
Favot is an award-winning journalist and adjunct instructor at USC's Annenberg School for Communication and Journalism. She previously was an investigative and data reporter at national education news site The 74 and local news site LA School Report. She's also worked at the Los Angeles Daily News. She was a Livingston Award finalist in 2011 and holds a Master's degree in journalism from Boston University and BA from the University of Windsor in Ontario, Canada.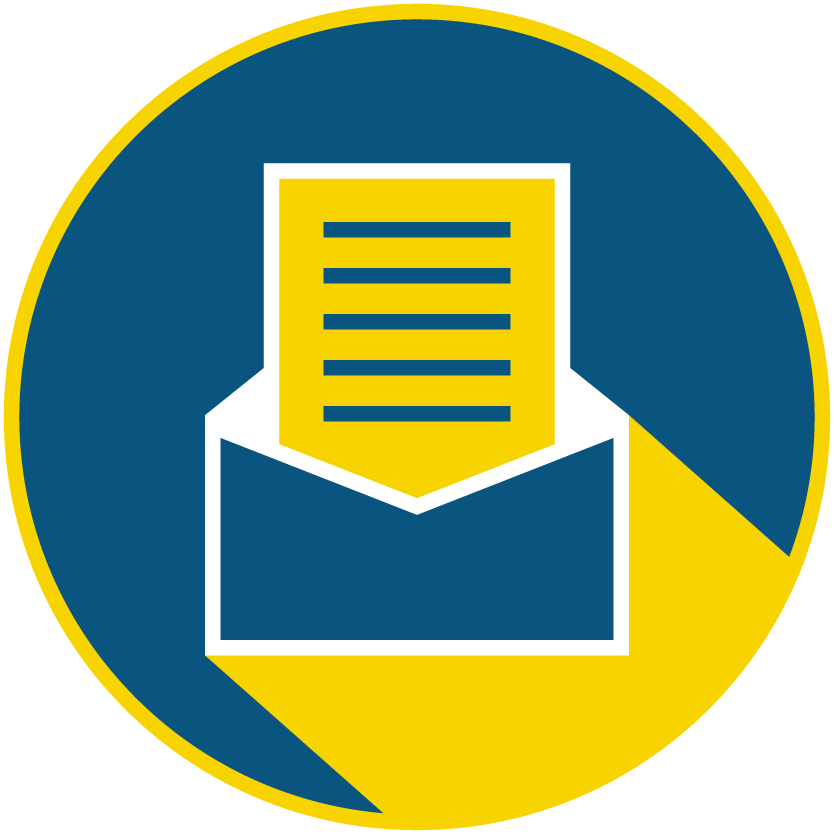 Subscribe to our newsletter to catch every headline.
06:00 AM | February 03, 2022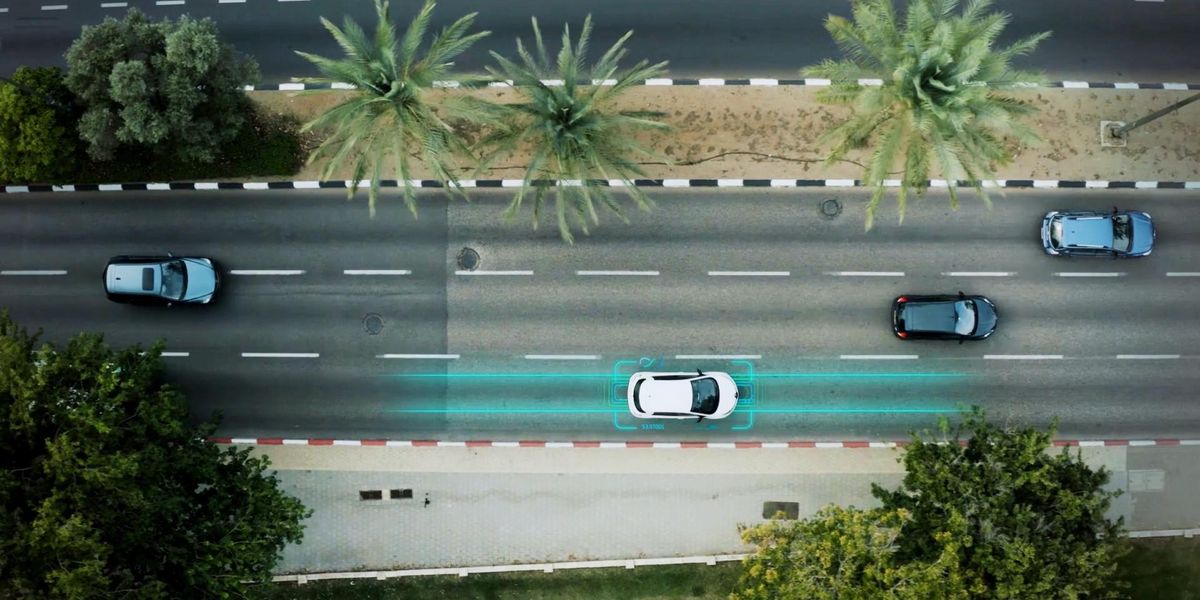 Image courtesy of Electreon
A new entrant in Los Angeles' crowded electric vehicle space wants to charge the EVs of tomorrow—without a plug.

Tel Aviv-based Electreon specializes in wireless induction charging, similar to the technology that allows you to charge your cell phone on a wireless mat or dock without plugging it in. By embedding a system of coiled wires into the pavement, Electreon plans to turn the road itself into a charging station for vehicles—one that can be used even while cars are moving.
Founded in 2013, the company has already proven its technology can work via pilot programs in Sweden, Germany and Italy—as well as its homeland of Israel, where it's a publicly traded company on the Tel Aviv Stock Exchange. But on Tuesday, Electreon announced a partnership with Michigan public authorities, as well as private stakeholders like Ford Motor Company, to install a one-mile-long stretch of electrified road in Detroit—the first time such a system would be used in public roads in the U.S. The system is expected to be operational by next year.
Electreon, which opened its U.S. headquarters in Los Angeles last month, is initially targeting fleet vehicles like taxis, buses and drayage trucks for its technology, but plans to eventually expand into the consumer EV market as well. Electric road systems would be especially attractive to fleet vehicles for a number of reasons, the most obvious being that they stop frequently. Time spent idling, especially in predictable locations, means it's easier to know where to install electrified roads and make them cost-effective.
Stefan Tongur, Electreon's L.A.-based vice president of business development, says the company's induction charging technology will probably charge slower than the traditional plug-in station model. But if the pavement under every bus station was electrified, he told dot.LA, a small amount of charge would be added to the vehicle at every stop—meaning the bus would need to take fewer, if any, breaks to recharge its battery.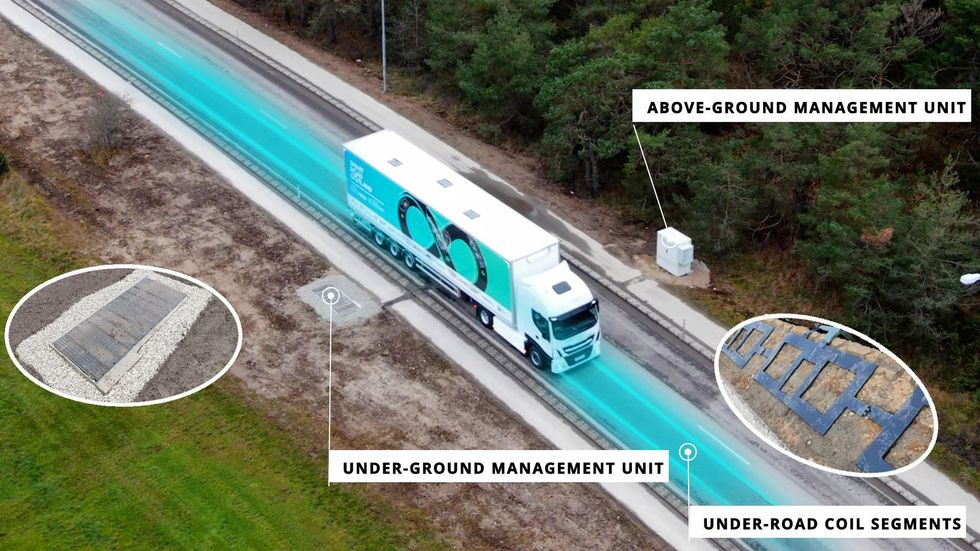 Image courtesy of Electreon
It's easy to imagine similar use cases at ports, rail yards or airport taxi lanes, all of which could spell significant savings for companies that lose time and money when their electric fleet vehicles are plugged in and recharging. Many of these areas also fall under the purview of the private sector, which would make uptake and implementation easier, according to Tongur. He said Electreon is already eyeing a move into such spaces.
Electreon aims to have its wireless charging technology installed on public roads around the U.S. within "a couple of years," Tongur added. While Detroit will host the pilot program, Los Angeles and New York will be the next targets.
"L.A. is obvious, right? It's the Mecca of EVs," he said. "You have air quality issues here; you have the port of L.A. and Long Beach; you have so much traffic. Moving to electrification is, I would say, a must."
The goal of installing wireless charging for moving vehicles is "very courageous," said Mehrdad Kazerani, a professor of electrical and computer engineering at the University of Waterloo in Ontario, Canada. Kazerani noted that researchers at the university had developed a similar concept for the sprawling Trans-Canada Highway. "Of course, we did not pursue this idea, but it seems Electreon has made good progress along this line," he said.
Kazerani added that wireless charging technology may also allow the EVs of the future to use considerably smaller batteries, which would make the cars lighter, more energy-efficient and less expensive. Smaller batteries would also mean less mining for battery materials and less waste when a battery reaches the end of its life.
"This is kind of an invitation to the U.S. market: to policymakers, state agencies, fleet owners and original equipment manufacturers," Tongur said. "This is an opportunity to do things together—join us on this path and journey."
Related Articles Around the Web
David Shultz
David Shultz is a freelance writer who lives in Santa Barbara, California. His writing has appeared in The Atlantic, Outside and Nautilus, among other publications.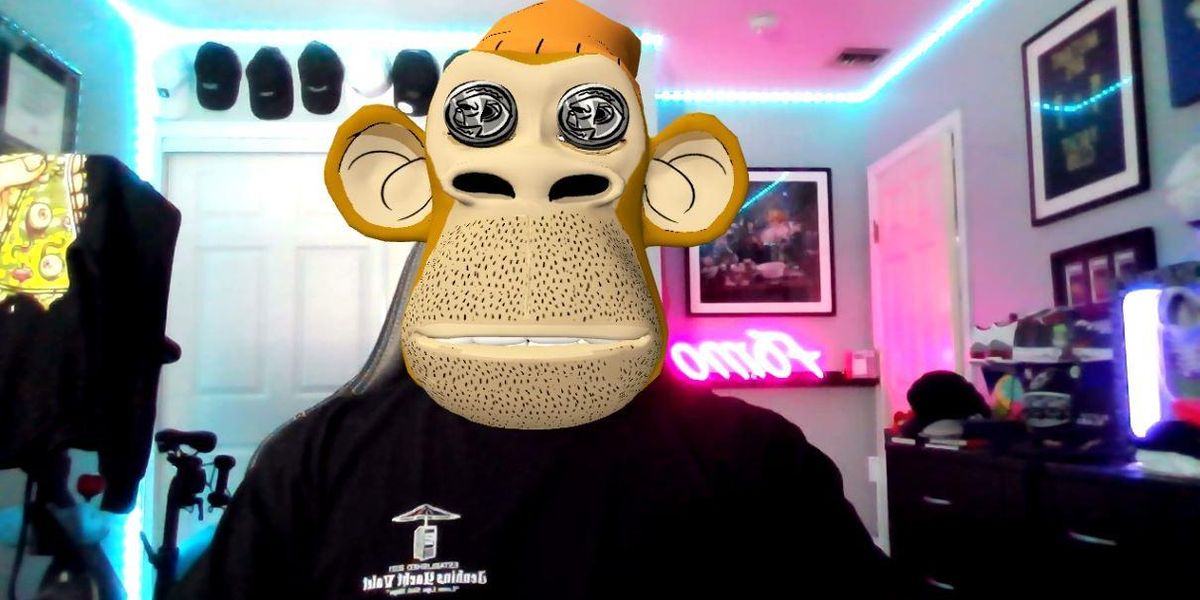 Photo courtesy of Gene Nubla
On a Zoom call last week, Gene Nubla was explaining the name and origin story he gave "Nicky Nickels," his Bored Ape NFT who will be a character in a forthcoming novel.
Nubla's Bored Ape Yacht Club #6717 wears a leather vest and orange beanie hat, but the cartoon ape's most distinctive feature is the silver coins covering his eyes. The 39-year-old Nubla—an associate vice president for a flower delivery service—imagined his Bored Ape as a member of a biker gang called the "Apes of Anarchy" who died during a botched cargo heist. Loved ones sometimes place silver dollars over the eyes of the dead during funerals, but Nicky's family used plain old nickels, Nubla told dot.LA. That somehow barred the ape from properly entering the afterlife, rendering him undead.
It may not be the best ghost story to come out of Los Angeles, but Nicky will soon haunt the pages of a book written by bestselling author Neil Strauss, who has penned autobiographies for the likes of Marilyn Manson and Jenna Jameson. Nubla has licensed Nicky to an NFT storytelling project called Jenkins the Valet, which is backed by Creative Artists Agency and will see Strauss cobble together stories from various Bored Ape holders.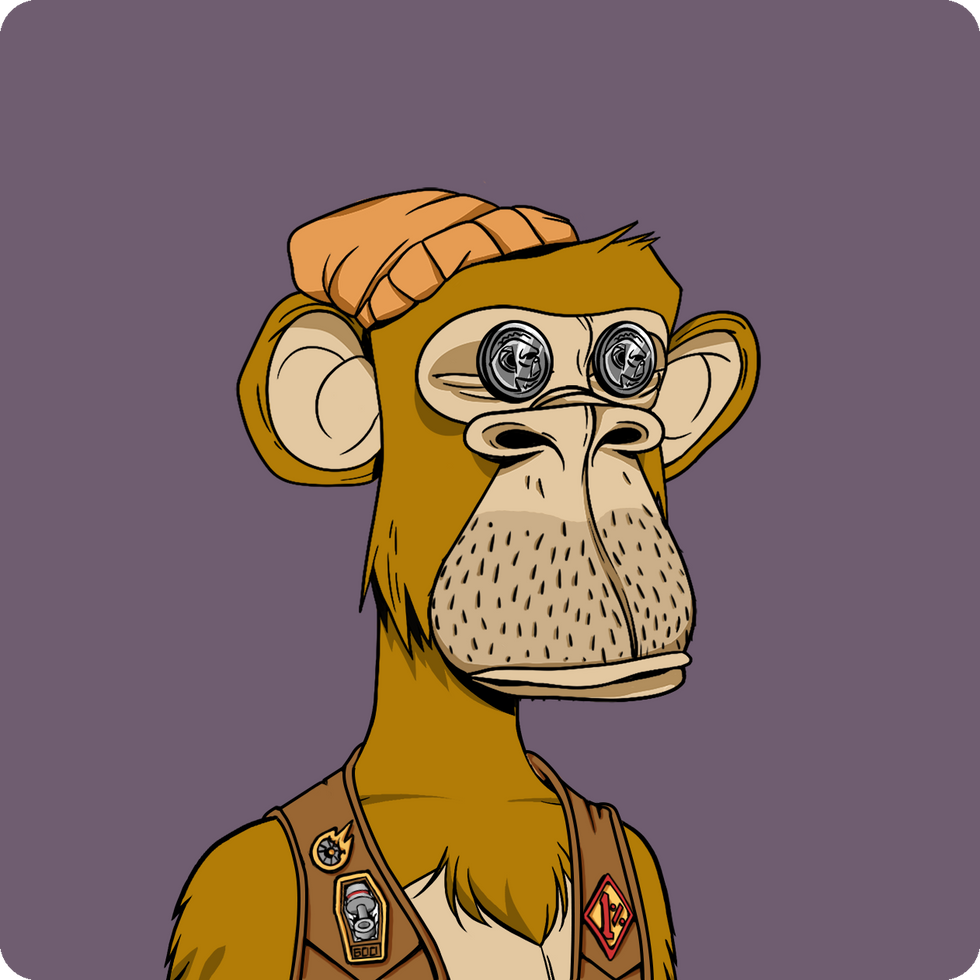 Nubla's Bored Ape Yacht Club #6717, which he affectionately named "Nicky Nickels."
Photo courtesy of Gene Nubla
"This goes into the philosophy of Web3—like, I can participate as an owner now," said Nubla. "I'm in the door now, versus on the outside looking in and just watching the movies [and] paying the ticket."
These days, there are scores of artists, startups and entertainment companies—as well as ordinary NFT holders—who are parlaying non-fungible tokens into commercialized intellectual property. Santa Monica-based Universal Music Group, one of the world's largest record labels, has created a "metaverse group" consisting of four Bored Apes who ostensibly make music, while crypto exchange Coinbase is using Bored Apes as characters for a film trilogy. Talent agencies like WME and United Talent Agency, meanwhile, have added Bored Apes and other NFT characters to their client rosters.
These creative works are possible because blockchain firms like Yuga Labs, the company behind Bored Ape Yacht Club, have attached broad commercialization rights to NFTs, which are unique digital assets verified using blockchain technology. Granting those rights could boost the value of NFT collections by making them more culturally relevant, according to experts, though it remains to be seen whether such projects can appeal to audiences beyond NFT adopters.

A lot of legal questions remain, too, as actor and producer Seth Green just learned the hard way. Green is developing a hybrid live-action/animated comedy called "White Horse Tavern," in which the creator's own Bored Ape—whom Green affectionately named "Fred"—comes to life as a friendly neighborhood bartender. The project was almost sabotaged last month when a scammer duped Green in an online phishing scheme—stealing four of his NFTs, including Fred. Since Bored Ape NFTs come with a license to commercialize the art, Green may have momentarily lost the rights to produce the show (Fred has since returned home safely). The drama turned Green into a poster child for how sketchy the world of NFTs can still be—the "Wild West" of digital assets, as some observers have put it.
Ready for Primetime?
Jeremy Goldman, a Los Angeles attorney who leads the blockchain group at law firm Frankfurt Kurnit Klein & Selz, credits companies like Yuga Labs for generating immense value for their NFT collections. The problem, as he sees it, are the collections' relatively brief terms and conditions that don't spell out what happens in certain situations, like when an NFT is stolen. That has the risk of killing projects and productions if investors or distributors are uncertain of the consequences.
"All of these NFT projects, including Bored Ape Yacht Club, are highly experimental and in some ways were never meant for primetime," Goldman told dot.LA. "A lot of questions about the license are sort of unanswered."
That hasn't stopped some entertainment tech firms from sticking NFT avatars in their stories. L.A.-based Invisible Universe is developing an animated parody called "The R3al Metaverse," which will include characters from five NFT collections. (Disclosure: dot.LA co-founder and executive chairman Spencer Rascoff is an investor in Invisible Universe).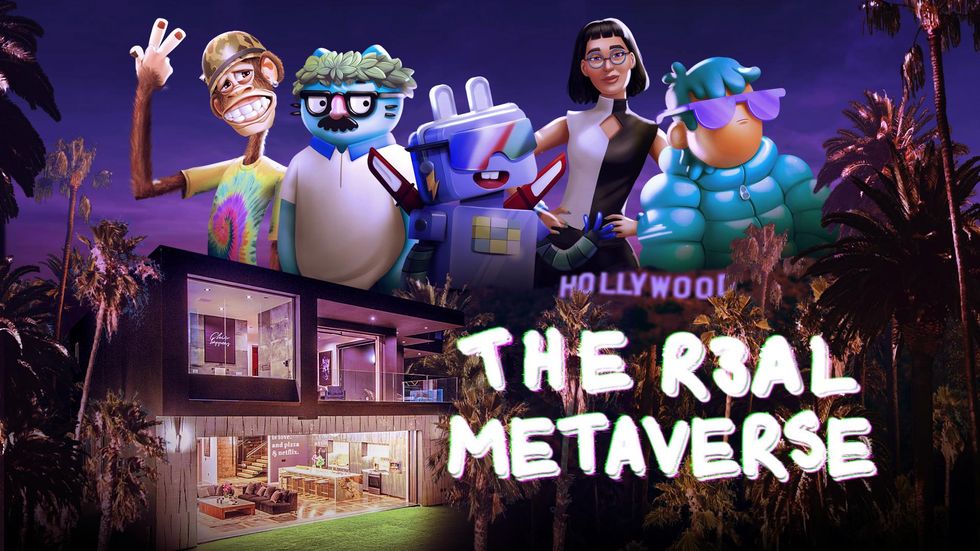 Promotional art for the "The R3al Metaverse."Photo courtesy of Invisible Universe
The startup bought three NFTs and secured licenses for two more that fit well with the story, CEO Tricia Biggio told dot.LA. Just to be sure, Invisible Universe approached the creators behind the NFT projects, as well. While those organizations had varying views on using the IP, they all saw the value of Invisible Universe's project, she noted.
"It was funny—some of them would be like, 'Well, you actually don't have to run it by us,'" Biggio said.
In "The R3al Metaverse," NFTs who live in the digital world come over to the real one after they're cast in a reality TV show and move in together. The parody pokes fun at the debate around the value of NFTs, as well: In one episode, the characters stare at a painting and are confused by its lack of "real-world application" besides being a wall decoration. ("Like zero utility," one observes, according to a storyboard of the scene.) Invisible Universe will release around 40 episodes of the program on social media platforms starting in late July, with each episode running between 45 and 90 seconds.
Who will watch a show about NFTs—which, for all of their recent hype, are still owned by just a tiny fraction of the population? Biggio said that the audience for "The R3al Metaverse" will primarily be holders of its featured NFT communities: Bored Ape Yacht Club, Cool Cats, Doodles, World of Women and Robotos, which collectively have roughly 50,000 tokens in circulation. That said, Biggio believes the show can build an audience outside the not-yet-mainstream NFT market and, in turn, boost the value of those collections.
"Because we aren't gating the content, we have a unique opportunity to onroad people into the Web3 space who enjoy the content, fall in love with the characters and want to be a part of the collaborative storytelling experience," Biggio said.
'A Unique Opportunity To Create Wealth'
At their most basic level, NFTs—like artwork at large—generate much of their value from their scarcity and cultural relevance. Yet companies like Yuga Labs have popularized the idea of giving NFT holders commercial rights as well, allowing Bored Ape holders to put their ape's face on a t-shirt or other merchandise and sell it. That not only makes the NFT itself more lucrative, but may well make the entire collection more valuable as Bored Apes are plastered on storefronts or featured in films.
"By giving broad IP rights—either making them public domain or granting commercial rights to holders—you're increasing the chances, potentially, that these items are going to get out there and go viral and become culturally relevant, and therefore sought after," said Goldman, the attorney.
Bill Starkov, a real estate developer who lives near Calabasas, "right by the Kardashians," in his words, is the founder of another primate-inspired NFT project, Apocalyptic Apes. (The collection's zombified primates look like scarier versions of Bored Apes.) Starkov said his team gave NFT holders the right to do "whatever you want" with the artwork—so long as they don't use the Apocalyptic Apes brand name. "We have to make sure they use it properly enough and it's used to promote our project and our brand in a good way," he explained.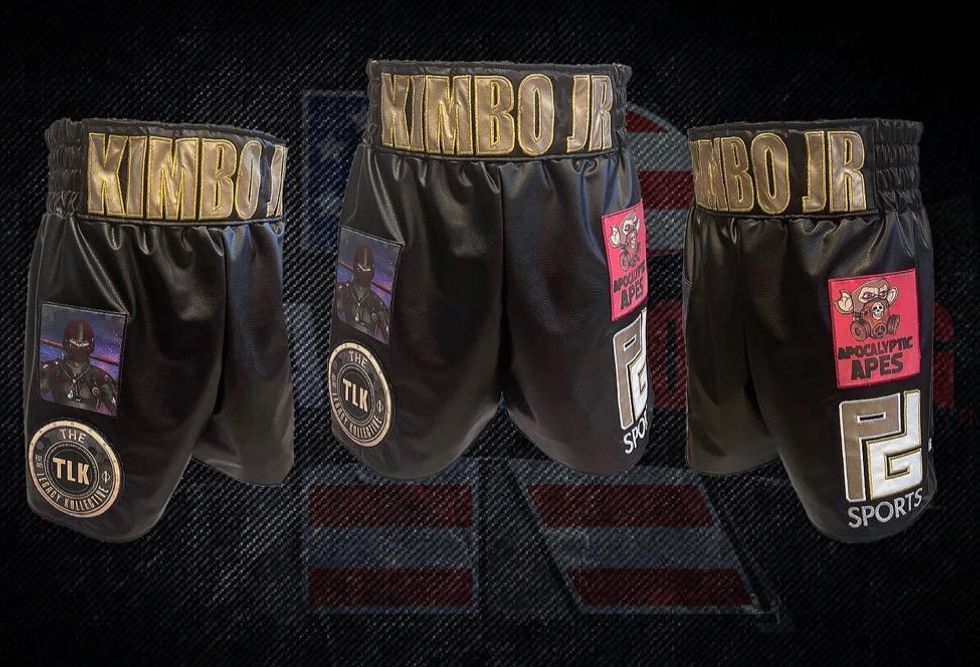 Apocalyptic Apes have been featured on the shorts of mixed martial arts fighters. Photo courtesy of Bill Starkov
Apocalyptic Ape holders have placed their simians on hot sauce bottles, exercise equipment and sunglasses, he noted, while on the entertainment side, a car-racing game, comic books and movies depicting the apes are all in the works, too. Starkov, who goes by Fity.Eth online, has also partnered with Nicky Diamonds, the owner of clothing company Diamond Supply, on licensing deals with Ape holders to create merchandise. Those deals are generating tens of thousands of dollars for ape holders who collaborated with Diamond, he said.
"One thing that people are sleeping on is the understanding of IP rights," Starkov said of some people in the NFT community. "They think it's a quick flip, but it's not. It's something long-term. It's something that's here to stay. It's a unique opportunity to create wealth."
Nubla is among the NFT holders who have taken advantage of those IP rights. Speaking through an augmented reality filter on his computer that made him look like Nicky Nickels, Nubla said he's earned some cash by allowing artists to make works based on his Bored Ape, including one artist who sells lapel pins bearing NFT art. A street painting of Nicky also adorns the side of a brick building in Brooklyn—part of a mural by the graffiti artist Masnah, who was paid for his work by NFT holders.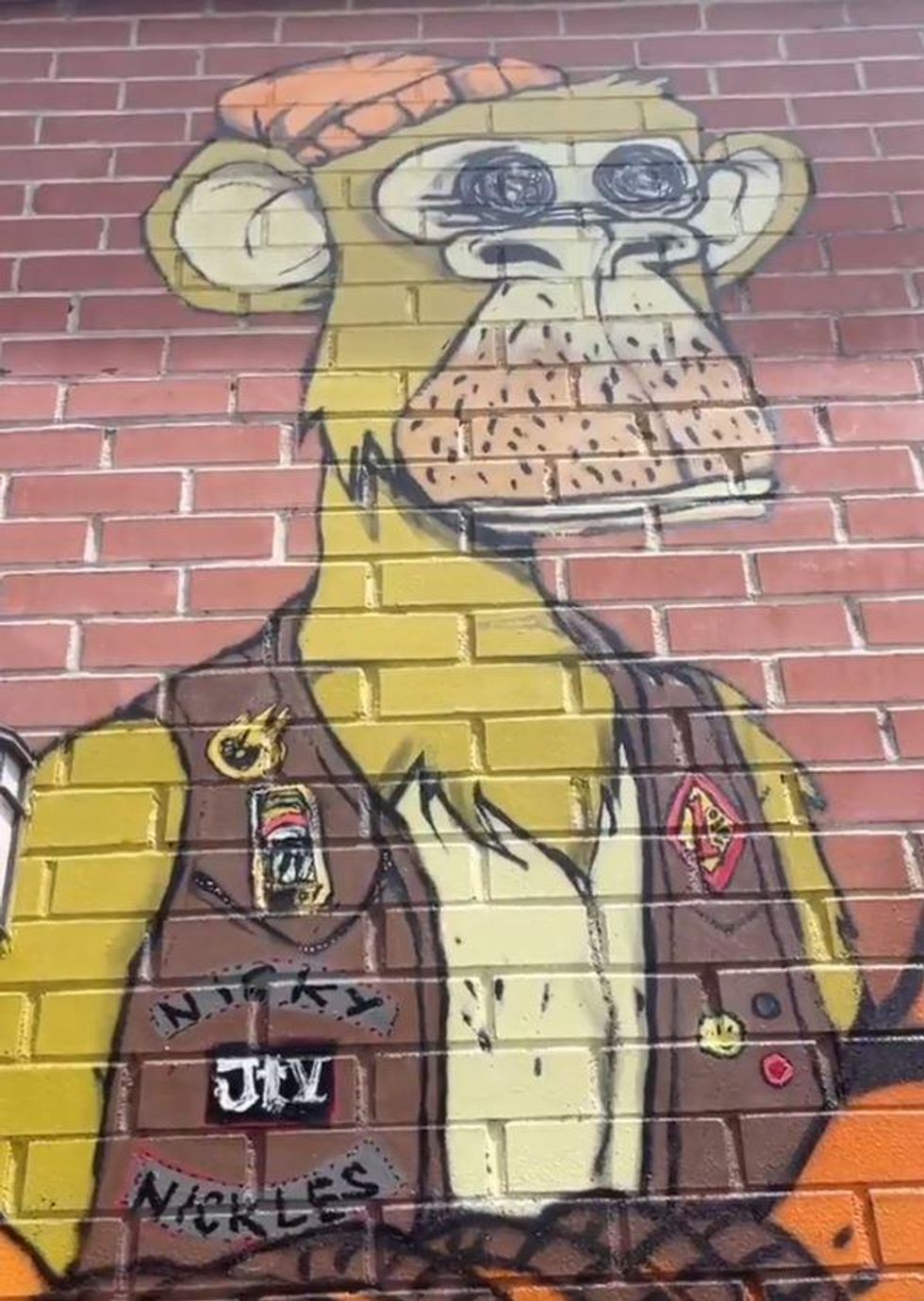 "Nicky Nickels" was featured in a Brooklyn street painting. Photo courtesy of Gene Nubla
When the Florida-based startup Tally Labs launched the Jenkins the Valet project last June, Nubla was one of the 69 lucky people to randomly mint a rare "Yacht" NFT. That allowed him to license his Bored Ape as a character in Strauss' novel and receive a share of the book's royalties. Nubla debated selling the Yacht NFT as its value reached six figures, but ultimately decided to keep it and build out Nicky's IP "just to see where it goes."
Nubla does see some risk in NFT collections decentralizing their IP; he noted that there isn't much stopping another Bored Ape holder from using their NFT to promote ideas or views that others may disagree with or find offensive. But like a lot of people involved in the space, he's enamored with the idea of Web3—a decentralized vision for the internet that runs on blockchain-powered applications.
"It'd be nice to be able to benefit off the royalties of anything that comes off this," Nubla said of the Strauss novel, which is coming out this summer. "But I'm doing it mainly just for the vibes."
Christian Hetrick
Christian Hetrick is dot.LA's Entertainment Tech Reporter. He was formerly a business reporter for the Philadelphia Inquirer and reported on New Jersey politics for the Observer and the Press of Atlantic City.