The Casting Depot, a LinkedIn for Hollywood Talent, Has a New Beta and a Six-Figure Investment
Sam Blake
Sam primarily covers entertainment and media for dot.LA. Previously he was Marjorie Deane Fellow at The Economist, where he wrote for the business and finance sections of the print edition. He has also worked at the XPRIZE Foundation, U.S. Government Accountability Office, KCRW, and MLB Advanced Media (now Disney Streaming Services). He holds an MBA from UCLA Anderson, an MPP from UCLA Luskin and a BA in History from University of Michigan. Email him at samblake@dot.LA and find him on Twitter @hisamblake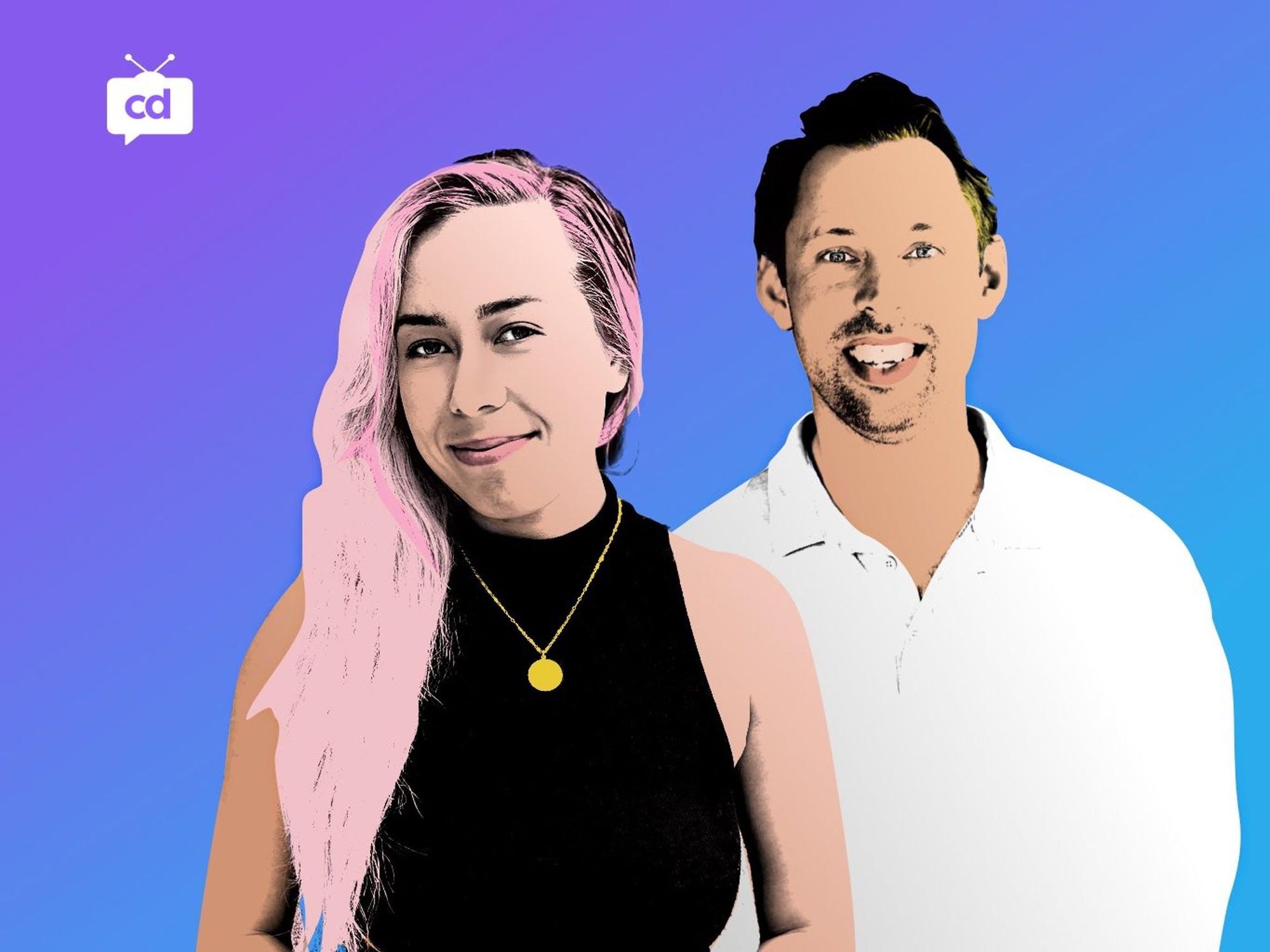 As a casting director, Lacey Kaelani has a leading view on Hollywood's content pipeline. Based on what she's been seeing on her venture-backed casting platform, Casting Depot, prepare for a deluge of unscripted shows.
"It's all gonna be handheld videos where everything looks like a Zoom call," she said. "Dating shows, talk shows, food competition shows – that's what was cast and is going into production."
The Casting Depot launched its latest beta version on Friday, with a "six-figure" investment from global venture capital firm Antler. Its board includes leaders from companies including CAA, Airtime, iHeartMedia, WorkMarket and IAC.
---
Kaelani, 26, described the site as similar to a social media platform. Users build profiles, can join groups and have access to industry news. On the middle of their page is an aggregated feed of casting calls tailored to them. The idea, she said, is if there's an actor that has an interest in food, they will see more food based opportunities than they would using a database because of the interest-based feed.
Kaelani founded Casting Depot in New York but she's been working in Los Angeles since the pandemic and eventually plans to permanently move the company to Southern California, the industry's epicenter.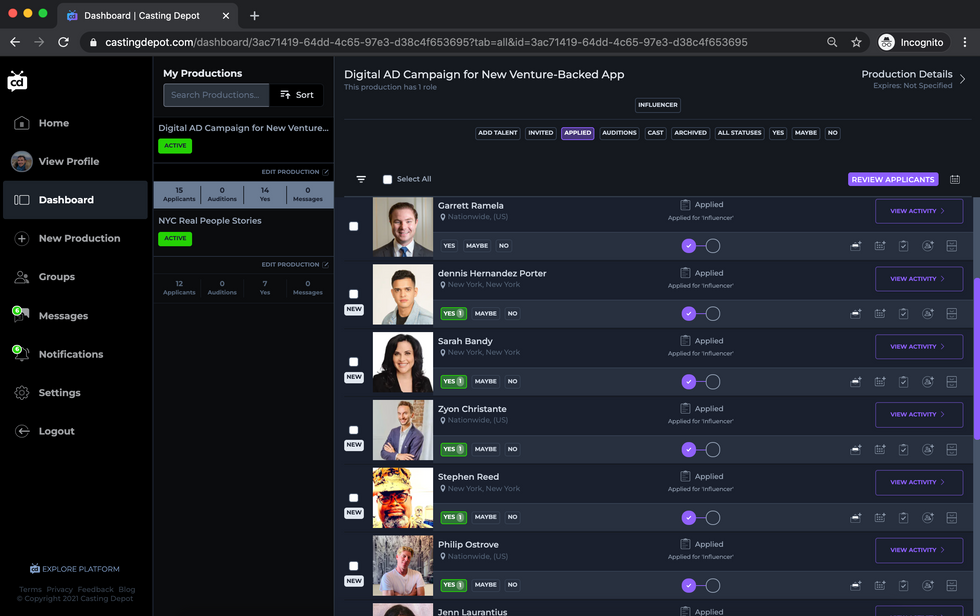 A screenshot of the dashboard of the latest version of the Casting Depot.
Kaelani started the company as a casting agency in 2019 and helped companies like Hearst, Buzzfeed, HGTV and several streamers find talent. But she quickly pivoted to an online talent network.

"It's a millenial view of what casting should look like in 2021," she said.
She says the casting process is like H.R. for Hollywood. And after years as a casting director for companies like Netflix, Bravo and HGTV, she and her team were flummoxed why what seemed like a straightforward process tended to be complex and costly.
Casting directors can pay up to $800 a month to access a database and artists often have subscriptions that range from $20 to $50 a month. Those databases, she said, are dated.
"We thought there could be a better way, so that networks don't have to spend hundreds of thousands of dollars per season per show," she said. "That's when the lightbulb went off: a centralized marketplace that has every single type of on-camera gig, kind of like a LinkedIn."
Casting Depot is free for casting directors and it takes an 8% cut of the deals that it helps talent forge. That's a departure from the subscription model that typical casting hubs use. But, by bringing down the paywall, she hopes to widen the pool of talent for shows while also giving casting directors access to better candidates.
Kaelani pivoted her casting company last year bringing in a chief technology officer with digital marketplace experience and launched its first beta version in July.
Over that 12-week period, the company says it saw 446% month-over-month user growth. In all, 10,000 users have joined on the talent side, and 350 production companies have tapped the platform, including HBO Max, Netflix, Amazon Prime Video, Discovery, Twitch and Snapchat.
She added in payment processing and legal document management for items like NDAs, contracts, and image-release forms with its latest version. The company sees itself now as a valuable "end-to-end" solution.
COVID has hampered the content production process, but Kaelani sees it as a boost for her business. For one, it has generated demand for unscripted productions, since they are cheaper to make and easier to produce in accordance with social distancing protocols, as they generally require fewer people on set. That works well for the type of users that have flocked to Casting Depot.
"On the talent side, in our beta, around 75% of our users were real people," Kaelani said. "Chefs that want to be on Food Network, real estate agents that want to be on HGTV, financial experts that want to be on Yahoo Finance."
The feed view of the most recent version of the Casting Depot.
As the industry continues to work remotely where it can, Kaelani thinks her business is well positioned.

"You'll see more companies with casting happening over Zoom and Skype and having virtual relationships," she said. "But it makes for a stickier workflow process to manage that remotely, and we're building tools to help with that."
The company expects its success to skyrocket, claiming it is "set to hit half a million users by 2021 with thousands of on-camera gigs booked every week through the platform."
As for the content that Kaelani sees coming through the pipeline, she says to get ready for a new generation of "Keeping up with the Kardashians," "The Great British Bake Off," and "The Bachelor."
"My opinion on the future of content is that it'll all be unscripted, short-form content," she said. "I've seen a massive shift toward real stories, real people. It's cheap to create, has the highest impact, and major streamers like Netflix and HBO will have to continue to create content within that sphere."
Related Articles Around the Web
Sam Blake
Sam primarily covers entertainment and media for dot.LA. Previously he was Marjorie Deane Fellow at The Economist, where he wrote for the business and finance sections of the print edition. He has also worked at the XPRIZE Foundation, U.S. Government Accountability Office, KCRW, and MLB Advanced Media (now Disney Streaming Services). He holds an MBA from UCLA Anderson, an MPP from UCLA Luskin and a BA in History from University of Michigan. Email him at samblake@dot.LA and find him on Twitter @hisamblake
https://twitter.com/hisamblake
samblake@dot.la