Can Streaming Services Survive without Screenwriters? We're About To Find Out
Lon Harris
Lon Harris is a contributor to dot.LA. His work has also appeared on ScreenJunkies, RottenTomatoes and Inside Streaming.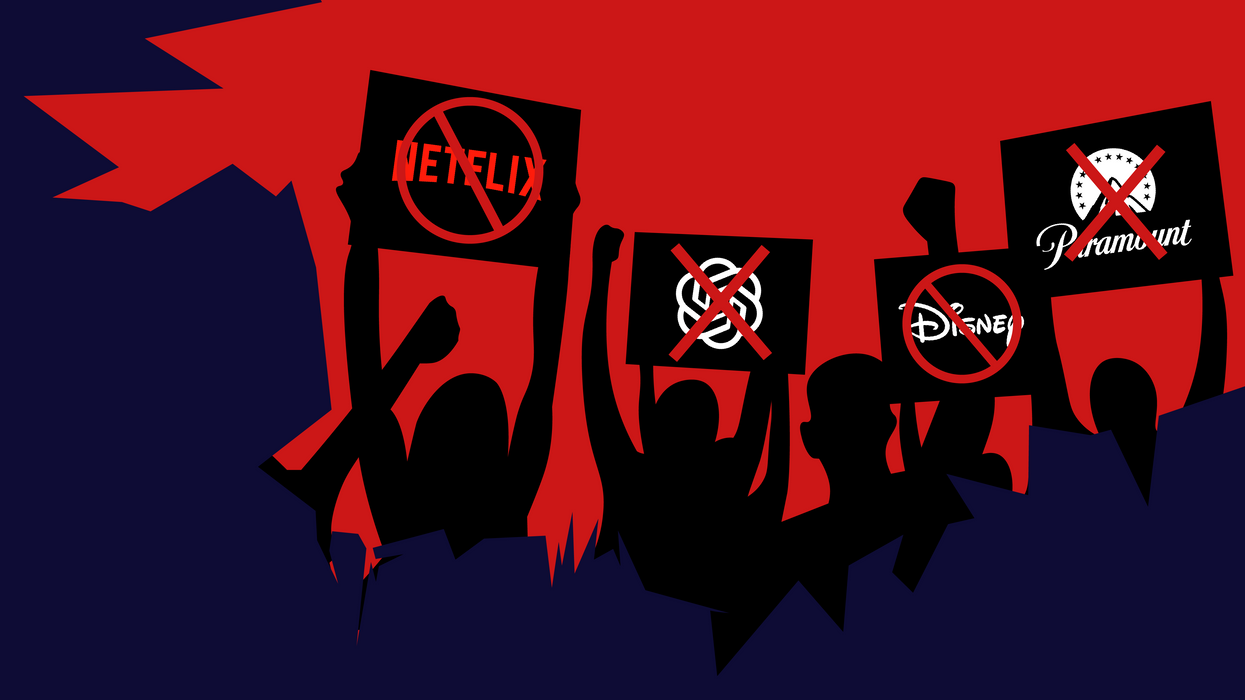 Evan Xie
This is the web version of dot.LA's daily newsletter. Sign up to get the latest news on Southern California's tech, startup and venture capital scene.
Thursday is Day 3 of the Writers Guild of America (WGA) strike, and so far, neither side seems particularly ready to budge.
Studios and media companies did what they could to put on a brave face and go about business as usual. On his company's Q1 earnings call on Thursday, Paramount Global CEO Bob Bakish suggested that the company has stored up sufficient "content in the can," and assured investors that streaming subscribers and movie fans "won't notice anything for a while." HBO, meanwhile, announced that production on Season 2 of "House of the Dragon" – which kicked off on April 11 at the UK's Leavesden Studios – will move forward during the strike.
---
While writers and even movie nerd websites jumped on the news that the US entertainment industry have collectively lost more than $10 billion in value since the start of the strike, others were quick to point out that it was part of a general stock market dip that was likely responding to multiple economic variables.
It's unclear how long the industry will be able to maintain this facade. As many WGA members pointed out on social media – including HBO veteran and "The Wire" creator David Simon – writing work doesn't end when the scripts are turned in, but continues throughout production and even post-production on a major TV series like "House of the Dragon."
As with that strike 15 years ago, the negotiations between the WGA and the Alliance of Motion Picture and Television Producers (AMPTP) revolve around much more than just higher wages. The slow death of linear and cable TV and the rise of streaming services have fundamentally altered just about every aspect of the entertainment business, and these strikes are as much about how writers go about their work and how they fit into the larger TV landscape as they are specifics of residual percentage points. WGA leaders told Variety this week that the real sticking point is not wages, but studios refusing to accept "structural change" to their hiring and employment practices.
TV showrunners express concern about streaming's "gig economy" hiring practices
To that end, the Los Angeles Times published a roundtable discussion this week among a group of TV showrunners, which shed some light about the changes brought about by streaming and their concerns for the future. There was general agreement among the group that new players like Amazon, Netflix, and Apple have a different vision for producing entertainment content than the Hollywood studios of the prior generation, taking a less artistic and more data-driven approach.
"Scrubs" and "Ted Lasso" veteran Bill Lawrence notes "they're so streamlined, these companies, into corporate entities, where I feel like in old times they were at least inhabited by, if not artists, art lovers." These concerns have a practical side as well, beyond just a general sense of disinterest about churning out a quality product.
"Swarm" showrunner Janine Nabers notes that the streamers' "gig economy" approach to hiring writers – bringing them in for just a few weeks to knock out scripts for abbreviated TV seasons – threatens the entire future of the industry. Without secure full-time jobs that allow up-and-coming writers to learn the ropes, experience what it's like to be on set, and personally shepard a show through the creative process, how are we to train the showrunners of tomorrow?
Lawrence agrees, noting that he was personally mentored by iconic "Family Ties" creator Gary Goldberg. Without that experience, would he have had the savvy and knowhow to produce "Ted Lasso" for Apple in the first place, and turn it into one of TV's most acclaimed shows?
[On Thursday, the AMPTP responded specifically to this "gig economy" criticism, noting that writers enjoy guaranteed employment terms and benefits that help to distinguish their jobs from typical "gig" jobs like food delivery or ride-sharing.]
Streaming's data-driven approach clashes with traditional creative decision-making
A recent Deadline interview with "Ghosted" director Dexter Fletcher also highlights the chasm between how the conventional entertainment industry approached creative decision-making vs. a newer entrant like Apple. (The film is a romantic action-comedy starring Chris Evans and Ana de Armas; it hit Apple TV+ in April and has become one of the streamer's most popular originals.)
According to Fletcher, he pitched a creative opening sequence for the film, inspired by the 1978 Goldie Hawn-Chevy Chase film "Foul Play." While it's easy to imagine a classic archetypal Hollywood producer (think Al Pacino in Tarantino's "Once Upon a Time in Hollywood") closing their eyes, envisioning the scene, and agreeing to the budget over martinis at Musso & Frank… Apple executives said no based purely on data.
"They said you can't do it because if it [the opening sequence] goes on and something doesn't happen in the first 30 seconds, we know the data shows that people will just turn off," Fletcher told Deadline. "I don't want that, so I make the compromise."
The assembly line approach to creating content raises more questions about the viability of AI replacing screenwriters
This strikes at the fundamental sea change we've seen in the industry over the past few decades, going from leadership that demanded profits but still viewed films as fundamentally customized, bespoke products to more of a scale-focused, factory-and-assembly line paradigm. Naturally, this is where the new push for using AI to replace writers enters the picture.
Despite lengthy and passionate threads from investors and enthusiasts, it seems increasingly unlikely that software like ChatGPT is going to entirely replace screenwriters any time soon. A viral tweet from conservative commentator Ben Shaprio, apparently intended to demonstrate ChatGPT's ability to write a coherent TV scene, had the exact opposite effect, highlighting the software's inability to compose a coherent, even mildly amusing sitcom joke.
But the goal, at least short-term, might not be to have AI take over for Shonda Rhimes. If you're a tech company thinking about producing media as simply another assembly line, the idea could be to replace just some workers on the line with robots, while keeping other human staffers around.
WGA Negotiating Committee member Adam Conover – the host of TLC's "Adam Ruins Everything" – explicitly voiced these fears to Deadline this week. "I don't think you'll ever truly be able to replace the work of a writer but I don't put it past these companies to try and cook up some cockamamie scheme where they have an output text and hire writers to rewrite it or something like that," he said. "I think the public will hate it. I think it'd be a financial failure, but I think they might try and they could hurt a lot of writers by doing so."
Lon Harris
Lon Harris is a contributor to dot.LA. His work has also appeared on ScreenJunkies, RottenTomatoes and Inside Streaming.