Artist Illustration by National Aeronautics and Space Administration
Don't look up now, but NASA's upcoming DART mission is about to change planetary defense forever by proving that it's possible to deflect a world-ending asteroid away from the Earth.
On September 26, NASA's Double Asteroid Redirection Test (DART) spacecraft will crash into the asteroid Dimorphos, attempting to alter the object's trajectory around a larger asteroid called Didymos.
Not to worry, Bruce Willis and Michael Bay can sit this one out as Dimorphos is not on a collision course with Earth. The mission is the first-ever test to see if intercepting and striking an asteroid would work to deflect any future Earth-bound celestial objects.
The data collected will help scientists determine exactly how hard to hit an asteroid in the future, in the event that humanity must reckon with a celestial threat straight out of "Armageddon."
The mission – managed by the Johns Hopkins Applied Physics Laboratory (APL) in Maryland – launched into space November 24, 2021 on a SpaceX Falcon 9 rocket. Nearly 10 months later, NASA's finally gearing up for DART's impact.
DART's 6.8 million mile journey was chosen because there is much to learn about the formation of the binary asteroid system, and its orbit can easily be seen through telescopes on Earth, making it an ideal target for this test.
But it won't be easy to view the collision in real-time, because impact with the asteroid will cut off the data feed and destroy the spacecraft, and its high-tech space camera will be unable to record the collision. Thankfully, the Italian Space Agency is here to help – a small autonomous cube satellite (LICIACube) will fly by to photograph the impact and its effect on the asteroid system.
Long Beach-based startup Rocket Lab has a role in this mission, too – it is supporting the Italian satellite's journey to the asteroid inside one of its satellite dispensers, which deployed the CubeSat ten days before DART's impact to position itself to record the collision and ejecta plume dust cloud that will be lifted from the surface and interior of the asteroid on impact.
University of Maryland astronomy professor Ludmilla Kolokolova will then lead a team to analyze the images obtained by the Italian Space Agency's CubeSat and model the ejecta plume.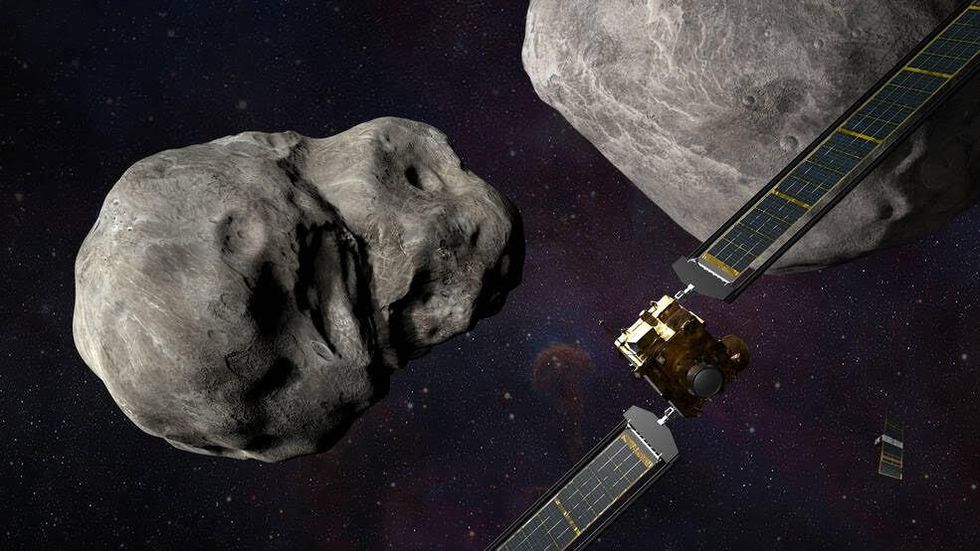 NASA's DART spacecraft and the Italian Space Agency's (ASI) LICIACubeNASA/Johns Hopkins APL/Steve Gribben
The research conducted after Monday's test collision will steer us into a new and exciting era of astronomy that goes beyond just planetary defense, but helps us answer some of the universe's oldest questions, like how our solar system was formed.
Kolokolova told dot.LA she's most excited about scientific discoveries that this experiment could help reveal, beyond protecting the planet from interstellar threats.
"The main goal of the project is to show that we can deflect the asteroid from the collision with the Earth if such a situation appears in the future," Kolokolova said. "However, for me, as an astronomer, the main excitement is to learn more about asteroids. I am interested in exploring their internal structure as it is a clue to their formation."
"There are several different theories that describe their formation," she added. "In order to select between them we need to know the asteroid structure - is it solid, or porous, or layered, or 'rubble pile'? Actually, this is important to understand the origin of the Near-Earth (the most hazardous) Asteroids in general. We know they came from the Main Asteroid Belt. But what brought them to the vicinity of the Earth: gravitational influence of Jupiter and Mars or collisions between asteroids? Collisions should affect their surface and interiors, so we can find the answer to this question studying characteristics of Dimorphos and Didymos."
Scientists will get an even clearer picture of the formation of these asteroids in four years when the European Space Agency's Hera mission arrives to survey Dimorphos's surface and measure its mass.
The European Space Agency's (ESA) involvement in the DART mission can be traced back to 2013, when a joint operational mission with NASA, called AIDA (Asteroid Impact and Deflection Assessment), involved the ESA developing the AIM (Asteroid Impact Mission) orbiter to accompany the DART spacecraft on its journey. The project was eventually abandoned in 2016 due to lack of financial support and was officially replaced by Hera in 2019.
To view live coverage of the impact, tune in to NASA TV and NASA social media pages, including Twitter and Instagram, beginning at 3pm PST/6pm EST this Monday, September 26.