One way to think about the entertainment industry is as a massive war for attention. Within that war rumbles the battle for at-home video dominance (often itself called a streaming war, which feels a bit like calling the Pacific theater of World War II the Pacific War).
At that battlefront, giants like Netflix and Disney spend boggling amounts of money and rack up mind-numbing debts. On the periphery, several smaller battalions like Tubi and Vudu wield their ad-funded service weapons. And scattered about it all, minor militias scurry in search of a patch to claim their own.

Orby TV thinks it's found one -- starting at about $40 a month compared to more high-priced competitors.
"We're looking at what we feel is an underserved segment," said Michael Thornton, Orby TV founder and chief executive. Previously chief revenue officer of Starz after stints at Disney and DirecTV, Thornton launched Orby TV in early 2019 out of Studio City for "people that are fed up with high prices and want a lean-back experience" where you "hit power, and then it's on."
For an installation fee and a monthly payment of less than half of what most cable or satellite services charge, Orby TV customers get dozens of cable channels via satellite dish, plus dozens more over-the-air (OTA) broadcast channels via digital antenna, all beamed through one coaxial cable into a TV that turns on with the click of a remote, complete with a program guide.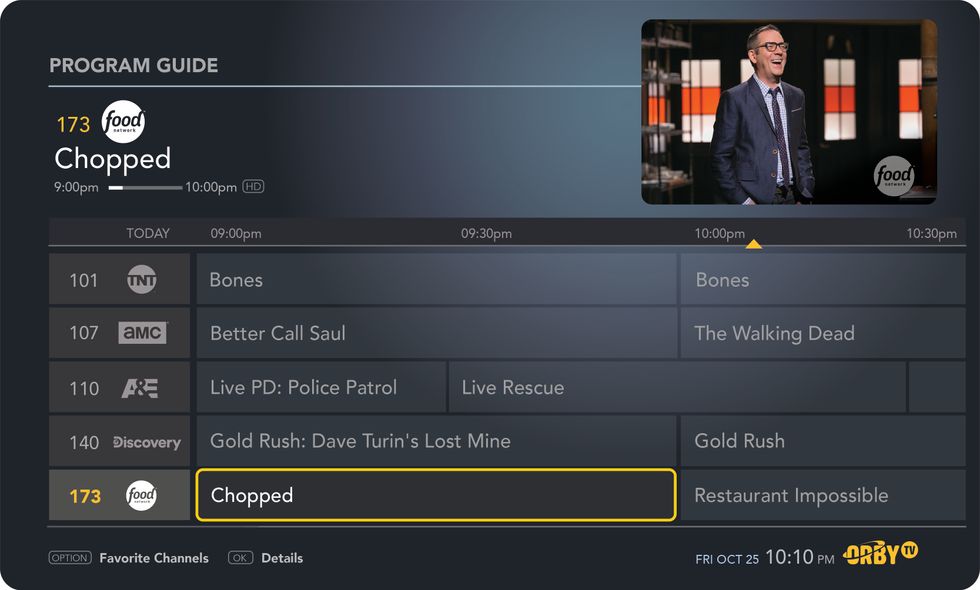 Orby TV's program guide integrates its broadcast and satellite channels
TV for a Toll
One reason Orby TV is relatively affordable is that it doesn't carry sports channels. Foregoing national and regional sports networks means saving on licensing costs, which the company can pass on to customers. Sports coverage from broadcast networks (ABC, CBS, NBC, Fox) and Turner stations (TNT, TBS) remains available.
Orby TV also eschews channels that can only be had as parts of a bundle, many of which are owned and operated by the networks. Those bundles tend to be an all-or-nothing proposition.
"The industry has been and always will be very paranoid in terms of how it sets itself up," Thornton told dot.LA. "They have most favored nations clauses out the ying-yang (so there's) very little ability to cherry pick services."
The upshot is that Orby TV viewers can lean back and watch Fox (via broadcast), but not its cable channels like Fox News or Fox Sports; NBC, but not Bravo, MSNBC or Telemundo; ABC, but not ESPN, Disney Channel, or National Geographic.
Nevertheless, with a stable that still includes TNT, A&E, CNN, AMC and others, Orby TV's basic package includes 46 satellite cable channels, per its website, with upgrades available for an additional charge.
The digital antenna, meanwhile, picks up not just the major network broadcasts but also the OTA "digital subchannels" that flow alongside these transmissions in the government regulated broadcast spectrum. (Think stations like ABC-2, ABC-3, NBC-7, etc.) Reception quantity varies by location but the company noted that 150 OTA channels are available in Hermosa Beach, and 88 just outside of Denver. These all fit on the broadcast spectrum thanks to decades of digital compression advances, noted an Orby TV representative.
Throw in the technological infrastructure afforded by the cloud, remote communication tools, and data management systems, and Orby TV's innovation is simply taking advantage of a set of "tried and true" technologies and combining it with a prepaid business model to enable a simple, flexible, low-cost service.
Customers can cancel their monthly subscription anytime and return at leisure, and meanwhile keep the broadcast channels coming in from the antenna – which remain on the program guide. Add it all up, and media analyst Dan Rayburn calls Orby TV a "niche service that works well for what it does." Affordability and flexibility, notes Thornton, could be "particularly relevant right now given what people are going through" with the coronavirus crisis.
Who's it for?
Thornton cited the growing pool of the Pay TV-world's net losses–six million in the past year–as a potential source of subscribers, who could be looking for cheaper options.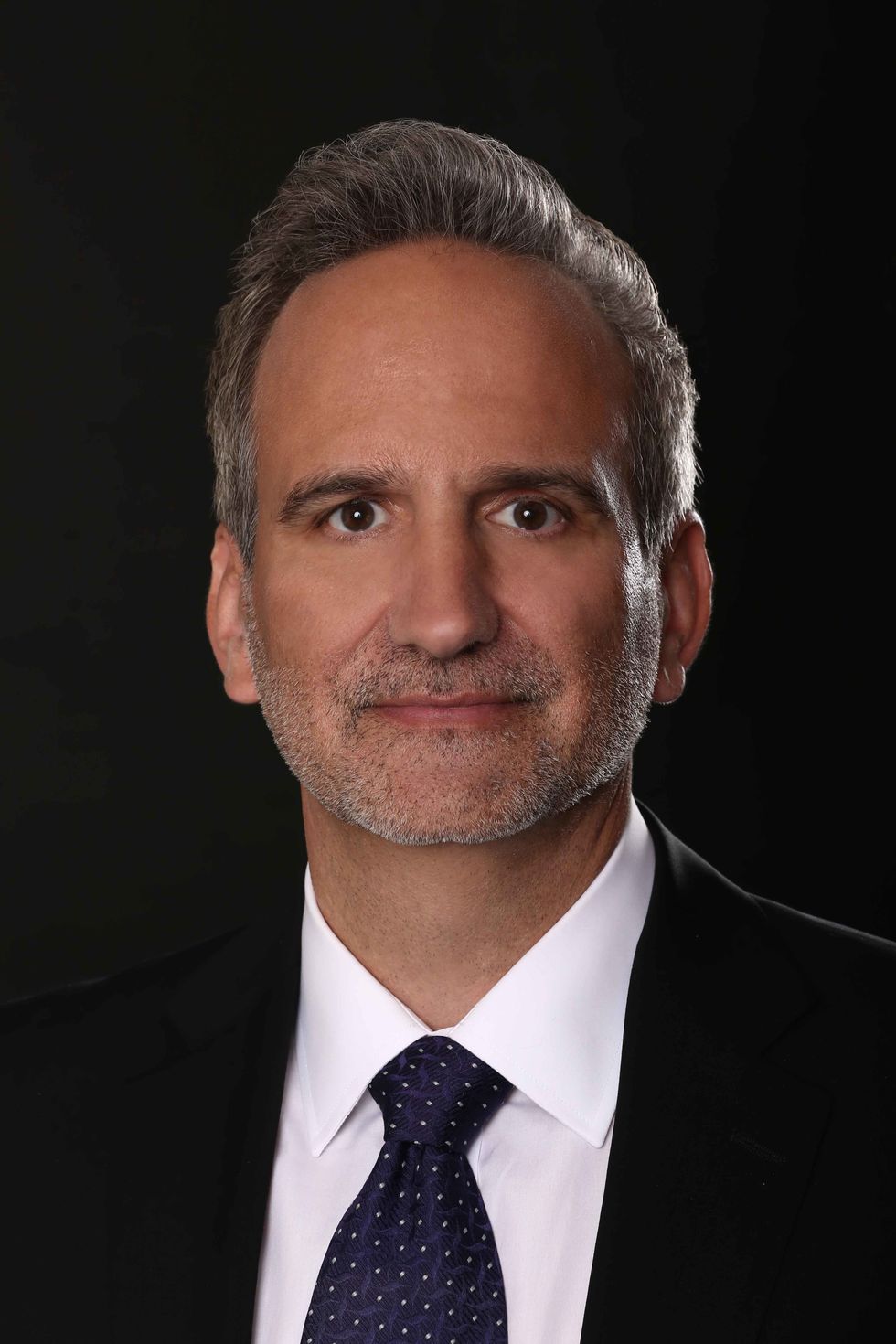 Michael Thornton, CEO of Orby TV and UCLA Anderson Alum
"The downward trend in traditional (cable) that we've seen for the better part of a decade has been accelerating as consumers look for less expensive and more flexible options," noted Ian Olgeirson, senior analyst at SNL Kagan.
Rayburn sees a smaller addressable market for Orby TV: those who live in rural areas with poor access to broadband. Such technological deprivation often forecloses internet-delivered alternatives like YouTube TV, Hulu TV, or Sling TV
Leichtman generally concurs. Orby TV, he says, is primarily for "rural, non-sports fans."
One plus side of that, added Rayburn, is that "it's much easier for them to have lower customer acquisition costs because they can target specific people in a zip code or zone."
Thornton, though, is more aspirational. He sees an addressable market that includes not just those lacking broadband and Pay TV's net losses, but anyone currently with an OTA-only setup (difficult to precisely quantify) and even the 40 million-plus who "have a prepaid cell phone service and are familiar with the model," he said.
But even modest numbers might be enough.

"They don't need a lot of subscribers to be profitable," said Rayburn.
Thornton pegs it at around 80,000. Already claiming "tens of thousands of subscribers and growing," across all 48 states, with Best Buy as its biggest retailer, the plan is to break even by no later than early next year.
"We're essentially on schedule," he reported.
Orby TV's lead investor, a pension fund that requests anonymity, will presumably be pleased.
"We've always told our investor that we're open to exit strategies," Thornton said. "(But) it was always about providing a self-sustaining service."
"There's value in being a small company that's profitable," said Rayburn. "Everybody is trying to build such a big company. What's wrong with being a small company that grows every year and makes a profit?"