tutorme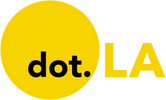 Get in the KNOW
on LA Startups & Tech
X
tutorme
On this week's episode of Just Go Grind, hear from Myles Hunter, co-founder and CEO of Los Angeles-based TutorMe, an on-demand tutoring platform serving students from kindergarten through graduate school.
Key Takeaways:
Hunter used AngelList to find a technical co-founder. That decision led to him hiring a Russian and then traveling to both Russia and Bali to build the infrastructure of the company.
Early on, TutorMe decided to build its technical infrastructure from scratch, so they wouldn't have to use a third party and so they could keep their platform proprietary and independent.
After deciding TutorMe should be venture-backed, Hunter joined Jason Calacanis' accelerator program to help it grow.
"I would say to start [fundraising] early. It's a long process. There's a lot of uncertainty to the fundraising process... It's something where you have to prepare to really be rejected a lot." — Myles Hunter
Want to hear more episodes of Just Go Grind? Listen on Apple Podcasts, Stitcher, Spotify, Google Podcasts — or wherever you get your podcasts.

It's boom time in the world of remote learning.
That's especially true for TutorMe, a Los Angeles-based company founded in March 2015 that provides students with tutoring resources with the click of a mouse. The company has signed nearly 100 deals with schools and companies since the pandemic began, its co-founder and CEO Myles Hunter said this week. Most recently, the startup inked a September 30 agreement with Comcast to provide online tutoring services for families of their employees in the broadcasting and cable television company's northeast division.
The Comcast deal is evidence of an appetite to improve work-from-home quality of life for employees who are also parents. The pandemic has forced many parents to re-learn school subjects from years ago in order to help their kids complete their studies.
"It came about as a result of some HR survey work with employees that they were looking for a solution to help parents during the pandemic, and the region wanted to see whether this might be something that could work," said a Comcast spokesman Charlie Douglas in an email.
In addition to partnering with companies to provide its services as additional employee benefits, TutorMe has also partnered with universities and school districts. It has seen rapid growth since the pandemic impacted the U.S. in March.
"We knew that online tutoring was the future and we knew it was going to be more and more commonly used as distance learning increased," Hunter said. "But (growth that) was going to take three years happened over the course of three months due to COVID."
Economic downturns have always been a difficult time for business, but it's also a time of accelerating and changing trends. Businesses like Uber Technologies saw immense growth in the years after the 2008 recession. The 2020 downturn appears to have favored biotech and edtech businesses, and also sped up a turn toward robots and drones.
TutorMe has worked with hundreds of thousands of students across the country, primarily in the U.S. and Canada. It now partners with more than 150 schools and corporations, including Calexico Unified School District, Childcare Network and Blue Cross Blue Shield in Tennessee.
It works with more than 12,000 tutors on the site who teach everything from kindergarten to graduate school-level classes. Hunter said the teachers go through a robust vetting process to ensure their background with the subject matter. They're paid weekly for their services.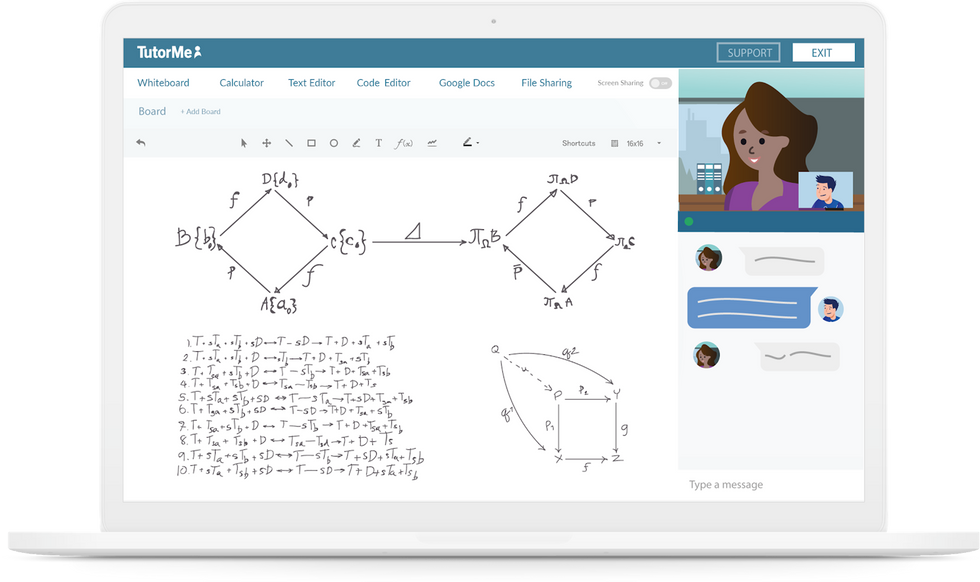 A view of TutorMe's desktop.Courtesy TutorMe
To get started, a student goes onto the site and types in the subject he or she needs help with. TutorMe then takes them through a matching process to find the best tutor. The student can then decide whether they want to proceed with a specific tutor or try someone else. Students work with tutors in a lesson space that provides the resources anyone might need for an in-person lesson, including audio and video communications, plus editing resources for students writing code and papers. Students can connect with their tutors by video, audio or text.

The company also unveiled a writing lab during the pandemic that lets students upload a paper or essay to get feedback from a tutor. As an added plus for educators, the TutorMe platform also checks for plagiarism.
For those enrolled at programs that have signed up with TutorMe for their students, the learning management system can determine the course they are coming from and connect them to a tutor on the subject in less than 30 seconds, Hunter said. The company raised $1.3 million in seed money from an angel investor in the United Kingdom and Jason Calacanis. In April 2019, it was acquired by Chandler, Arizona-based Zovio Inc., a public company.
As of this year, it has seen demand increase significantly. In the second quarter alone, consumer usage went up by 350% and use by schools and other partners went up 850%.
As a student at the University of Southern California, Hunter said he and his co-founders found external tutoring resources "prohibitively expensive," while campus tutoring limited students to a set number of classes that weren't always available and required you to go to a tutoring center.
The company was co-founded by Hunter along with Victor Kotseruba, Alex Convery and failed Genius Fund co-founder Ari Stiegler.

"Ari was part of TutorMe in its early days and helped raise money for the company; however as time progressed, it was better for Ari and the company that we moved in a different direction," Hunter said.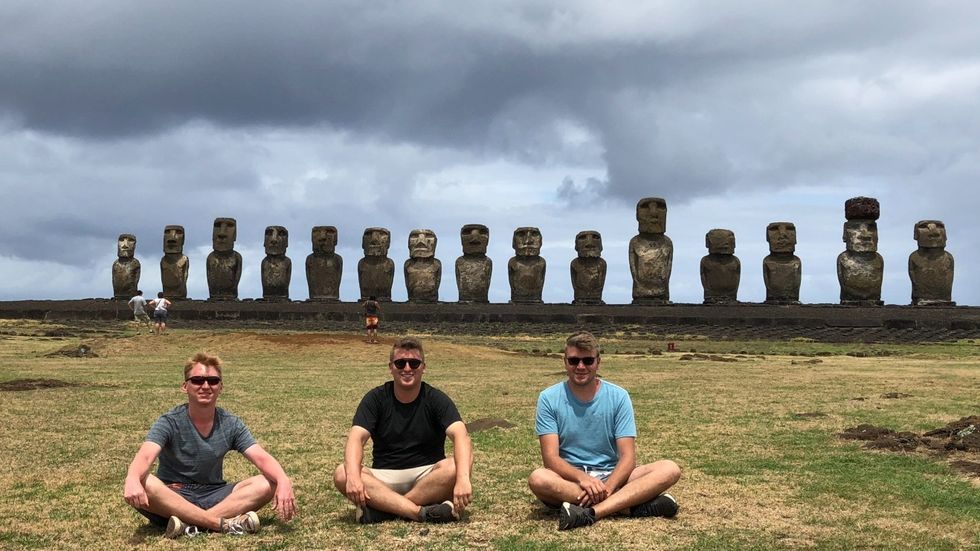 L to R: Myles Hunter, Victor Kotseruba (co-founder), and Egor Shakhov (product engineer) on Easter Island, Chile.Courtesy TutorMe
The TutorMe website was the product of a round-the-world working trip taken by Hunter and a very lean engineering team, including a member or two hired in places like Moscow, Bali, Chile, the country of Georgia, and Mexico, where the cost of living is less expensive and so is the engineering talent.

Hunter remembers wearing the same swim trunks and three tank tops for most of the time, while living in hacker houses where everyone spoke Russian. The team would code in the quiet of the night and then sleep during the day.
"When friends ask me 'How was Bali?' I didn't see much of it in the light," Hunter said. "I was there for four months and there were two occasions where we went to the beach during the day."
The team traveled from early 2016 through January 2018, when the company began to take off and Hunter needed to be in Los Angeles, he said.
___
Do you have a story that needs to be told? My DMs are open on
Twitter @latams
You can also email me at tami(at)dot.la, or ask for my contact on Signal, for more secure and private communications.