Ethan Pines
You might not recognize photographer Ethan Pines, but there's a good chance you've seen one of his portraits.
The Los Angeles-based artist captured Theranos founder Elizabeth Holmes long before her fraud conviction, Uber co-founder Travis Kalanick before his expulsion and Ethereum co-creator Vitalik Buterin before the world beyond crypto learned his name. Years later, Pines is transforming his tech portraits into enigmatic non-fungible tokens.
Listed on MakersPlace—the NFT marketplace that hosted digital artist Beeple's record-setting $69.3 million collage—Pines' first collection dropped three months ago, starring Holmes and her "Nanotainer" blood capsules. The photographer's next drop is titled "Abort, Retry, Fail?," after the cryptic DOS error message. It debuted on Thursday and features a radiating, "Speed Racer"-inspired portrait of Kalanick, as well as a Monty Python-esque animation of Alphabet CEO Sundar Pichai popping out from behind fluffy, 3D clouds.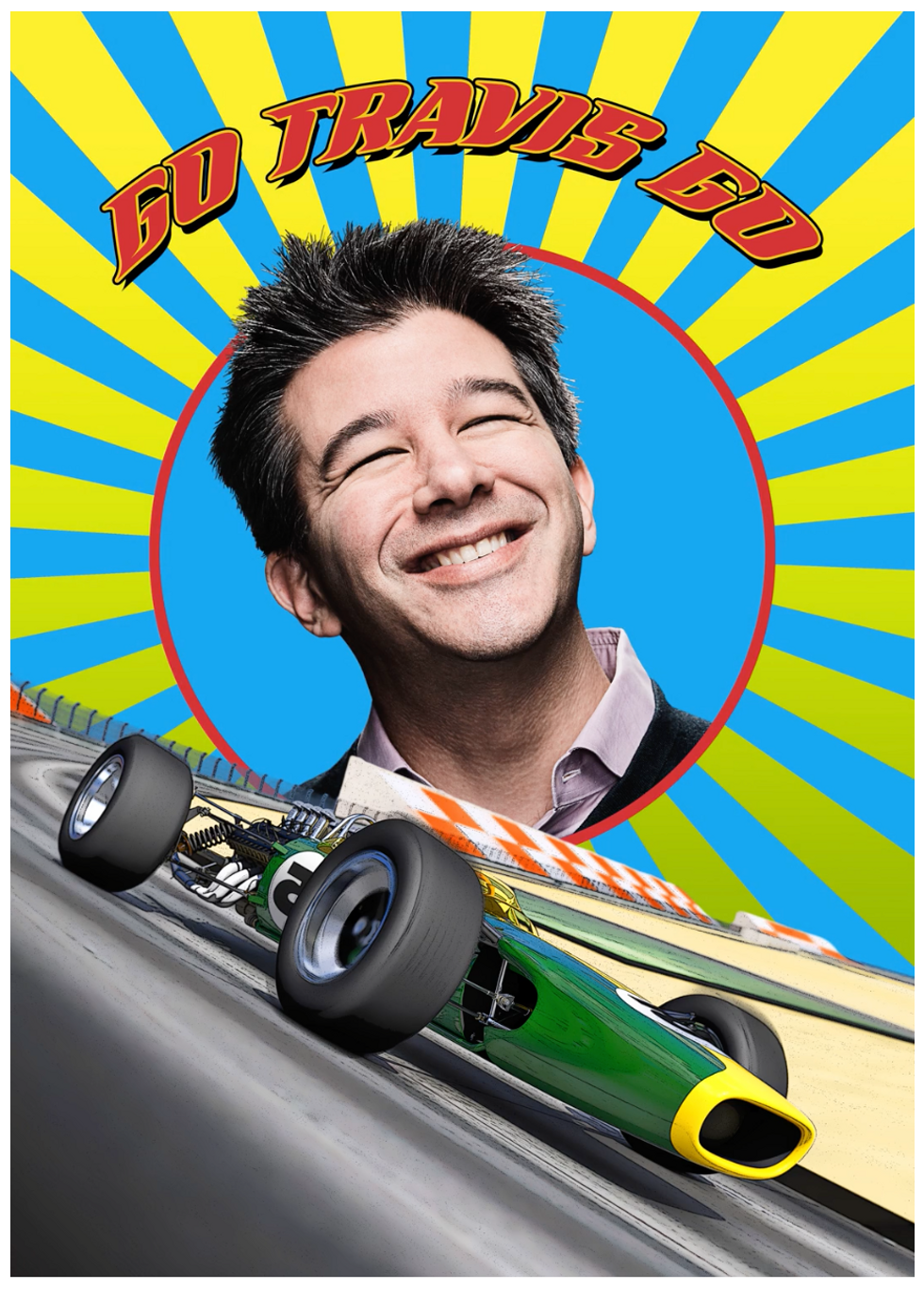 A still of Pines' animated NFT featuring former Uber CEO Travis KalanickEthan Pines
The allusions to cloud computing and Kalanick's penchant for slamming his foot on the gas are straightforward for those in the loop on tech, yet the playfully off-kilter aesthetic of the collection—together with pop culture's evolving outlook on tech figures—makes Pines' work quite fun to experience.
"There's a lot of power that tech has, and it can do a lot of good and can be problematic, too," Pines told dot.LA this week at the NFT LA conference party that previewed his work. The event was co-hosted by MakersPlace and the Superchief NFT gallery in Downtown L.A.
Years ago, when Pines photographed Kalanick for the cover of Forbes, he shot him as a hero. At the time, Pines was there to "make [Kalanick] look good, and he's there to have a good rapport with me, too," he said. But Pines' NFT artwork tosses that goal out of the window.
"If we start moving into the metaverse, I'm concerned that these same companies or other major conglomerates are just going to dominate it in the same way," added Pines. "If Anheuser-Busch just starts buying up real estate in the metaverse, it's gonna be taken over by advertising. I'm not an idealist when it comes to tech."
Other NFTs in the collection include a shot of Buterin with his hands together, almost in prayer, while pixelated clouds, a balloon, a duck and a UFO float across the background. Many of the NFTs also feature sound design, produced by Pines on his iPad.

Though skeptical about tech, Pines went on to praise the NFT scene's ability to "bypass the gatekeepers."
"You don't have to wait for galleries to throw you some crumbs," he said. "It has this democratizing effect and it gets a lot more voices out there that you wouldn't see otherwise. Is it all art? Who's to say?"