Photo by Decerry Donato
As the pandemic restricted many businesses to pivot strictly to online sales or close up shop completely, the paradigm shift to the digital economy spurred innovation–especially in the fashion industry.
Research by the National Retail Federation (NRF) shows that nine in 10 shoppers are more likely to choose a retailer based on convenience, and are looking to retailers to help them save time and effort in their busy lifestyles.
Now, more than ever people are relying on online retailers' wide range of offerings that include curbside pickup, buy now, pay later and virtual try-ons, with 86% of consumers saying that shopping is more convenient than it was five years ago.
To meet people's demands for convenience, try-on technology has reached new heights.
Here's a look at three fashion startups based in Los Angeles that are enhancing customers' online shopping experience by leveraging VR tech.
StyleScan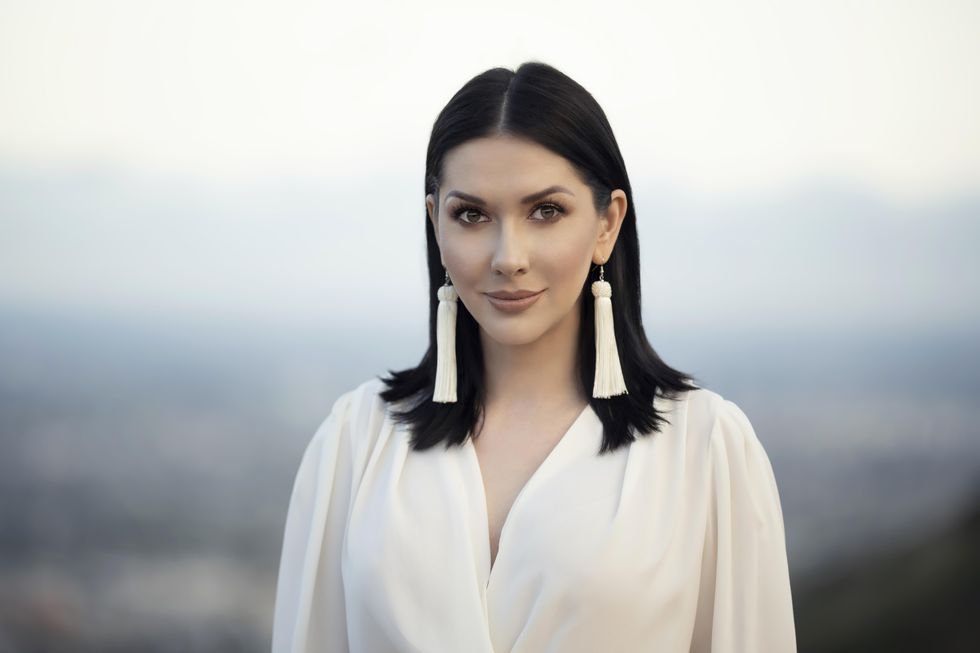 StyleScan founder Larissa Posnercourtesy of StyleScan
In 2018, former catalog fashion model and Wall Street investment advisor Larissa Posner noticed the change in her own shopping habits. Coupled with the shuttering of Barney's in Manhattan, Posner knew that e-commerce was the future. But the more she shopped online, the more she realized that no one had yet figured out how to digitally dress models that are size inclusive. So Posner created a solution. StyleScan is a fashion tech startup that offers AI-powered visualization technology that elevates the online shopping experience.
Retail e-commerce in the U.S. reached $768 billion in 2021 and so far, this year that number jumped to $875 billion according to Statista.
According to Posner, StyleScan's "Switch Model" technology was built to enable shoppers to preview clothing on a variety of models of different shapes, sizes, and ethnicities that best resembles their own.
Switch Model employs a transfer algorithm, which accurately translates clothing onto human photos. Singular Value Decomposition (SVD) calculates orientation of the body, joints including the shoulders, thighs, calves and the clothing is then generated onto the human model in the photo.
StyleScan's software can dress each model digitally in a matter of minutes from just one photo which eliminates the need for physical photoshoots. Posner said StyleScan has its own proprietary data set of photos, created in-house by photographing around 30 of humans across all shapes and sizes and that data set is what they use to train its algorithms. However, Posner says their technology has been trained on tens of thousands of human photos to achieve realistic looking digitally-dressed models.
One of StyleScan's clients, Alla Berman saw a boost in engagement and conversions once they implemented "Switch Model" to the website. In a press release, Berman stated "we saw daily sessions increase by 25%, leading to a 47% increase in sales and 13% increase in conversions. The site's most viewed item was powered by StyleScan. These analytics and increased engagement numbers are extremely promising."
FaceCake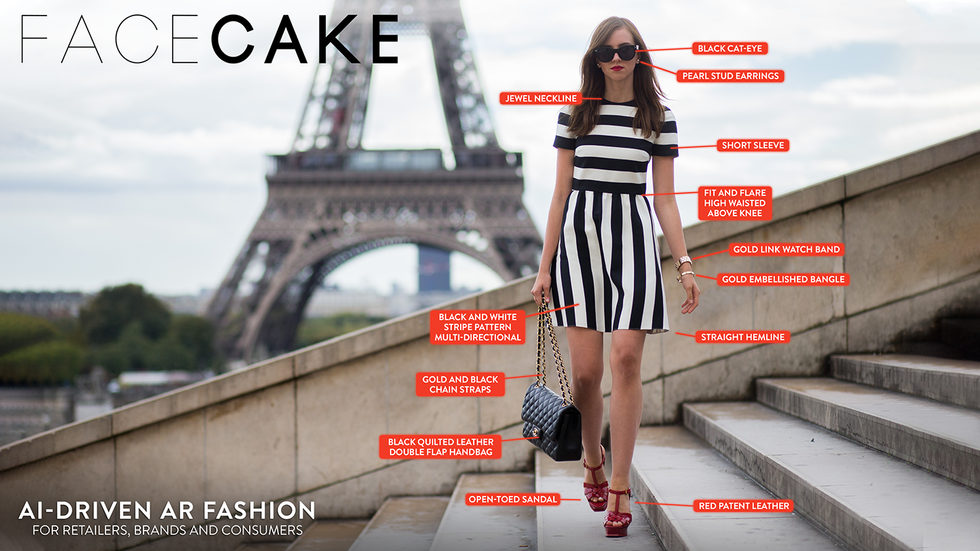 Courtesy of FaceCake
Alternatively, AI-driven augmented reality shopping platform FaceCake allows consumers to virtually try-on merchandise or multiple products using their own images in real time.

Make-up brand Anastasia is one of FaceCake's clients and has integrated its technology on the Anastasia app. First, it asks the user a couple of questions related to what make-up they prefer before it directs them to take a photo of their face. From there, the consumer can apply and try-on the make-up products without the mess before committing to a purchase.
Chief marketing officer Robb Whittlef says "at the end of the day, we were working against retail organizations and brands that had legacy technology systems and when the pandemic hit, it really changed the landscape."
Today, FaceCake is being used by a number of beauty and designer brands including Chanel and Deka Lash.
Toli 360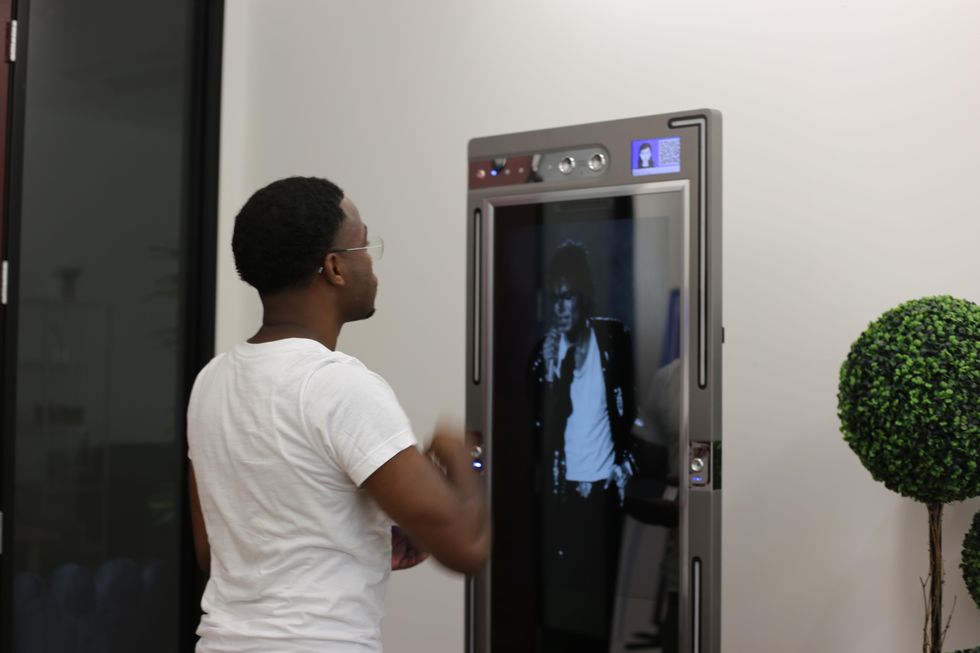 Lenny Adams using the Toli 360 mirror. Photo by Decerry Donato
Using a mirror outfitted with four high definition cameras and one 360 degree turntable, Toli 360, a Los Angeles-based fashion startup, has developed a technology that can retrieve a shopper's measurements in under 30 seconds.
Unlike FaceCake, Toli 360 requires shoppers come into its retail location which is scheduled to open in 2023 so that they can be measured by the mirror and will produce a digital version of the individual.

To begin the measurement process, a shopper stands on a turntable platform that rotates 360 degrees while the Toli mirror takes over 200 photos. Once the process is complete, the digital version will allow the shopper to try-on clothing in the mirror and see how it will fit, drape and cling to their body. The data is then stored in the cloud and can be accessed via Toli's app for the individual to use when they are ready to shop. The consumer is then redirected to the brand's website since Toli does not hold any inventory.

Similarly to Posner, Former New York lawyer Lenny Adams founded Toli 360 in 2016 because he wanted a solution to his problem–shopping with time constraints.
While Toli has yet to launch, Adams' confirmed that the company has inked a deal with five different fashion brands.