Image courtesy of Electreon
A new entrant in Los Angeles' crowded electric vehicle space wants to charge the EVs of tomorrow—without a plug.

Tel Aviv-based Electreon specializes in wireless induction charging, similar to the technology that allows you to charge your cell phone on a wireless mat or dock without plugging it in. By embedding a system of coiled wires into the pavement, Electreon plans to turn the road itself into a charging station for vehicles—one that can be used even while cars are moving.
Founded in 2013, the company has already proven its technology can work via pilot programs in Sweden, Germany and Italy—as well as its homeland of Israel, where it's a publicly traded company on the Tel Aviv Stock Exchange. But on Tuesday, Electreon announced a partnership with Michigan public authorities, as well as private stakeholders like Ford Motor Company, to install a one-mile-long stretch of electrified road in Detroit—the first time such a system would be used in public roads in the U.S. The system is expected to be operational by next year.
Electreon, which opened its U.S. headquarters in Los Angeles last month, is initially targeting fleet vehicles like taxis, buses and drayage trucks for its technology, but plans to eventually expand into the consumer EV market as well. Electric road systems would be especially attractive to fleet vehicles for a number of reasons, the most obvious being that they stop frequently. Time spent idling, especially in predictable locations, means it's easier to know where to install electrified roads and make them cost-effective.
Stefan Tongur, Electreon's L.A.-based vice president of business development, says the company's induction charging technology will probably charge slower than the traditional plug-in station model. But if the pavement under every bus station was electrified, he told dot.LA, a small amount of charge would be added to the vehicle at every stop—meaning the bus would need to take fewer, if any, breaks to recharge its battery.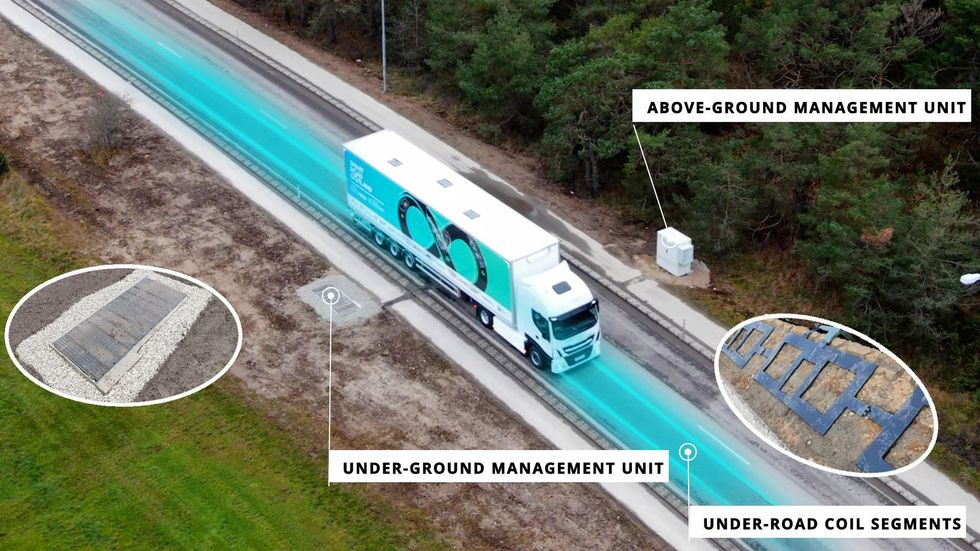 Image courtesy of Electreon
It's easy to imagine similar use cases at ports, rail yards or airport taxi lanes, all of which could spell significant savings for companies that lose time and money when their electric fleet vehicles are plugged in and recharging. Many of these areas also fall under the purview of the private sector, which would make uptake and implementation easier, according to Tongur. He said Electreon is already eyeing a move into such spaces.
Electreon aims to have its wireless charging technology installed on public roads around the U.S. within "a couple of years," Tongur added. While Detroit will host the pilot program, Los Angeles and New York will be the next targets.
"L.A. is obvious, right? It's the Mecca of EVs," he said. "You have air quality issues here; you have the port of L.A. and Long Beach; you have so much traffic. Moving to electrification is, I would say, a must."
The goal of installing wireless charging for moving vehicles is "very courageous," said Mehrdad Kazerani, a professor of electrical and computer engineering at the University of Waterloo in Ontario, Canada. Kazerani noted that researchers at the university had developed a similar concept for the sprawling Trans-Canada Highway. "Of course, we did not pursue this idea, but it seems Electreon has made good progress along this line," he said.
Kazerani added that wireless charging technology may also allow the EVs of the future to use considerably smaller batteries, which would make the cars lighter, more energy-efficient and less expensive. Smaller batteries would also mean less mining for battery materials and less waste when a battery reaches the end of its life.
"This is kind of an invitation to the U.S. market: to policymakers, state agencies, fleet owners and original equipment manufacturers," Tongur said. "This is an opportunity to do things together—join us on this path and journey."
Related Articles Around the Web